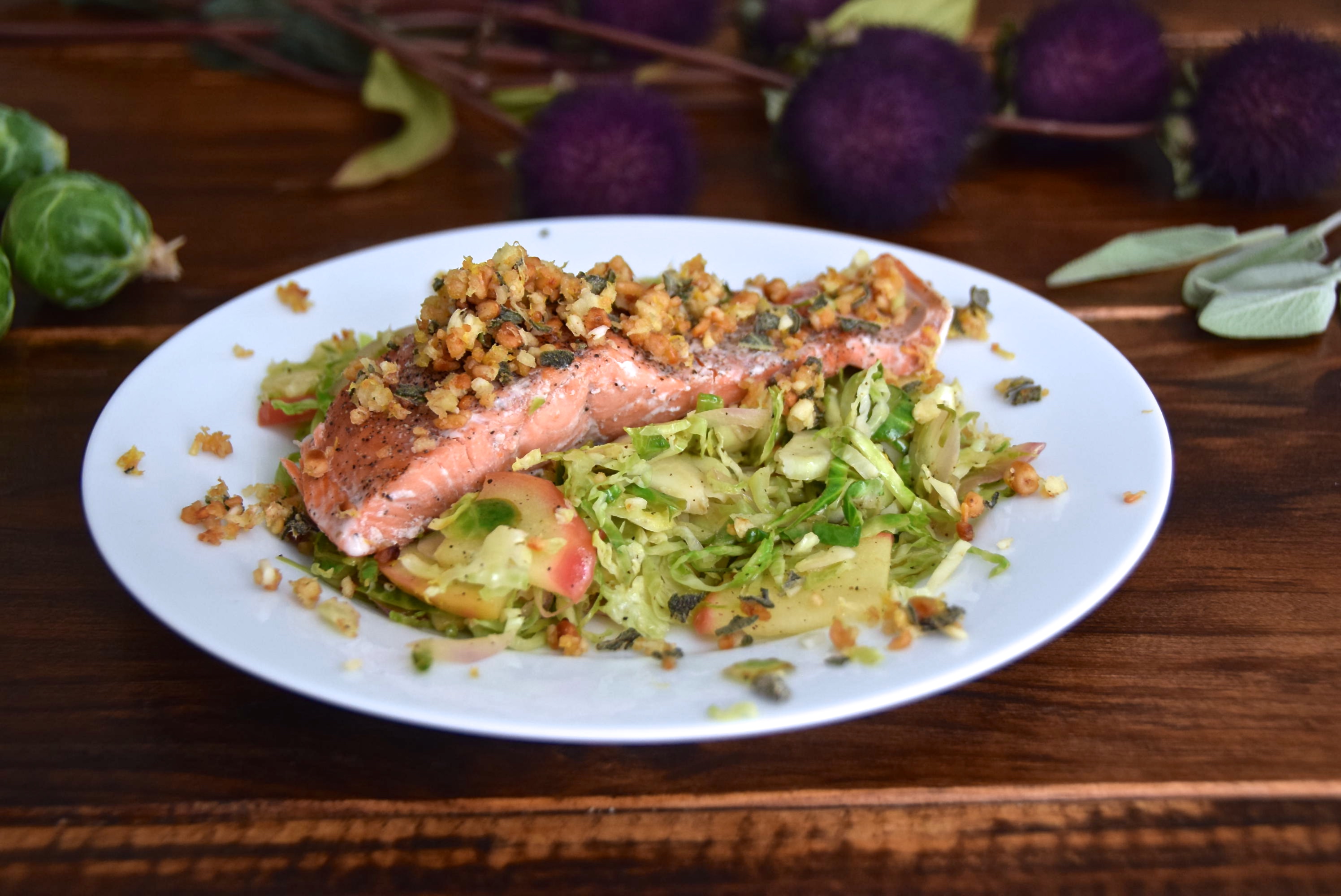 This post is sponsored by All-Clad. The Newlywed Chefs received product compensation from All-Clad during this collaboration, however, all opinions are 100% our own.
UPDATE: We used a randomizer to select a winner! Congrats to Steve Weber! Please e-mail us at: thenewlywedchefs@gmail.com to claim your prize.
We are super excited to partner with All-Clad to share an original recipe with you using one of their products. All-Clad is a brand we enjoy promoting because we use their products regularly in our kitchen. We were challenged to create a fall inspired seafood dish using the All-Clad d3 ARMOR Fish Pan, and we gladly accepted.
One thing we really like about this pan is the unique oval shape. It fits fish perfectly, but would also be great for making steak, veggies, and even omelets! The sides have a nice height to them, which reduces the chance of splattering.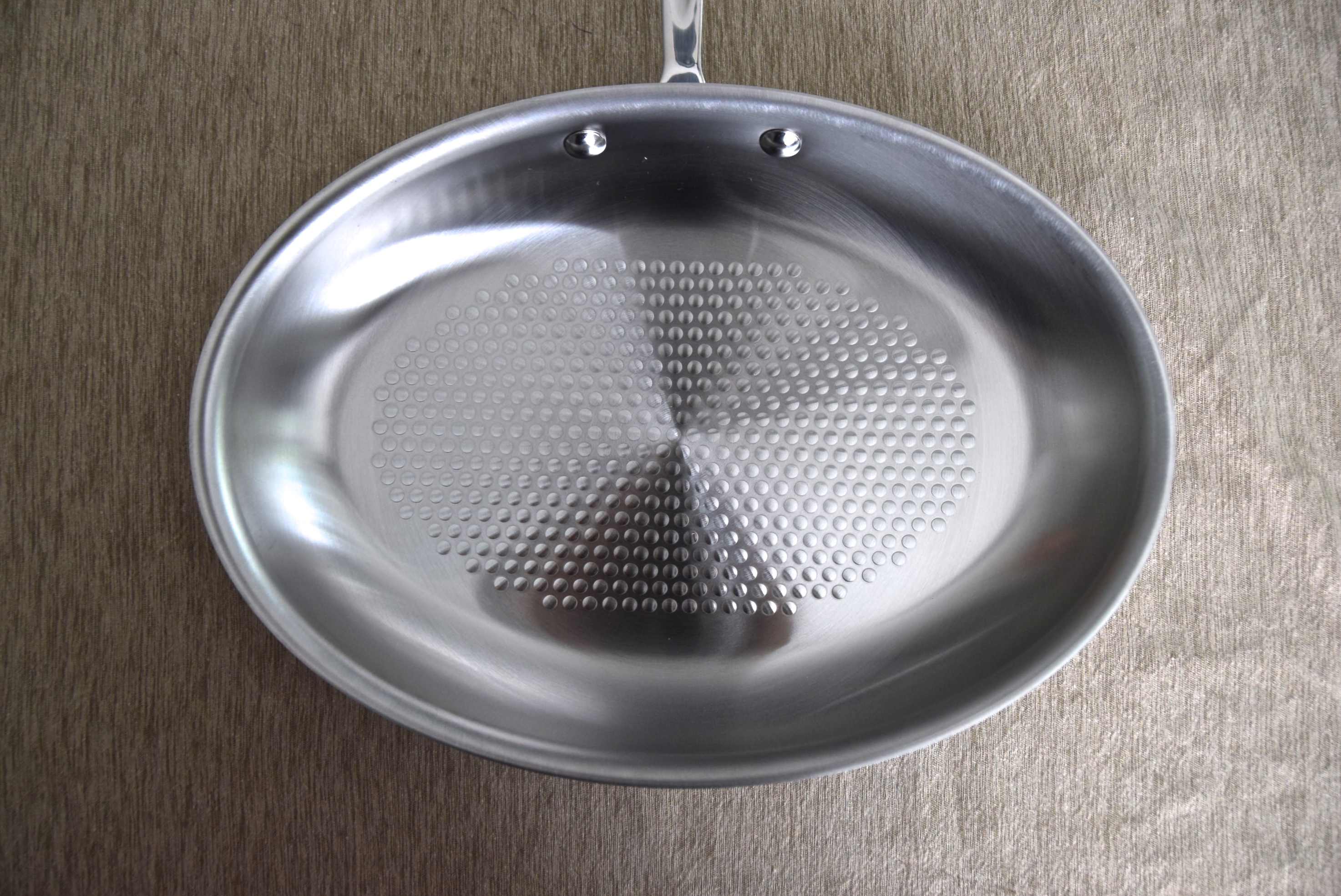 The riveted surface of the interior allows for easier release of food (especially when olive oil is used). We also love that clean up is a breeze with this pan. It's dishwasher safe, so on weeknights when we're rushing around making a somewhat healthy meal, we can throw it in the dishwasher and not worry about damaging the pan. Here are some other facts about this sleek product:
All-Clad d3 ARMOR Fish Pan (Retail Price: $199.95)
13″ diam., 3 3/4″ high
2 lb. 9 oz.
Made in USA
Tri-ply construction sandwiches a heat-responsive aluminum core between an easy-care stainless-steel interior and exterior.

Riveted surface on the interior promotes effortless release and easy cleanup
Bonded-metal construction ensures fast, even heating
The d3 ARMOR Fish Pan is available at Williams-Sonoma.  For more information please visit the All-Clad website. (Keep reading for the GIVEAWAY!)
We highlighted the fall flavors of sage, pine nuts, apple, shallot, and brussels sprouts in this healthy salmon recipe. It's pretty simple to make if you have the right tools. Start by combining all ingredients for the gremolata in a mini food processor.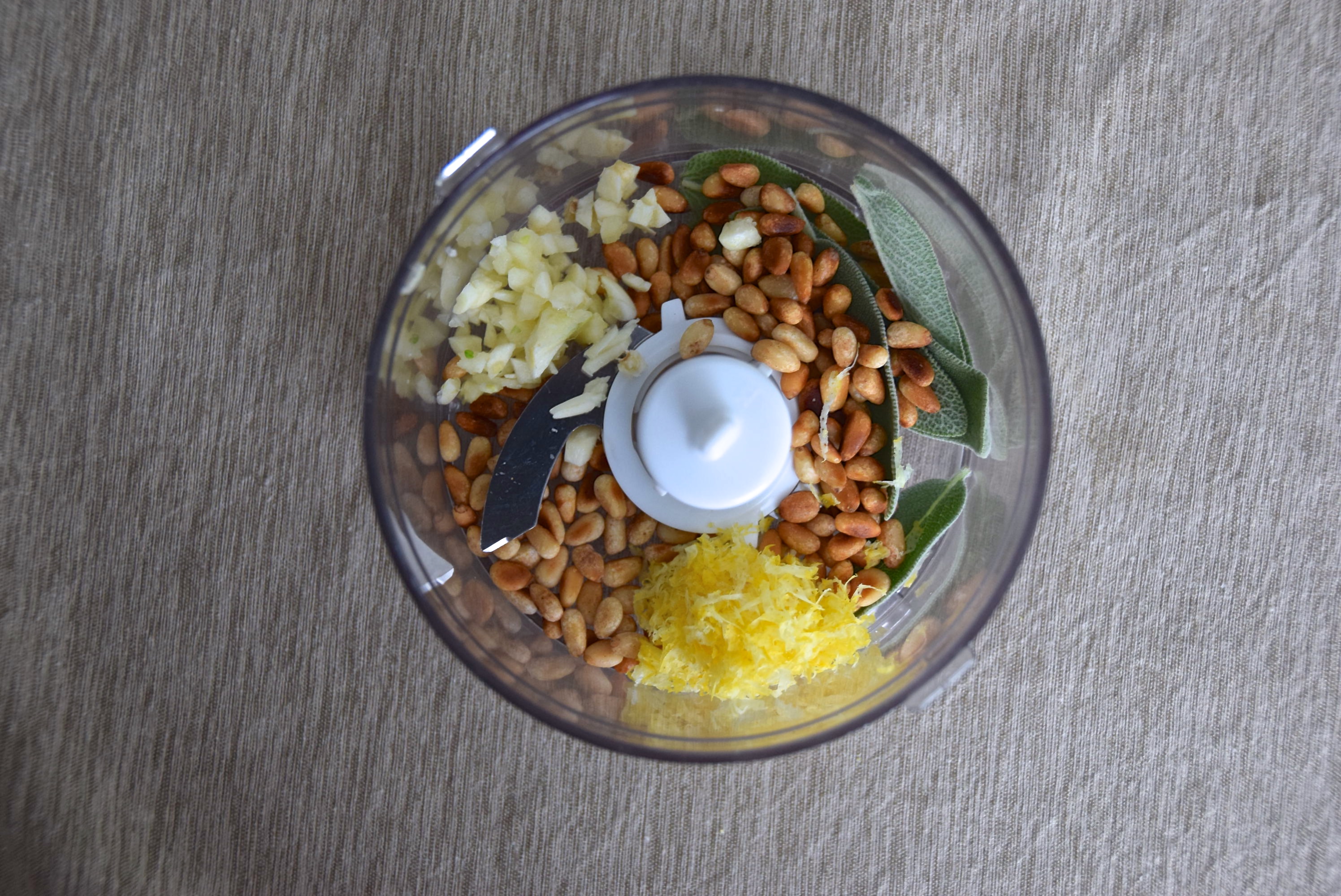 Then, prep all the ingredients for the brussels sprouts side expect the apples (you'll do that right before adding them to the pan).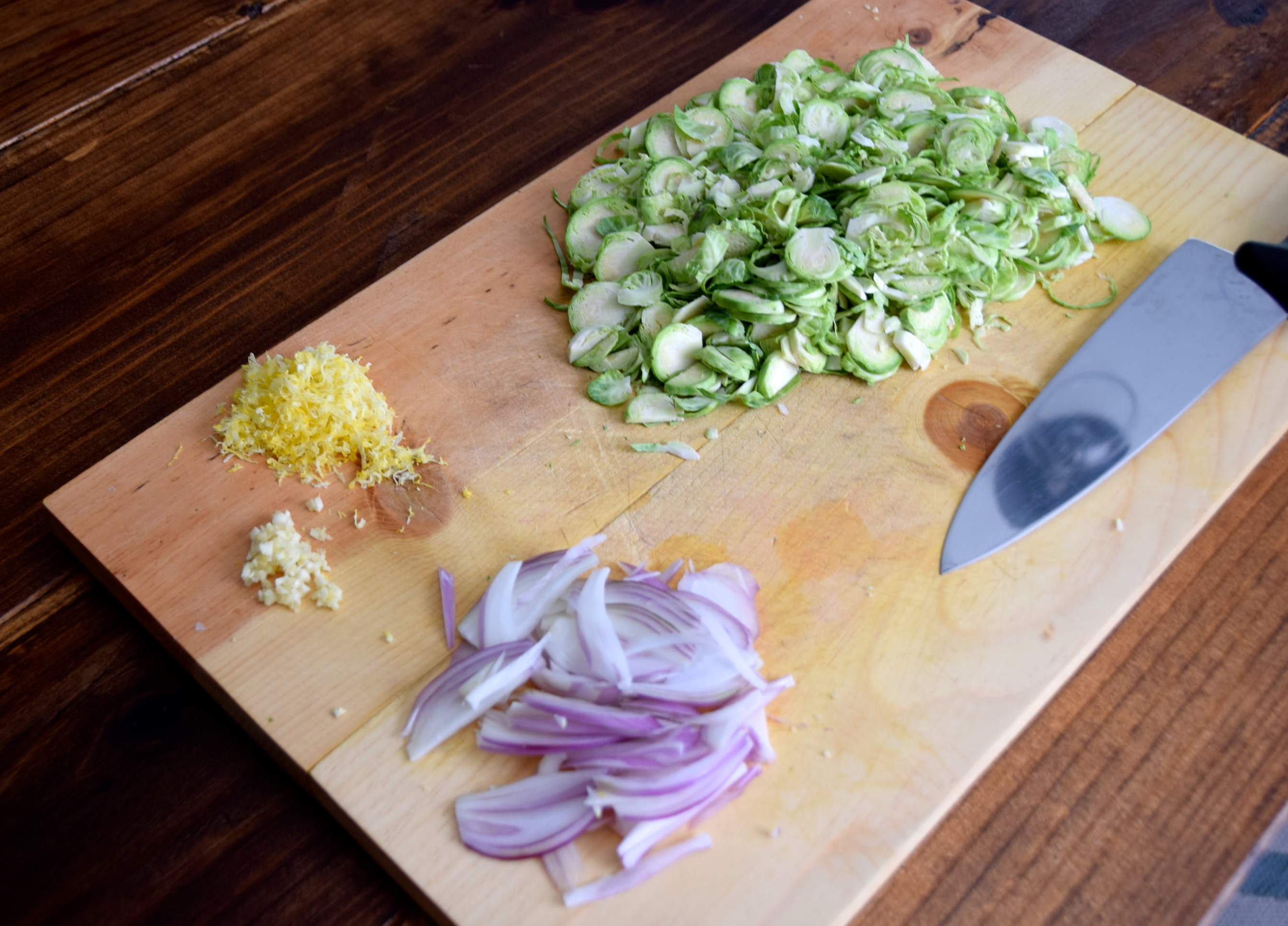 Heat the All-Clad d3 ARMOR Fish Pan and cook the salmon. Isn't that pan pretty?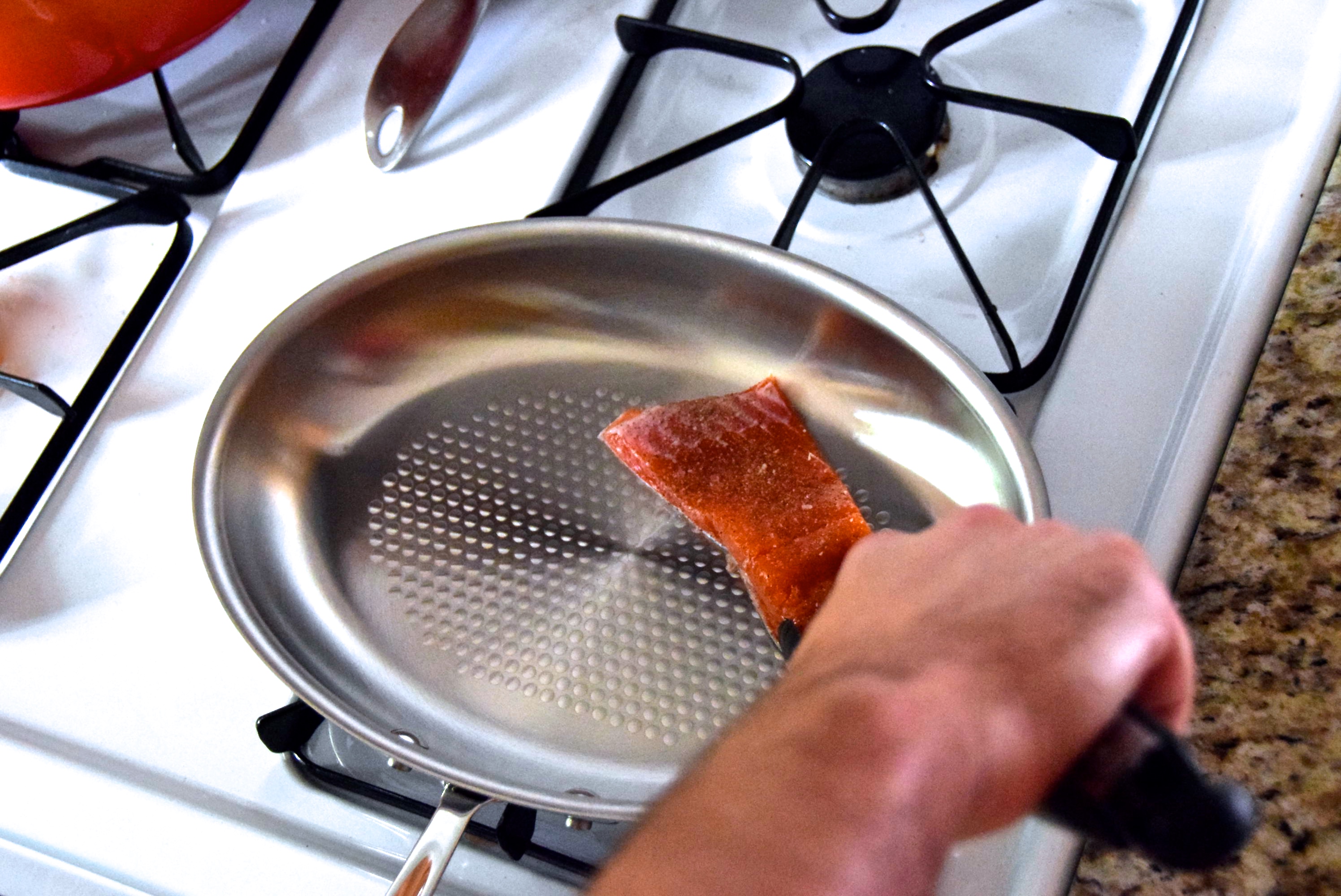 After cooking the salmon, use the same All-Clad d3 ARMOR Fish Pan to make the brussels sprouts mixture. Plate the salmon on a bed of the brussels sprouts and top with the sage gremolata. This healthy seafood dish celebrates the nutty, sweet, and savory flavors of this wonderful fall season.
Pan Seared Salmon with Sage Gremolata
Served with Sautéed Brussel Sprouts, Apple, and Shallot
Prep Time: 20 min. Cook Time: 25 min.
For the Gremolata:
1 tablespoon fresh sage leaves
2 tablespoons toasted pine nuts
2 cloves garlic, minced
1 tablespoon lemon zest
For the Brussels Sprouts:
1 lb. brussels sprouts, stems and outer layers removed, thinly sliced
1/4 cup shallot, thinly sliced
1 garlic clove, minced
1 honeycrisp apple, thinly sliced half moons, then sliced again into quarters
1 tablespoon lemon zest
1/2 lemon, juiced
2 teaspoons kosher salt
For the Fish:
1 lb. (2- 1/2 lb filets) king salmon
Kosher salt
Black pepper
Olive oil
Preparation:
First, prepare the gremolata by placing the sage, toasted pine nuts, garlic, and lemon in a mini food processor. Pulse for about 10 seconds until combined. Set aside.
Slice the brussels sprouts, apple, and shallot. Set aside.
Preheat the All-Clad d3 ARMOR fish pan over medium heat and add 2 tablespoons of olive oil. Season the salmon generously with salt and pepper. Once the pan is hot, place the salmon in the pan skin side down and don't move it around. Cook for 4 minutes, then flip the salmon. Cook for another 2 minutes. Turn salmon to the side and cook for another 1-2 minutes. Then, flip salmon on the other side and cook for 1-2 minutes until desired doneness is reached.
Remove salmon from pan and allow to rest covered with foil as you make the brussels sprouts.
Prepare brussels sprouts using the same All-Clad d3 ARMOR fish pan. Preheat pan over medium heat and coat with olive oil. Add shallot and stir with a wooden spoon, scraping up any brown bits leftover from the fish. Cook for about a minute. Add the brussels sprouts and stir, coating the brussels sprouts in oil. Cook for about 2 minutes. Add 1 teaspoon of kosher salt and continue to cook for another 4 minutes. Stir in the apple and lemon zest and cook for 3 minutes. Finally, add the garlic and lemon juice and stir to combine, cooking for another 1 minute. Finish with an additional 1 teaspoon of kosher salt.
Plate the brussels sprouts first and lay the salmon filet atop. Sprinkle the entire dish with sage gremolata. This fall seafood dish is a real stunner when it arrives at the table.
GIVEAWAY:
We used the All-Clad d3 ARMOR Fish Pan to create the recipe shared in this post. For one lucky reader, it's yours for FREE (retail price $199.95).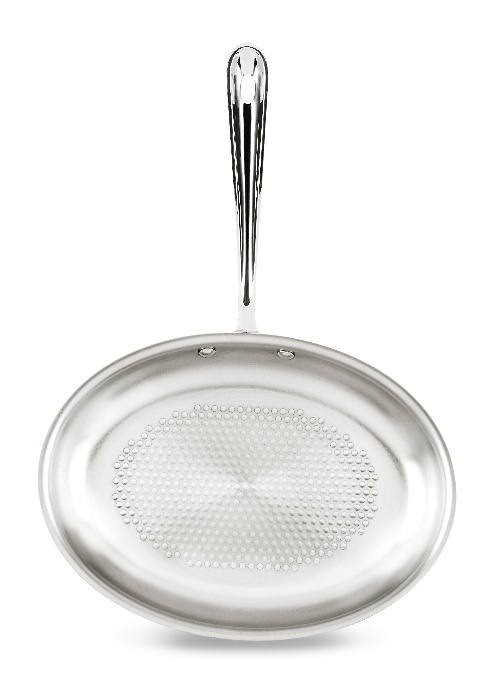 Photo Courtesy of All-Clad
To Enter:
1. Leave a comment on this post
For additional entries:
2. Share this post link on Facebook, then come back and leave a SEPARATE comment letting us know that you did
3. Share this post link on Twitter, then come back and leave a SEPARATE comment letting us know that you did
4. Share this post link on Instagram, then come back and leave a SEPARATE comment letting us know that you did
5. Share this post link on Pinterest, then come back and leave a SEPARATE comment letting us know that you did
(…and yes, we will check that you actually shared the link!)
Giveaway open to US residents only. Maximum 5 entries per person. Giveaway ends 10/16/16 at 11:59pm CST and winner will be announced on this blog post the next day. Giveaway is in no way sponsored, endorsed, or administered by, or associated with Facebook, Twitter, Instagram, or Pinterest.