We're having some major yard and deck work done at our house. It's taken some time already, and will take even more time to complete. So often, I just want to fast forward in life. Fast forward to the yard being complete and seeing beautiful grass instead of mud as we sit on our deck and watch the sunset. Fast forward to REAL fall temps when the leaves have turned brilliant shades of red and gold. In the past I've wanted to fast forward to graduation, to marriage, to moving, to so many things.
Although it's fun (sometimes daunting) to cast visions for the future, I think there is great joy to be found in the here and now that can easily be missed. In the "our yard's a mess" stage it's tempting to compare ourselves to others and focus only on what is to come rather than opening our eyes to what currently is. I think Lin-Manuel Miranda says it best: "Look around, look around at how lucky we are to be alive right now!" Life is fleeting and ought not to be missed. Embrace the transition of the season you might currently be in, knowing that it brings enough in itself to be valued.
The temperatures might still be warm, but before fast forwarding and wishing away each day to a cooler one, embrace the now. And the now is: apple season! Bring on the apple pie, apple crisp, apple butter, and apple galette!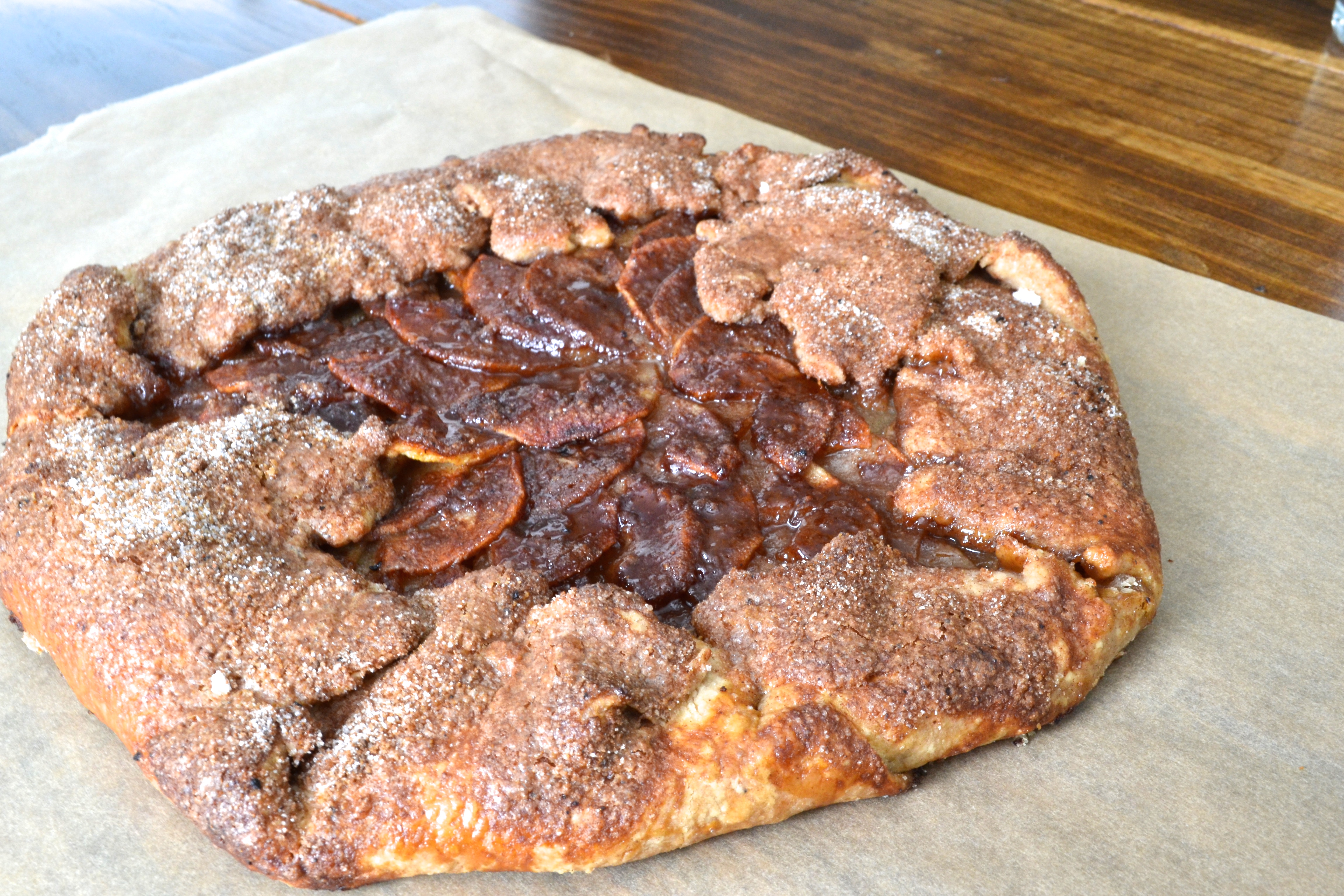 An apple wha? What? According to good ol' Mirriam-Webster, a galette is "a flat round cake of pastry often topped with fruit." If a tart and a pie had a child, I think it would be a galette. The dough is like a pie crust, but you eat it more like a tart, with the fruit beautifully exposed. You could even use store-bought dough, but this dough recipe is super simple and I just
know
you can make it from scratch. You got this! Plus, in this recipe there is cinnamon
in
the dough to give it even more autumnal goodness. I don't think you can buy that.
First, make the dough and roll it out. Then, lay the apples in a beautiful arrangement on the dough.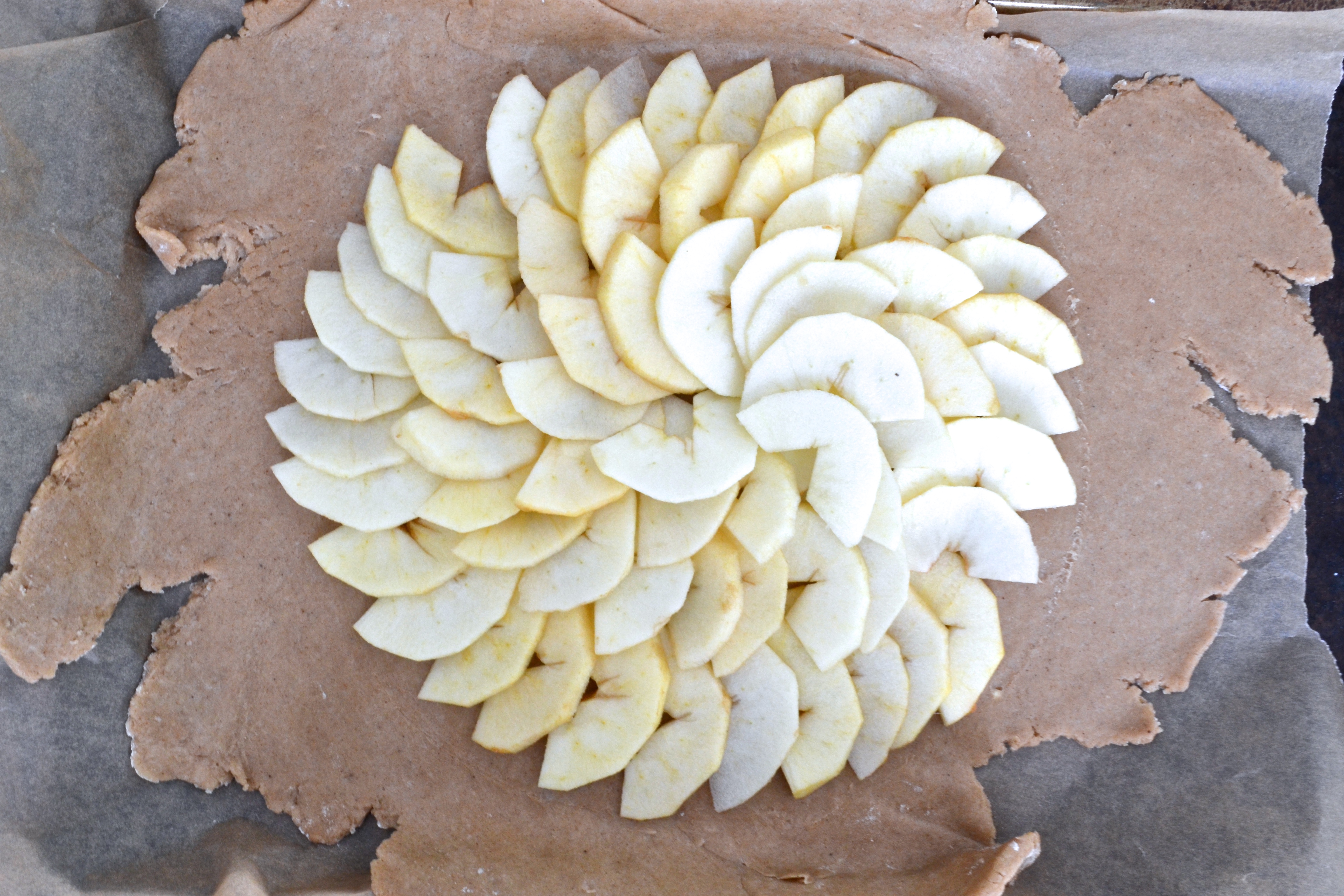 Next, fold the dough loosely over the apples to give it a rustic look. Pinch together dough as needed to eliminate any major creases or holes.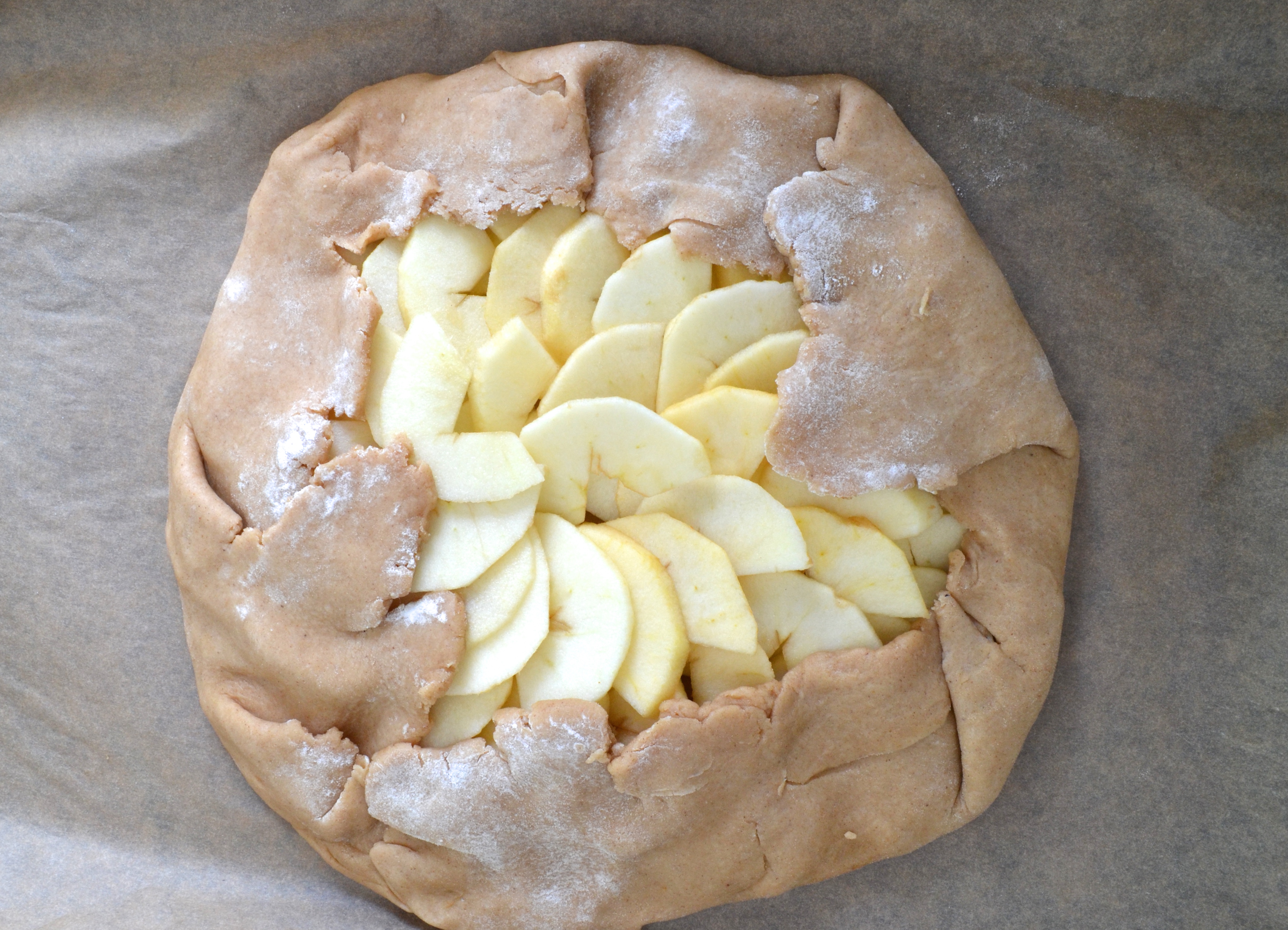 Top the galette with the cinnamon sugar mixture and bake for about 45 minutes.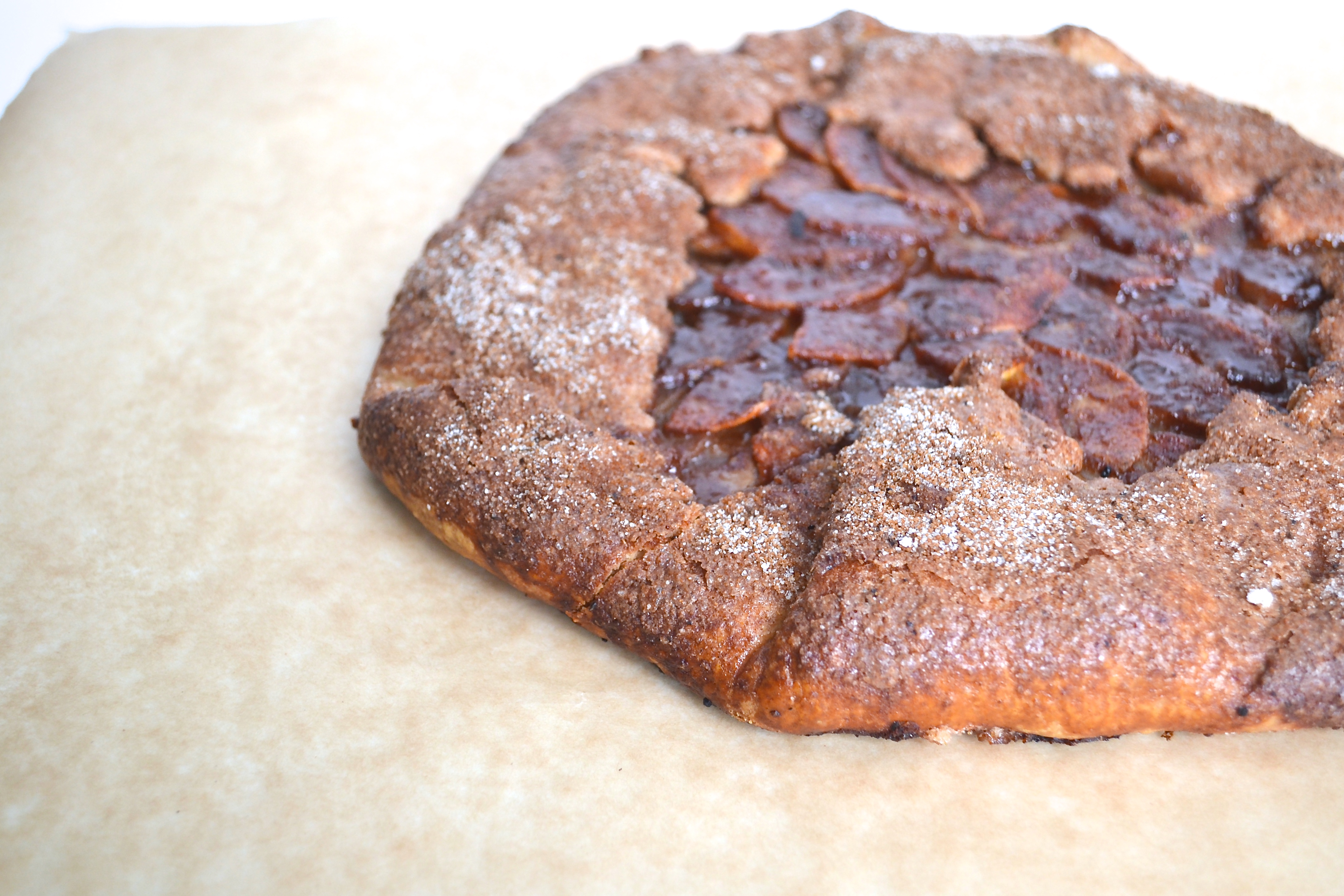 That's it! Sweet, cinnamony galette. Make this recipe while apples are best this time of year and while you're savoring the goodness in each day!
Apple Galette
Prep Time: 25 min. Dough Cool Time: 1 hour + 15 min. Bake Time: 45 min.
Ingredients:
For the Crust:
2 cups flour
2 tablespoons granulated sugar
1/2 teaspoon fine kosher salt
12 tablespoons (1.5 sticks) cold unsalted butter, diced
1 tablespoon cinnamon
4-5 tablespoons ice water
For the Apples:
5 apples (gala or honeycrisp, although I'm sure others would work) peeled, cored, sliced lengthwise into half moons
1/4 cup granulated sugar
1/4 cup brown sugar
1 tablespoon pumpkin pie spice
4 tablespoons (1/2 stick) butter, diced
1 egg, beaten
Preparation:
First prepare the crust. In a food processor, mix together the flour, salt, and cinnamon. Add the diced butter and pulse 10-12 times. Slowly add the ice water one tablespoon at a time until the dough just begins to come together. Remove dough from the food processor, gather into a round, and pat into a 6″ round disc. Cover with plastic wrap and allow to rest for one hour.
Preheat oven to 400°. Prepare a baking sheet with parchment paper and set aside. Remove dough from the refrigerator and roll it on a well-floured surface to a large round, about 15″ diameter and 1/2″ thick. Transfer dough onto prepared baking sheet (tip: for easy transfer, use spatulas underneath to help lift the dough).
Starting about 2″ in from the edge of the dough, arrange apples in a circular pattern, overlapping a bit as you work (see picture above). Fold dough edges gently over the apples and pinch to seal any holes or creases that might allow liquid to escape. Place entire baking sheet with galette back in the refrigerator for about 15 minutes.
In a small bowl, combine the granulated sugar, brown sugar, and pumpkin pie spice. Remove galette from the refrigerator. Brush beaten egg around the crust of the galette. Sprinkle the sugar all over the galette, tucking some sugar under the folded crust as well. Top the apples with the butter pieces. Bake for 45 minutes until crust is golden and apples are bubbling. Remove from oven and transfer galette to a wire rack to cool completely before cutting. Serve warm alongside whipped cream or ice cream.