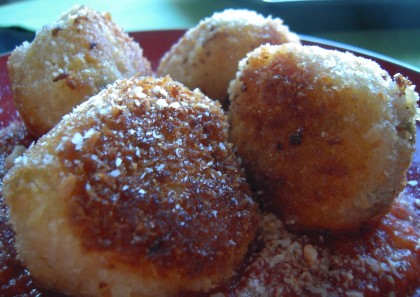 This is a great second day meal to make with your leftover Newlywed Risotto. A fall favorite!
Ingredients:
4 cups Newlywed Risotto, chilled overnight
2 whole eggs, beaten
2 cups Panko bread crumbs
Black pepper
Kosher salt
4 tablespoons olive oil
1 tablespoon butter
2 cups tomato sauce
½ cups grated Parmesan cheese
Preparation:
Remove chilled cooked risotto from refrigerator. Form 2 inch balls of risotto using your hands and set the balls aside.
In a small bowl, whisk eggs together, and set aside.
In another small bowl, combine panko bread crumbs with salt and pepper to
taste. Place this bowl next to the egg bowl, setting up an assembly line.
Prepare a medium-sized saute pan with 4 tablespoons of olive oil and 1 tablespoon of butter. Turn on heat to medium high.
Now, it's time to run the balls through the assembly line! First, coat in egg, then coat in panko, then transfer to the hot pan.
Saute arancini until golden brown. Serve hot, on a bed of tomato sauce, and topped with Parmesan cheese.