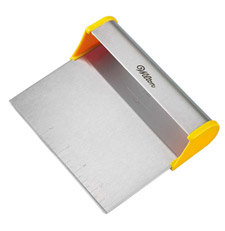 Photo Credit: wilton.com
Well from all of your comments, it sounds like it's shaping up to be a great Halloween this year! Lots of creative costumes and devoted candy passer-outters. Neil and I will let you know later (cough cough… haven't decided yet) what our costumes will be. We're happy to announce the winner of a brand new shiny baker's blade! Our winner was selected at random. Congrats to….
Nice is it for me, because I'm going to answer the door for the first time in years! My grandchildren have moved in with us, and now I have a reason and desire to open the door for the trick or treaters….My grandson is going to be a matador and not sure what my grandaughter is going to be…but both will be happy!
Please e-mail us at thenewlywedchefs@gmail.com to claim your prize!