Update 1/28/17: This giveaway has ended. Congrats to our winner, Barbara Martinez! We'll e-mail you with details on how to claim your prize. Thanks to all who entered, and check back next month for another Lagostina giveaway! 
Disclosure: This post is sponsored by Lagostina and 5WPR. The Newlywed Chefs received a Lagostina Domina Vitamin Pressure Cooker as compensation for this post, however, as always, all opinions are 100% our own.
If you think this beef brisket looks good, you should see the cookware that made her so beautiful. Lagostina is one of the premier brands of cookware available. Period. Their products are stunning and perform even better than they look. Today, we are featuring the Lagostina Domina Vitamin Pressure Cooker. Don't be scared and run off because you've seen horror footage from the 1960s of pressure cookers exploding. Nowadays, most pressure cookers are built with safety technology to prevent any mishaps from occurring.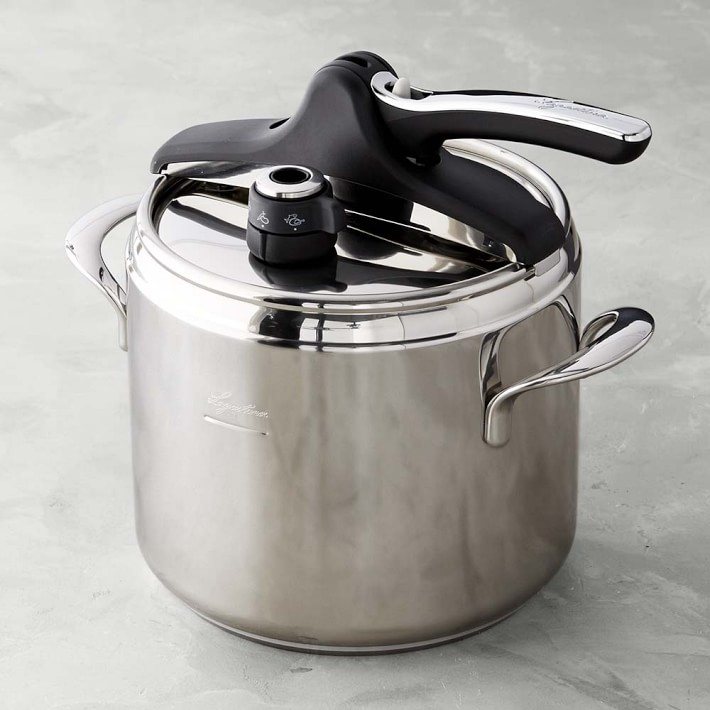 Photo Credit: Williams-Sonoma
We like this pressure cooker because it reduces cooking time by AT LEAST half, while providing the same end result as slow cooking all day. Also, even if you aren't going to use the pressure cooker option, the pot itself can be used for everyday cooking.
Here are some great facts about this stunning pressure cooker:
Domina Vitamin Pressure Cooker
·         7.4 Qt. capacity
·         Exclusive, patented one-handed drop lid opening system
·         Superior safety: lid clicks to let you know when it is hermetically sealed
·         Two pressure settings: 6psi is ideal for vegetables and preserves up to 35% more nutrients; 10psi is ideal for meat/fish and cooks up to 2x faster
·         Exclusive LAGOPLAN® 3-layer aluminum and stainless bonded base for optimal and uniform heat distribution
·         Set includes steam basket, recipe book and measuring cup
·         Available at WilliamsSonoma.com: http://www.williams-sonoma.com/products/lagostina–pressure-cooker-with-steamer-basket/
·         Retail Price $249.95
We used this pressure cooker to make a flavorful and melt in your mouth brisket within just an hour, which usually would have taken two or three times as long in a slow cooker. This recipe is super simple to make. First, season your beef brisket with salt and pepper.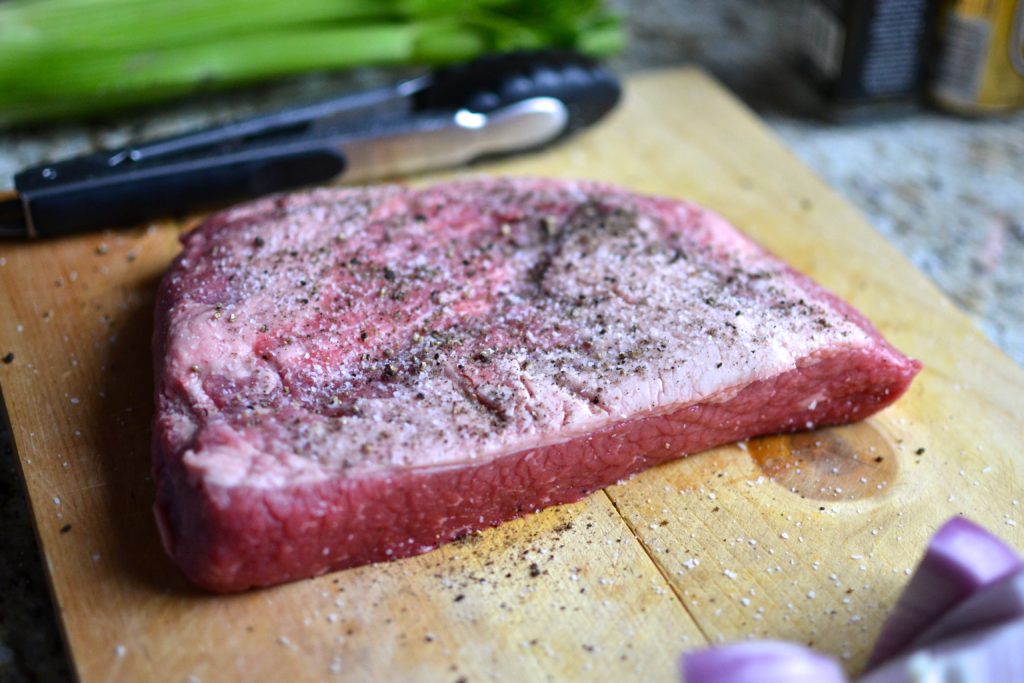 Brown all sides of the brisket using the Lagostina Domina Vitamin Pressure Cooker pot and then take it out to rest.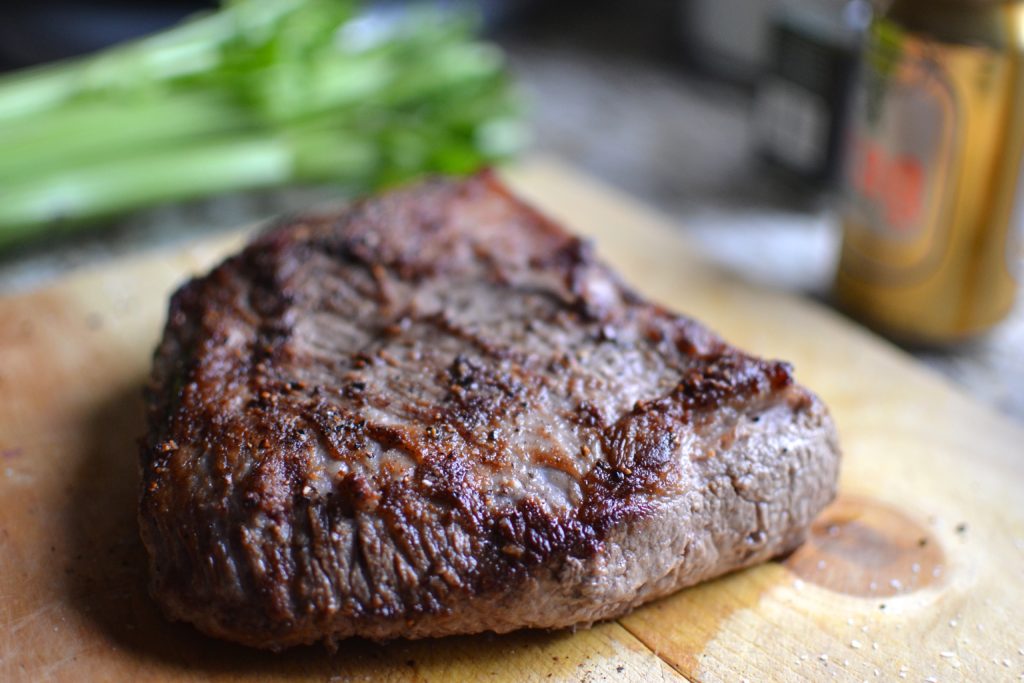 Sauté veggies, add tomato paste, add liquid, and place your brisket in the pressure cooker.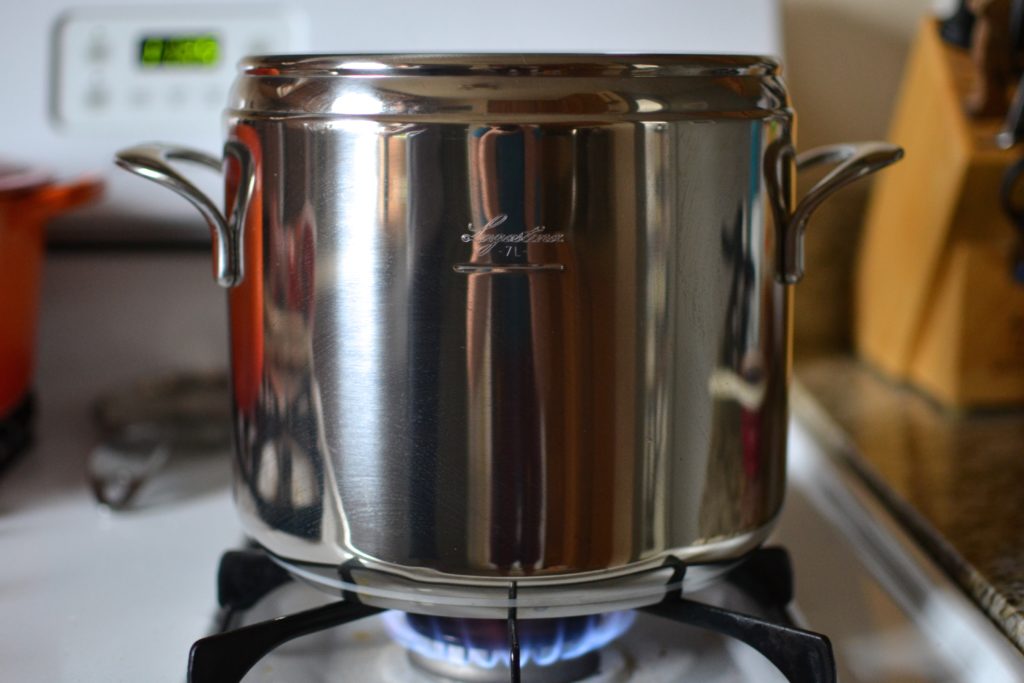 Follow the instructions to safely lock the lid and bring to the right pressure.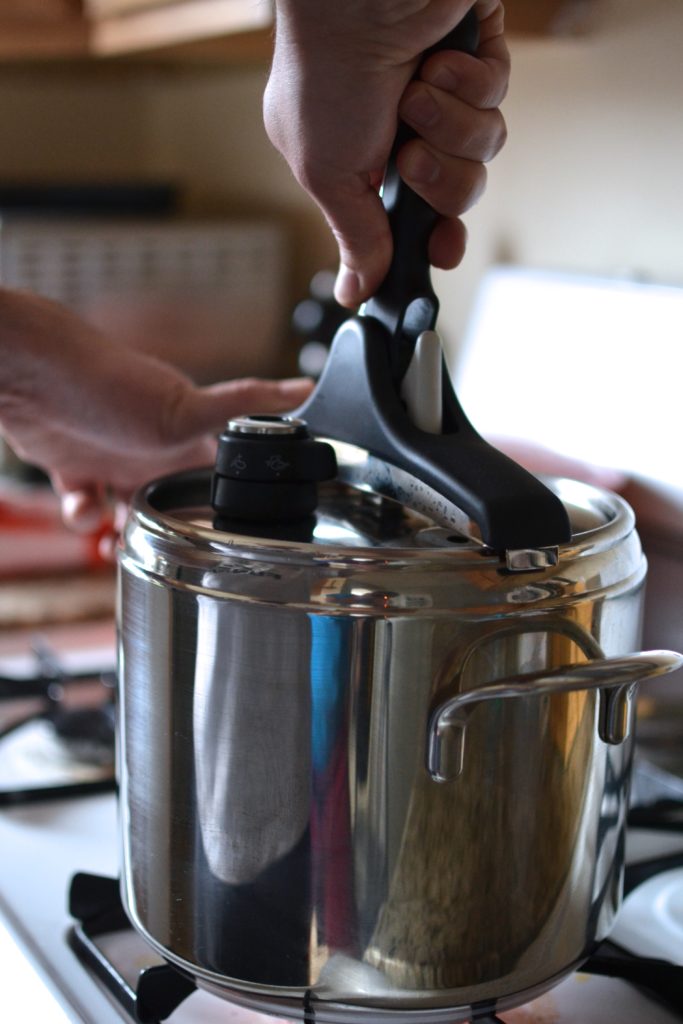 About an hour later, remove the brisket and allow to rest before slicing.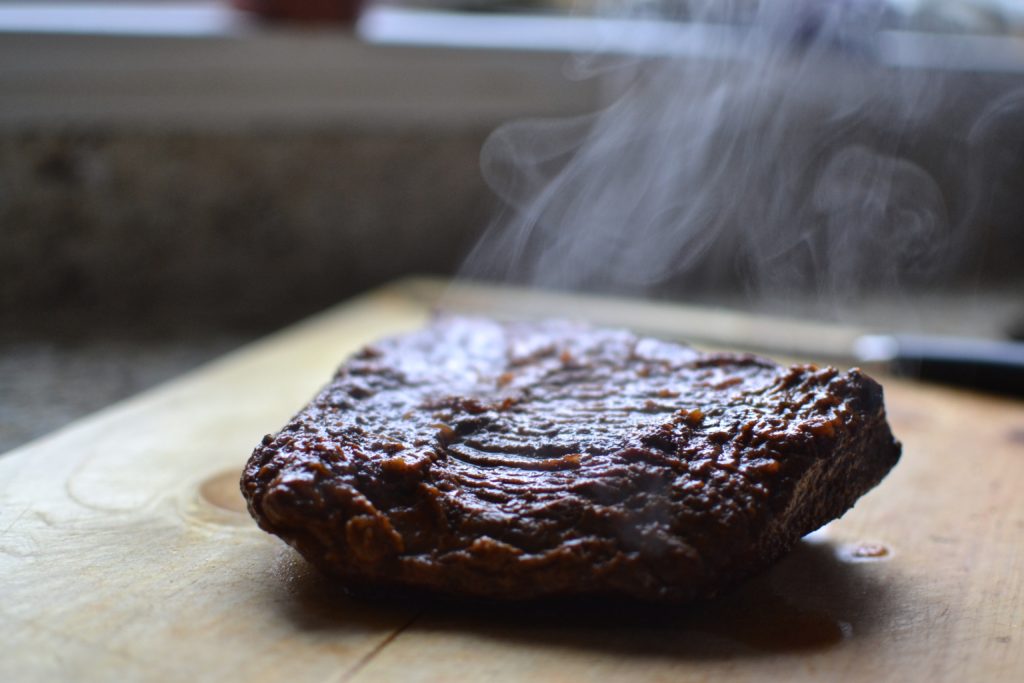 Discard vegetables and strain the remaining beef jus through a colander. Return this juice to the pot and cook over medium heat until liquid reduces by 1/2. Serve jus with the brisket.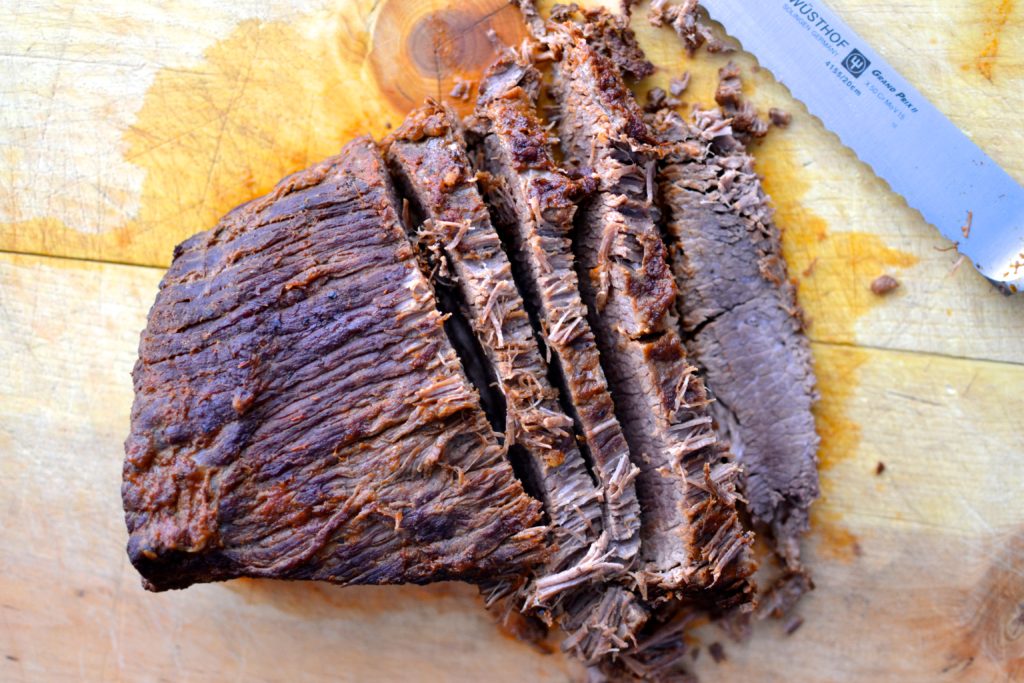 We are excited to start a partnership with Lagostina and to celebrate, we're giving away one of these beautiful Lagostina Domina Vitamin Pressure Cookers to one of our readers. You can win by entering here, and also by heading over to our
Instagram account
for a bonus entry. To enter:
Leave a comment on this post
For an additional entry, head over to our Instagram account (@newlywedchefs), follow us, and tag a friend that might also be interested in winning
Winner must be 18 years of age or older and a resident of the USA. All entries must be received by January 27th at 11:59pm CST. Maximum entries per person: 2 (one blog comment and one Instagram comment). Winner will be selected at random and announced on this blog on January 28th.
Beef Brisket
Prep Time: 15 min. Cook Time: 10 min. Pressure Cook Time: 60-75 min.

Ingredients:
2 lb. beef brisket
2 stalks celery, chopped
1 carrot, chopped
5 cloves garlic, smashed
1 red onion, quartered
1 6-oz. can tomato paste
2 cups beef stock
1 cup beer
1 bay leaf
Olive oil
Kosher salt
Black pepper
Preparation:
Generously salt and pepper all sides of the brisket. Remove the lid and heat Lagostina Domina Vitamin Pressure Cooker pot over medium heat. Once hot, coat the bottom with 1 tablespoon of olive oil. Brown all sides of the brisket, allowing each side to cook for 2 minutes. Remove the brisket and set aside.
Continuing to cook over medium heat, add the celery, onion, and carrot to the pot. Stir with a wooden spoon, and add a pinch of salt and pepper. After 3 minutes, add the garlic and tomato paste. Continue to stir for 1 minute.
Add the stock, beer, and bay leaf to the pot. Stir and scrape up any brown bits that may have formed on the bottom of the pan. Set the brisket on top of the vegetables and liquid, so that the liquid reaches up on all sides of the beef.
Place lid on the meat/fish setting and seal according to the Lagostina Domina Vitamin Pressure Cooker instruction manual. (We found that using our gas stovetop, our heat needed to be on high to seal, then medium low throughout the duration of the cooking. Please become familiar with the instructions, as cooking time/procedure may vary depending on your stovetop.) Carefully release the steam according to the instruction manual and remove brisket. Allow brisket to rest for about 15 minutes before slicing.
While brisket is resting, prepare the jus. Using a colander with a bowl positioned underneath, strain all remaining contents of the Lagostina Domina Vitamin Pressure Cooker, discarding the vegetables but keeping the jus. Return jus to the Lagostina Domina Vitamin Pressure Cooker and cook over medium high heat for about 15 minutes or until liquid has reduced by half.
Serve sliced brisket with jus.