This weekend, we spent time on the back deck. We mowed. We took an hour-long walk around the neighborhood. We cheered on our Cardinals as baseball season began. That's right folks, believe it or not, it's spring! Easter is around the corner and it's time to open the kitchen window, tie on the apron, and do some spring baking. Fresh strawberry cake has always been a favorite in our house. In fact, we had a strawberry cake from The Cakery at our wedding. When we moved to North Carolina, we fell in love with Maxie B's strawberry cake, and tried to recreate their magic by making mini strawberry cupcakes with buttercream frosting. These strawbunny cupcakes are a take on our previous recipe, with a few springy updates.
This time around, we added a beautiful green buttercream grass by using a natural food coloring that we found on Amazon. This was our first time using natural food coloring, and we approve! It really made a nice springtime green. Truth be told, these cupcakes are dense. They're more like strawberry muffins, really. But they're still delicious and the bunny ears peeking up from the grass are just irresistible. The bunny ears are from Bissinger's, and come in both milk and dark chocolate varieties.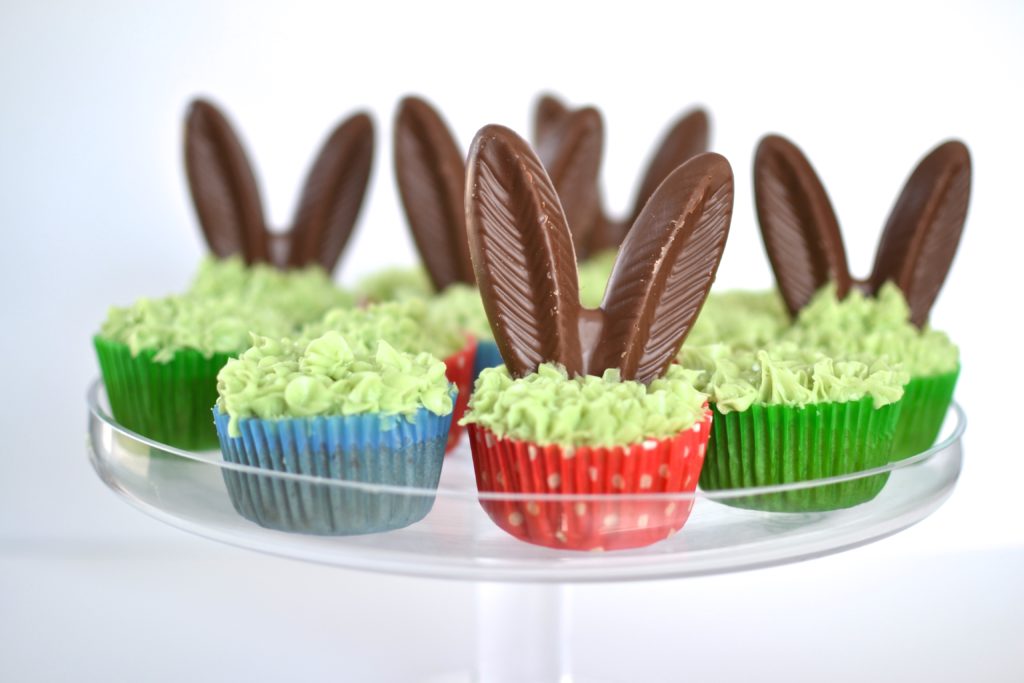 Bissinger's is a St. Louis chocolatier that has been around for
over 350 years
. They're well-known not only in St. Louis, but around the world, thanks to their dedication to crafting excellent chocolate. We are lucky to have them in our town. If you're in St. Louis, you can visit one of their three locations. At the Central West End location, you can grab an espresso or glass of wine along with your chocolate confections or try one of their other tempting desserts such as their white chocolate bread pudding, chocolate cheesecake, chocolate brownie, and more.
These strawbunny cupcakes are super easy to make. In all honesty, you can use any flavor of cupcake and frosting that you'd like to hide these little bunny ears in. Simply bake your cupcake, then cut a small incision in the center of the cupcake.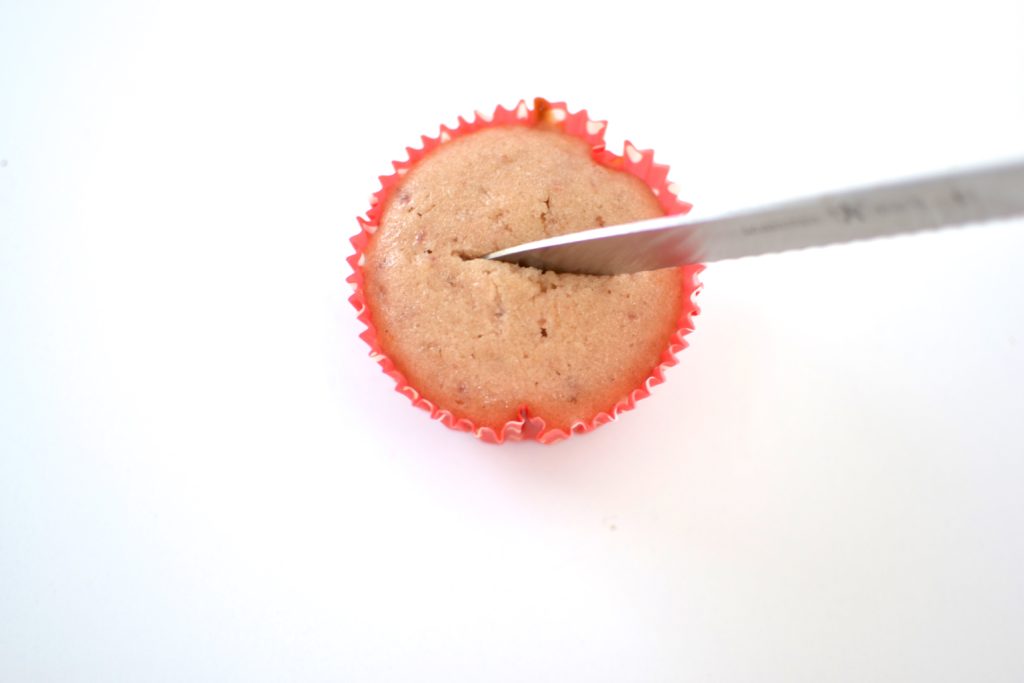 Next, pipe a small amount of frosting over the incision.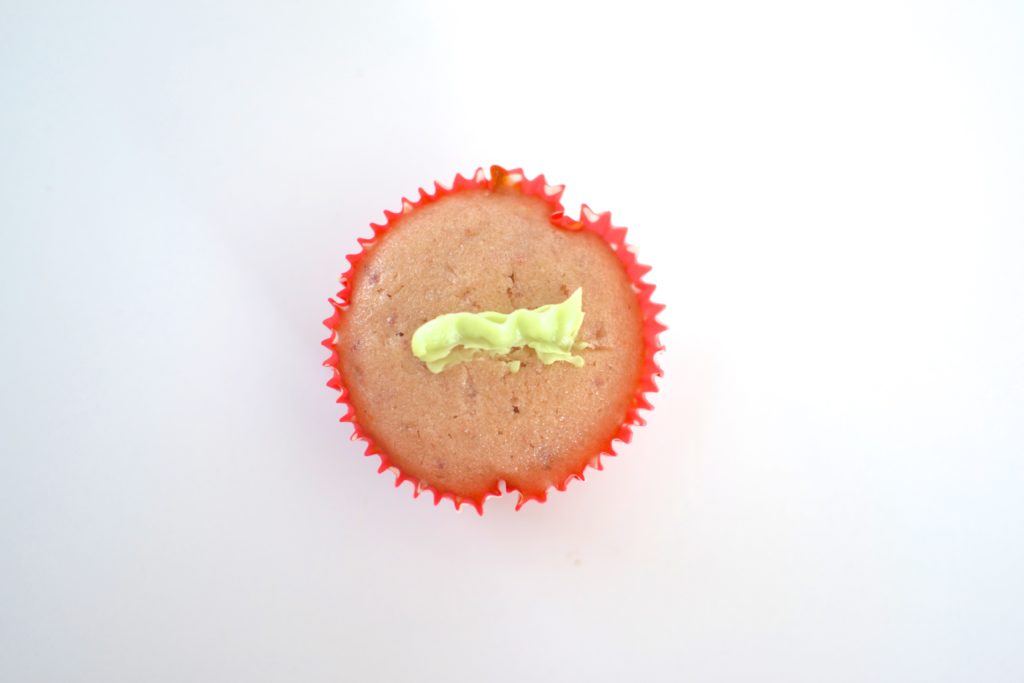 This incision and frosting will help the ears stay centered. Push the bunny ears downward into the cupcake until you feel they are steady. This might break the cupcake a bit, but that's okay because the green grass frosting will cover any imperfections. Pipe the grass using an upward motion to cover the cupcake.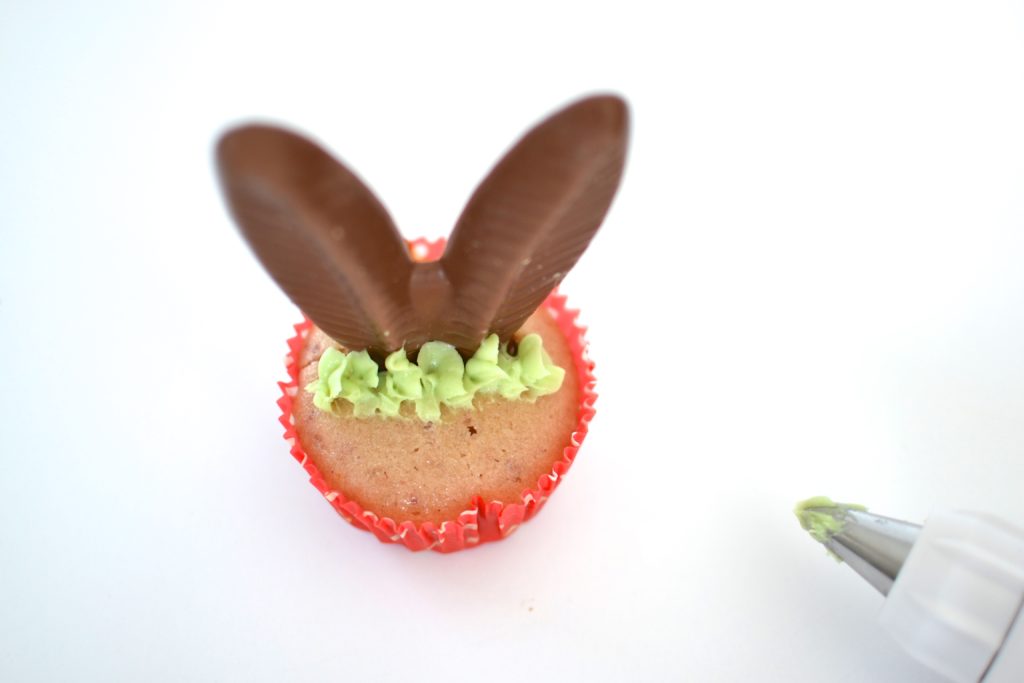 Continue covering the cupcake in green grass frosting. If there are any gaps or holes in the frosting, go back over it with more. You can't really have too much frosting here.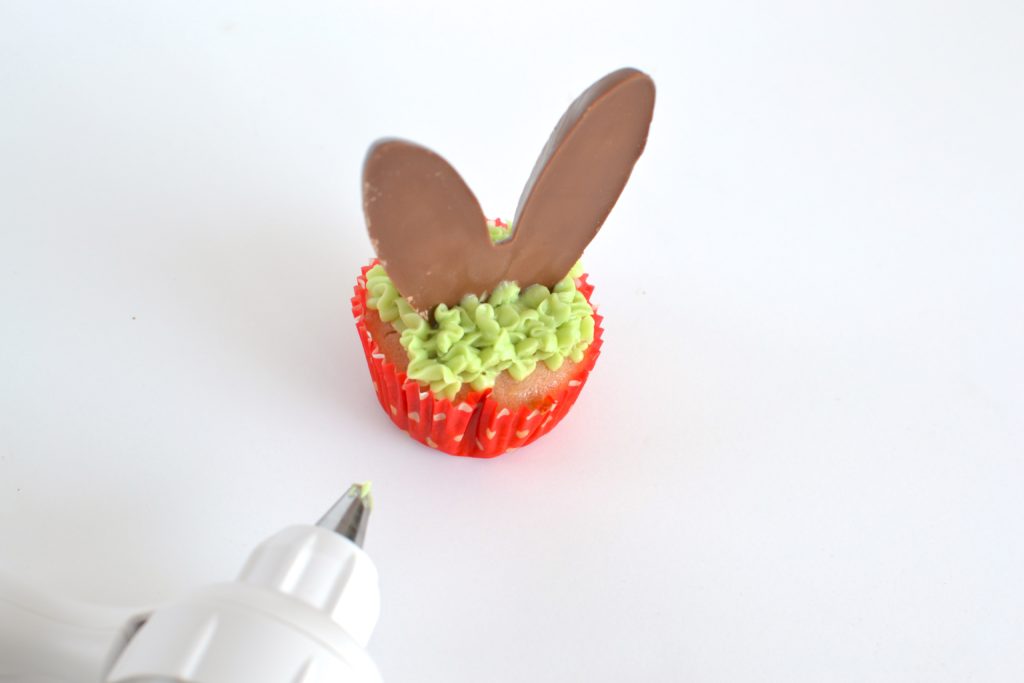 When you're finished, your cupcake should resemble an Easter bunny hiding in the grass.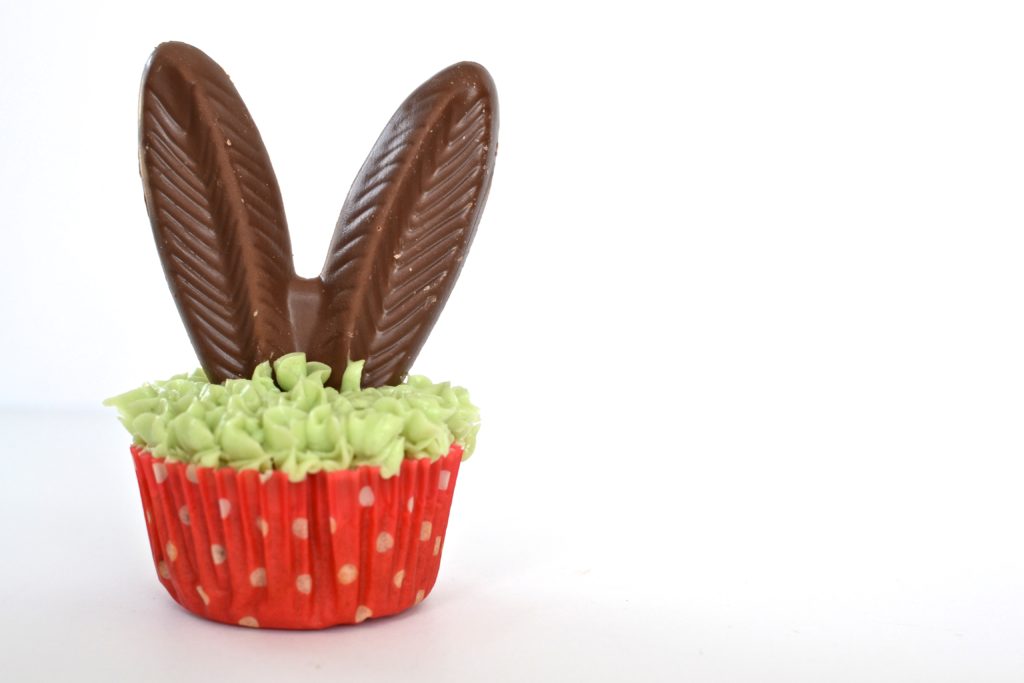 They're simple, but oh so cute. I love these little guys. Bissinger's has a great line of Easter products that will help make your Easter basket one to remember. All of their products are exquisite. Try the
solid chocolate eggs
(great for portion control) or the
Easter molasses caramel lollies
, featured in the picture below.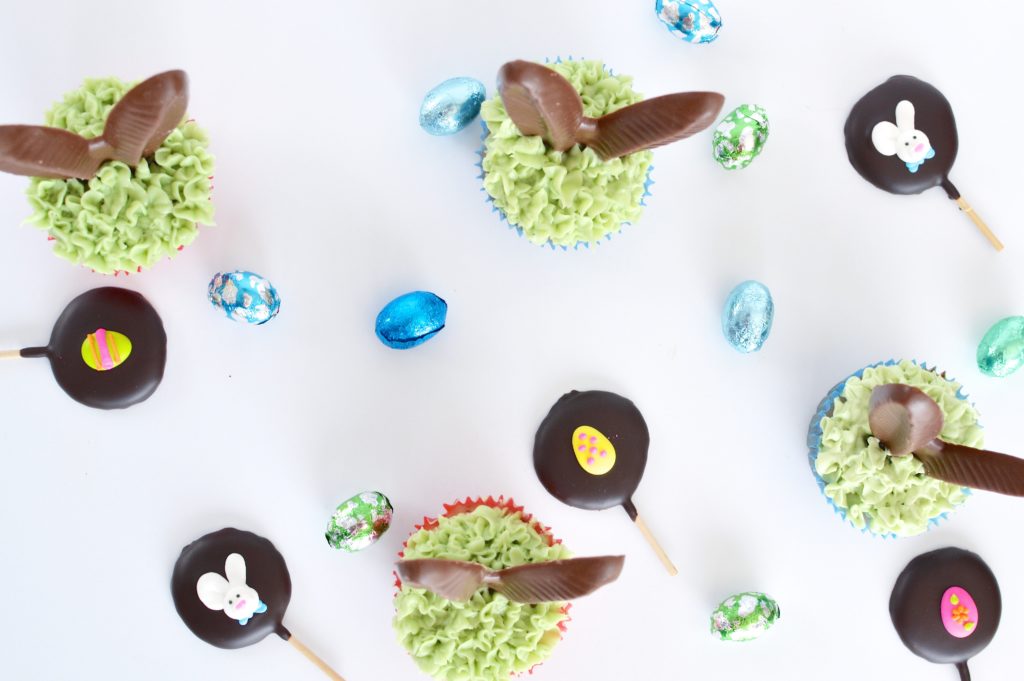 Aren't these products gorgeous? I just couldn't stop photographing!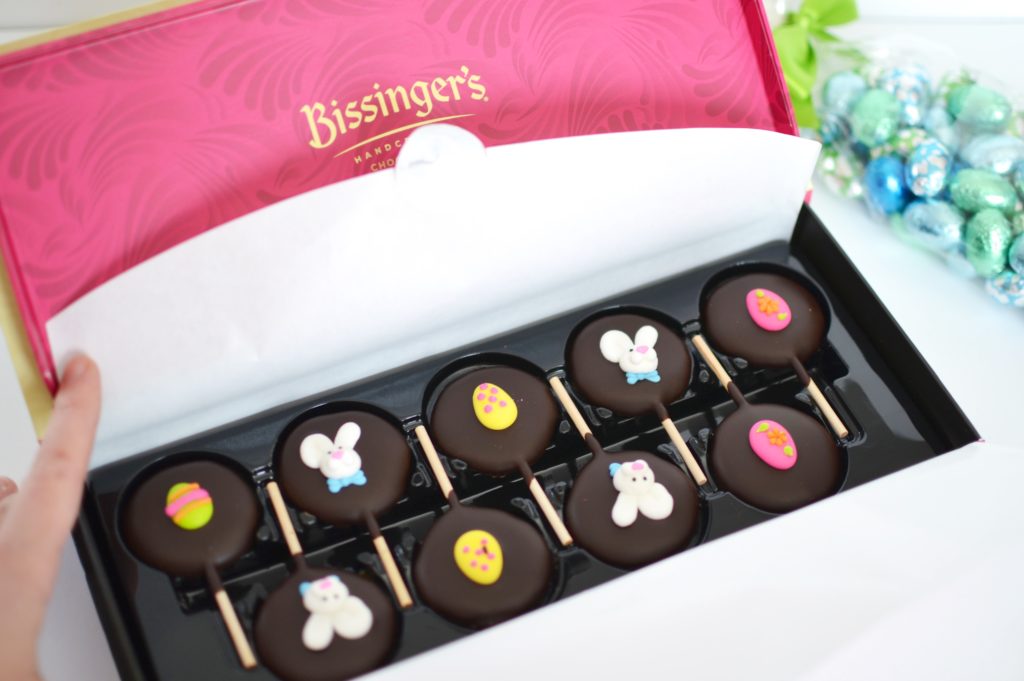 No matter how you celebrate Easter, if Bissinger's is involved, it's sure to be a sweet one. Not going to lie, we're kind of jealous of this giveaway! Bissinger's is giving one lucky reader a
2 lbs. Centerpiece Easter Bunny
. This fabulous bunny is 15″ tall, made of milk chocolate, and is sure to impress your guests this spring season. To enter:
THIS GIVEAWAY HAS ENDED. CONGRATS TO OUR WINNER, @STACY_NOVACK!
Leave a comment on this post
For an additional entry, head over to Instagram! Follow @newlywedchefs and @bissingers, then tag some friends that might also be interested in entering this contest.
And yes, we check that you actually follow us, Bissinger's, and tag at least one person. Winner must be 18 years of age or older and a resident of the USA. All entries must be received by April 5th, 2017 at 11:59pm CST. Maximum entries per person: 2 (one blog comment and one Instagram comment). Winner will be selected at random and announced on this blog and also contacted via e-mail and/or Instagram. Good luck! Oh, and if you need help eating that 2 lbs. chocolate bunny, you know who to call. 😉
Strawbunny Cupcakes
For the Cupcakes:
1 cup freshly puréed strawberries (about 10 large berries)
1 1/2 cups all purpose flour
1 teaspoon baking powder
1/4 teaspoon salt
1/4 cup whole milk
1 teaspoon vanilla extract
1/2 cup butter, softened
1 cup sugar
1 egg
2 egg whites
For the Frosting:
2 sticks butter, super soft
3 cups powdered sugar
1 pinch of salt
1 teaspoon vanilla extract
2 tablespoons whole milk
Natural blue and yellow food coloring
Bissinger's Chocolate Bunny Ears
Preparation:
Preheat oven to 350°. Line a muffin tin with paper liners and set aside.
In a large bowl, mix together flour, baking powder, and salt. In another bowl, mix together the milk, vanilla, and strawberry purée.
Using an electric mixer, beat the butter until fluffy. Add the sugar and continue to mix. Add the egg and egg whites and blend until combined. Next, add half of the flour mixture and continue to mix. Add the strawberry mixture, and mix again. Finally, add the remaining flour mixture and combine, scraping the sides of the mixer to get all ingredients in the batter.
Fill each muffin tin and bake for about 12 minutes or until a toothpick comes out clean when tested. Transfer to a wire rack and cool completely.
While muffins are cooling, prepare the frosting. Beat all of the ingredients together until light and fluffy. Add blue and yellow food coloring until desired green is reached once mixed. Using a knife, cut an inch-long incision in the middle of each cupcake, then pipe a small amount of frosting over the incision. Carefully push each Bissinger's chocolate bunny ear into the cupcake until steady. Pipe green frosting around the bunny ear to resemble grass. Continue to top cupcakes with green frosting and bunny ears. Enjoy.
Makes 12 cupcakes