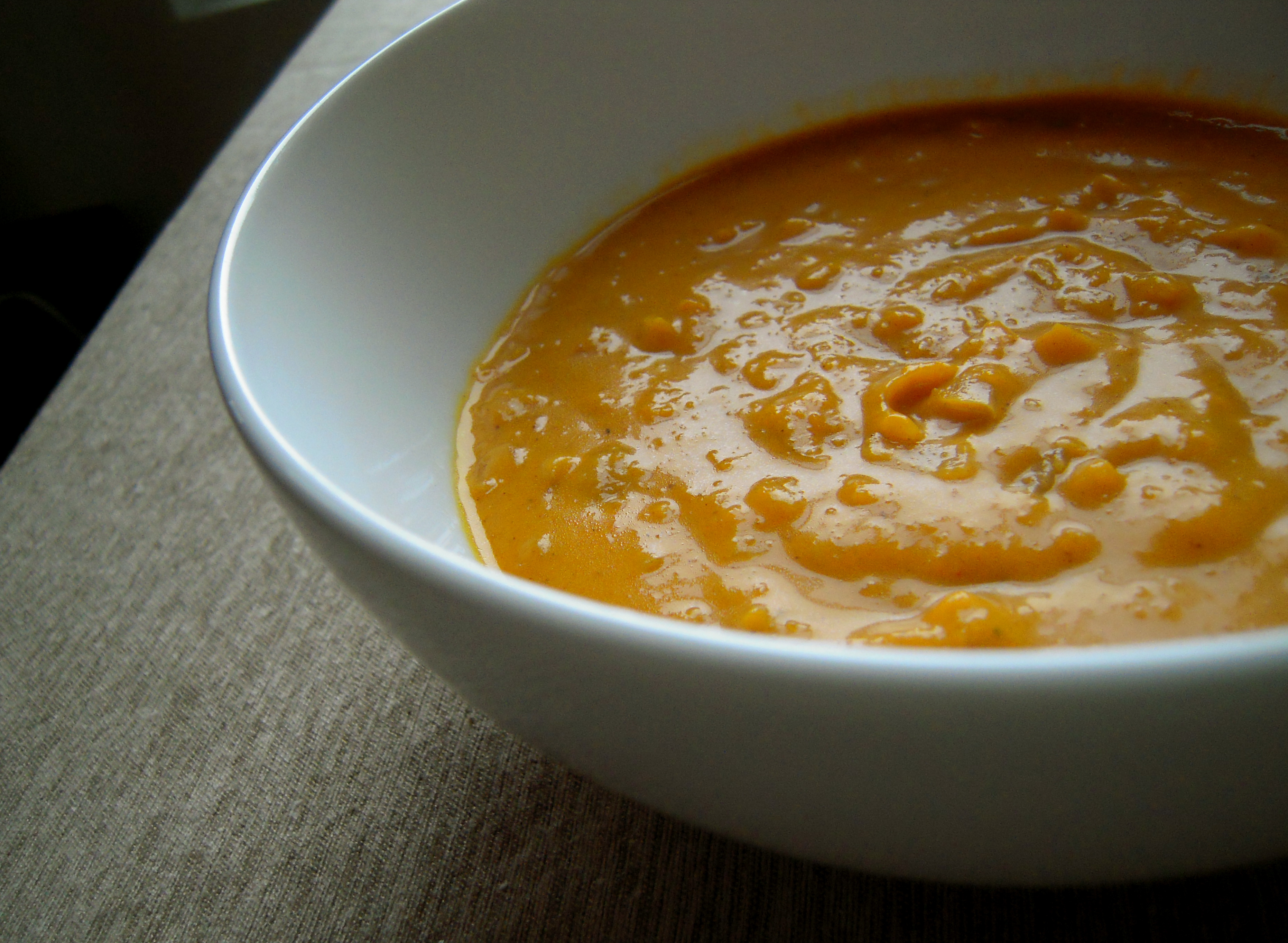 Perfect for the fall, this soup combines seasonal ingredients that work together to create a warm, creamy soup.
Ingredients:
1 butternut squash
4-5 cups chicken stock
1 yellow onion, very finely chopped
1 shallot, very finely chopped
1 clove garlic, minced
1 bay leaf
4 tablespoons heavy cream
2 tablespoons olive oil
1 teaspoon cinnamon
1 teaspoon nutmeg
1 tablespoon Worcestershire sauce
1 tablespoon golden brown sugar
1 tablespoon black pepper
1 teaspoon kosher salt
Preparation:
Preheat oven for 375°. Cut the stem off the squash, and cut the butternut squash lengthwise. Scoop out seeds and fibers. Place the two halves on a baking sheet, drizzle with 1 tablespoon of olive oil, and sprinkle with salt. Place in the oven to roast for one hour, or until squash is soft when pierced with a fork.
Once squash is cooked, remove from the oven and peel off the skin. You may need a pairing knife to help you along the way in this process. Cut up the squash into large chunks, and place in a food processor (a blender would also work, but you may have to work in two shifts). Turn food processor on, and slowly add 1 tablespoon of the heavy cream. Turn food processor off, and scrape down any squash on the sides. Repeat this with another tablespoon of cream, creating a smooth puree.
In a large pot, heat remaining olive oil over medium high heat. Add onion and shallot, and sauté until translucent and quite soft. Then, add the garlic, and continue to sauté for another two minutes. Turn the heat to low, and add the squash puree to the pot. Next, add chicken stock (start with about 4 cups, then add more if you would like it thinner), Worcestershire sauce, remaining 2 tablespoons of heavy cream, brown sugar, pepper, salt, nutmeg, cinnamon, and bay leaf. Stir well to combine. Cover soup with a lid and simmer for at least 30 minutes. Remove bay leaf and serve hot.
*Update: For a smoother consistency, add the pieces of squash to the sauteed onion mixture. After adding the remaining ingredients, bring to a boil and reduce soup slightly. Use a Cuisinart Smart Stick to blend all the ingredients together. Lower to medium heat, add the bay leaf, and cook.