It's a perfect rainy fall day and the leaves are just now beginning to turn brilliant colors and pop against the cloudy grey sky. The farmers market is practically overflowing into the street with a plethora of pumpkins and mums. It's the best time of year and I am ready to savor the flavors of fall in almost every dish we make.
We're not vegetarians, but we do like to eat vegetarian dishes quite often. Roasted butternut squash screams of cooler temperatures and we've been a bit obsessed with these tacos lately. They've become a regular rotation in our weeknight dinner menu. You can customize these easy seasonal tacos by piling them high with your favorite toppings. To make these tacos, sauté the onions, beans, and green chilis together.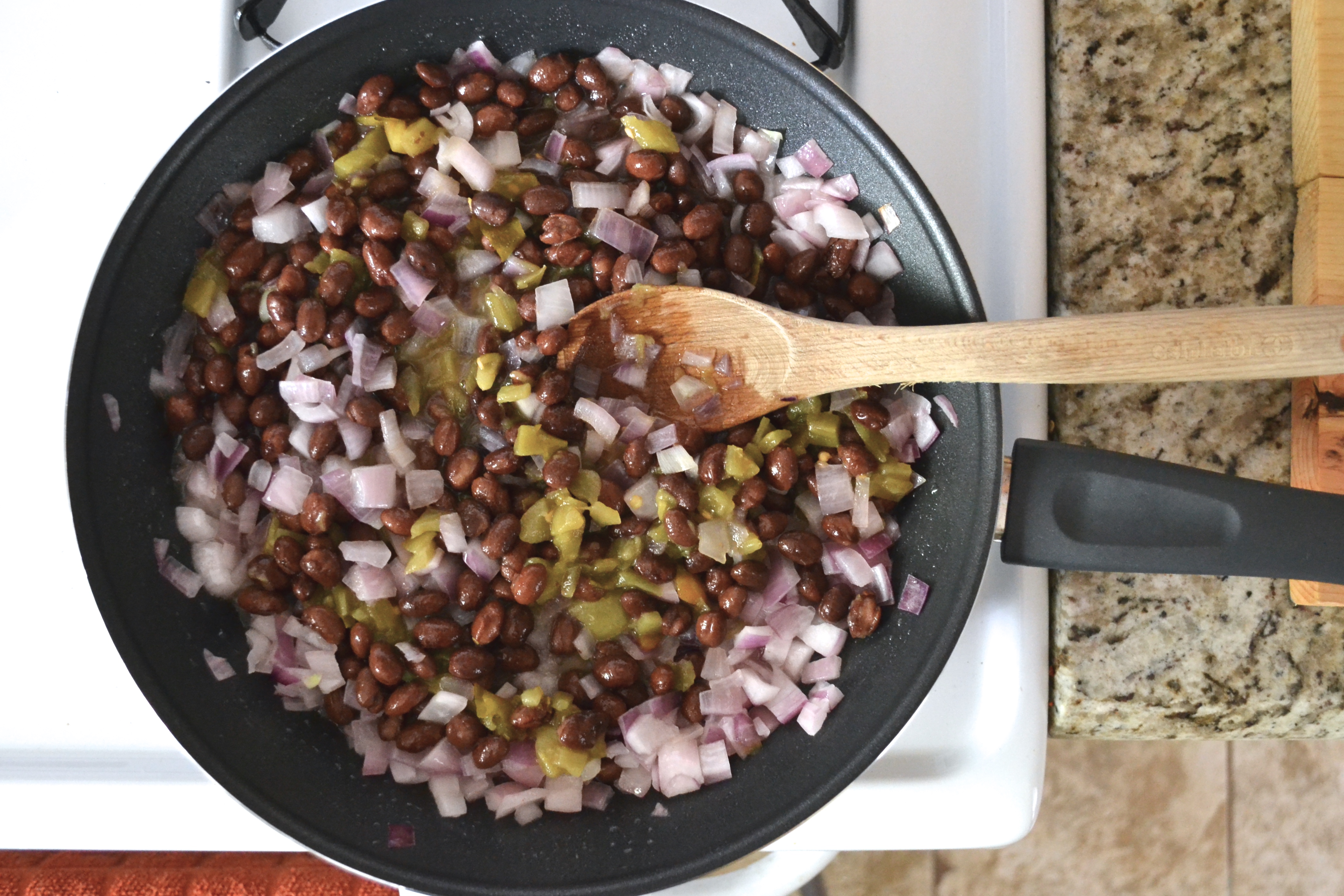 Then, add the spices and green chilis and smash down some of the beans.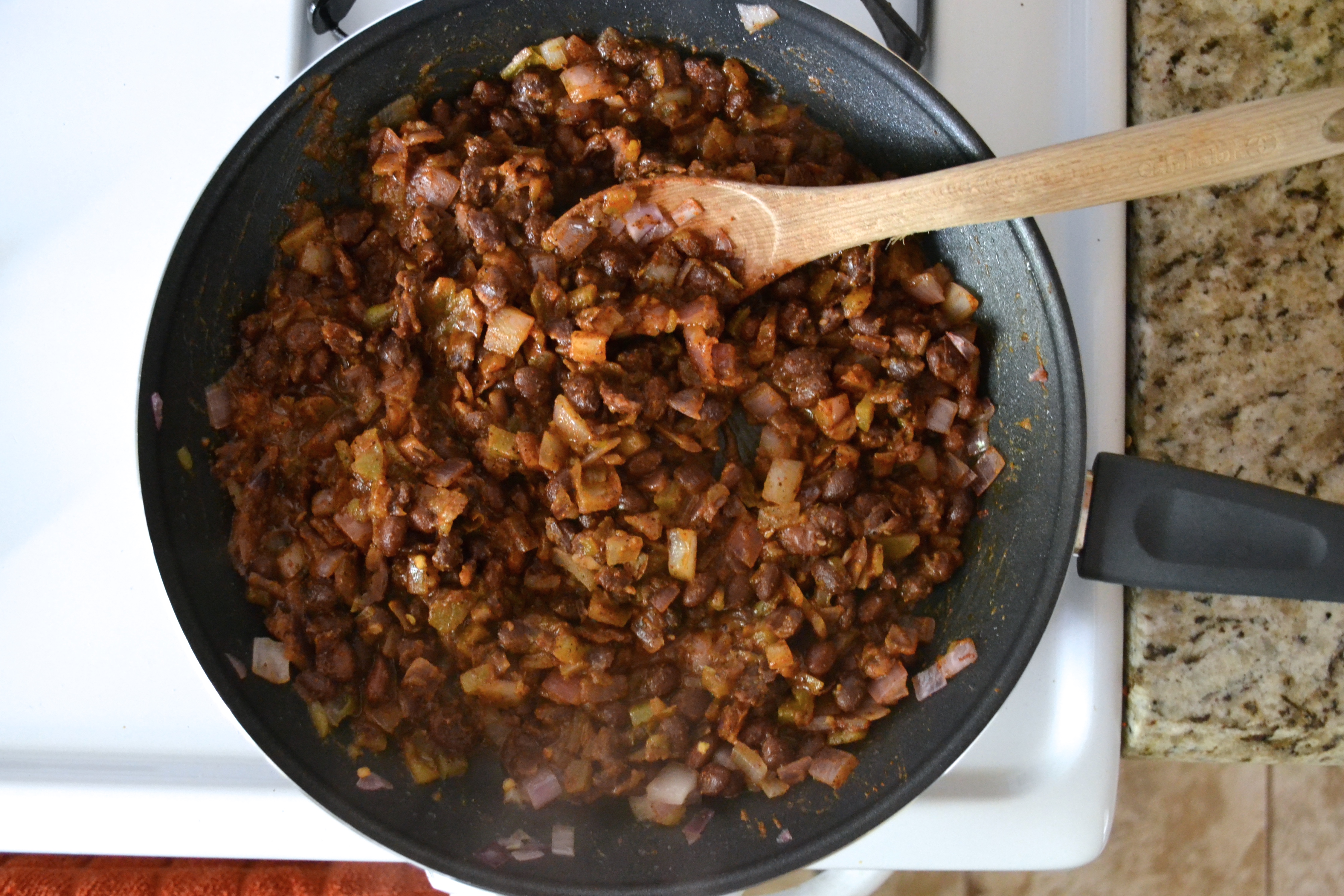 Finally, build your tacos with roasted butternut squash, the black bean mixture, goat cheese, avocado, salsa, hot sauce, cilantro, radish, and more.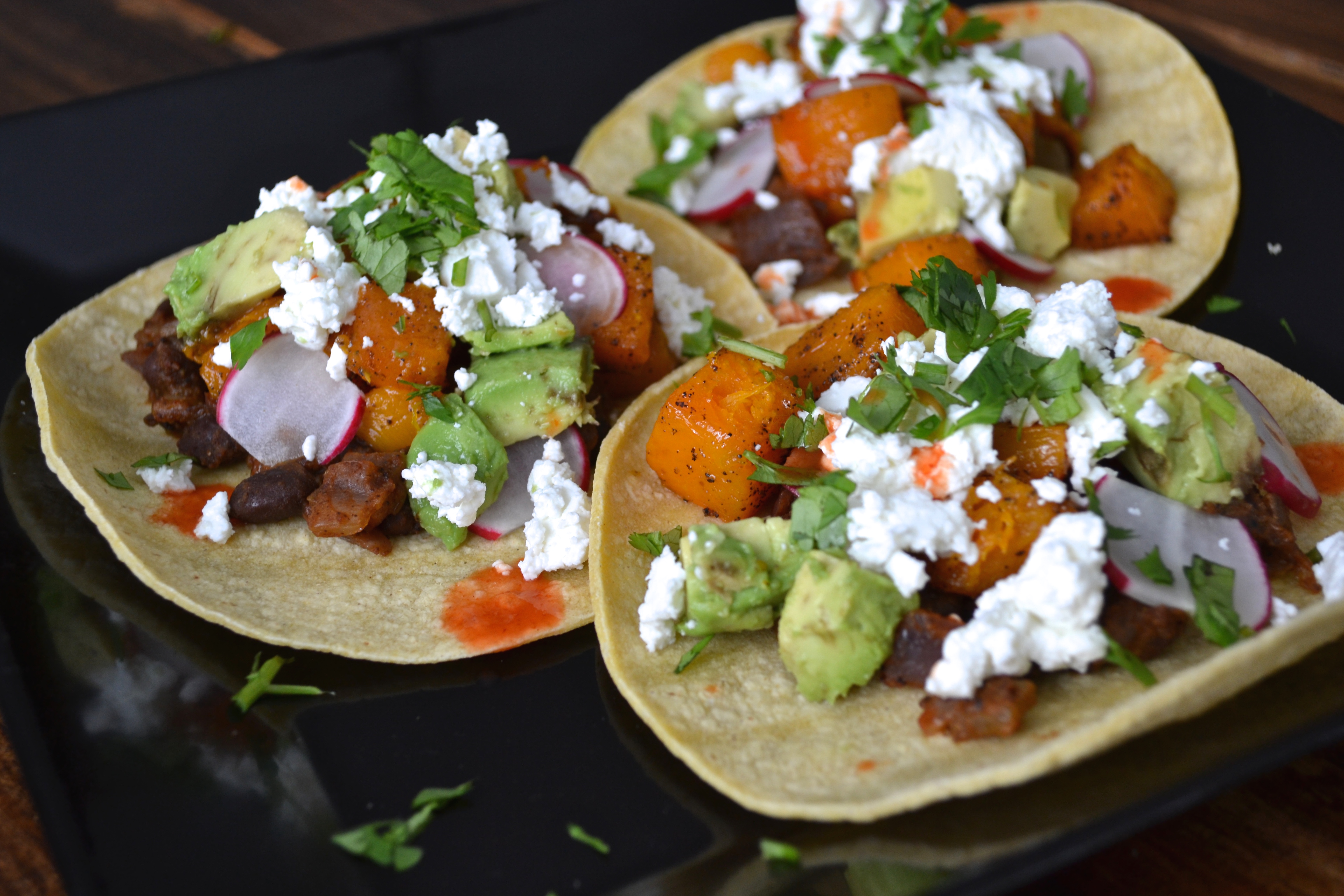 I'm sure pumpkin or other squashes would work well in this recipe, we just really like butternut. We hope you enjoy this delicious, healthy weeknight meal that celebrates the flavors of the season.
Butternut Squash, Black Bean, and Goat Cheese Tacos
Prep Time: 1 hour Cook Time: 10 min.
Ingredients:
1 butternut squash, peeled, seeds removed, diced into 1″ cubes
1 red onion, diced
15 oz. can black beans
5 radishes, thinly sliced
4 oz. can green chilis
5 oz. goat cheese
1 avocado, diced
1 bunch cilantro, chopped
1 tablespoon ground cumin
1 tablespoon chili powder
1 teaspoon paprika
1/2 teaspoon garlic powder
1 pinch cayenne pepper (optional)
Hot sauce
Salsa
10 corn tortillas
Preparation:
Preheat oven to 400°. Place diced butternut squash on a baking pan, drizzle with olive oil, and sprinkle with kosher salt and black pepper. Bake for 20 minutes, flip the squash, and bake for another 20 until cooked through.
Meanwhile, heat a large pan over medium and coat with olive oil. Sauté onion with 1 teaspoon of kosher salt for 5 minutes until soft. Add the black beans, green chilis, cumin, chili powder, paprika, garlic powder, and cayenne. Cook for 5 minutes, smashing some of the black beans against the pan with a wooden spoon to crush the beans.
Warm tortillas in the microwave before building tacos. Fill tacos with butternut squash, the black bean mixture, crumbled goat cheese, radish, avocado, salsa, hot sauce, cilantro, and more.