We've been eating Thanksgiving food for what feels like forever. Don't get me wrong, our meal was delicious, and we had a simply lovely time with our family, but since we wanted to test many of the sides before the big show, we've been eating Thanksgiving food for weeks. Although it is one of the best culinary times of the year, after overindulging my body is just craving vegetables! Monday rolled around and we were back to work, back to the gym, and back to balanced eating, which means more vegetarian dishes throughout the week.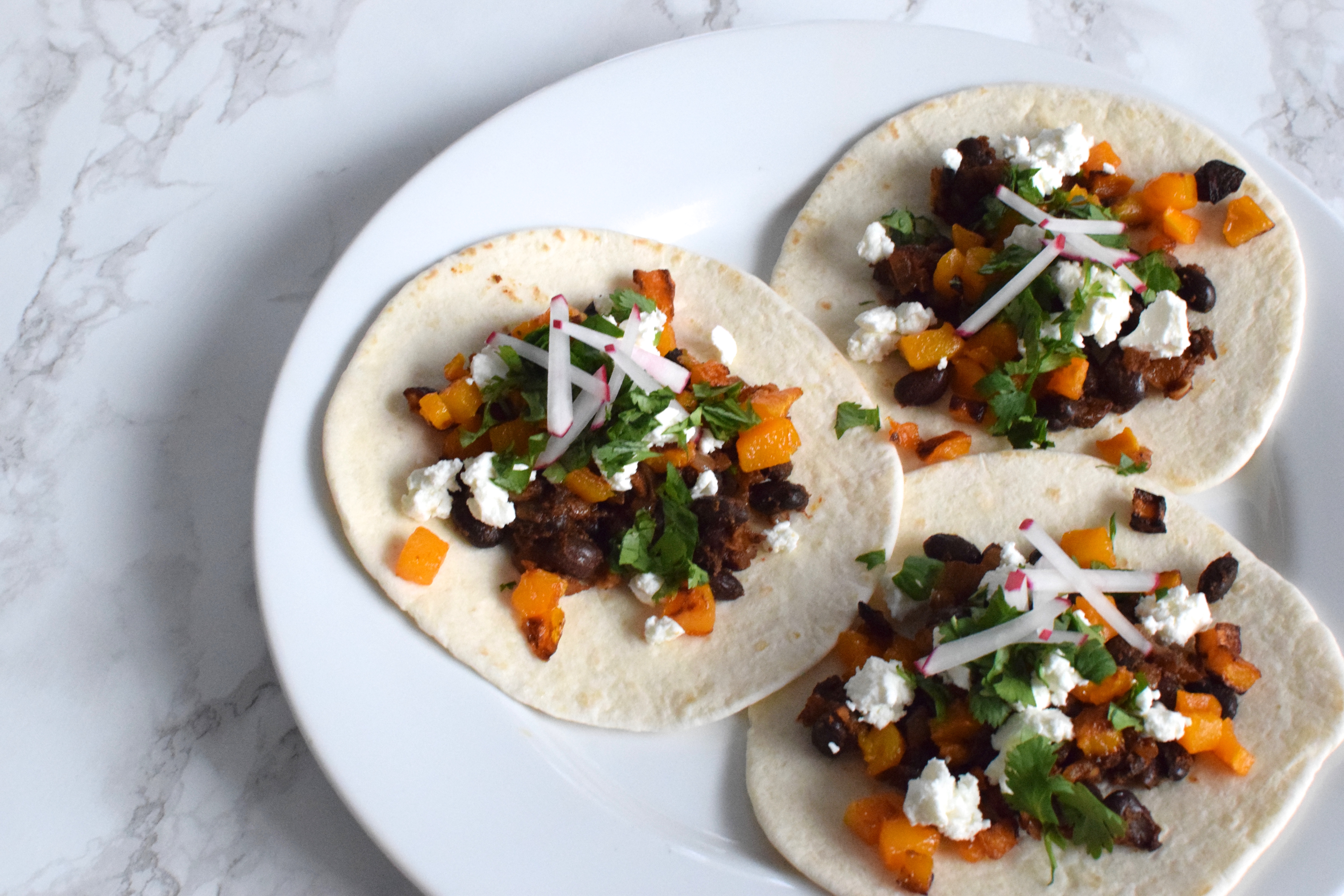 We love these butternut squash tacos. We originally posted a butternut squash taco recipe in 2016, but honestly it needed a facelift. We've changed the recipe over the past year, and I think we've got it down. What I love most about these tacos is that they're easy to make, which is just what we need on a busy weeknight. The sweet roasted squash contrasts with the tangy goat cheese. Also, I didn't know they make "street taco" size of tortillas. That's great because it gives me an excuse to eat MORE of them. Wait! Balance! Balance. Anyhow, I like the Mission brand of tortillas. (For my St. Louis friends, I also think it's funny that the title says "Mission Street Taco"…)
Hope you all are having a wonderful holiday season and you are finding balance not only in your meals but also in all parts your life. This time of year can be stressful, overwhelming, and painful for many. Take care of yourself, and know that we're in your corner cheering you on. Much love, friends!
Butternut Squash Tacos
Prep Time: 1 hour Cook Time: 10 min.
Ingredients:
1 butternut squash, diced into small pieces
1 onion, diced
15-oz. can black beans
1 tablespoon ground cumin
1 tablespoon chili powder
1 pinch cayenne pepper
4 cloves garlic, minced
5 radishes, cut into matchstick pieces
5-oz. goat cheese
1 avocado, diced
1 bunch cilantro, chopped
Sriracha sauce
Kosher salt
Black pepper
Flour street tortillas (the smallest size)
Preparation:
Preheat oven to 400°. Place diced butternut squash on a baking pan, drizzle with olive oil, and sprinkle with kosher salt and black pepper. Bake for 15 minutes, flip the squash, and bake for another 15-20 until cooked through.
Meanwhile, heat a pan over medium heat and coat with olive oil. Sauté onion with 1 teaspoon of kosher salt for 5 minutes until soft. Add the garlic and continue to sauté for another minute. Add the black beans, cumin, chili powder, cayenne, and a hefty pinch of both salt and pepper. Cook for 5 minutes, smashing some of the black beans against the pan with a wooden spoon to crush the beans.
Warm the tortillas in the microwave before building tacos. Fill tacos with the roasted butternut squash, black bean/onion mixture, crumbled goat cheese, radish, avocado, cilantro, and a drizzle of sriracha sauce.