I think it was Shauna Niequist who wrote about how we all go through seasons of feast and seasons of fast. December = feast. January = fast. That how it's worked for me in the past, at least. In any typical holiday season, you could find me raising a glass to celebrate the season, baking my heart out, and sneaking extra pinches of my mom's Christmas cookie dough. This season, however, is different. I've made a commitment to finding a healthy balance throughout the holiday season. I'm working out regularly (I hate running), tracking calories, and making healthy meals at home so that when I do go out with friends or to a holiday party I can enjoy myself without feeling guilty.
After trying Paleo, Whole30 (twice), and 10 days of Real Food, we've gathered a collection of healthy go-to recipes. One of our favorites is a chicken and artichoke soup with basil from Christine at Once a Month Meals. The thing I like most about this soup is that for some magical reason, when the artichokes are blended, the consistency of the soup becomes creamy, without the use of cream!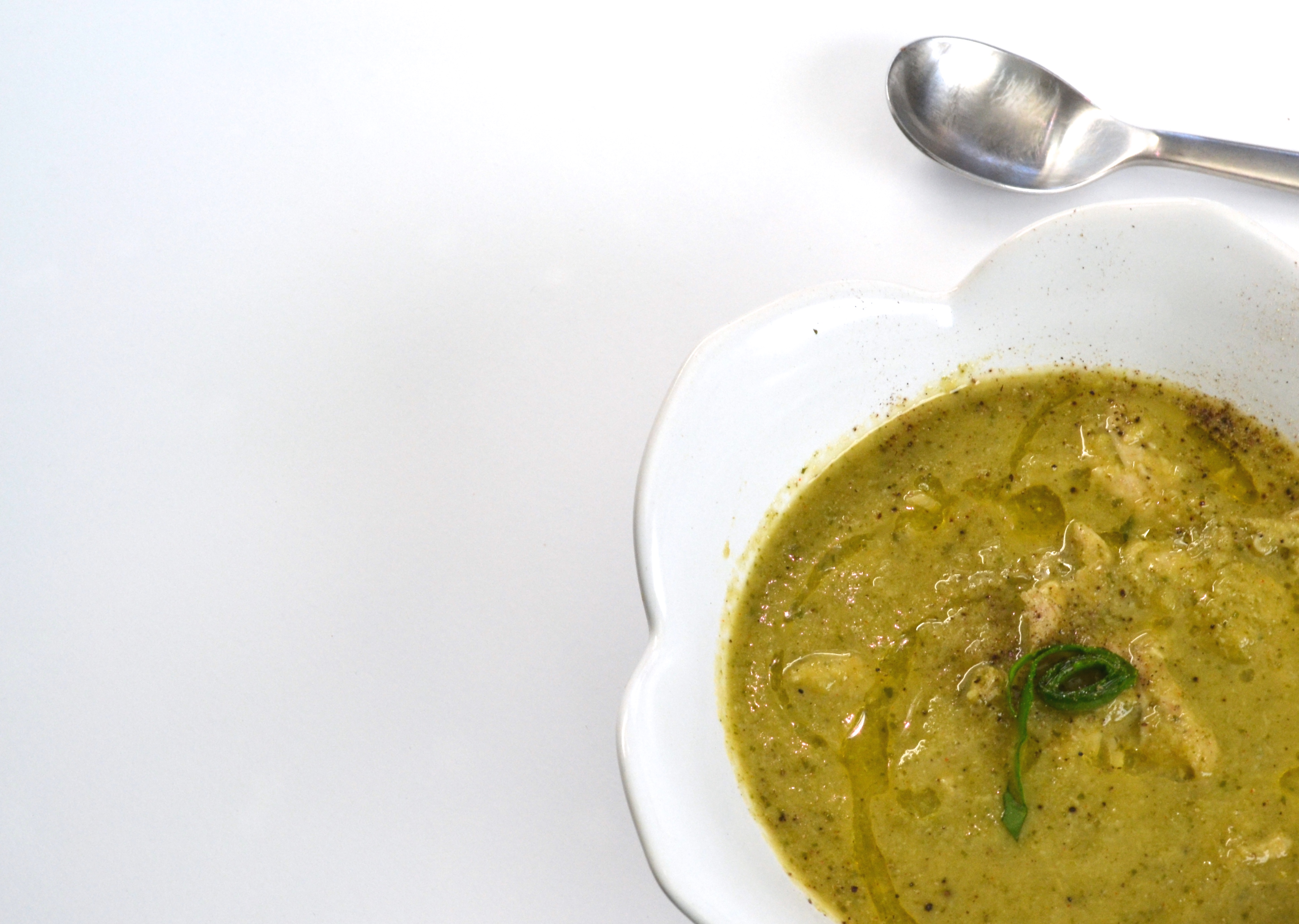 We changed the recipe and preparation quite a bit, so much so I think we can call it our "own" now, but I like to give credit where credit is due, and we totally got the idea for this soup from Once a Month Meals. I'm really bad at photographing soup, so just roll with me here and trust that it's delicious, healthy, and probably what your body is craving between all the holiday indulging. Enjoy!
Chicken Artichoke Soup
Prep. Time: 15 minutes Cook Time: 30 minutes
Recipe Adapted From Once a Month Meals
Ingredients:
2 tablespoons coconut oil
1 onion, diced
4 cloves garlic, sliced
4 stalks celery, chopped
3 handfuls spinach
1 handful fresh basil
2 14-oz. cans artichoke hearts, drained and rinsed
1 quart low-sodium chicken stock
1 teaspoon ground cumin
1 teaspoon ground coriander
1 teaspoon paprika
1 lb. chicken tenders
Kosher salt
Black pepper
Olive oil
Preparation:
Preheat oven to 350°. Place chicken on a lightly oiled baking sheet and drizzle with additional olive oil. Sprinkle with salt and pepper. Cook for 15-20 minutes until cooked through. Shred chicken and set aside.
Meanwhile, in a large dutch oven, heat the coconut oil and add the onions and celery with a pinch of salt. Sauté until translucent. Add the garlic, cumin, coriander, paprika, and another pinch of salt and pepper. Continue to cook for another minute. Add the artichokes and chicken stock. Bring to a boil, then reduce to a simmer and cook for 10 minutes.
Remove from the heat and add spinach and basil. Stir until spinach and basil are wilted. Transfer soup to a bowl that won't get scratched (or be very careful blending in your dutch oven) and blend using a stick blender until creamy and smooth. Add shredded chicken and stir. Taste and add more salt if needed.
Serve soup with freshly cracked black pepper, a drizzle of olive oil, and hot sauce (optional).