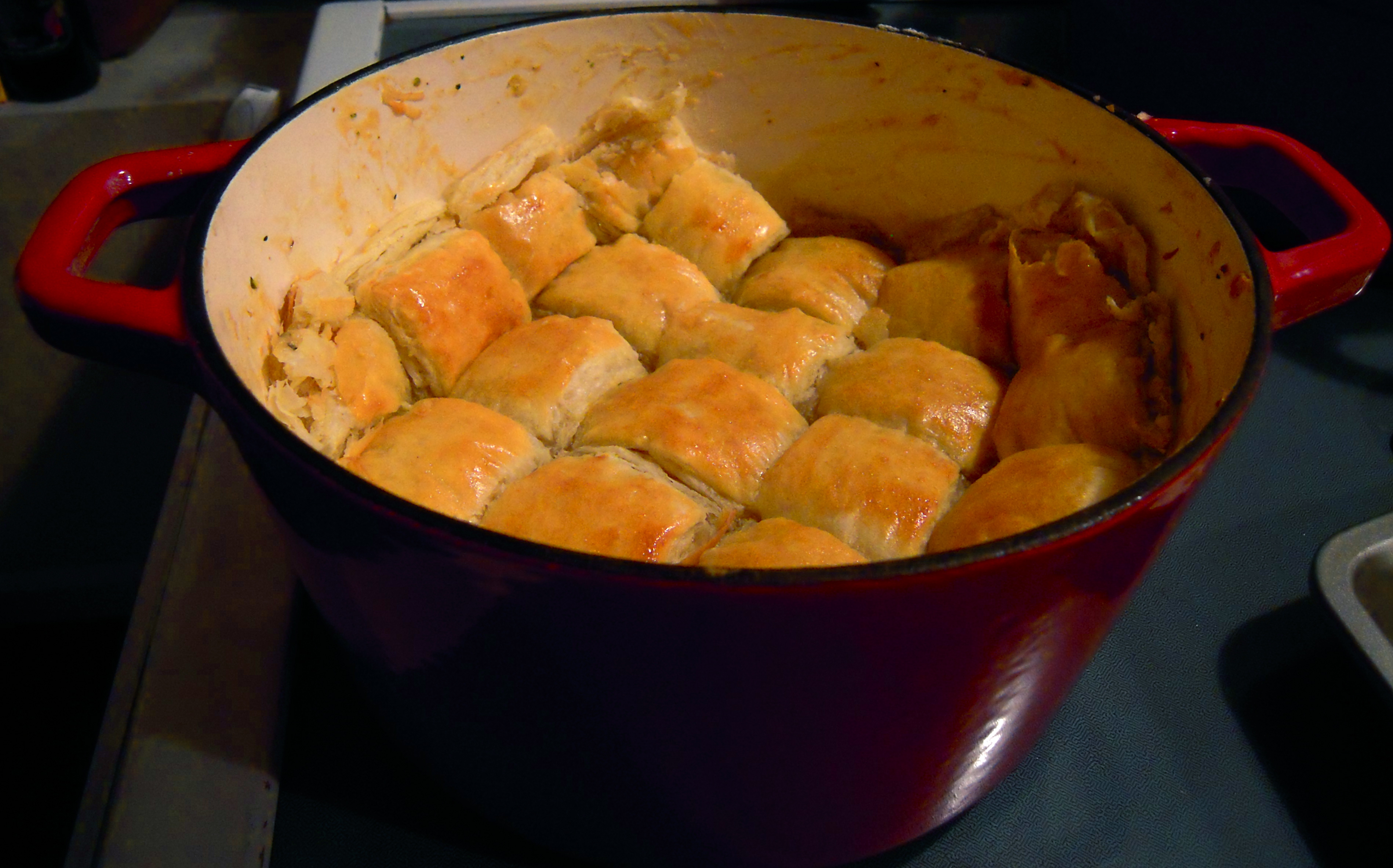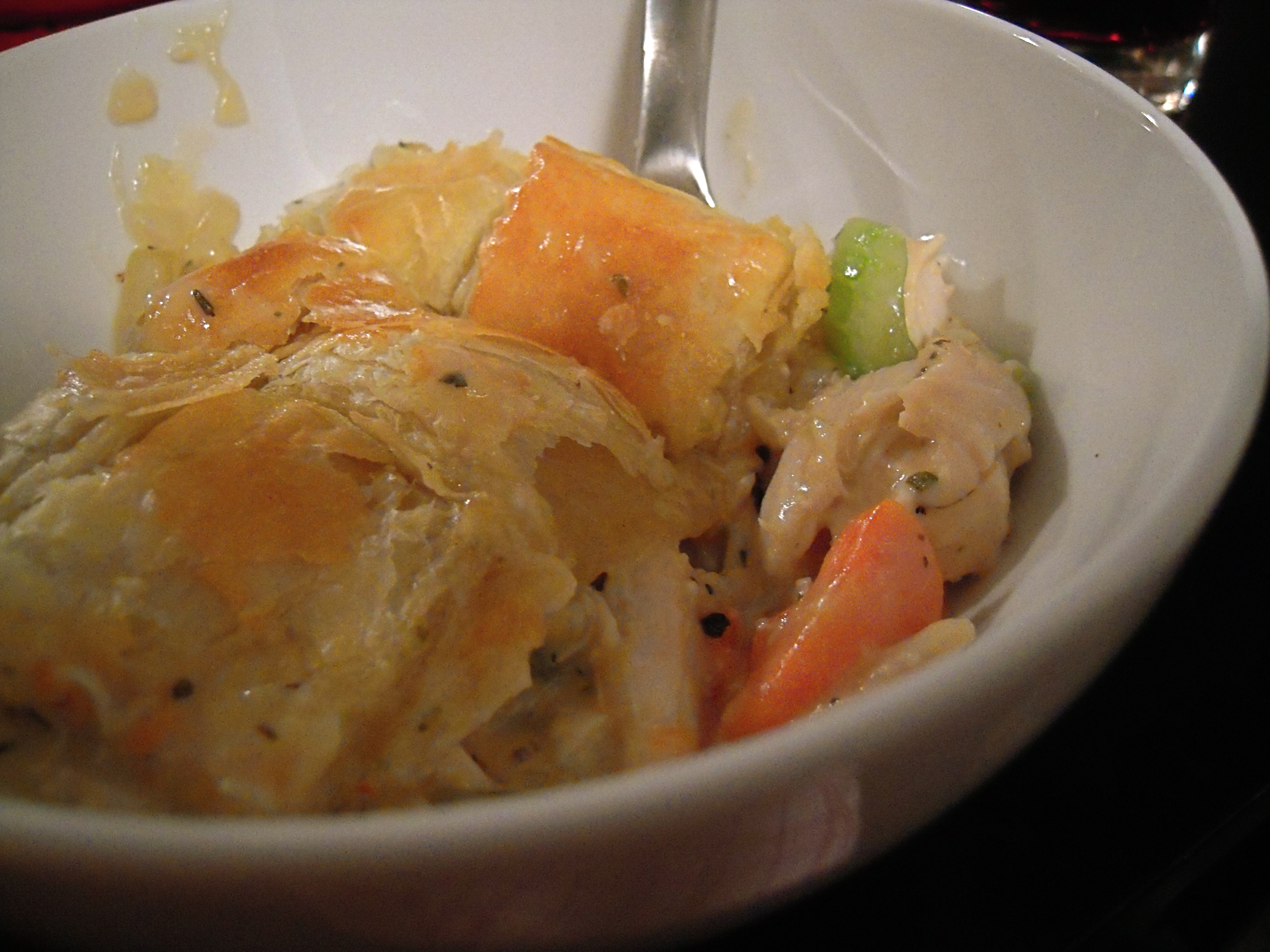 After talking to friends about chicken pot pie, the majority of them have had not-so-good experiences with the dish. We heard responses that wished it didn't get so mushy, had a different crust, more flavor, less peas, and more. Taking on the challenge, we have developed a recipe inspired by others such as Paula Deen and Ina Garten that will change your mind if you're skeptical on pot pies, and confirm your love if you're already a believer.
Ingredients:
5 (3 ounce) boneless skinless chicken breasts
1/2 cup + 2  tablespoons extra virgin olive oil
2 cups carrot, chopped
2 cups celery, chopped
1 cup peas, (always optional in Whitney's book)
2 medium yellow onions, chopped
2.5 cups chicken stock
2 chicken flavored bullion cubes
1  teaspoon crushed red pepper flakes (optional)
2 tablespoons herbs de provence (or basil, thyme, fennel, and savory)
4 tablespoons butter
Kosher salt and black pepper to taste
1 whole shallot, minced
1.5 cups heavy cream
1/2 cup all-purpose flour, sifted
5 garlic cloves, minced
2 sheets Puff Pastry
1 egg
Preparation:
Preparation for this dish can take as long or as short as you'd like, depending on how much you let each step simmer. Really, no rushing once the stock and cream is in. It could simmer for a while if you'd like to do dishes, prepare a dessert, or read a book. Just stir every now and then to make sure it's not sticking to the bottom.
Preheat oven to 350°. Drizzle olive oil on a baking sheet and place chicken on the pan. Gently salt the tops of the chicken breast and flip, which should coat the chicken in oil. Salt the reverse side, and flip right side up again.
Bake for 30 minutes. Once cooked through, remove from oven and let rest until cool enough to touch. On a cutting board, shred the chicken by holding one side of the breast with a knife, and scraping the rest of the chicken with a fork. Chicken pieces should be uneven.
Take puff pastry sheets out of the box and set aside to thaw (do not unroll yet).
Place the 1/2 cup of olive oil in a cast iron dutch oven on the stove over medium heat. Once hot, add onion, garlic, shallot, carrot, and celery to the oil, and cook until onions are translucent.
While cooking vegetables, heat the chicken stock in a small saucepan over low heat. Add the bullion cubes and dissolve completely.
Once onions are cooked down, add the chicken stock/bullion liquid to the dutch oven and simmer over low for at least 10 minutes. Add the butter and cream, and stir until combined. While stirring, add the flour slowly until desired consistency is reached. Add herbs, and season to taste with salt and pepper. Finally, add the cooked chicken, coating the chicken with the vegetables and sauce. Turn the heat to very low and prepare the lattice crust.
While dough is mostly thawed but still cold, prepare the lattice crust. Coat a baking sheet with non-stick spray. Unfold the puff pastry dough one sheet at a time, and cut it evenly into 1″ strips. (If your dough has created a trifold, just cut each trifold in half lengthwise). Lay each of the strips side by side. Cut the other sheet just like the first. Weave the strips from the second sheet through the first ones horizontally, creating a lattice design.
Whisk egg in a small bowl to create the egg wash. Gently brush the lattice with the egg wash. This will create a golden brown finish once baked.
Place in the 350° oven for 30 minutes until dough has risen and top is golden brown.
Remove lattice from oven. Using two spatulas, place lattice atop the filling in the dutch oven. Place the entire dish in the oven until all parts are warm.
Serve hot.