One thing I love about marriage is that you learn new things about each other (literally) every day. Last year, Neil and I were in Starbucks and I gleefully ordered my first scone of the season to compliment my pumpkin spiced latte.  After placing my order, I turned to Neil and prepped his order by saying, "Aaaaand…." thinking he would get a scone as well.
Neil didn't order a scone. I said, "Don't you want a scone? Look, they're covered in frosting!"
Neil: "I don't like scones."
Me: "What?"
Neil: "I don't like scones."
At this point, the Starbucks man's eyes widened as he realized he was unwillingly flung into a marital dispute. We paid and as we walked back to the car I asked him to explain how he doesn't like scones. He likes muffins! He likes biscuits! Basically he said they are too dry, too flavorless, and too boring.
Fast forward a year. Neil likes scones now. My sister actually made him the first scone he's ever liked. The key to the recipe she followed is the presence of mucho heavy cream. This fall spiced scone recipe is original, although the inspiration for the maple frosting comes right from Pioneer Woman's cinnamon rolls (a staple in our house).
All in all, even if you don't like scones, give this one a try. Neil is living proof that a man can change. At least when it comes to scones.
Ingredients:
For the scones:
4 cups whole wheat pastry flour
2 tablespoons baking powder
1/2 cup honey
1 teaspoon salt
12 tablespoons cold unsalted butter, cut into small cubes
2 cups heavy cream
1 teaspoon vanilla extract
3 teaspoons ground cinnamon
1 teaspoon ground nutmeg
For the maple frosting:
6 cups powdered sugar
1/2 cup heavy cream
6 tablespoons unsalted butter, melted
3 tablespoons brewed coffee
2 teaspoons maple extract
1/4 teaspoon salt
Preparation:
Preheat oven to 425°. Mix flour, baking powder, salt, cinnamon, and nutmeg in a large bowl. Cut cold butter pieces into this mixture using either a pastry cutter or two knives. Continue to cut in the butter until some pea sized pieces form. There will be many smaller pieces as well.
In a separate small bowl, whisk the heavy cream, honey, and vanilla together. Add this cream mixture to the crumbs and stir until dough forms. Using your hands, turn dough out on a floured surface and knead for about a minute.
Cut dough in half, and place one half in a floured 8″ pie pan. Turn dough back onto the floured surface and cut this 8″ circle into 8 even pieces (like a pizza).
Place pieces on a non-stick baking mat on a sheet pan and bake for 12 minutes.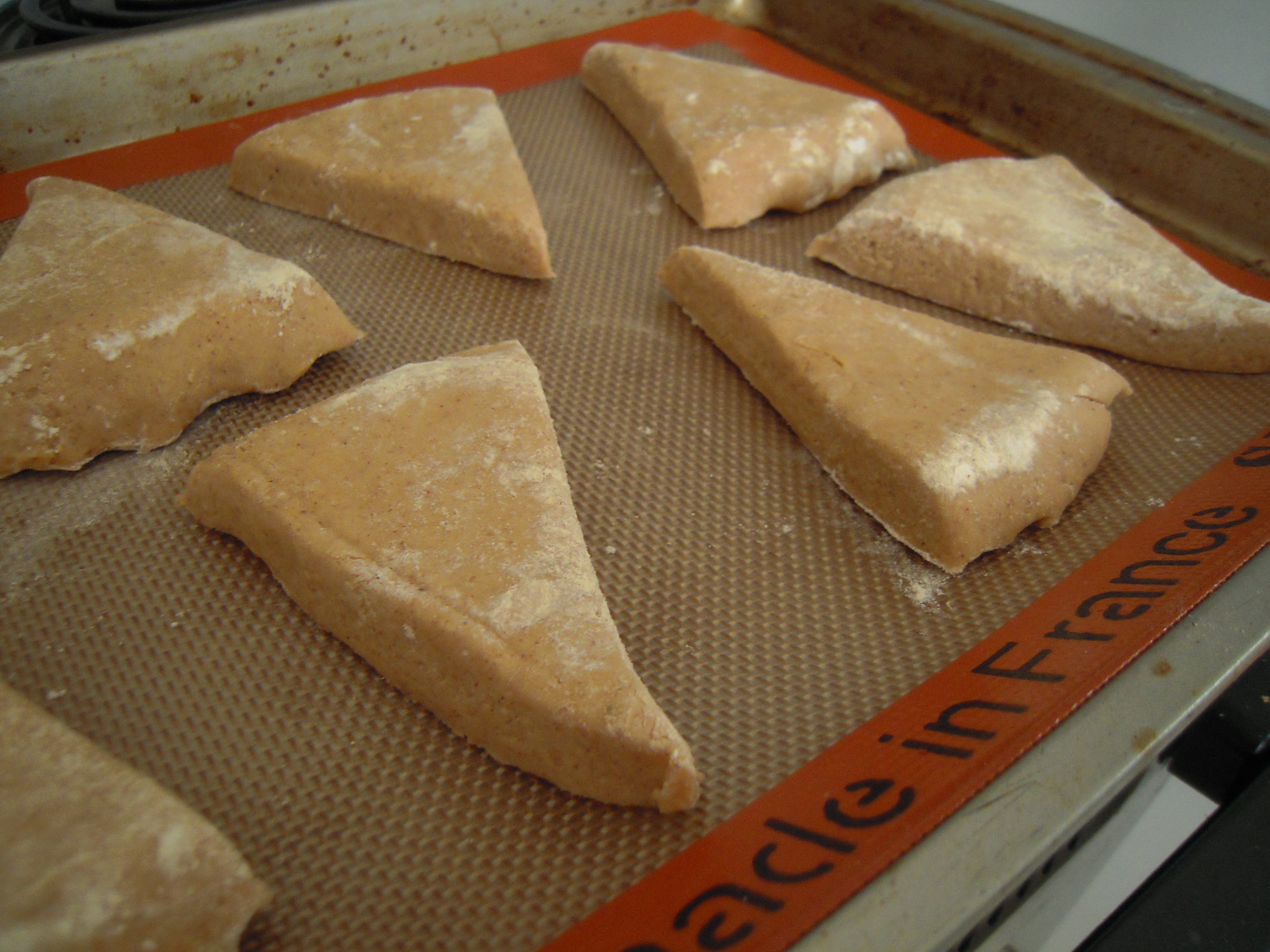 Remove from oven and cool. Repeat with second batch.
As scones are baking, prepare the frosting. Using an electric mixer, whisk all frosting ingredients together until smooth.
Dunk the tops of the cooled scones in the frosting. Repeat as many times as the little devil on your shoulder tells you. "Go on…dunk it again…do it…"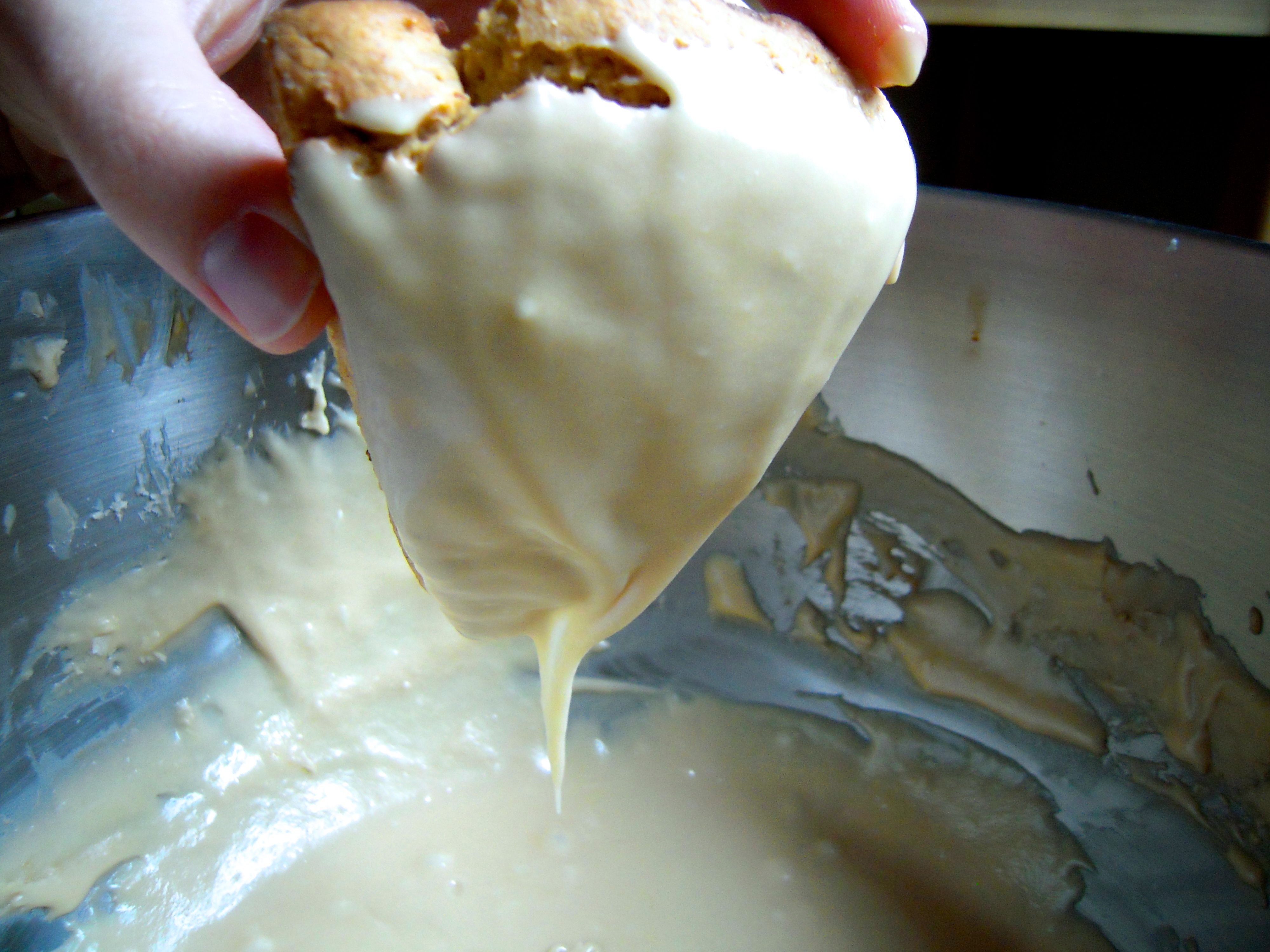 Enjoy these scones with strong coffee. Makes 16 scones.