If you were to ask me to name my favorite food when I was about eight years old, the answer would probably be fried eggplant. I was pretty dang good at making it on my own around that age. My parents would help with the knife skills of course, but I'd be the one with the egg and the breadcrumbs and the pats of butter ready to go. I've always been my dad's sous chef. Still today, when I see eggplant parmesan on an Italian menu, it's hard for me not to order it. I love it.
My parents had a surplus of eggplants in their garden this year, and one was so round and plump that they lovingly named it "Big Bob." Here is Big Bob with his eggplant family. I almost want to draw stick figure hands and feet and smiles on all of them.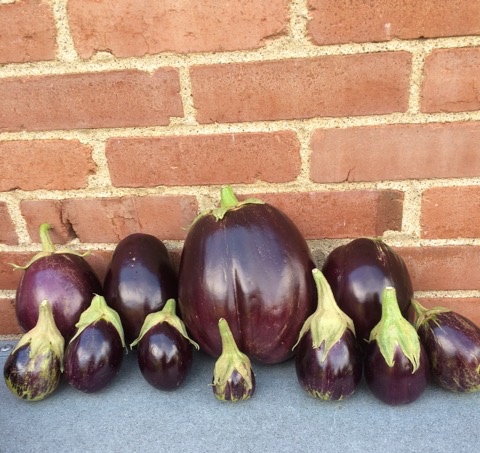 Photo Credit: My wonderful father
I had the pleasure of adopting Big Bob and turning him into something delicious. These eggplant fries are a lighter alternative to the traditional eggplant parmesan, and they're fun to eat because you can dunk them in any sauce. We like ranch with ours. Whether you are looking for a lighter appetizer or side, searching for vegetarian recipes, or just have a surplus of eggplants to eat, we hope these eggplant fries rise to the occasion.
RIP Big Bob.
Eggplant Fries
Prep Time: 25 min. Cook Time: 25 min.
Ingredients:
1 medium eggplant
1 cup flour
1 tablespoon kosher salt
1 tablespoon black pepper
1.5 teaspoons onion powder
1.5 teaspoons garlic powder
2 cups panko
1 cup parmesan cheese
3 eggs, beaten
Olive oil
Preparation:
Preheat oven to 425°. Place a nonstick (or lightly oiled) wire rack atop a baking sheet and set aside.
Using a sharp knife, carefully cut off the top and bottom ends of the eggplant. Slice eggplant lengthwise into 3/4″ thick pieces, then cut each of those into 3/4″ thick sticks.
Set up three separate bowls, large enough to fit each piece of eggplant in.
Bowl 1: Flour, salt, pepper, garlic powder, onion powder, mixed
Bowl 2: Eggs, beaten
Bowl 3: Panko and parmesan cheese, mixed
Coat each eggplant stick one at a time first in the flour, then in the egg, then in the panko, and place on the wire rack. Lightly drizzle olive oil over all the eggplant sticks. Bake for 25 minutes until golden brown. Remove from the oven and allow eggplant to cool before serving. Serve with ranch, BBQ, or ketchup.