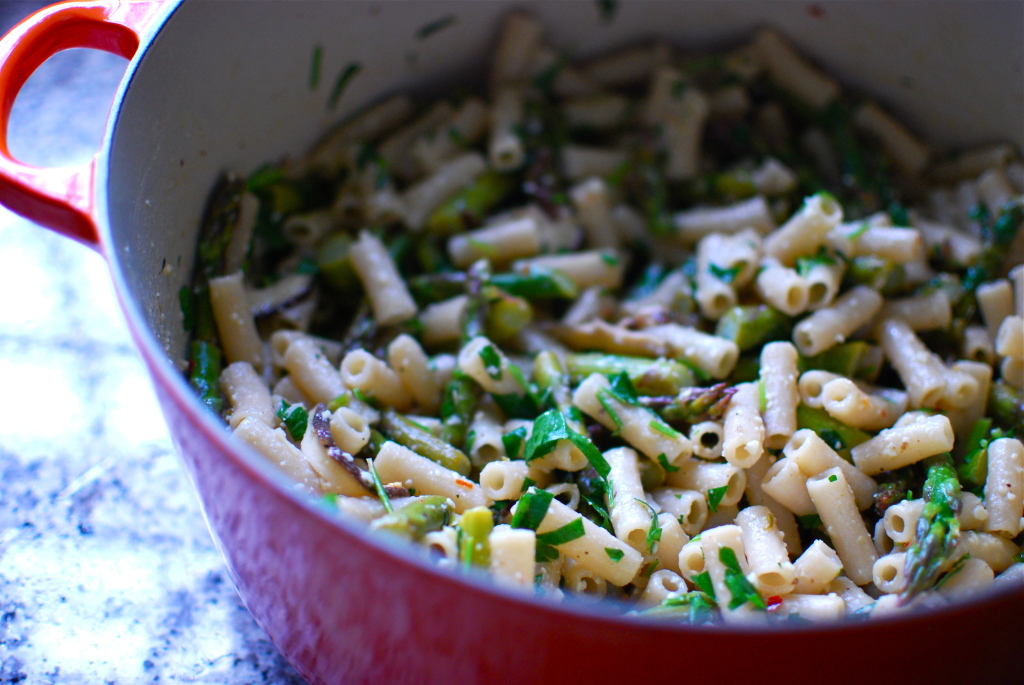 Three words: brown rice pasta. Know it? Love it? I found this delightful wonder at Trader Joe's, and haven't gone back to whole wheat yet. It's gluten free and tastes so close to regular ol' pasta that I'm hooked. I also saw that they have brown rice and quinoa pasta, which we will be trying this week. This time of year is ideal because the produce aisles are especially abundant. Consequently, as temperatures rise, so do my cravings for seasonally fresh veggies. This week, the asparagus was calling my name…and I answered.
I have never used raw lemon as a sauce for pasta before, but in this dish, it is spectacular.  The lemon flavor isn't too bitter when combined with a little olive oil and cheese, and the zing from the citrus brings this pasta to life. You can substitute the asparagus for any other vegetable that calls your name.
Fresh Lemon Pasta
Recipe Adapted from: Giada De Laurentiis
Prep Time: 10 min. Cook Time: 15 min.
Ingredients:
3 tablespoon olive oil
2 lemons, juiced
1 bunch asparagus, cut into 2″ pieces
4 oz. shiitake mushrooms, thinly sliced
1/4 teaspoon salt
1/2 teaspoon black pepper
1/2 cup parmesan cheese
1/2 cup white wine
1 cup Italian parsley, chopped
1/2 teaspoon red pepper flakes
2 cloves garlic, chopped
1 package brown rice pasta (available at Trader Joe's)
Preparation:
Bring a pot of salted water to a boil. Cook pasta according to package, drain, and return to pot.
Over medium high heat, heat 2 tablespoon of olive oil in a pan. Add the asparagus and mushrooms and cook for 5 minutes. Add garlic and continue to cook another 3 minutes, stirring often.
Add the wine and scrape the pan to get the brown bits off the bottom and cook until wine is reduced, about 5 minutes.
In a bowl, whisk together the lemon juice, parmesan, 1 tablespoon olive oil, salt, pepper, and red pepper flakes.
Add pasta, lemon parmesan sauce, and parsley to the pasta. Toss pasta to combine and serve hot.
Serves 8