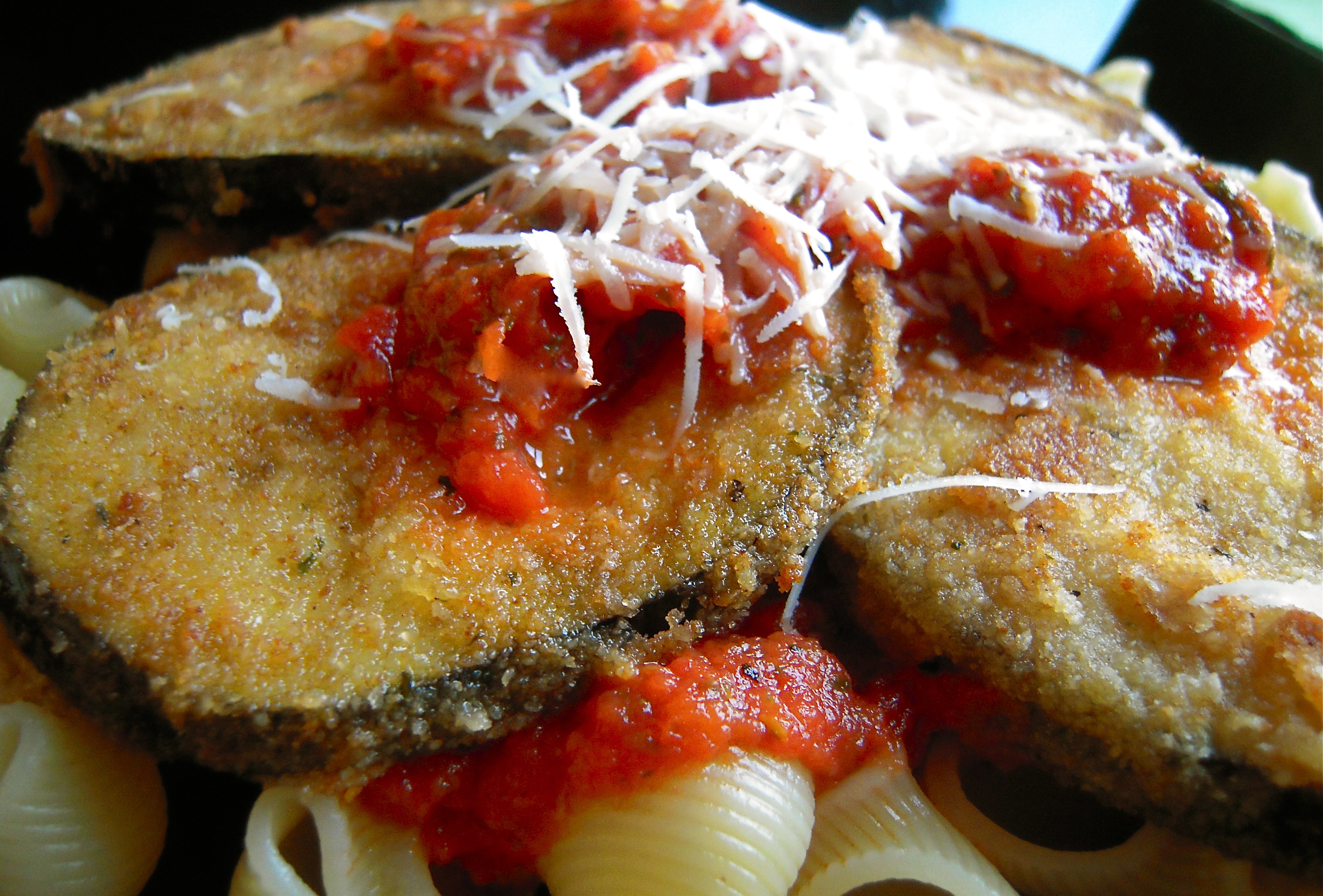 Here is our version of eggplant parmesan. The big difference is that we don't layer the eggplant and bake it. This recipe is simple, quick, and attractive. I have fond memories of helping my dad cook this dish. By 7th grade, when people asked me what my favorite food is, I replied "fried eggplant," and was confused by the funny looks I'd get in response. This really is a great recipe to make with the kids because it is so hands-on. They'll love helping you dredge the eggplant in the egg wash and the bread crumbs. Enjoy!
Ingredients:
1 eggplant
2 eggs
4 cups Italian bread crumbs*
1/2 cup parmesan cheese, grated
2 cups tomato sauce
4 tablespoons butter
4 tablespoons olive oil
*For more crunch, try 2 cups bread crumbs, 2 cups Panko
Preparation:
Thinly slice the eggplant and set aside. Beat eggs in a medium sized bowl and set close by the eggplant. Place bread crumbs in another medium sized bowl and set next to the eggs. Your assembly line (eggplant + egg wash + bread crumbs) is now ready to rock.
With clean hands, work your way down the assembly line. One slice at a time, coat the eggplant in egg wash, then dredge in bread crumbs patting the crumbs down firmly on each side, and set on a plate.
Heat 2 tablespoons of butter and 2 tablespoons of olive oil in a non-stick pan. We recommend using a Presto electronic skillet, and heating it to around 350°. For all other pans, cook over medium heat.
Place eggplant in the hot pan and be sure not to overcrowd. The bigger your pan is the more you can cook at one time. Sauté the eggplant for 4-5 minutes on each side until golden brown, adding more olive oil and butter if needed.
Top with tomato sauce and parmesan cheese. Serve atop a fresh bed of pasta.
Serves 4