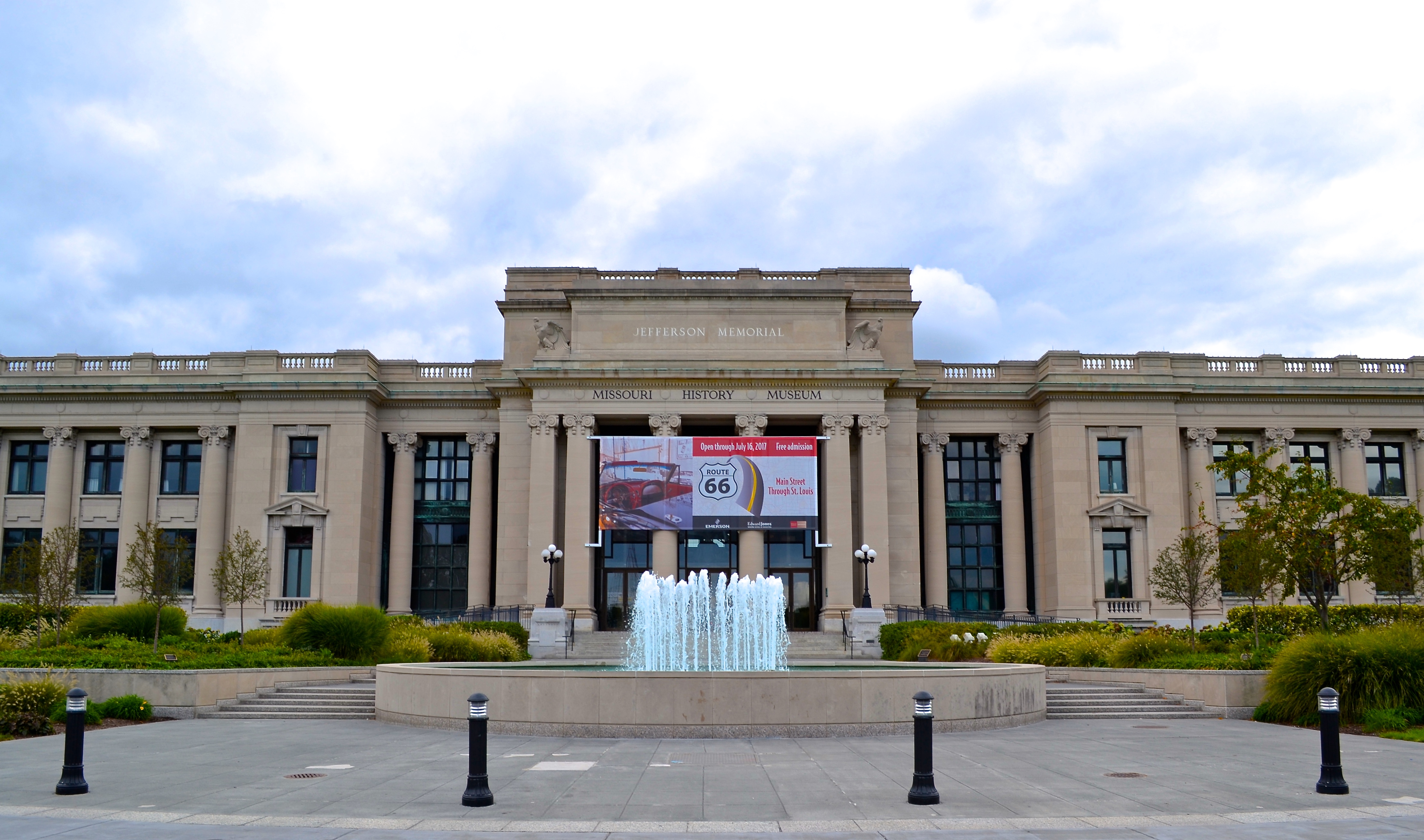 This post is sponsored by ALIVE Influencer Network + The Missouri History Museum
This week we were invited to a private tour of the new Route 66 exhibit at the Missouri History Museum here in St. Louis. The is exhibit is free to the public, and the history museum staff did an excellent job in conveying the significance of Route 66 to St. Louis history.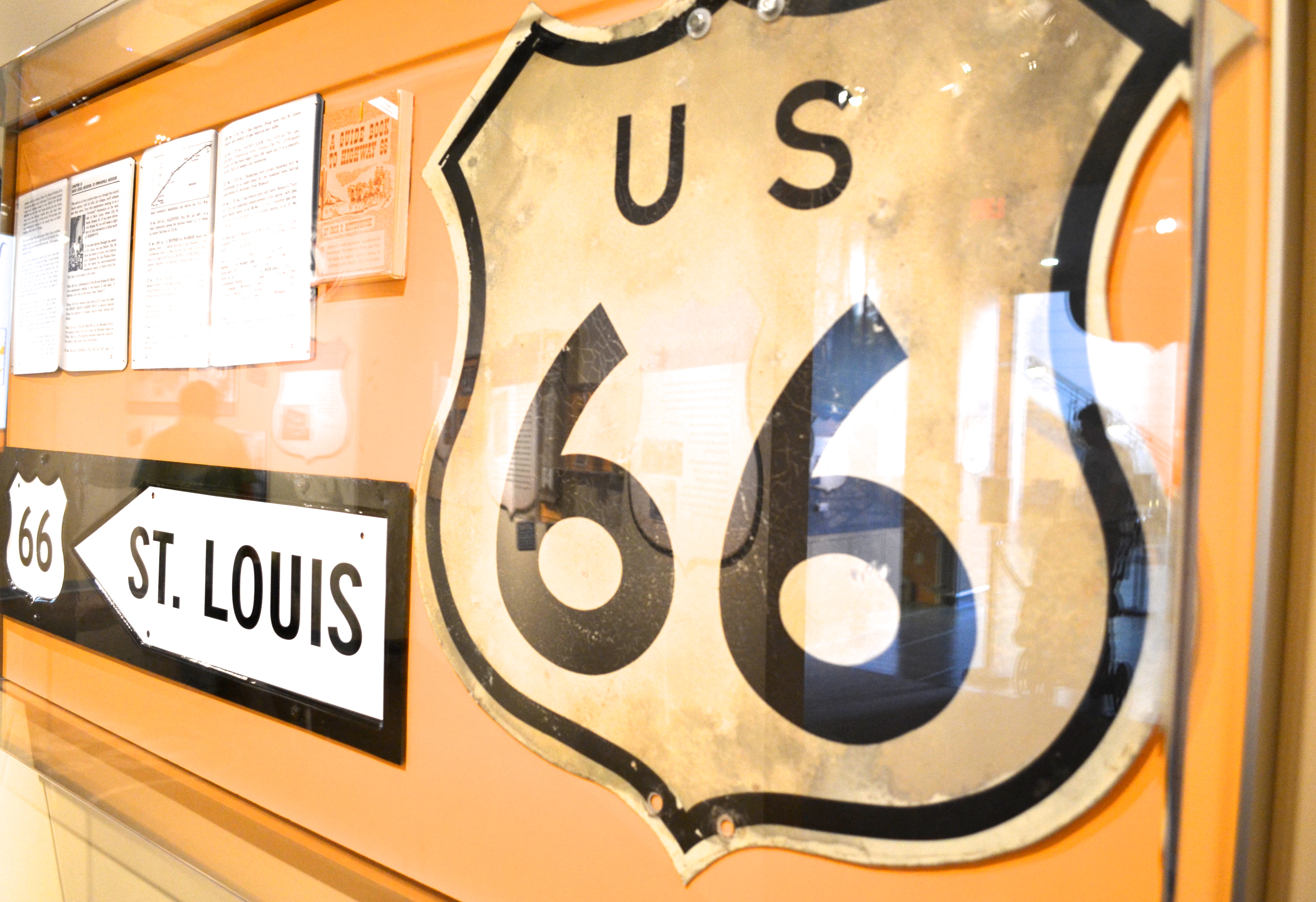 Through this post, I hope you learn a little more about St. Louis history and the impact Route 66 had on the St. Louis culinary scene.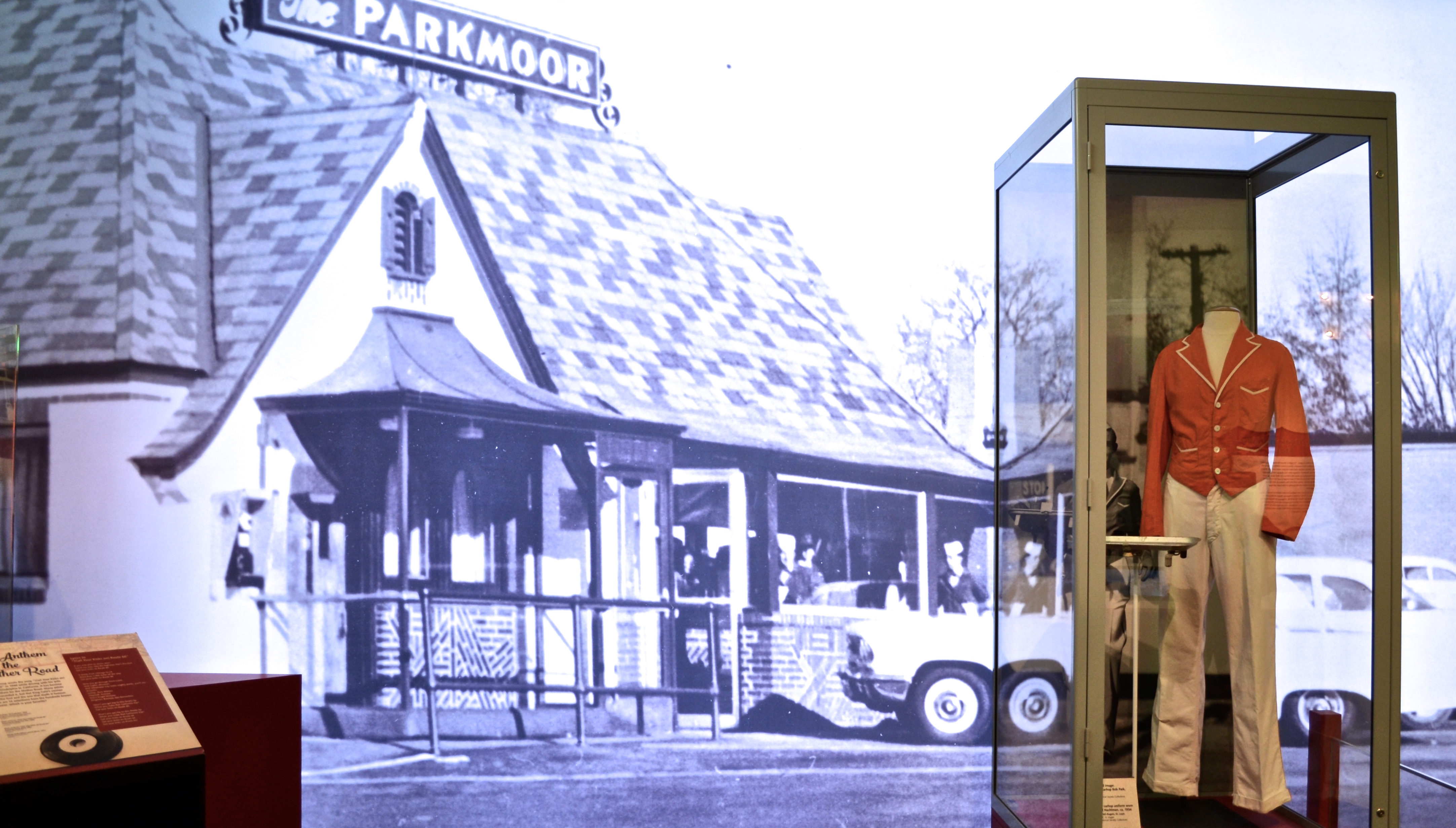 One of my favorite parts of this exhibit was the section about FOOD (go figure). Located right along Route 66 at Big Bend and Clayton Road was The Parkmoor, St. Louis' first carhop restaurant! Pictured here is a uniform the first carhops in St. Louis would wear. The concept of carhops was just catching on in America, and the Parkmoor brought this craze to St. Louis in 1930. After many years of success, the Parkmoor struggled to compete with other St. Louis restaurants, and closed in 1999. A Walgreens now stands in the old Parkmoor space.
One place I know that hasn't changed much since it opened in 1941 along Route 66 is Ted Drewes. For those of you that haven't visited St. Louis, Ted Drewes is arguably the best custard on the planet. On any given night of the week, crowds flock to Ted Drewes for delicious frozen treats. It's a family tradition of ours to stop by on the way home from Cardinals games (and also ironically after we go to the dentist…). The Route 66 exhibit boasted the original Ted Drewes uniform worn by Mrs. Drewes senior herself.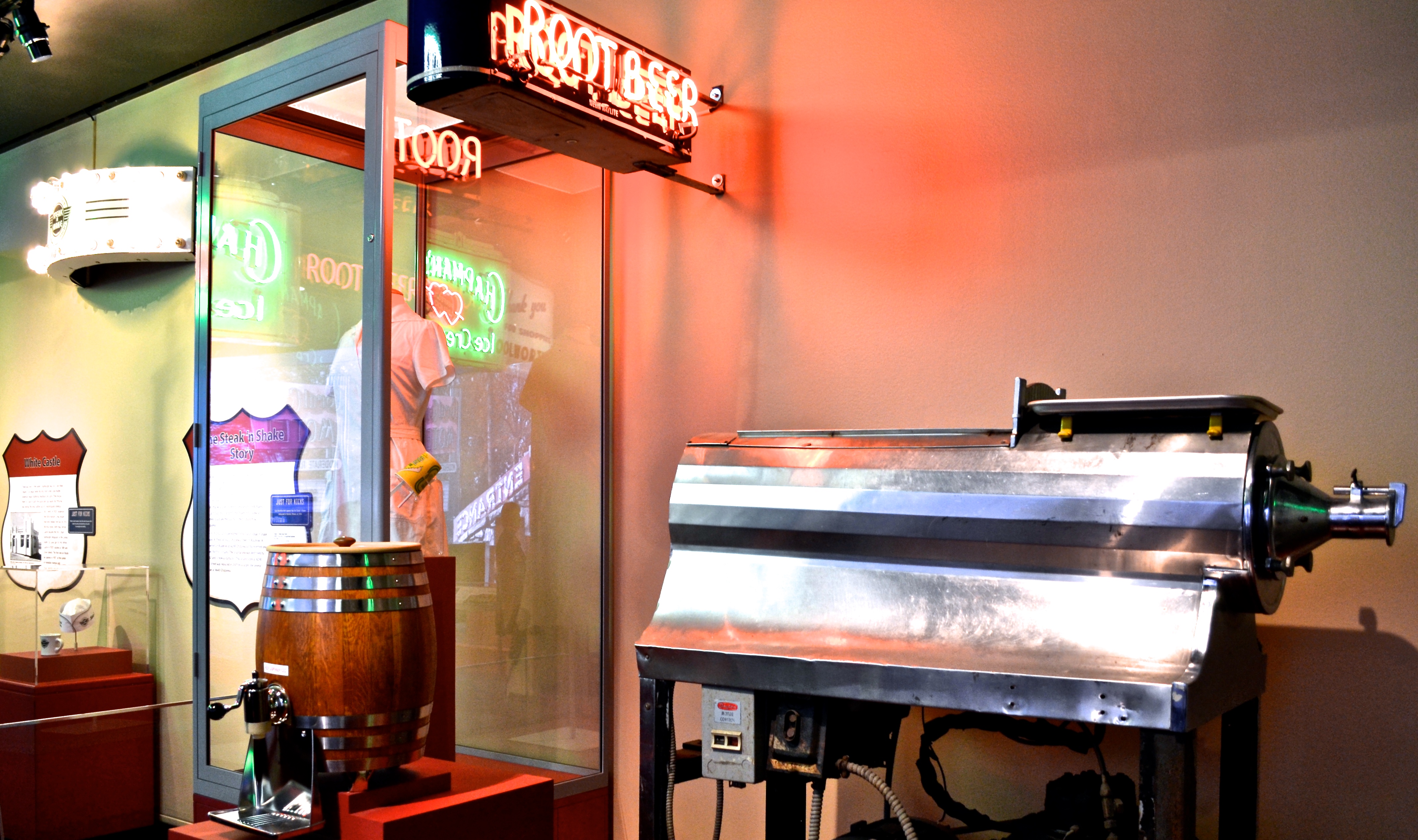 Another delicious stop along Route 66 was (and still is!) Carl's Drive In. Freshly brewed root beer, greasy burgers smashed on a flat top grill, and a limited number of spinning bar stools. Located close to the Kirkwood/Webster Groves border, I grew up knowing to always sit on the Kirkwood side. I wouldn't want to be caught dead in our rival high school's seats across the way. Just like Ted Drewes, Carl's is a must-eat place in St. Louis.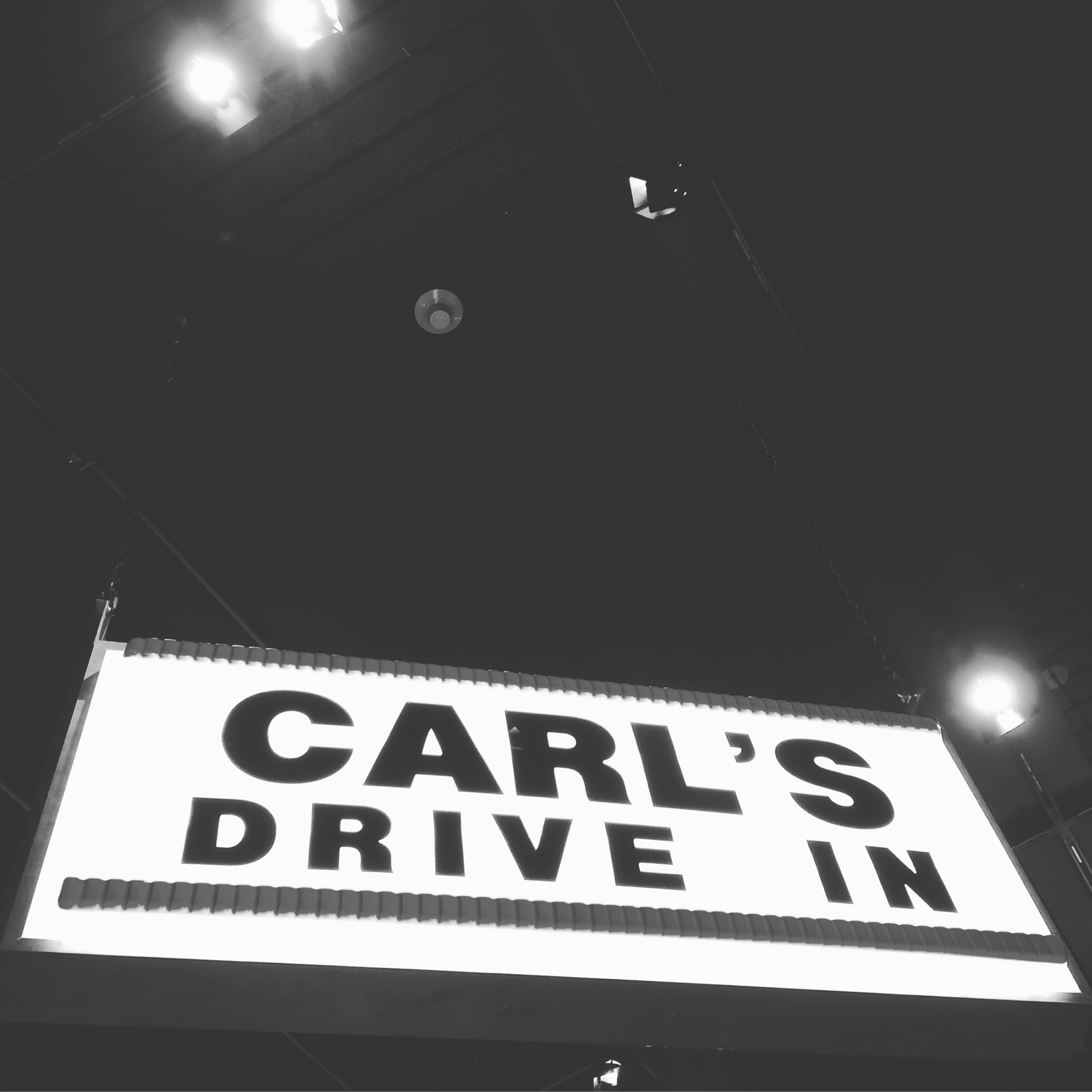 The history museum did a great job of providing information about other St. Louis restaurants, including Steak n' Shake: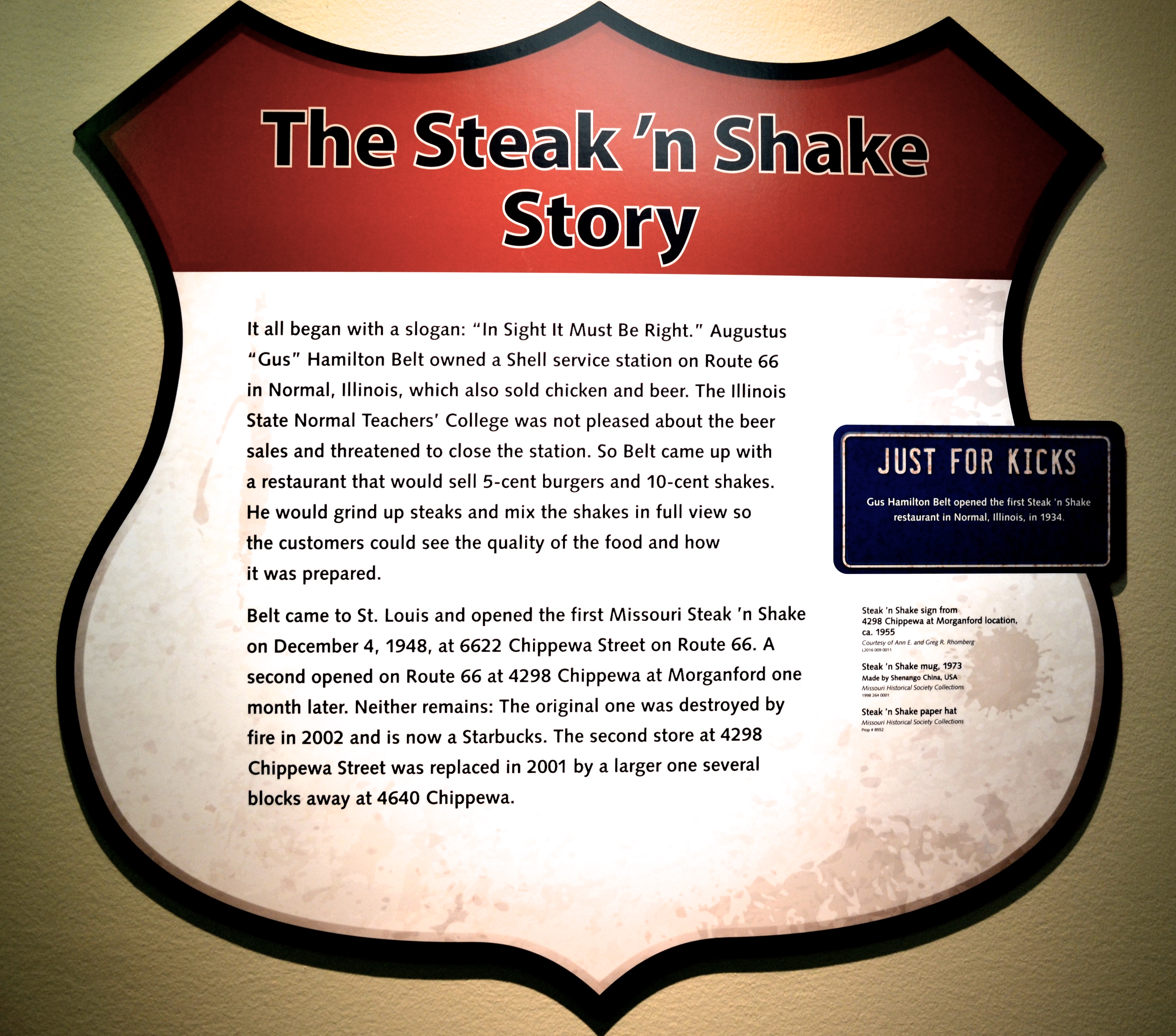 Weary travelers were bound to run into this distinct sign along Route 66, illuminating the way to a good night's sleep.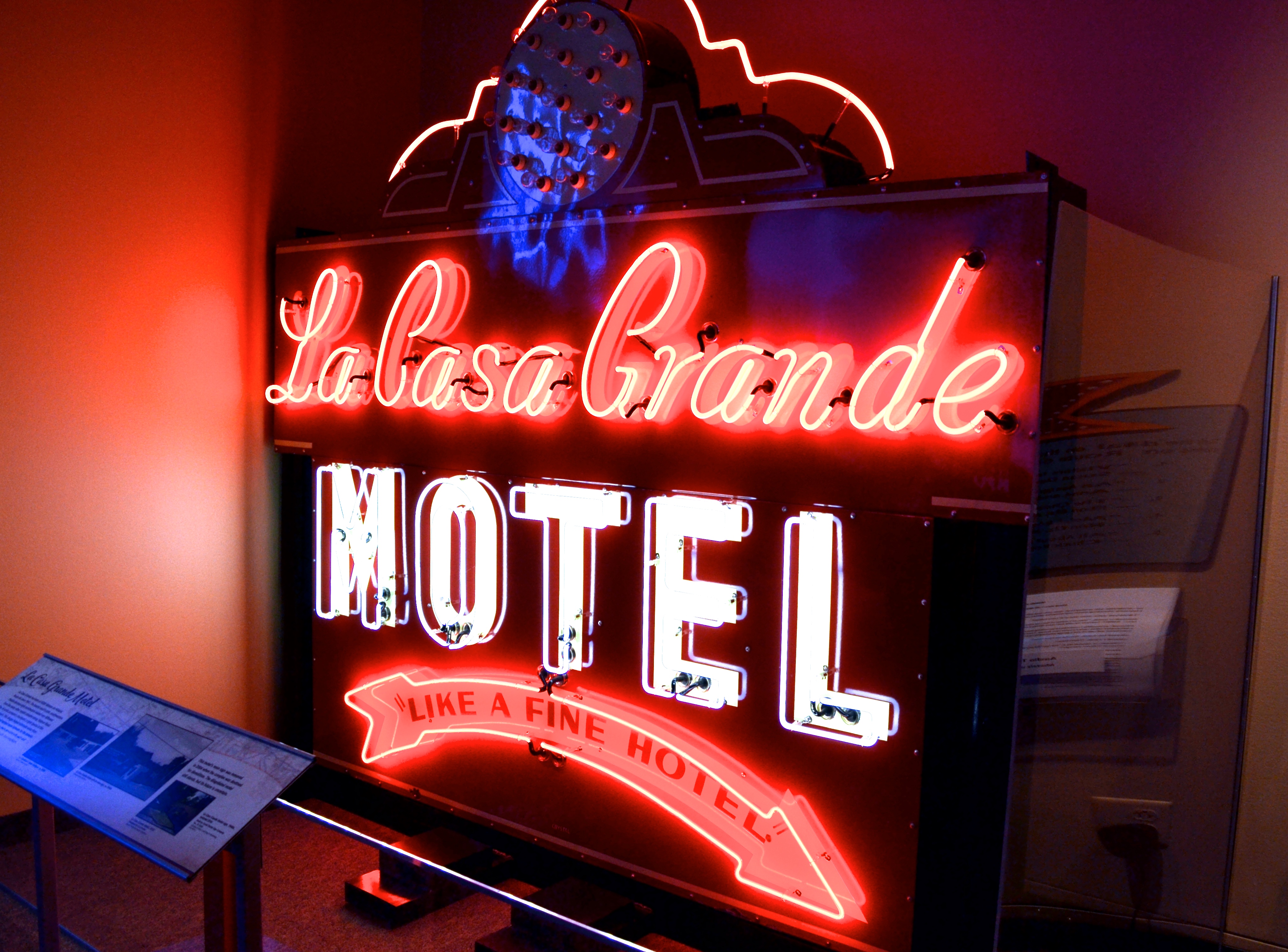 The original Chase Park Plaza sign is also on display, and was one of my favorite parts of the exhibit. This original Chase Park Plaza sign was first displayed in the early 1940s. The Missouri History Museum restored this sign for the exhibit, and it is simply a showstopper. The 500-room Chase Hotel opened in 1922, then in 1928 the 28-story Park Plaza was built right next door. In 1947, the two properties merged to form the Chase Park Plaza.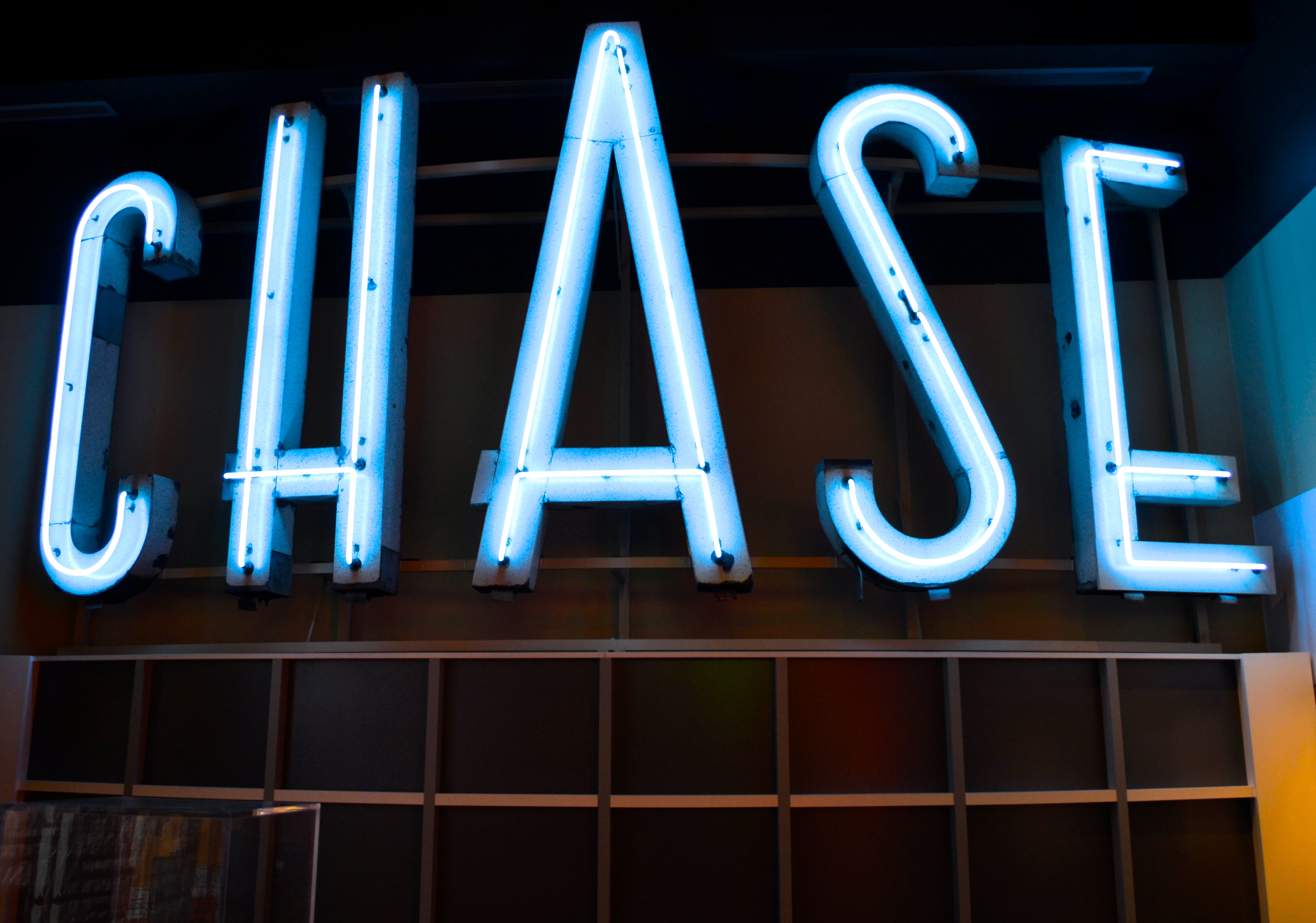 I loved these maps. It was fascinating to see where our house is in relation to Route 66. Did you know that they wanted Route 66 to be Manchester Road but it really ended up being Watson? Watson wasn't as paved and less traveled than Manchester, but it ended up being Route 66!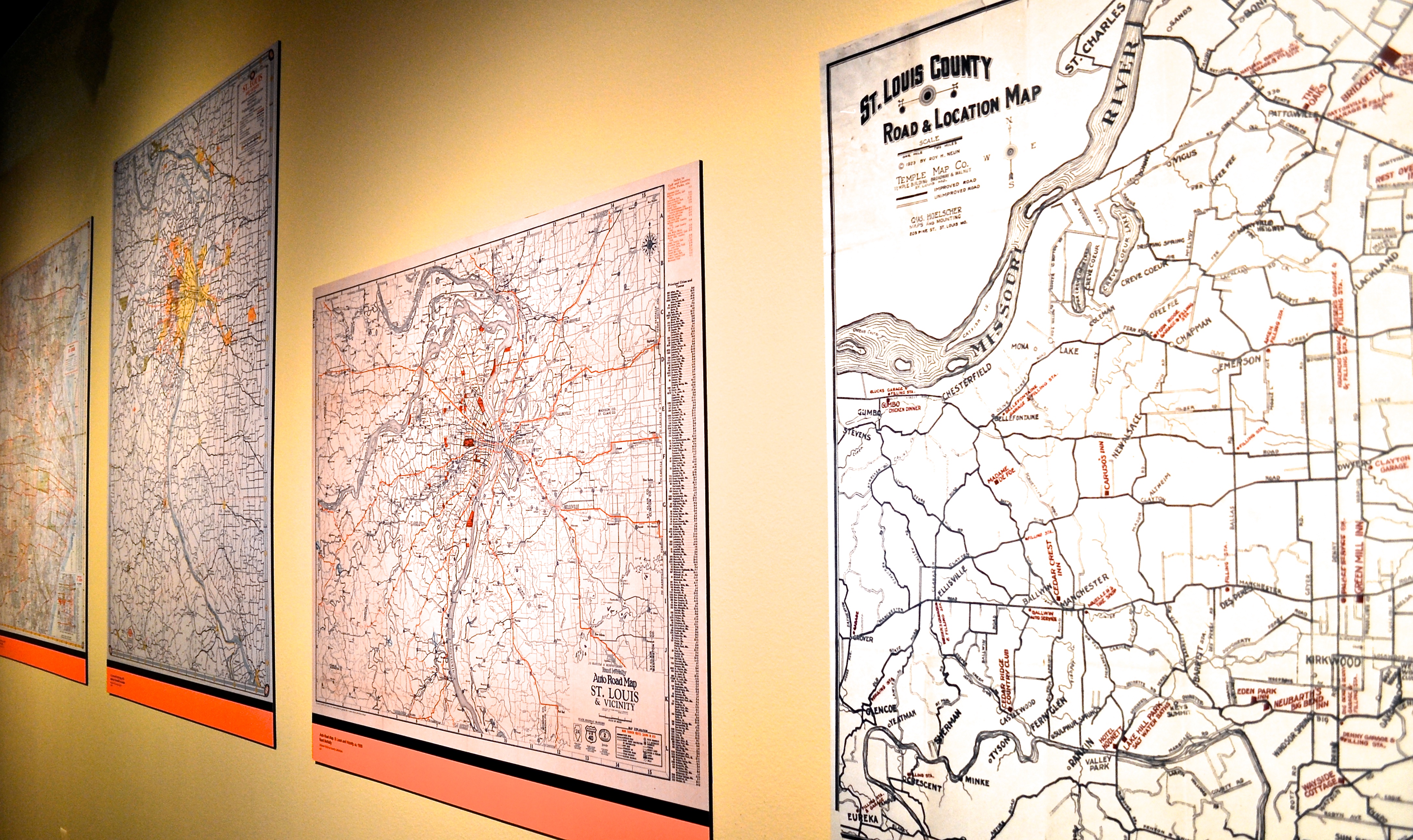 This airsteam in this exhibit seemed a little too tight for real humans to fit inside, but it sure was a popular way to travel along Route 66 back in the day. When you peak inside the one pictured below, you'll see a full functioning kitchen, dining area, and living area. Nowadays, when I see airstreams, the first thing I think of is: food truck!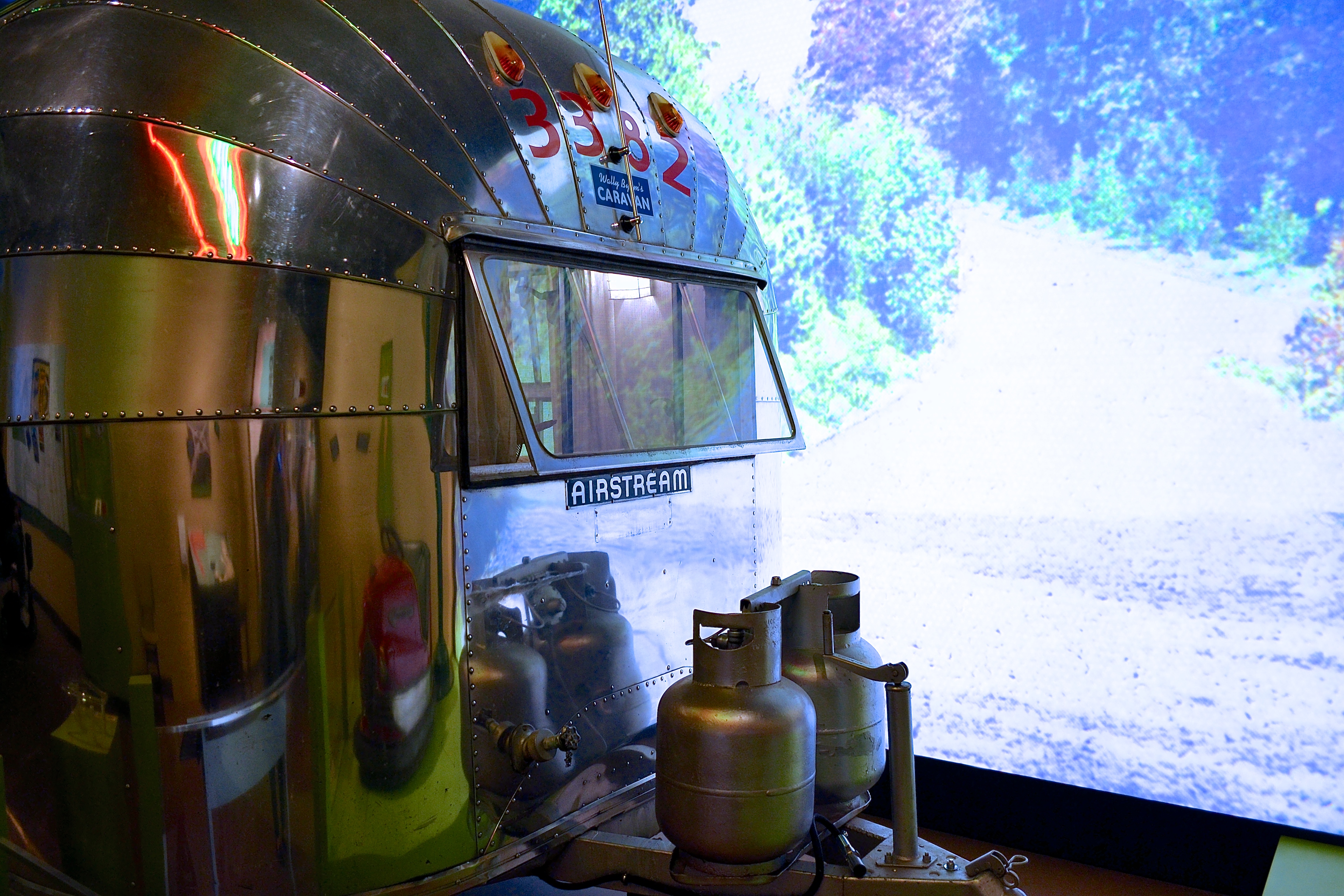 Overall, the Route 66 exhibit at The Missouri History Museum was a great experience. I had no idea the culinary history found along this winding road would be so rich. Although some iconic stops along Route 66 are gone, others live on as some of St. Louis' most loved landmarks.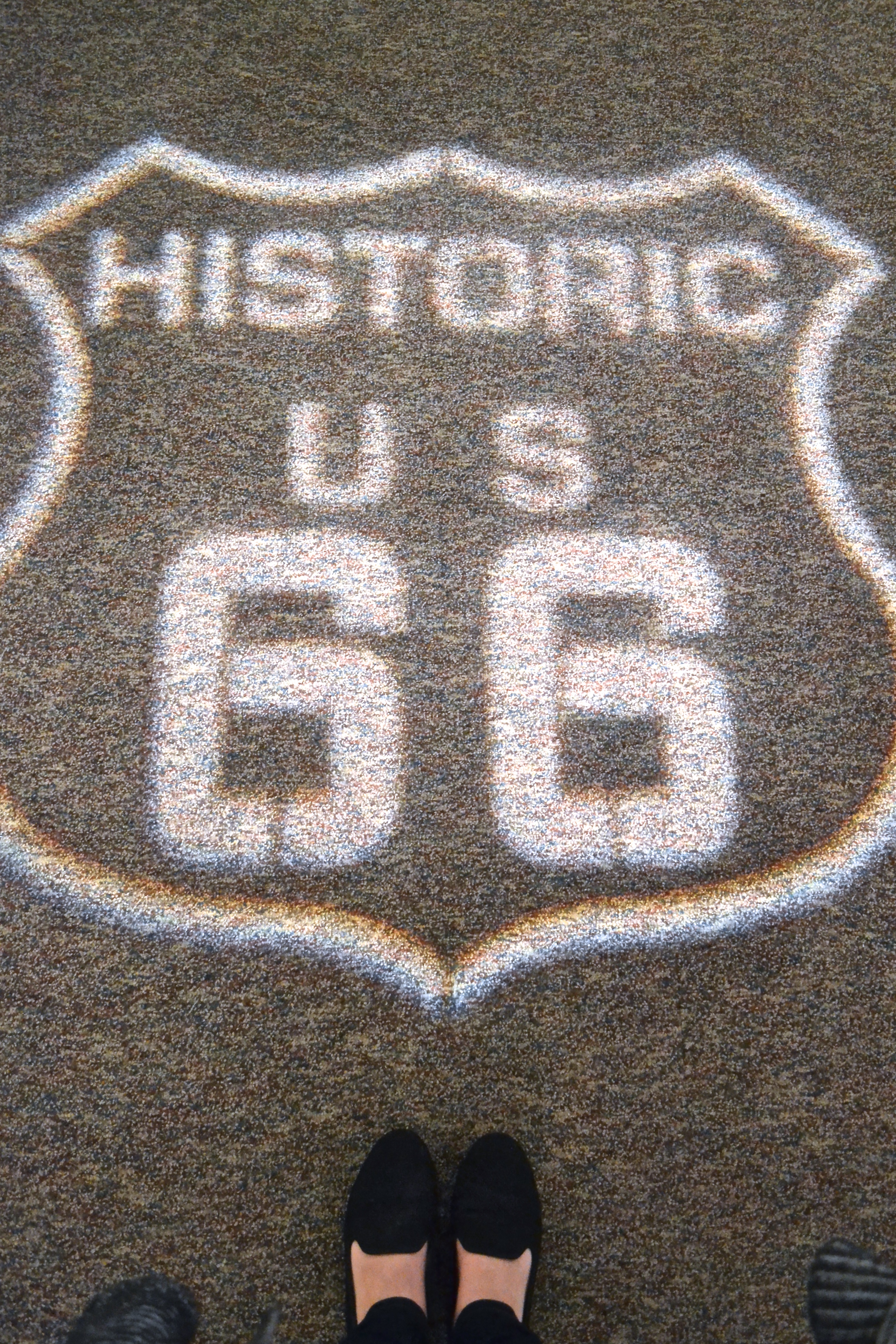 Near the end of the exhibit, there is a collection of pictures comparing St. Louis "then and now." I'm obsessed with this first photo, of an old St. Louis sign welcoming travelers of Route 66 to our great city.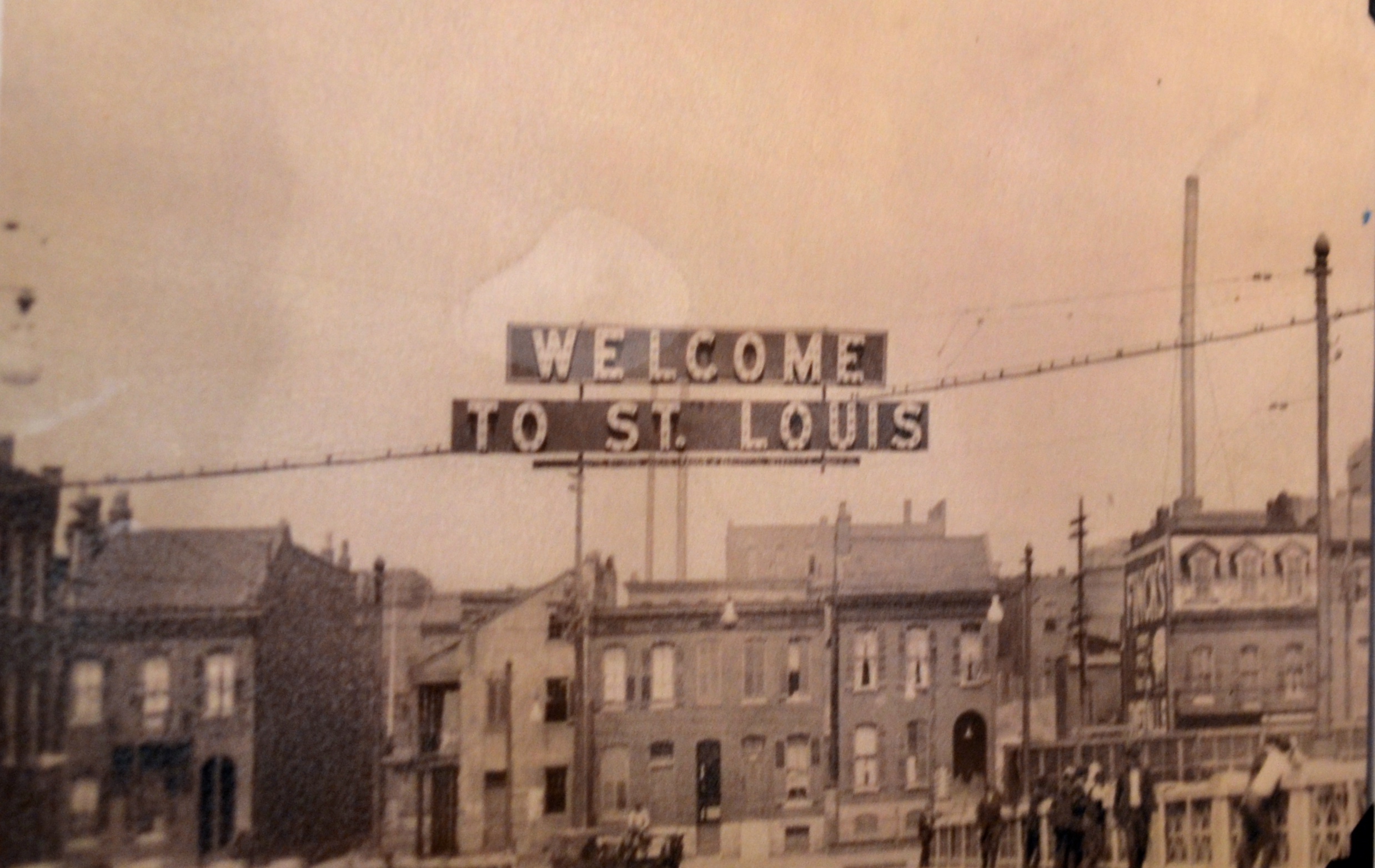 If you're in St. Louis, this is an exhibit you won't want to miss. It is free to the public and runs through July 16, 2017.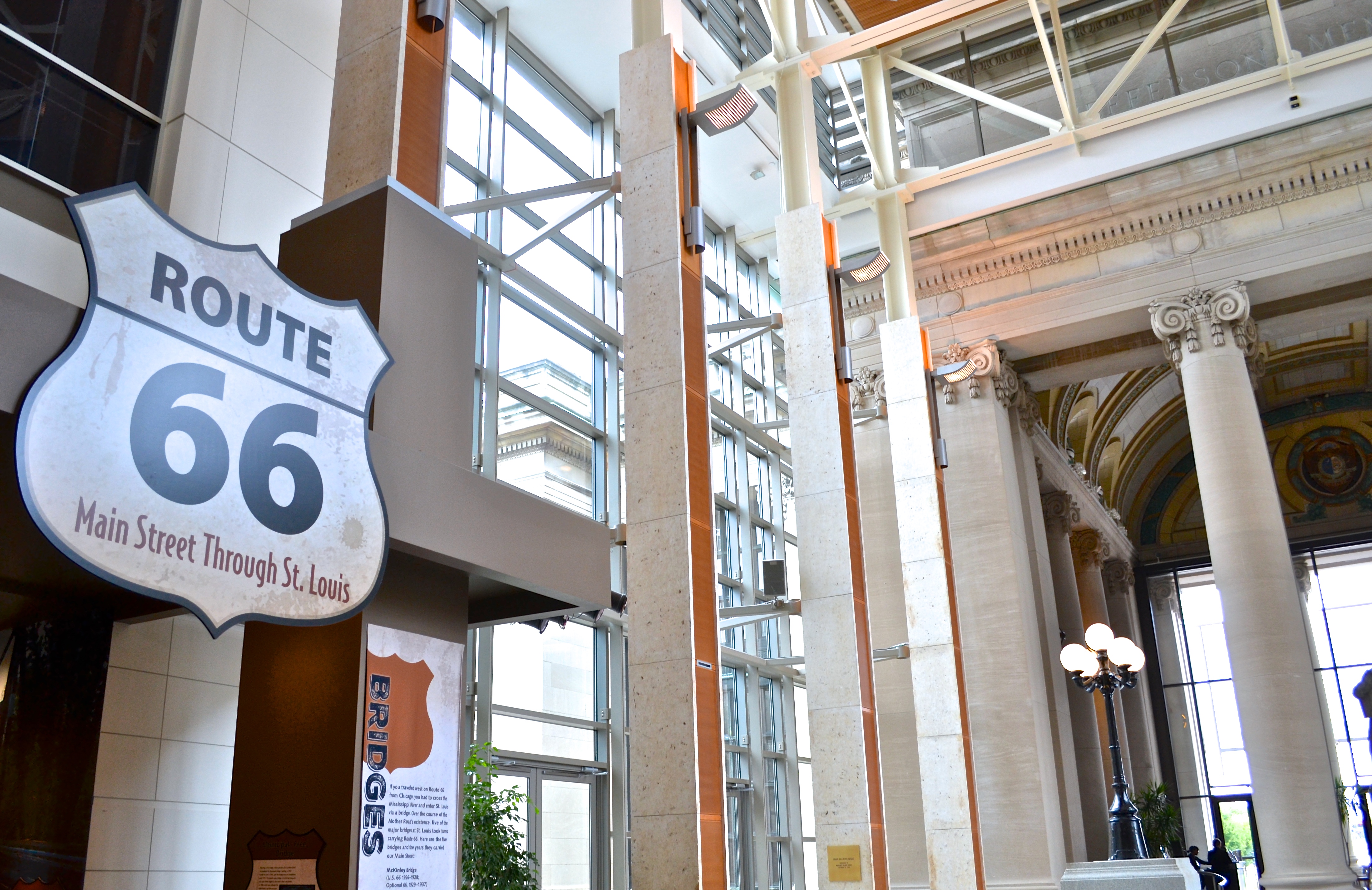 Get your kicks.