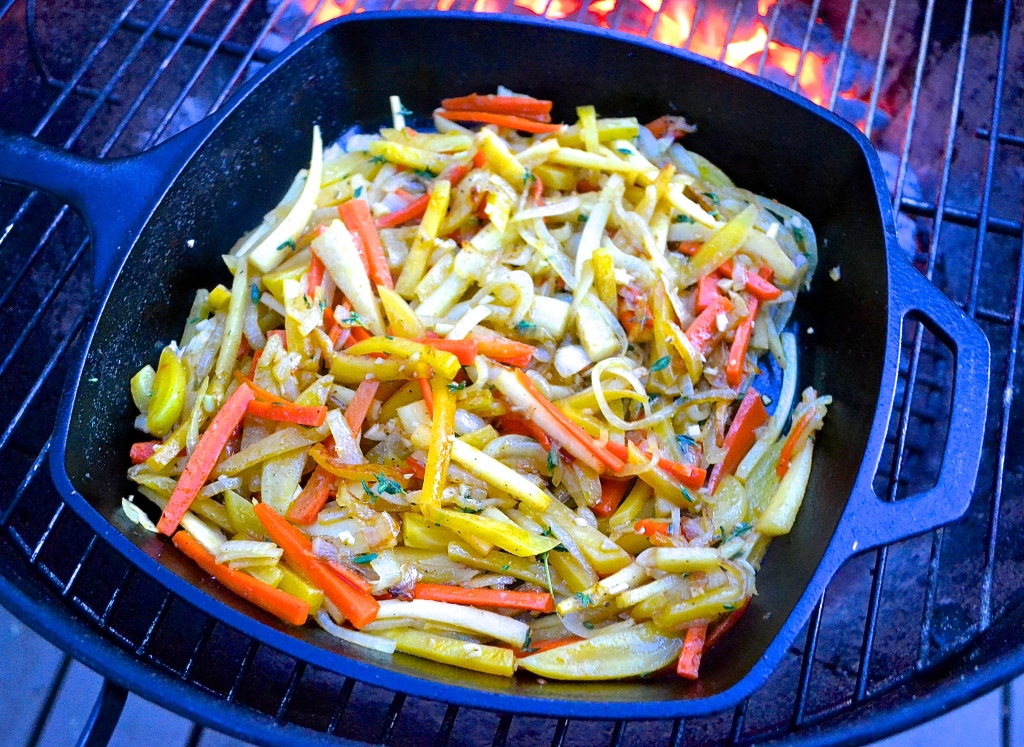 Moving into the new house is going really well! We're finally feeling settled, and there are only a few pesky boxes left in the basement. Yes, there are projects we'd like to do. Yes, we'd like to paint. Sure, we want to cut down a few trees around the yard. But really, those things will happen over time. One thing we love about our new house is the back deck. We love sitting out there in our table for two under the big maple tree, catching up on our day while sipping a glass of red wine.
We love cooking outside. Ahhem… let me clarify. Neil loves cooking outside. I love to watch and prep things as he needs. Neil is the master griller in our small family of two.  A lot of people associate grilling with summer, but Neil uses the grill just as much when the weather cools down. There are a lot of autumn and winter recipes that could easily be transferred to the grill. We used to make a similar recipe in the oven, but this one really shines on the grill. The aromatic thyme paired with the spicy parsnip and smokey flavors of the grill has made this salad our fall go-to.
I love the color this salad adds to my plate each time we serve it. Enjoy!
Grilled Autumn Salad
Prep Time: 20 min. Cook Time: 17 min.
3 carrots, peeled and cut into matchsticks
1 onion, sliced into half moon pieces
3 parsnips, peeled and cut into matchsticks
4 garlic cloves, minced
1 teaspoon salt
1 teaspoon pepper
1 tablespoon balsamic vinegar
1 tablespoon fresh thyme
Preparation:
Toss the carrots, onion, parsnip, salt, and pepper together in a cast iron skillet on the grill. Cover and cook for 15 minutes, stirring occasionally. Add garlic, thyme, and balsamic and toss to combine. Cook for 2 more minutes, then remove from heat. Serve warm.
Serves 2