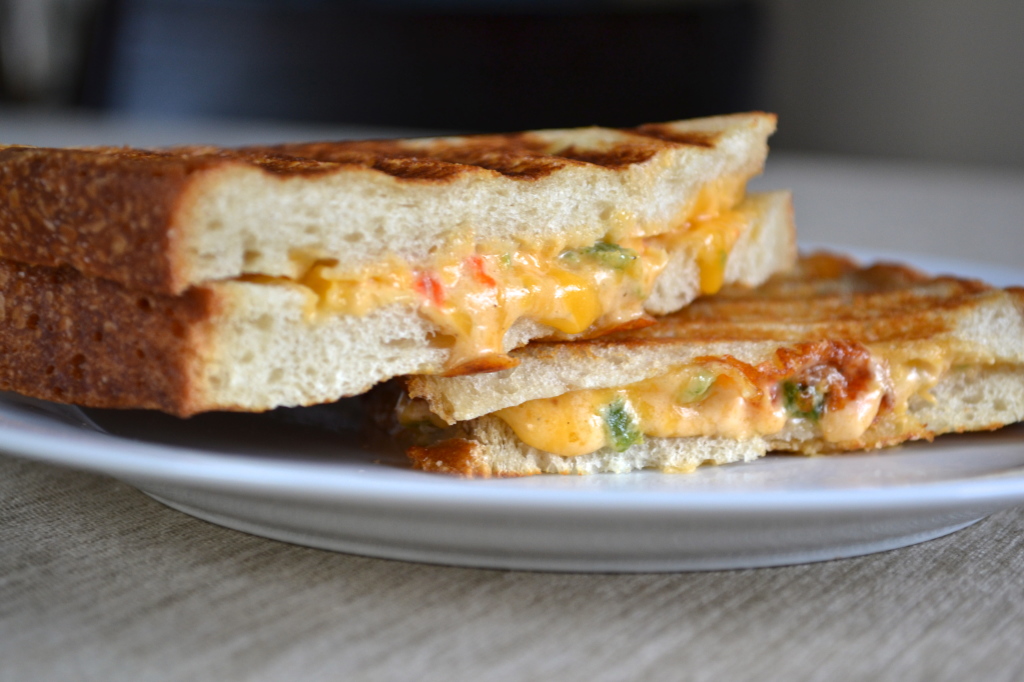 We live in the South. There are many things I've learned about Southern culture since moving here, and a lot of it has to do with the unique culinary traditions that are so highly revered in this part of the country. The southern kitchen is the heart of every home. Food isn't something to grab on the run, but something to enjoy. Lunch (also often known as "dinner" here) is always served hot. You sit down to each meal and enjoy friends, guests, and good cookin'. Before we moved, our dishes didn't scream South. There were no collard greens, no grits, we didn't sip on Cheerwine or Sun Drop. Gravy was served only with turkey at dinner, and vinegar based BBQ was just unheard of. The first time I tried pimento cheese was at a grocery store here. A local woman was getting her pimento cheese business off the ground, and graciously giving samples to shoppers. Tasting this first bit of pimento cheese knocked my socks off and sent me on a quest to create our own.
Pimento cheese is often referred to as "the pate of the south." The flavors used in pimento cheese can really make or break the dip. In this version, roasted jalapeños add a smokey flavor to the classic ingredients.
Uses for pimento cheese are endless. Serve it with crackers and celery at your next party, melt it atop a pizza, add it to a burger, etc. We enjoyed these grilled pimento cheese sandwiches last Sunday, and I can't even begin to explain how good they were. The flavors just explode as they melt together. I became a little weak in the knees as I ate this, and all I can say is WOW they were good!
Bon appétit, y'all!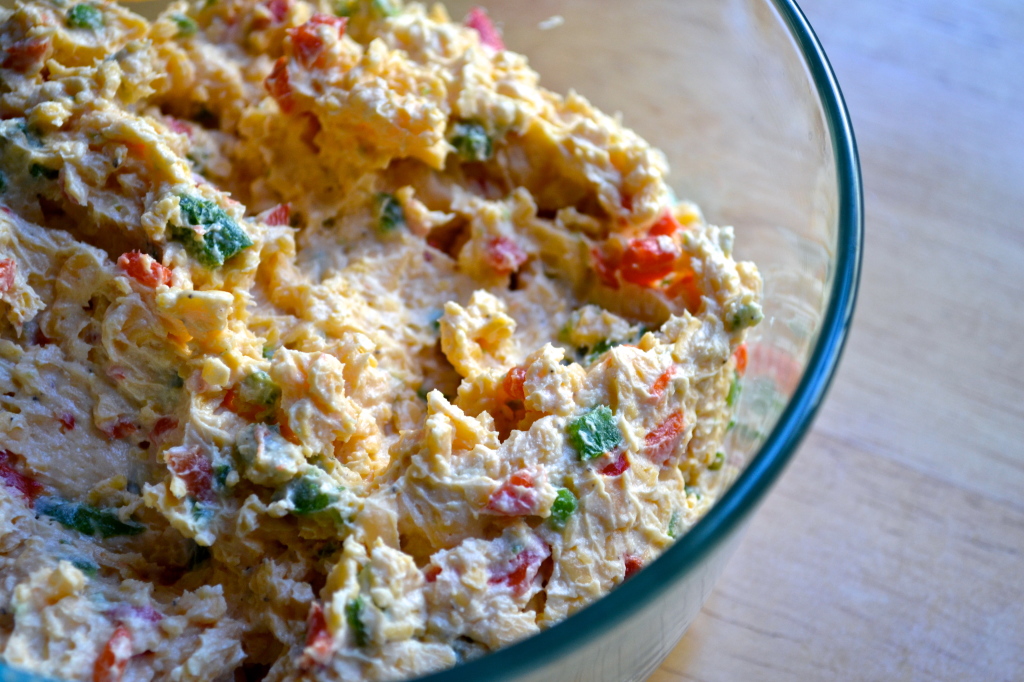 Roasted Jalapeño Pimento Cheese
Prep Time: 15 min. Cook Time: 0 min.
Ingredients:
2 jalapeño peppers
2 teaspoons yellow onion, grated
1/4 lb. mild cheddar cheese, finely grated
1/4 lb. + a pinch extra extra sharp cheddar cheese, coarsely grated
4 oz. cream cheese
3 tablespoons mayonnaise
2 tablespoons pimentos, drained and minced
Kosher salt and black pepper to taste
Preparation:
When working with jalapeños, you may want to wear gloves. Slice each jalapeño lengthwise and remove the stem, seeds, and ribs. Place each half skin side up on a piece of foil on a baking sheet.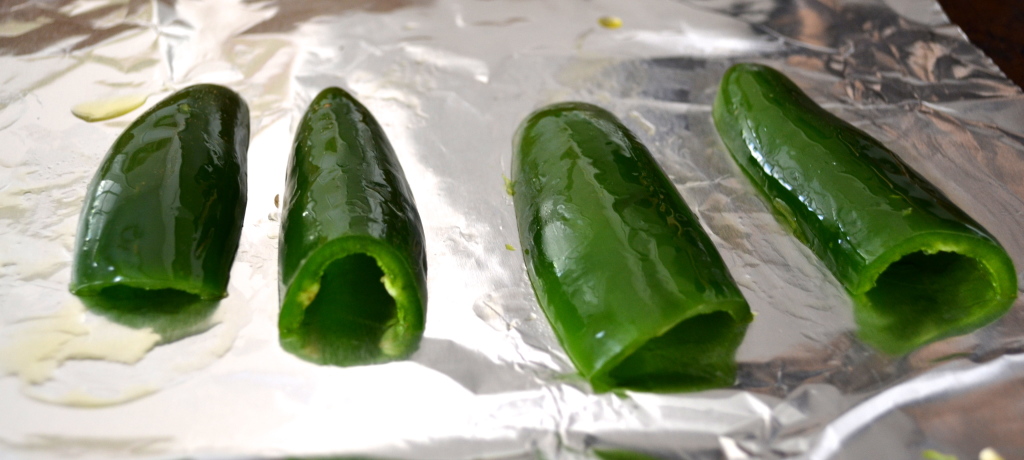 Touch each with a bit of olive oil and broil for about 5 minutes until skin is just charred. Watch them closely as this process happens quickly. Allow them to cool and remove charred skin. Mince each roasted pepper and place in a large bowl.
Add all other ingredients in a large bowl and mix well. Add a bit more of the course grated extra sharp cheddar at the end for a nice texture. Store in refrigerator and enjoy for up to one week.
Grilled Pimento Cheese Sandwiches:
Prep Time: 5 minutes Cook Time: 5 minutes
Ingredients:
4 slices sourdough bread
2 tablespoons butter, melted
Roasted Jalapeño Pimento Cheese
Preparation:
Heat a grill pan over medium high heat. Brush one side of a slice of bread with butter and spread as much pimento cheese as you'd like on the other side. Top with the other slice of bread.
Place buttered side of sandwich on the pan. Using a spatula, smash the sandwich down to create grill marks.
Brush butter on the top of the sandwich at this time. Flip sandwich once the facedown side is golden brown (about 2-3 minutes). Continue cooking other side until golden brown. Serve warm.
Makes 2 sandwiches, and you'll have lots of left over pimento cheese to make more!