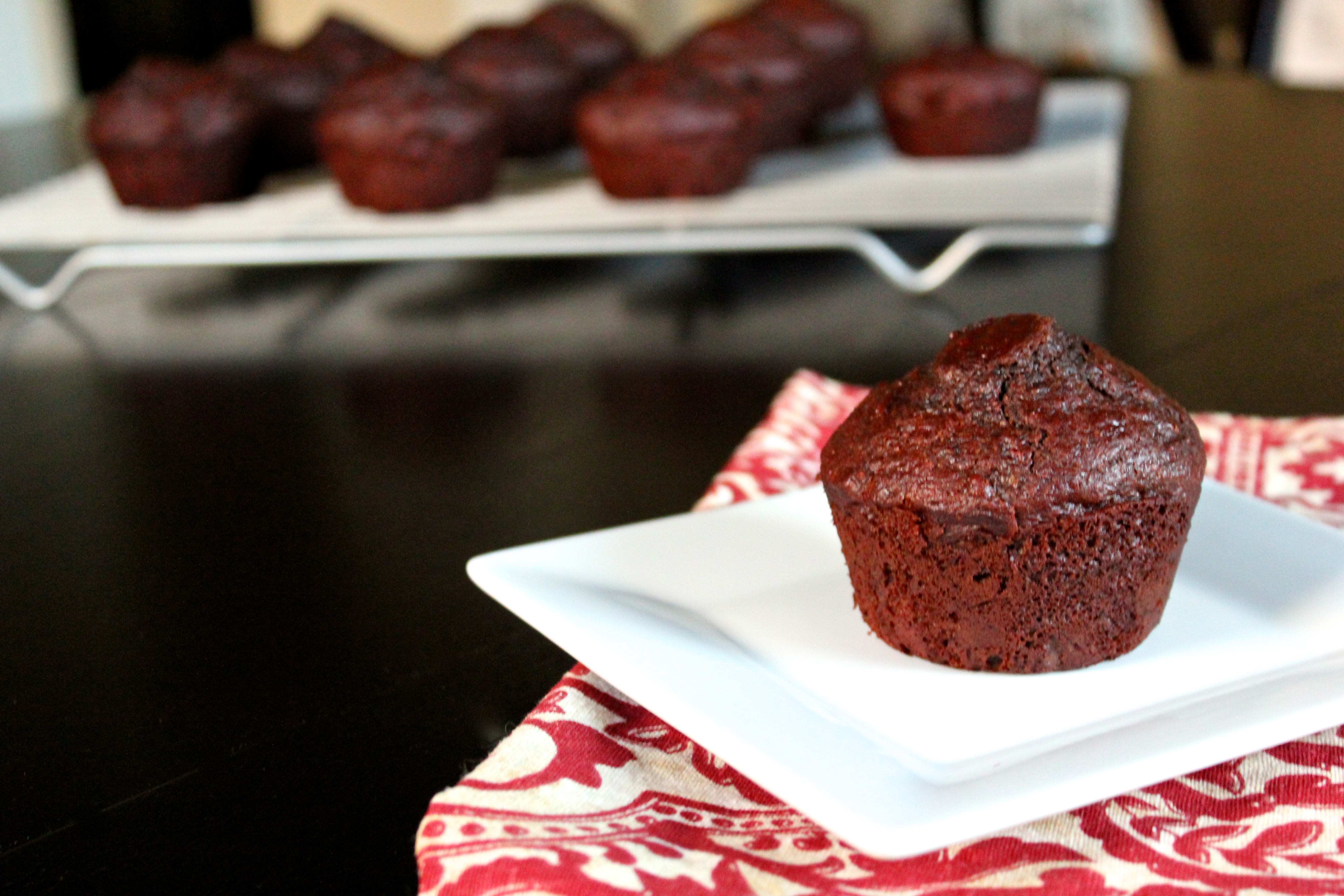 Ahh, the holidays. The time to gather with family and friends around the table. The time to give thanks for all our blessings. The time for me to gain about ten pounds after stuffing my face with food. I didn't really do the whole freshman 15 thing in college, but man, I could easily gain about that much this time of year if I didn't watch it. For real.
My sister and my mom are will power champions. They won't eat any sweets for weeks at a time, and look and feel great as a result of doing so! I joined this bandwagon back when we did the 10 Days of Real Food Pledge. No sugar. No white flour. Well folks, I'm proud to say that I haven't had a bit of sugar or white flour all November. The only thing I've really been craving is… CHOCOLATE. Ohh, how I yearn for Trader Joe's peanut butter cups!
Thankfully, my sister e-mailed me a recipe to help satisfy my very sweet tooth. This chocolate beet cake recipe from Simple Mom did help with my chocolate craving, but I wanted to go a couple steps further and really make it fit my November diet.
That's right folks, this recipe has NO butter (well, just on the muffin tins), NO sugar, NO white flour, and even sneaks in some vegetables. I promise you won't taste the beets! I named them "muffins" instead of "cupcakes" so that I have the legal right to eat them at any point throughout the day.
P.S. This no-sugar madness will end (or take a break) on Thanksgiving.
Ingredients:
1 cup honey
1/4 cup golden amber maple syrup
3/4 cup olive oil
3/4 cup unsweetened applesauce
6-oz. plain 0% fat greek yogurt
3 eggs
1 teaspoon vanilla extract
1 cup unsweetened cocoa powder
2 cups whole wheat pastry flour
2 teaspoons baking soda
1/2 teaspoon salt
4 medium-sized beets, peeled and quartered
Preparation:
Preheat oven to 350°. Using a fork, poke a few holes in the beets and place in a large microwave safe bowl. Add about 1/2 cup water and cover with a paper towel. Microwave on high for 7 minutes. Remove the bowl from microwave and flip beets over. Microwave on high for another 7 minutes. Repeat this process until beets are cooked through. Using a colander, drain the water from the beets and allow to cool. Grate the beets using a cheese grater. Reserve 2 cups of grated beets.
Using an electric mixer, whisk the honey, maple syrup, olive oil, applesauce, yogurt, eggs, and vanilla together in a large bowl.
In a separate large bowl, mix the cocoa powder, flour, baking soda, and salt.
Add the wet ingredients to the dry ingredients and stir until combined. Batter will be lumpy, and that's okay. Add the grated beets and continue to mix.
Lightly butter a muffin pan and dust with cocoa powder. Fill each muffin tin about 3/4 of the way full.
Bake for 18 minutes and allow muffins to cool in the pan for 10 before removing.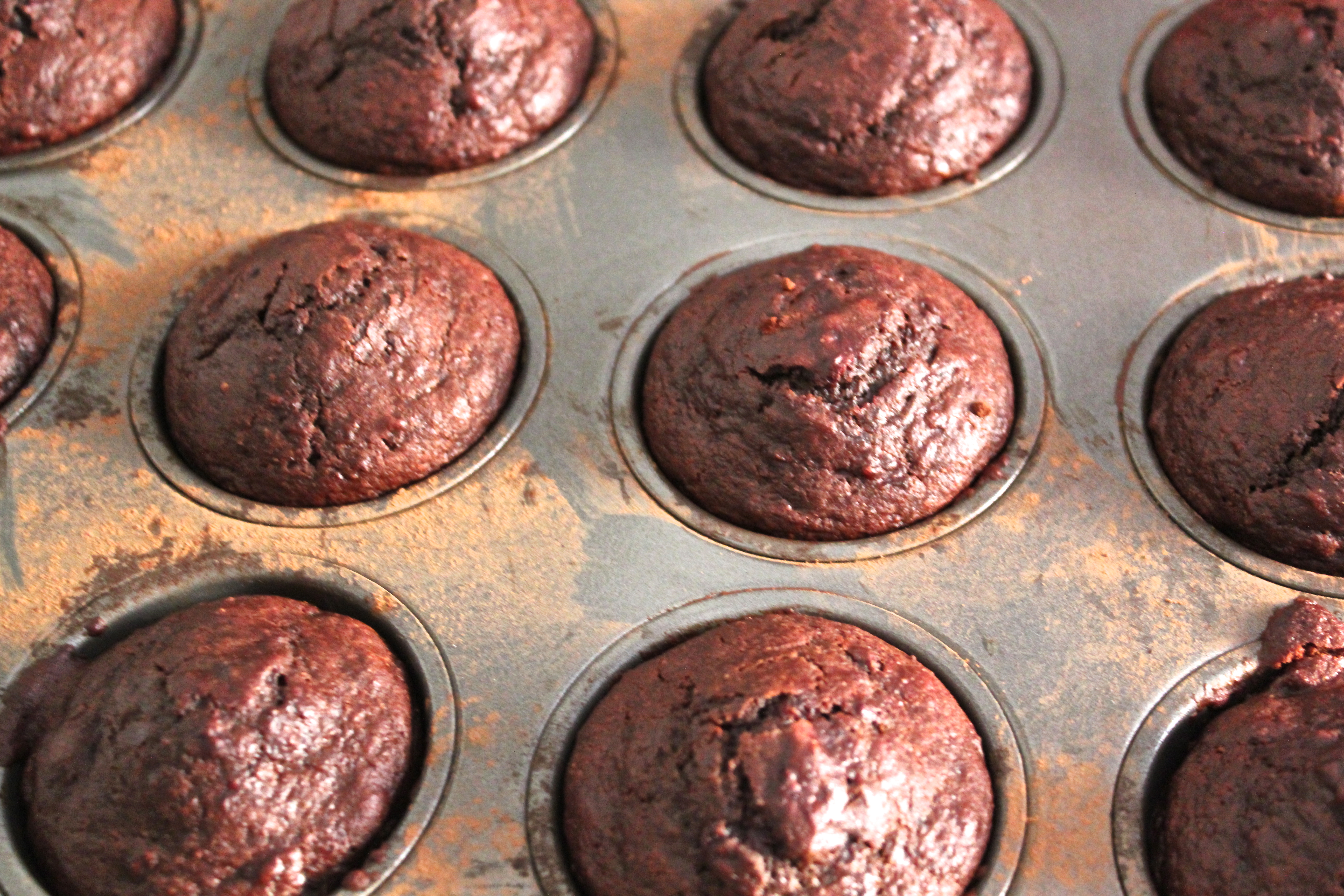 Yum.