This is a sponsored post written by me for Hamptons Lane. I received a box from Hamptons Lane to review and was asked to create a recipe for their company. All opinions are 100% my own.
One of my most favorite times of year is the week or so leading up to the Fourth of July. Although our town is close to a major city, it has the charm of a small town. Around this time of year, I like to go on long walks or bike rides at dusk to admire the beautiful old historic homes with wrap around front porches that are draped with patriotic bunting. I love our town, our village. I love hearing laughter from the neighborhood children playing an extra round of tag compliments of the lingering sunlight, seeing fireflies magically appear amidst the mature maple, oak, and magnolia trees. I love falling asleep with the windows open to the lullaby of crickets and cicadas. I love that we celebrate summer big here, and the Fourth of July is a centrical part of that summer celebration.
In our town, everyone heads to the park for traditional Fourth of July fireworks. We bring blankets and many families enjoy picnics under the stars while waiting for the fireworks to begin. This year, the content of my summer picnics have gone from okay to gourmet thanks to one company: Hamptons Lane. I am simply blown away by this company. The experts at Hamptons Lane search high and low to bring the best culinary goods and products straight to your door in a themed box each month. The value of these boxes is amazing, and there is no charge if you aren't interested in that month's box and want to wait for the following month.
Furthermore, I am impressed by their customer service. I think a company with great products can really shine when their customer service is top notch, and this is one of those companies. They are personable, warm, and friendly people that are truly grateful to share their passion for good food and products with you.
This month, the box theme is "Gourmet Picnic." It's perfect to tote along to your local fireworks celebration, trip to the beach, or backyard BBQ.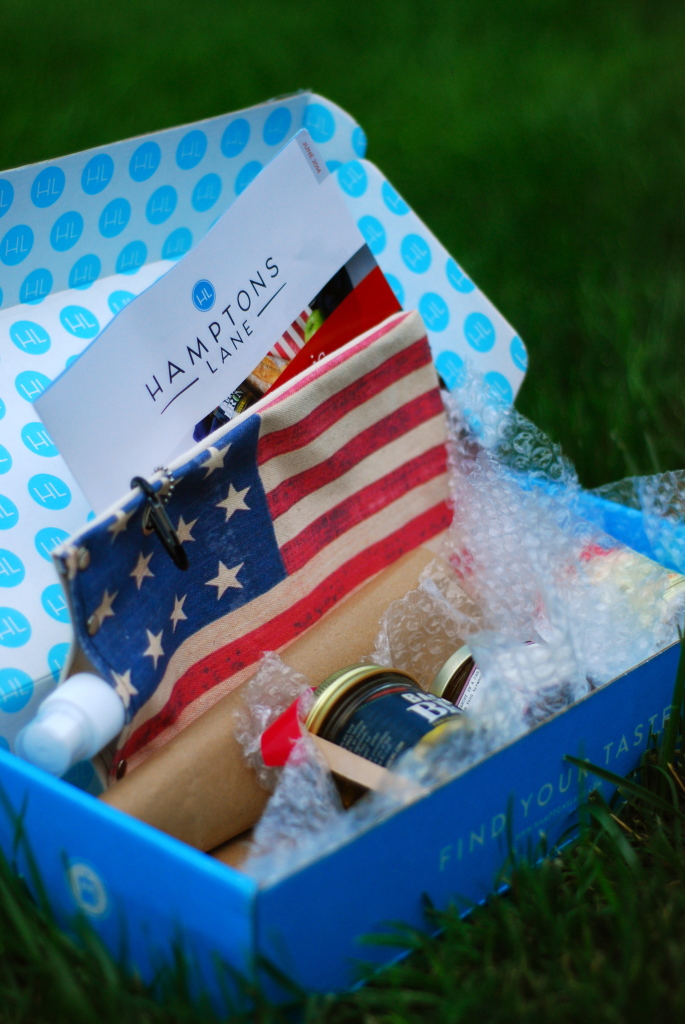 Within this box, I received an American flag wine tote (LOVE THIS! and such a good idea), a custom olivewood and carbon steel knife, meaux mustard, fig and onion jam, sweet heat pickles, and deals from Murray's cheese shop. You can read about the companies these products came from on this page.
Using some of the products from this month's box, I made delicious brie and apple panini, perfect to carry along to a picnic. Simply buy fresh whole wheat bread and butter the side of one slice. Place on a hot non-stick grill pan and stack thin cut slices of apple and brie on top.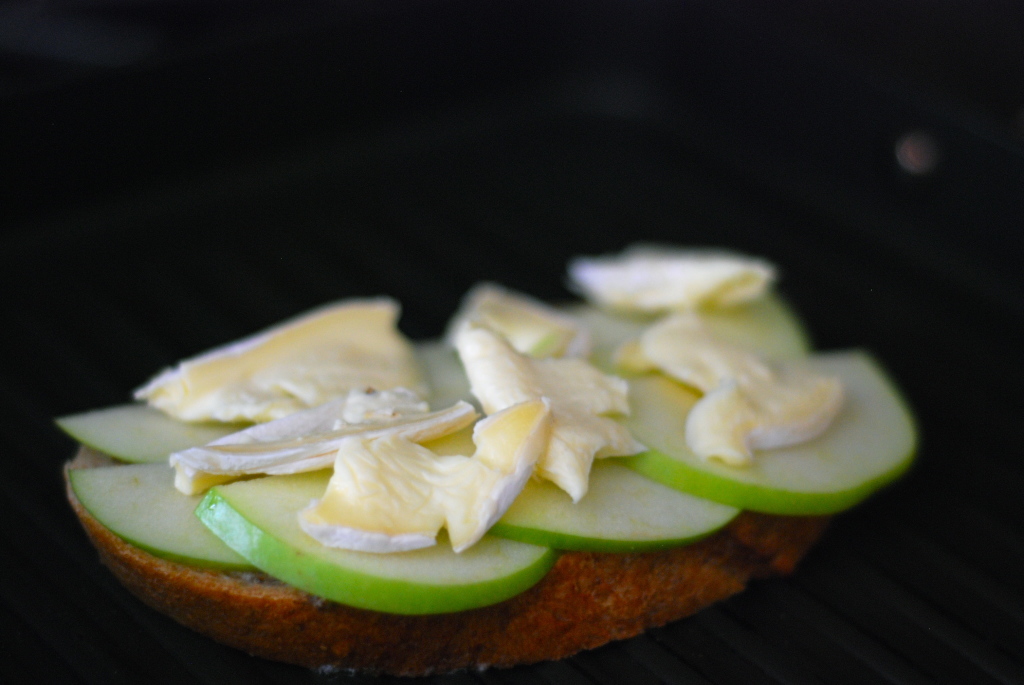 On another other slice of bread, spread a generous helping of meaux mustard found in your picnic box. Check out how grainy it is! This is mustard.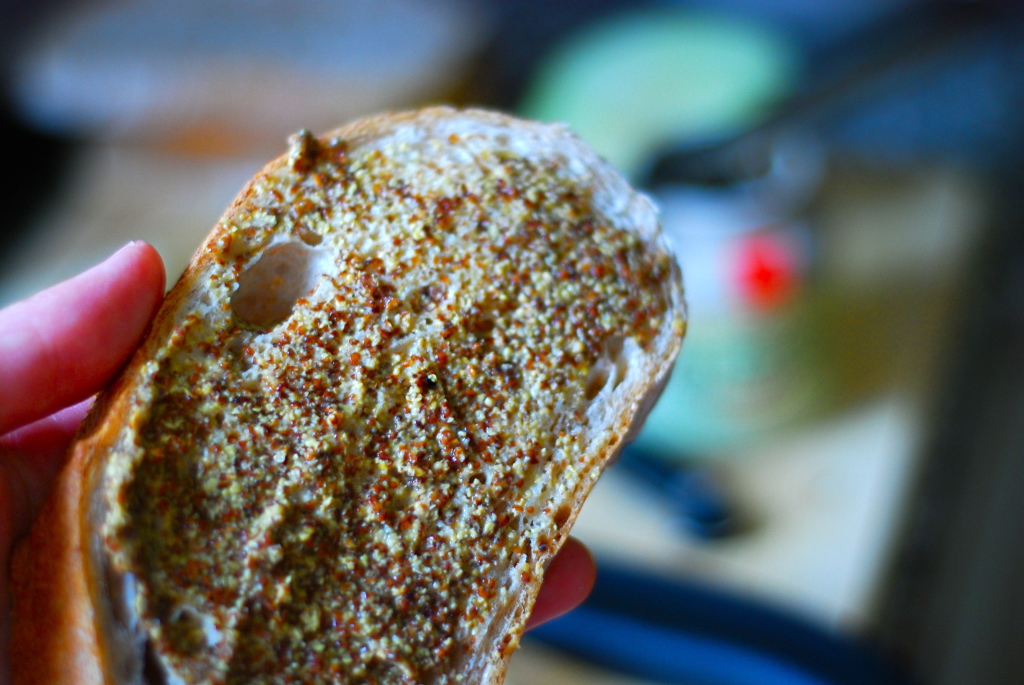 Place this piece of bread mustard-side down on the sandwich and brush it with butter. Press down with weight using a spatula, until grill marks appear. Flip and repeat.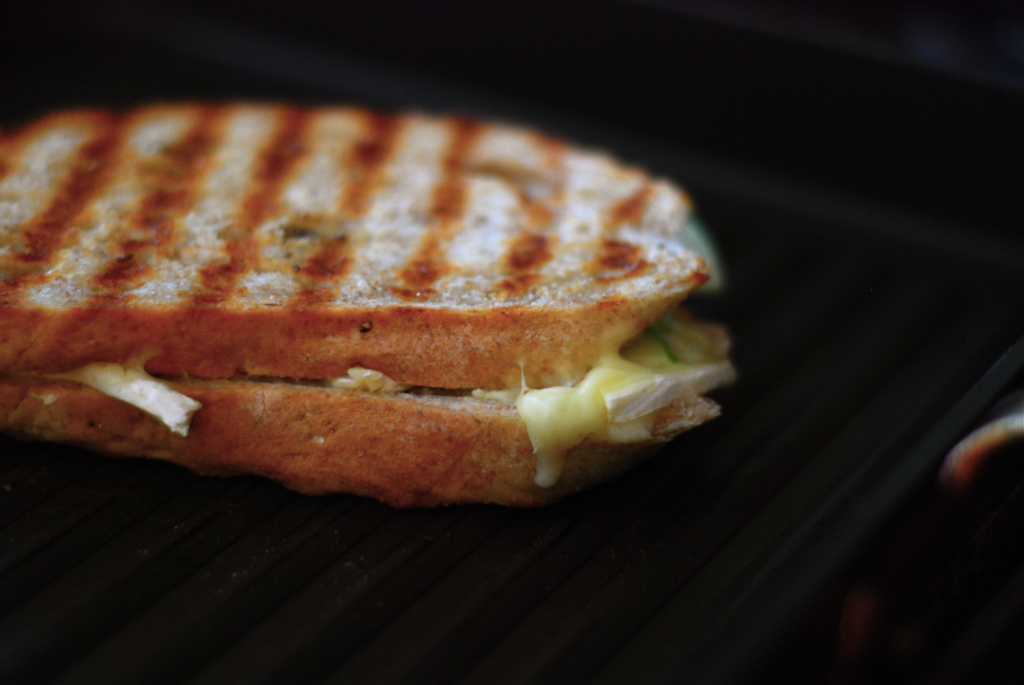 I really do hope you look into Hamptons Lane and learn what they're all about. I'd be interested to hear what boxes you try and what recipes you create with the contents of each box. *Update: This month, they are featuring a "Summer Cocktail Party" box! Sign me up!*
This Fourth of July, and all summer long, I encourage you to simply celebrate. Take time to celebrate our great country and those who have served and are currently serving to protect it. Celebrate the freedoms that we so often take for granted. Celebrate your own village and the reasons you love calling it home. Celebrate big, friends, and celebrate often.
Brie and Apple Panini
Prep Time: 5 min. Cook Time: 10 min.
Ingredients:
2 slices whole wheat bread
6 half moon slices of granny smith apple
3 slices of brie
2 tablespoons butter, melted
1+ tablespoon(s) meaux mustard
Preparation:
Heat a non-stick grill pan over medium high heat. Brush some butter on one side of a slice of bread and place it buttered side down on the pan. Pile apples and brie atop this piece of bread. Spread mustard on the other slice of bread and place this piece mustard-side down to top the sandwich. Brush remaining butter on the sandwich.
Using a spatula, press the sandwich with some weight until grill marks appear. Flip sandwich and repeat until grill marks are on both sides and cheese is melted.
Serve warm. Makes 1 panini.