I have fond memories of my mom's annual Christmas party. The house always seemed to give off an extra warm glow that night, with candles in the windows, the tree looking extra magical, and Christmas music softly serenading us as we waited for guests to arrive. As people came in, I was in charge of helping make a huge pile of coats and purses on my sister's bed so they'd be out of the way. Ladies in festive sweaters gabbed about who knows what, slowly drowning out the Christmas music with a cacophony of laughter. My mom was hard to find that night, as she was busy being the ultimate hostess with the mostess. After coat duty, I hid upstairs, but at some point in the evening I'd sneak downstairs to the party and make myself a plate of food. As everyone commented on how cute I was in my pajamas, I'd smile and politely tell them, "nice to see you, so nice to see you," all the while making a beeline for the bacon stuffed tomatoes and mint brownies.
Maybe it was from watching my mom host all those years, but that hosting gene is sure knit deep within my soul. I love planning parties. I love hosting parties. I love the organization, cleaning (sort of), and prep that goes into making a party perfect. I love picking out a thoughtful menu, making sure everyone has a full glass, and connecting people that I know would like each other. To me, one very special part of the holiday season is opening our home to guests and showing them how much we care about them by hosting a festive holiday party.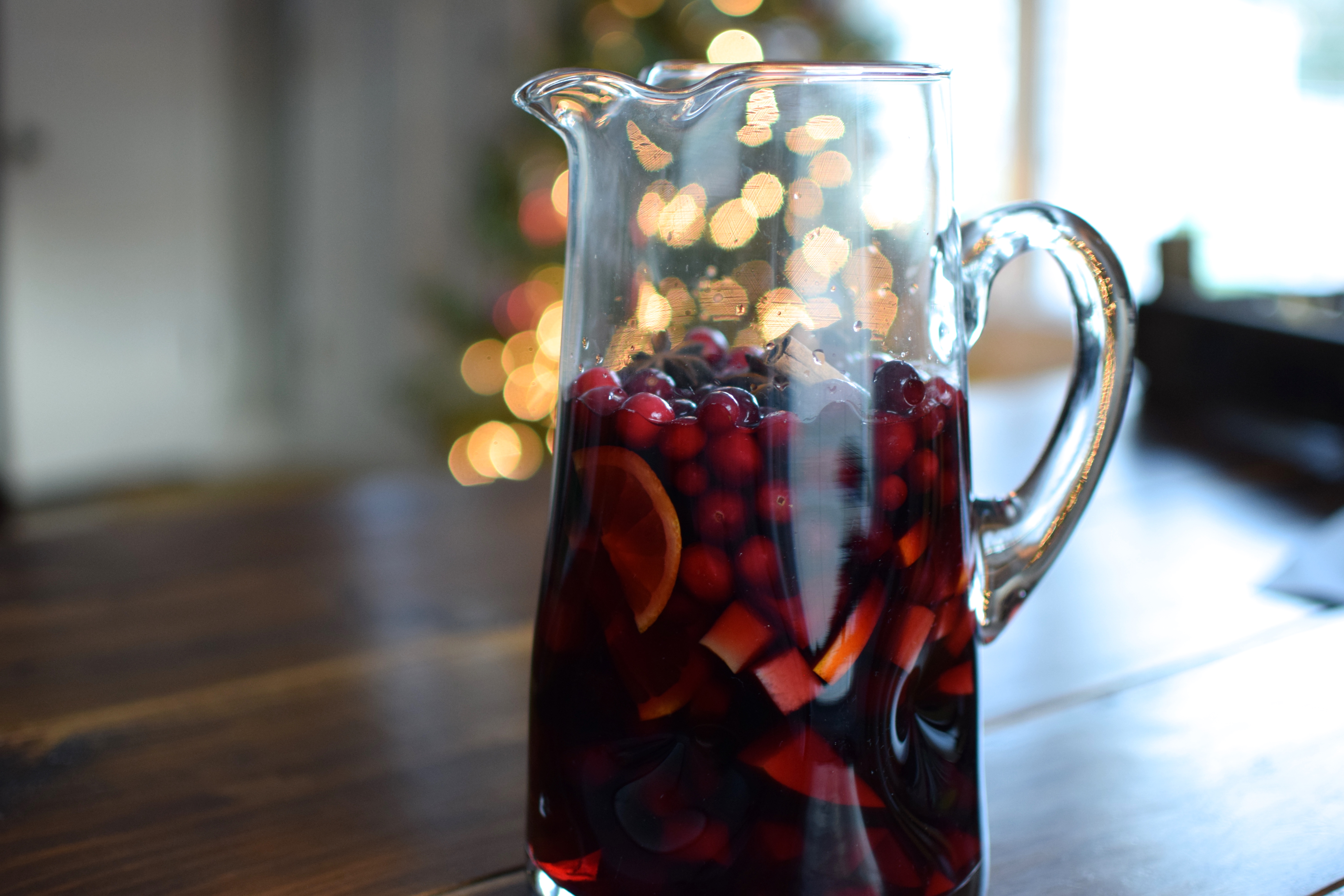 When it comes to holiday drinks, I love a good hot mulled wine as much as the next gal, but that's something I want to sip on while watching a Christmas movie on a snowy night. At a party, I like to swirl around a cocktail or glass of wine. This holiday sangria brings about the flavors of a mulled wine, but seems a bit more dressed up as a party drink. And just look how dang pretty it is! Set it on your table and you have an instant centerpiece.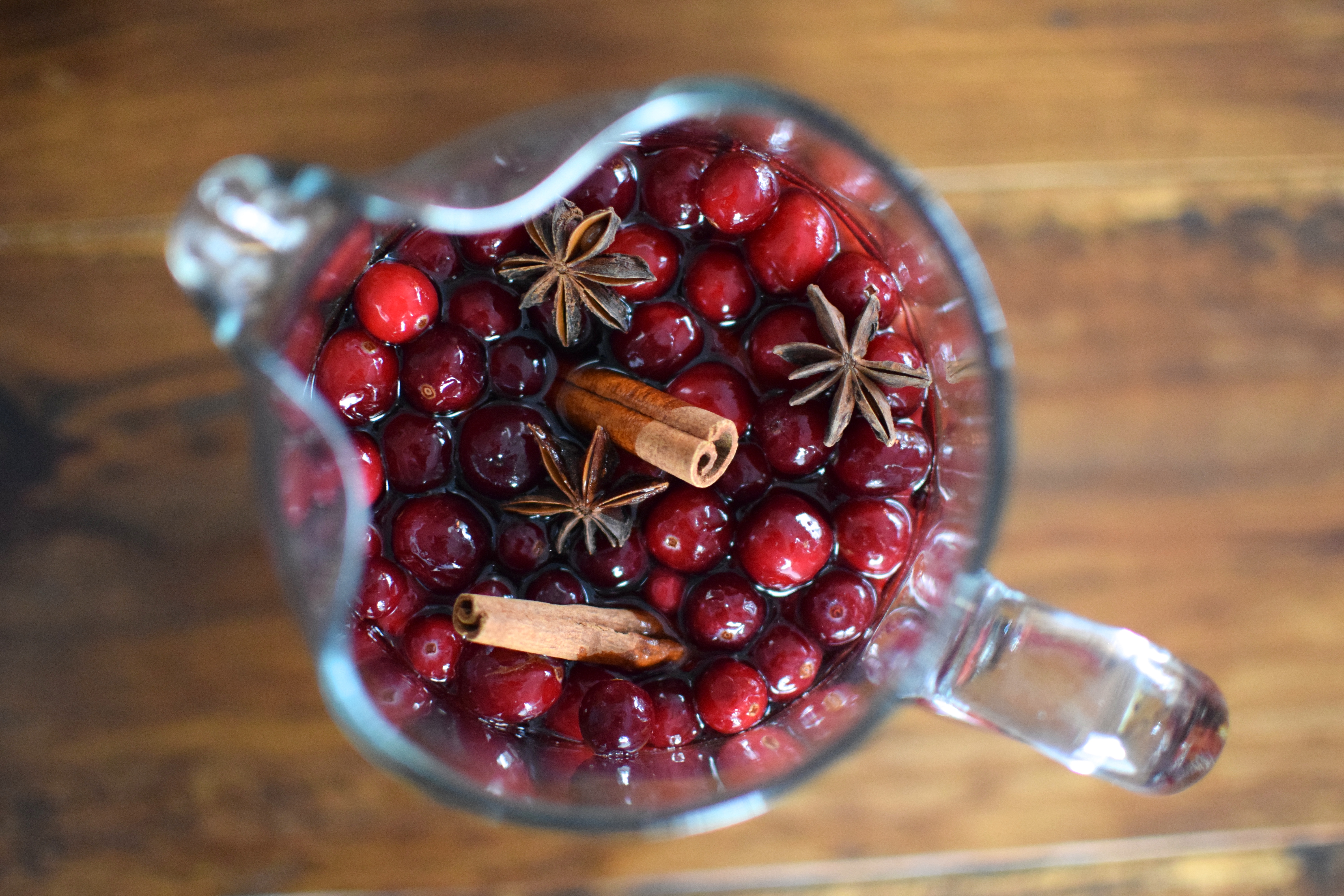 The recipe couldn't be easier, but we recommend making it the night before so it can sit and the fruity and spicy flavors can really come out. Speaking of fruit, I don't love cranberries, but some people really do, and they just look so pretty, so I included them in this recipe. The fruit will absorb some of the alcohol, so if you'd like a little buzz be sure to finish off that fruit as well! As always, please drink responsibly.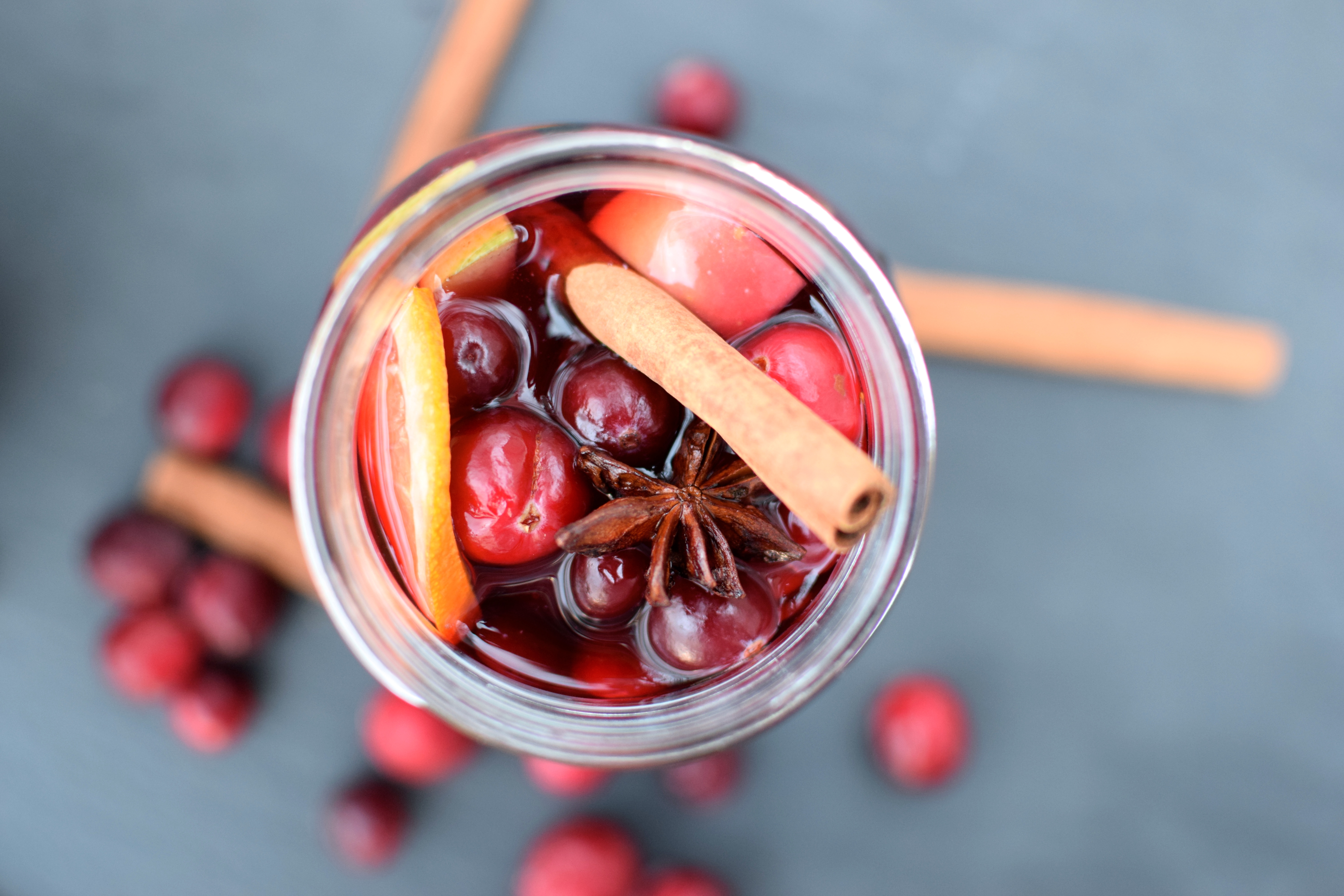 Holiday Sangria
Prep Time: 10 minutes Chill Time: Overnight
Ingredients:
1 bottle red wine (we used a red blend)
1 cup cranberry-pomegranate juice cocktail (the sweet stuff)
1/2 cup brandy
1 apple, chopped
1 pear, chopped
1 orange, sliced
1 cup cranberries (frozen is fine)
2 cinnamon sticks
2 star anise
Preparation:
Place all ingredients in a large pitcher, stir, and refrigerate overnight. Serve over ice and top each glass with a cinnamon stick.