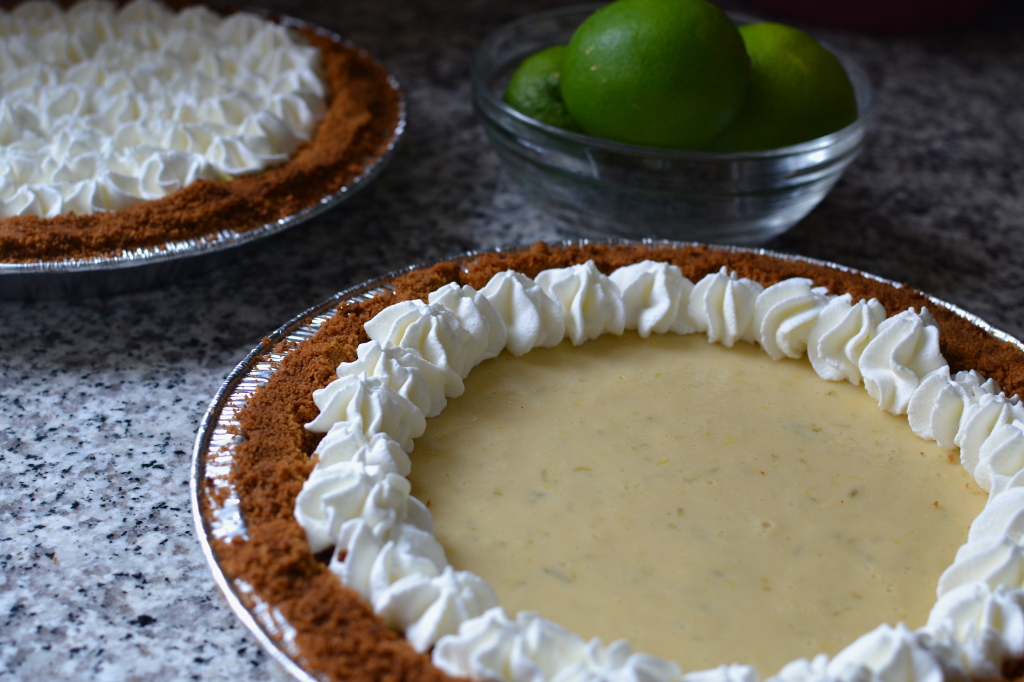 Warm nights on the patio. A sizzling grill with the smell of BBQ. The faint music of the ice cream man in the distance. Sunburns. Mosquito bites. Although my calendar begs to differ, I officially declare it: summer!!!
Each summer, we try to travel to our most beloved place in the world, Seaside, Florida. My family has been vacationing there since I was three and now that the secret is out, it's become quite a popular destination. A few summers ago they had a happy hour deal at the local market where slices of pie and glasses of wine were half off in the afternoons. There's nothing like sitting on the porch with the sea breeze rustling through my hair sipping on wine and eating key lime pie. That's my kind of vacation.
The key to a good key lime pie is…well…key limes. However, they're pretty hard to find here in Missouri. Fortunately, most speciality stores here sell key lime juice (we like Nellie & Joe's), which makes this recipe possible even in this land locked state.
Key Lime Pie
Prep Time: 10 min. Cook Time: 14 min. Chill Time: Overnight
Ingredients:
For the Crust:
15 honey graham cracker sheets
1/4 cup brown sugar
1/4 cup butter, melted
1/2 teaspoon cinnamon
For the Filling:
Zest of 1 lime
1/2 cup key lime juice
2 egg yolks
1 14-oz. can sweetened condensed milk
For the Topping:
2 cups heavy whipping cream
1/4 cup sugar
1/2 teaspoon vanilla extract
Preparation:
Preheat oven to 350°. In a food processor, blend all ingredients of the crust until it becomes like fine wet sand. When pinched together, the crumbs should lightly stick together. Add more butter if not sticking together. Pat crumbs evenly into a 9″ pie round. Bake the crust for about 6 minutes until aromatic. Clean food processor while crust is baking.
Blend all ingredients of the filling until smooth. Pour into pie crust and bake for 12-14 minutes, until filling is set around the edges but the middle still jiggles when shook. Remove from oven and cool. Cover with plastic wrap and chill overnight.
To make topping, whisk the cream until soft peaks form. Add the sugar and vanilla and continue to beat until hard peaks form. Pipe topping using a star shaped tip, starting on the outside and working your way in.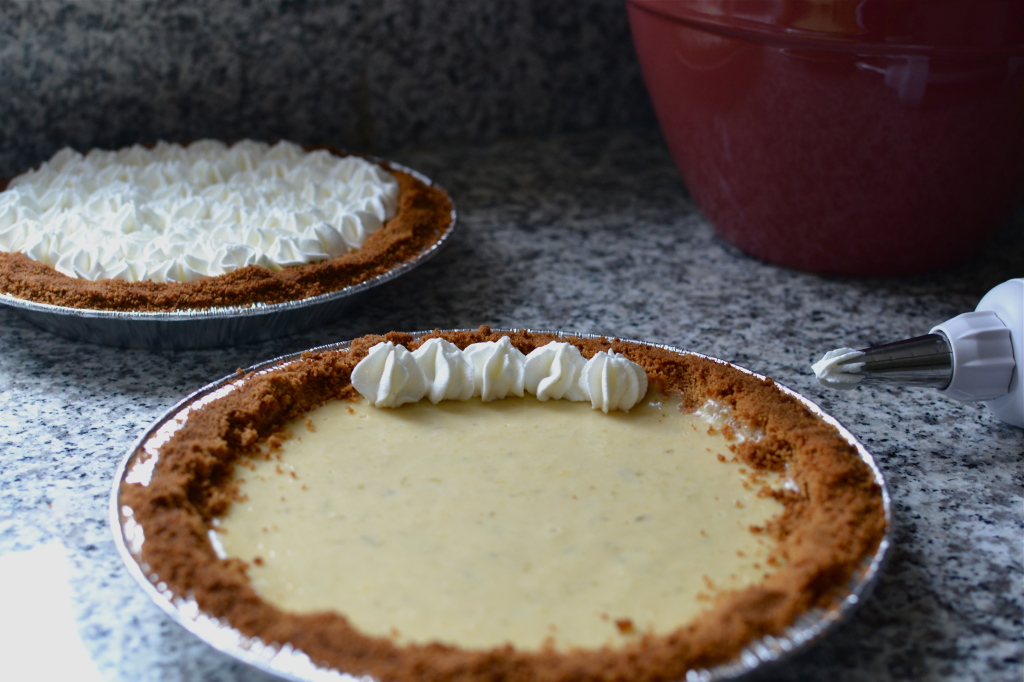 Serve chilled.