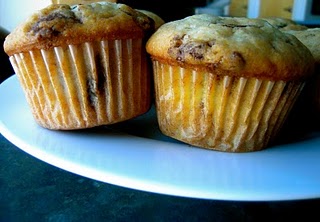 Whitney has fond memories of waking up Saturday mornings to the aroma of these delicious treats. Mom originally got the recipe from Elsah's Landing Chocolate Chip Banana Bread recipe. The recipe calls for a few soft bananas, so we tend to purposely let our bananas brown just so we can make these. Yes, they're that good.
Ingredients:
1 cup sugar
1 egg
1/2 cup soft butter
1 cup mashed bananas
3 tablespoons milk
2 cups flour
1 teaspoon baking powder
1/2 teaspoon baking soda
1+ cups chocolate chips
Preparation:
Preheat oven to 350°. Line a muffin pan with liners, and set aside. Combine sugar, egg and butter in a large bowl and beat with an electric mixer until fluffy. Set aside.
Next, combine bananas and milk in a small bowl. Set aside.
Mix flour, baking powder, and baking soda together in a small bowl. With a wooden spoon, stir half of the flour mixture into the sugar/egg/butter mixture, and then do the same with the banana mixture. Repeat. Once the flour is moistened, add chocolate chips (be generous). Fill each muffin holder 3/4 of the way full.
Bake for 12 minutes, and check often. Muffin tops should be golden brown when ready. Transfer to cooling rack and devour while warm.