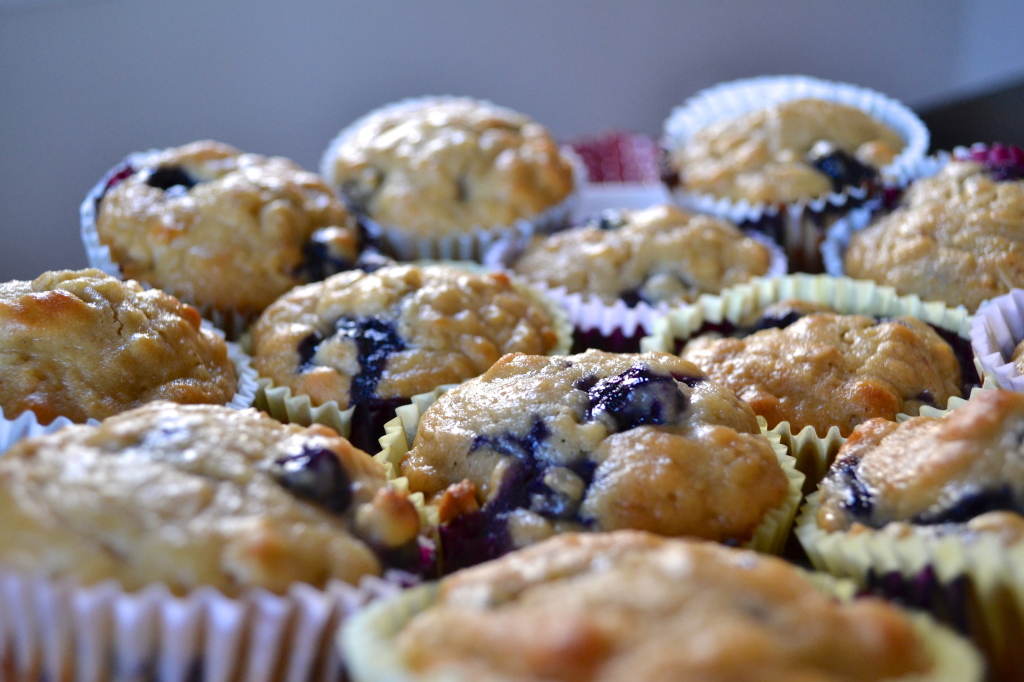 Breakfasts on the go are a must in our house. Neither of us have time in the morning during the week to sit down to a bowl of cereal, so we're always looking for good bar and muffin recipes that we can make on the weekend and eat in the car or office throughout the week. Sticking with the healthy month theme, we've developed a lemon blueberry muffin with heart healthy oats and wheat germ that we think you'll like. We made this recipe a little bit differently the second time around using coconut oil and blackberries, and those turned out great as well. It's a pretty basic muffin recipe that you can adapt to your liking. These healthy muffins will help start a busy day!
On the Go Blueberry Oat Muffins
Prep Time: 10 min. Bake Time: 14 min.
Ingredients:
1 1/2 cups whole wheat pastry flour
1 cup rolled oats
1 teaspoon baking powder
1/2 teaspoon baking soda
3 tablespoons wheat germ
2 large eggs
1/2 cup greek yogurt
1/2 cup unsweetened applesauce
1/4 cup olive or coconut oil
1/2 cup honey
1 teaspoon vanilla
1/2 teaspoon lemon zest
6 ounces blueberries
Preparation:
Preheat oven to 400°. In an electric mixer, combine the flour, oats, baking powder, baking soda, and wheat germ. Mix well and set aside.
In a separate large bowl, whisk eggs, yogurt, applesauce, oil, honey, vanilla, and lemon zest together. Add to the electric mixer and mix until just combined. Using a spatula, scrape edges of mixer to fully combine all ingredients and fold in blueberries.
Line a muffin tin with paper liners and fill each 3/4 full with batter. Bake for 14 minutes.
Makes about 16 muffins