I made these three years ago…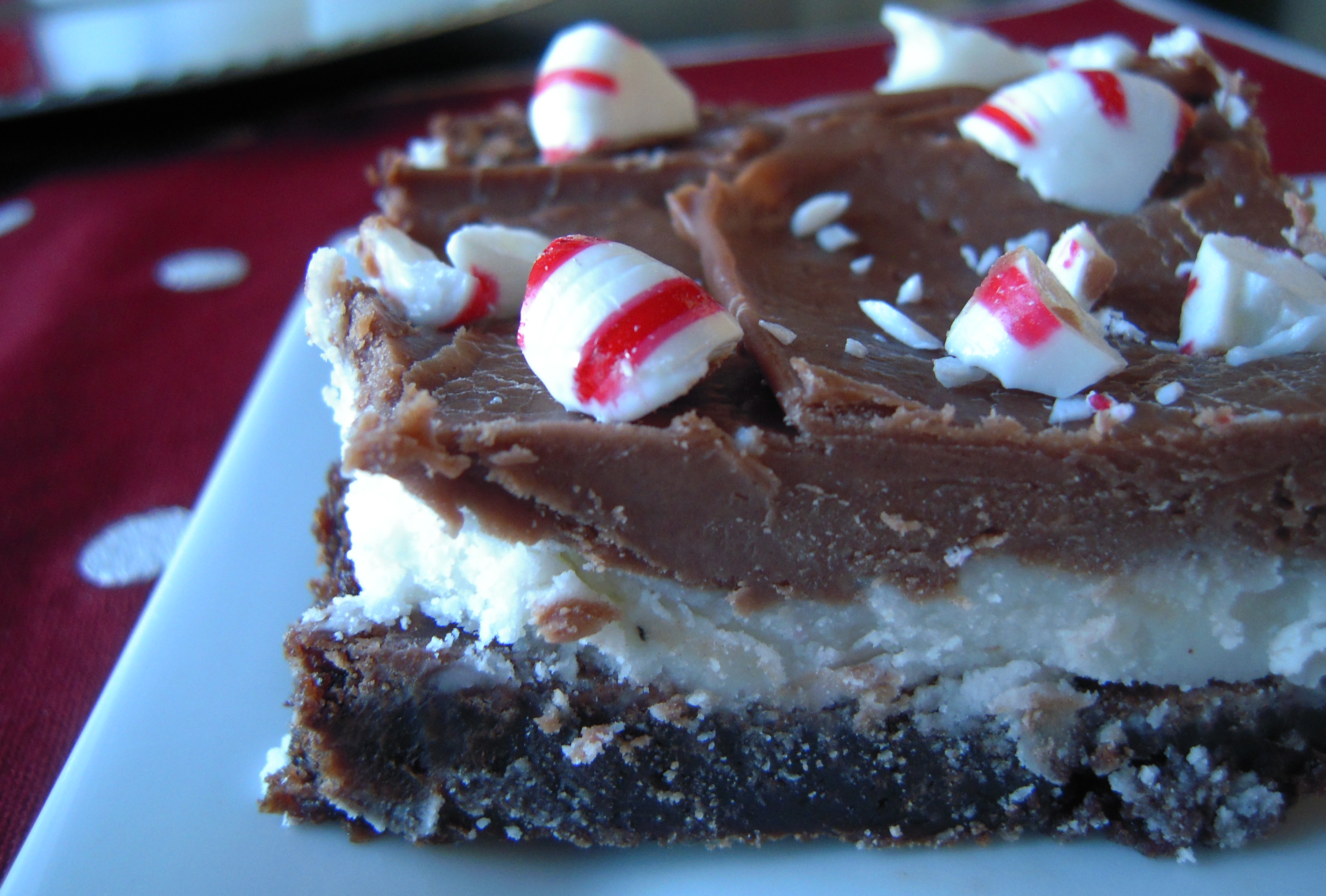 …and they were really good. But friends, after three years of food blogging, I think they deserve a makeover.  A perfect treat this holiday season, these gooey, rich brownies are sure to please even the Scroogiest among us.
We want to wish a very merry Christmas to all of our blog readers. We hope you and your  family enjoy a most merry and bright holiday season!
Chocolate Peppermint Brownies
Prep Time: 30 Cook Time: 25 min.
Ingredients:
Brownies:
2 sticks unsalted butter
2 cups milk chocolate chips
4 oz. semi-sweet baking chocolate, chopped
3 large eggs
1 tablespoon vanilla extract
1 cup granulated sugar
1/2 cup all-purpose flour
1 1/2 teaspoons baking powder
1/2 teaspoon salt
Peppermint Frosting:
1 stick unsalted butter
4 cups powdered sugar
1 tablespoon peppermint extract, to taste
1/4 cup milk
20 peppermint candies
Chocolate Ganache:
4 oz. semi-sweet chocolate, chopped
4 oz. milk chocolate, chopped
1 cup heavy cream
1 tablespoon light corn syrup
Preparation:
Preheat oven to 350°. Butter and flour a 13×9″ glass baking pan and set aside.
First, prepare the brownies. In a medium sized saucepan over medium heat, melt the two sticks of butter. Once butter is completely melted, remove from heat and add the chocolate chips and baking chocolate. Stir until all chocolate is melted. Cool to room temperature, stirring occasionally.
In a large bowl, whisk together the eggs, sugar, and vanilla. Add a little bit of the cooled chocolate to the egg mixture, and stir. Continue adding the entire chocolate mixture, whisking gently as you pour. Set aside.
Using a separate small bowl, combine flour, baking powder, and salt. Slowly add this mixture to the other chocolatey bowl, and stir. Once mixture is thoroughly combined, pour into the baking pan, and evenly spread with a spatula.
Bake brownies for 20-25 minutes, until a toothpick inserted in the center of the brownies comes out clean.
While the brownies are baking, prepare the peppermint frosting. In a large bowl, beat all ingredients until creamy.
Unwrap all the peppermint candies and place them in a gallon sized plastic bag. Place the bag on a hard surface (such as a wooden cutting board) and smash each peppermint with a hammer, crushing the candies into many fine pieces with some larger pieces. Place a sieve or colander over a paper towel. Empty crushed candies from the bag into the sieve or colander, allowing finely crushed pieces and dust to fall onto the paper towel. Transfer the contents of the paper towel to the white frosting and stir. Reserve larger pieces for decoration. Set peppermint frosting aside.
Next, prepare the chocolate ganache. In a small pot, heat the heavy cream and light corn syrup over medium low. Once warm (but not boiling), remove from heat and add the chocolate. Allow this to sit for 2 minutes, then whisk together until smooth.
Once brownies are out of the oven, allow them to completely cool before frosting. Using a spatula, spread an even layer of the peppermint frosting on the brownies. Then, pour the chocolate ganache on top, and spread until smooth. Top brownies with reserved peppermint candies. Cover with plastic wrap and set in refrigerator to set. Before serving, allow brownies to come to room temperature.
Enjoy!