You have one more weekend left to shop. bake. clean. serve. order. travel. mail. wrap. enjoy the holiday season. It's no secret that the "most wonderful time of the year" can also be the most stressful. There's just a lot to do. It's important to work toward balance during this time of year. In this time of focusing on other people, it's vital to remember to take care of yourself as well. Find time to enjoy the holidays. Do something for YOU every now and then. For me, it's baking. Give me an apron (or not), pour me a glass of wine, put on my favorite jams, get my hands in some flour, and I'm in my happy place. Fortunately for you, sometimes I end up with a recipe or two to share.
I really do love peppermint around the holidays. There is something nostalgic, fresh, and just plain pretty about them. BUT. I don't like chewing on peppermints, fearful I'm going to break a tooth or have candy glued to my molars for at least an hour. And yes, the red and white colors are festive, but desserts topped with peppermints are usually messy, and I end up dropping candy cane pieces on the floor with each bite. These double chocolate chunk cookies solve that problem by bringing in the freshness of peppermint, without the annoying candy cane topping. Peppermint extract is available at your local grocery store, and a little bit sure goes a long way. I like these more minty, Neil likes them a little less minty. You can adjust the amount based on your preference. The addition of TWO packs of chocolate chunks makes these just irresistible.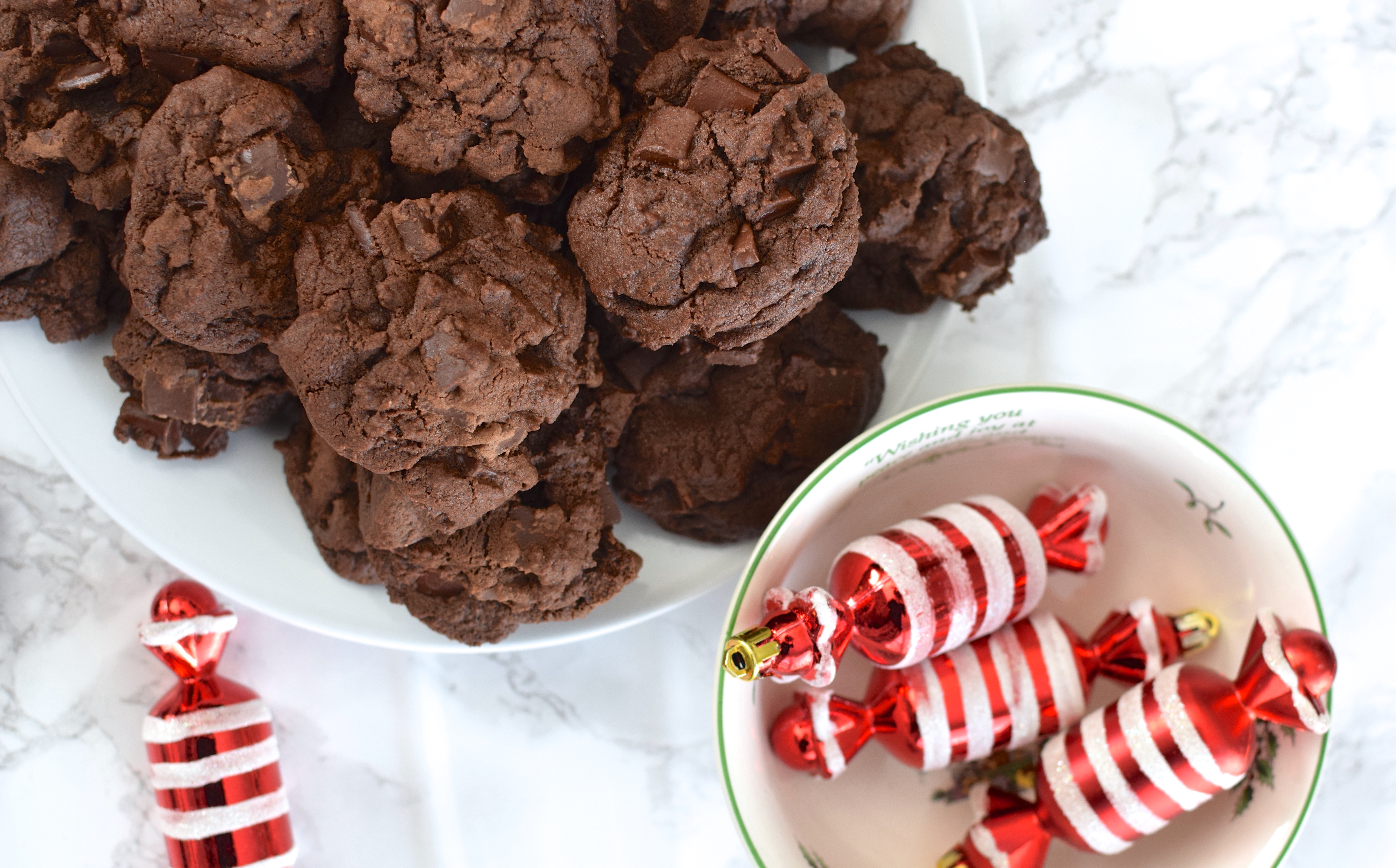 Merry Christmas and happy holidays to YOU, our dear readers. We are thankful for each and every one of you, and happy that you choose to continually pull up a chair at our table here, time and time again. Wishing you and your family the brightest holiday season.
Peppermint Chocolate Chunk Cookies
Ingredients:
2 cups flour
1 cup cocoa powder
2 sticks butter, softened
1 teaspoon baking soda
1 pinch salt
2 eggs
2 cup sugar
1 teaspoon vanilla extract
2 teaspoons peppermint extract
2 11.5-oz. bags chocolate chunks
Preparation:
Preheat oven to 350°. In a medium bowl, combine the flour, cocoa powder, baking soda, and salt. Set aside. In the bowl of an electric mixer, cream the butter and sugar until fluffy. Add the eggs one at a time and continue to combine. Add the vanilla and peppermint extract and continue to combine. Add 1/2 of the flour, mix, then the other 1/2. Finally, stir in the chocolate chunks using a wooden spoon.
The dough should be pretty thick, and you'll need to use some muscle to get those chocolate chunks incorporated. Spoon large mounds of the dough (about 3″ in diameter) onto a parchment or silpat lined baking sheet. Bake for about 14 minutes, then remove from the oven. Allow to sit on the pan for another minute or two before transferring to a wire rack to completely cool.
Serve warm. Makes 24 cookies.