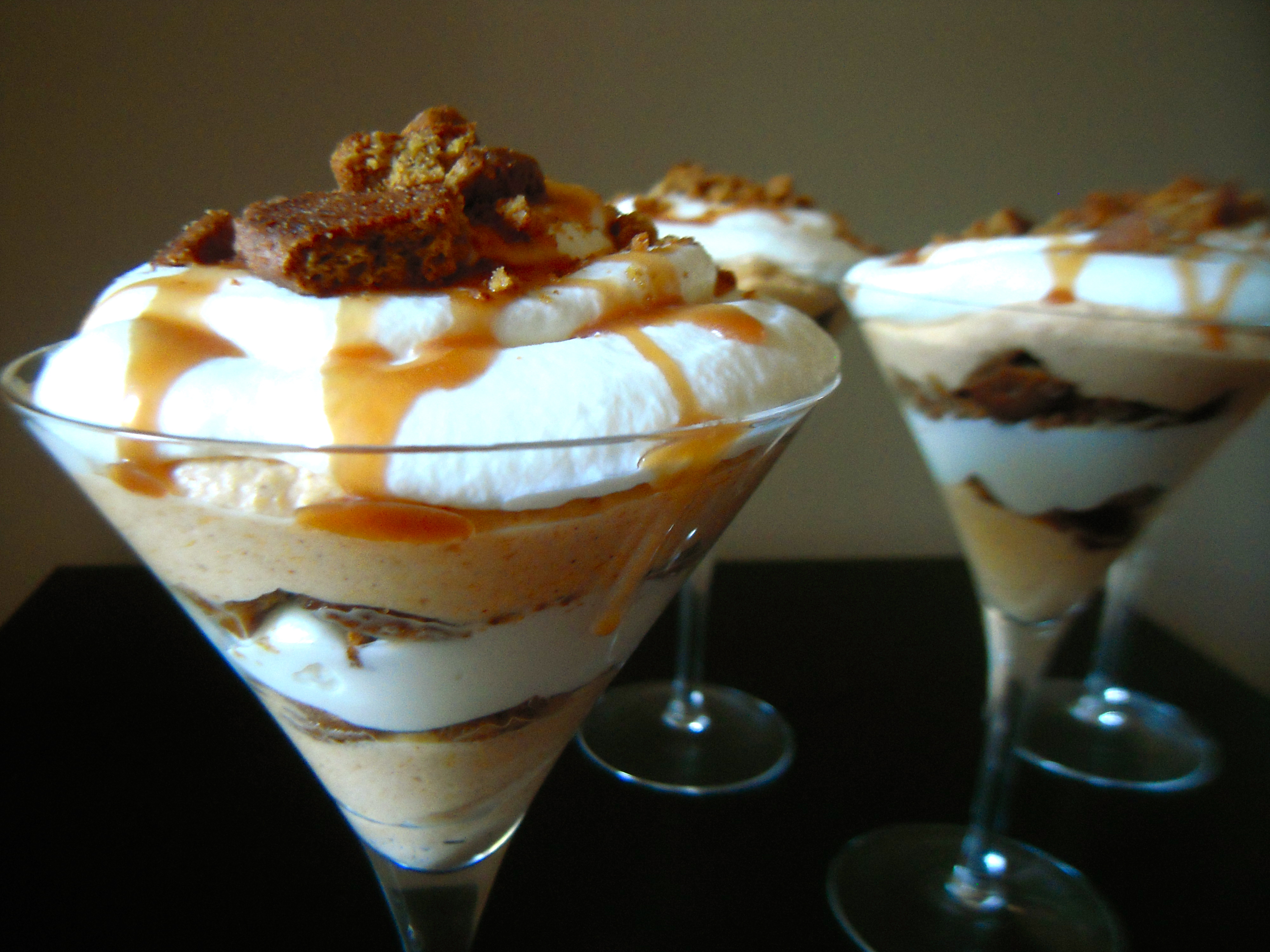 Elegant and light, this dessert brings the flavors of fall into focus through the layers of spiced pumpkin mousse, ginger snaps, white chocolate mousse, and caramel. It's simple to prepare, and there is no need to worry about raw eggs. If you're like us, your martini glasses, champagne glasses, and other beautiful stemware don't get used as often as they should. This dessert can be served in basically any glass or dish, so why not feature these forgotten items? Get creative with presentation! We hope you enjoy this beautiful autumn dessert as much as we do.
Ingredients:
1 cup canned pumpkin purée
1/2 cup sugar
1/2 teaspoon ground cinnamon
1/2 teaspoon ground nutmeg
12 ounce bag white chocolate chips
1 tablespoon vanilla extract
30 ginger snap cookies, crushed
4 1/4 cups heavy whipping cream
Caramel sauce (enough to drizzle)
Preparation:
In a medium saucepan over low heat, combine pumpkin, 1/2 cup cream, sugar, cinnamon, and nutmeg until sugar dissolves. Transfer mixture to a large bowl and set aside.
In another medium saucepan (or wash and reuse the same one) over low heat, combine white chocolate chips and 3/4 cup cream until smooth. Transfer melted chocolate mixture to another large bowl and set aside.
As both of these mixtures are cooling to room temperature, prepare the whipped cream. Beat the remaining 3 cups of cream and vanilla in a bowl using an electric mixture until soft peaks form.
Fold in 1/4 of the whipped cream into the white chocolate mixture using a spatula. Fold in another 1/4.
Fold in 1/4 of the whipped cream into the pumpkin mixture using a spatula. Fold in another 1/4. (All of the whipped cream should be worked into one of the mixtures by now.)
Cover each bowl and chill for at least 2 hours.
Assemble the parfait by transferring each mousse to a separate piping bag (OR use handy ziplock bags and cut a corner off each) and layer the mousse and ginger snaps in any order you like. Top with caramel and more ginger snaps. Chill for another hour. Serve chilled.
Makes 8 (4-oz.) parfaits (one serving each), or 4 (8-oz.) parfaits (pictured, and perfect to split!).