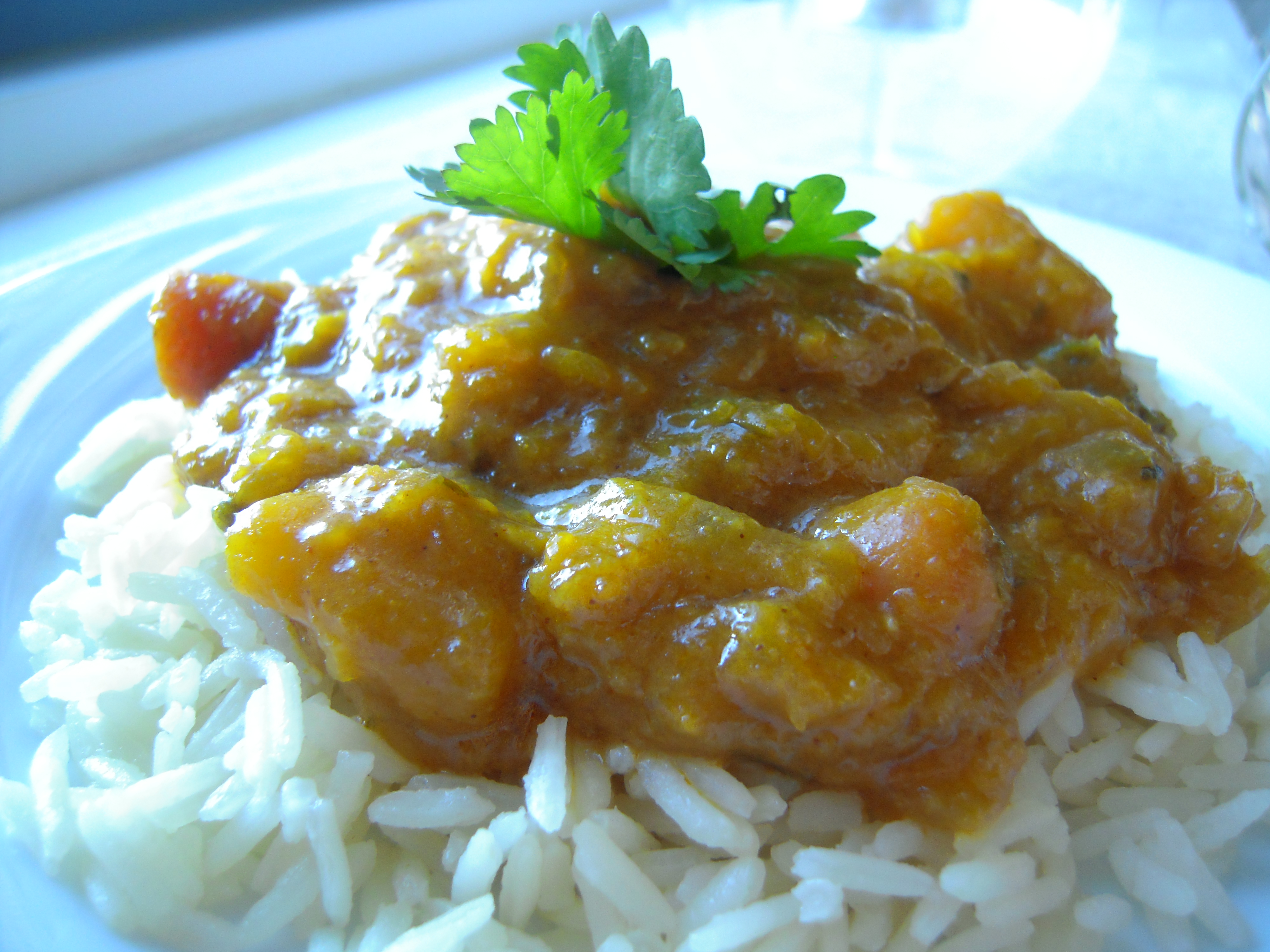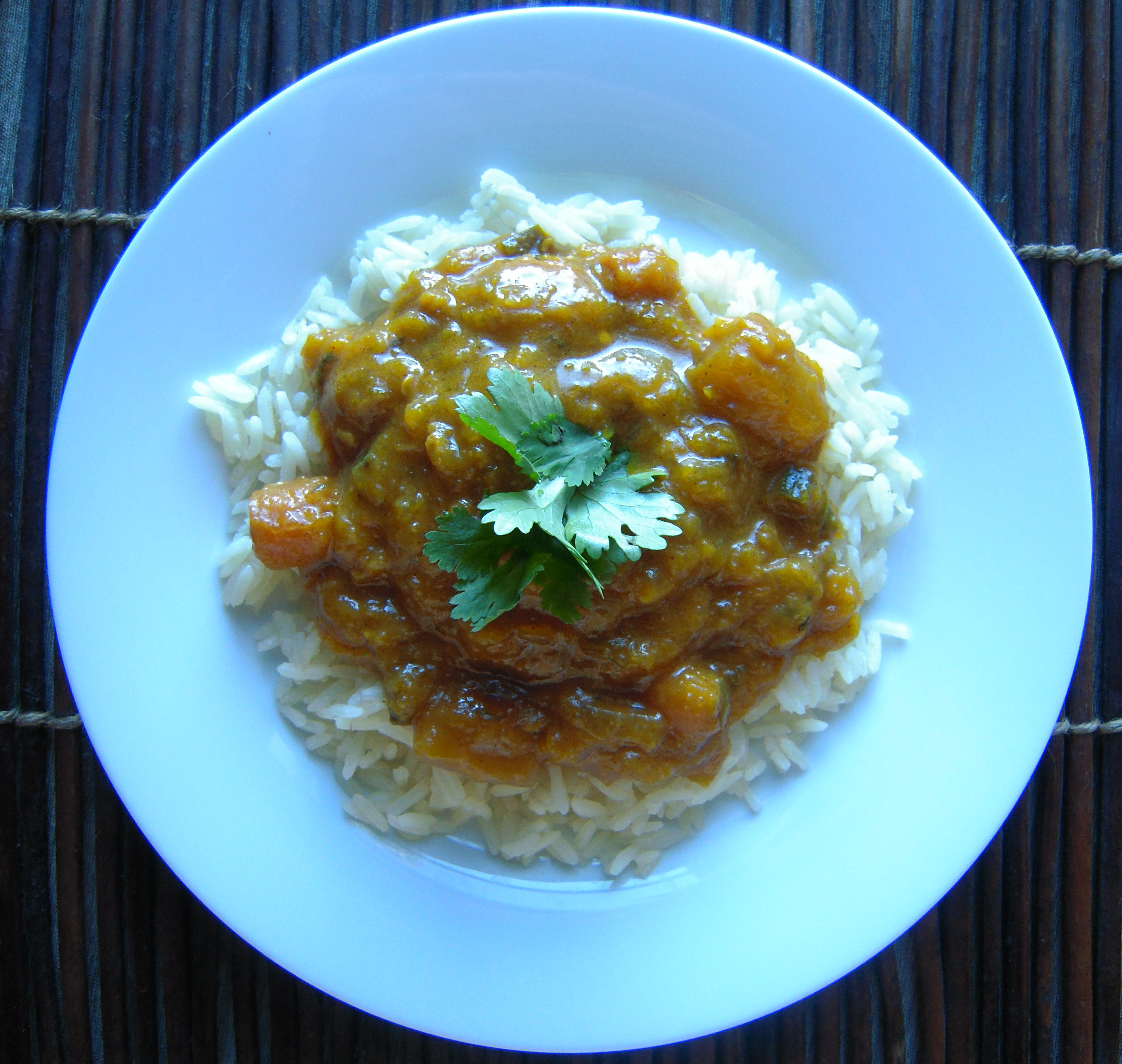 This curry is the perfect meal to warm your spirit during the cold weather months. We used the crock pot for this one to let the spices marry and produce maximum flavor, but this could be done in a stock pot on the stove as well. You could also sub potato, butternut squash, or even cauliflower if pumpkin isn't your thing.
Ingredients:
2 whole Small Pumpkins (commonly Called Sugar Pumpkins)
4 Tablespoons Olive Oil (Divided Use)
2 teaspoons Kosher Salt, Divided Use
2 teaspoons Black Pepper, Divided Use
1 whole Yellow Onion, Chopped
2 cups Baby Carrots, Halved
½ bunches Cilantro, Chopped, Divided Use
2 Tablespoons Soy Sauce
3 cloves Garlic, Minced
1 cup Chicken Stock
1 can (14 Oz.) Lite Coconut Milk
1 Tablespoon Red Curry Paste
2 Tablespoons Fish Sauce
1 teaspoon Turmeric
1 teaspoon Red Pepper Flakes
1 Tablespoon Chili Powder
1 whole Lime, Juiced
2 cups Jasmine Rice
3-½ cups Additional Chicken Stock, Reserve For Rice
Preparation:
Preheat oven to 350°F.
On a sturdy cutting board, remove the stem of two pumpkins, and slice pumpkins lengthwise. Dispose of pumpkin seeds and strings. Cut each half again lengthwise, and place the eight pieces of pumpkin on two baking sheets. Drizzle with 3 tablespoons of olive oil, and sprinkle with salt and pepper. Roast pumpkin in the oven for 45 minutes, or until pumpkin is soft when pierced with a fork.
Meanwhile, prepare the curry. In a medium sized skillet, heat 1 tablespoon olive oil. Once hot, add 1 teaspoon salt, onion, carrots, half of the cilantro, and soy sauce. Saute until onions are translucent. Then, add garlic and simmer for another minute.
Transfer vegetable mixture to crock pot on "low" setting. Add a small part of the chicken stock to the skillet, and scrape the sides of the skillet, obtaining all vegetable pieces. Then, transfer all chicken stock to the crock pot.
Next, add coconut milk, red curry paste, fish sauce, turmeric, red pepper flakes, chili powder, lime juice, salt, and pepper. Stir and cover crock pot with lid. By this time, your pumpkin should be ready to cube.
Remove pumpkin from oven, and transfer to a cutting board. The pumpkin skin should be soft, and easy to peel off. If not, you can help it along with a knife. Cut pumpkin into 1″ cubes. If you slacked on removing the pumpkin strings in the first step, you can cut them off here as well. Add cubed pumpkin to the pot, and cover with lid.
Cook on low for 3-4 hours. Remember to taste the curry, adding more of the ingredients depending on how salty, spicy, creamy, or tangy you desire your curry to be.
Prepare jasmine rice according to package, but cook rice with reserved chicken stock (not water).
Serve curry over rice, and top with fresh cilantro.