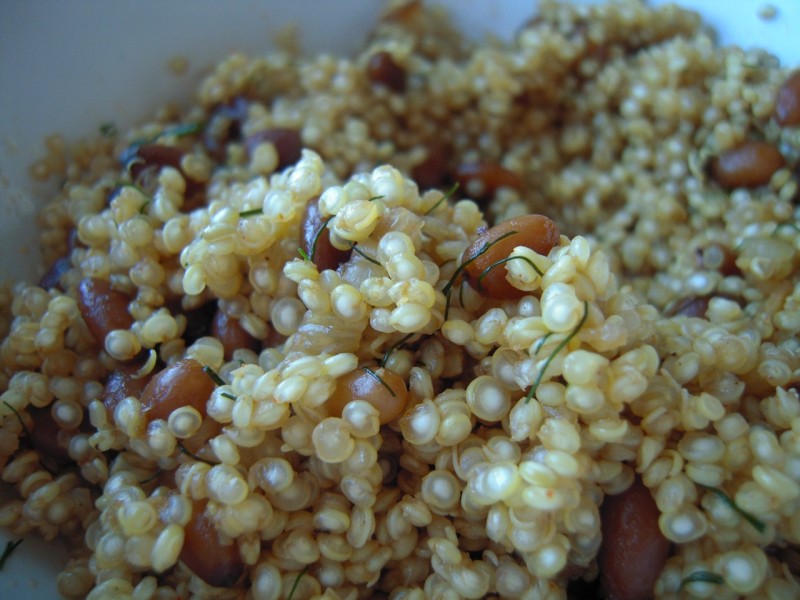 This warm dish embraces the healthy qualities of the quinoa without skimping on flavor. May be served hot as a side dish or cold as a salad.
Ingredients:
1 cup Water
1 cup Chicken Stock
1 cup Quinoa
1 bulb Fennel, Chopped
1 cup Pine Nuts
1 Tablespoon Paprika
1 teaspoon Cumin
1 dash Kosher Salt
1 teaspoon Black Pepper
Olive Oil
Preparation:
Set oven to the "broil" setting. Bring water and chicken stock to a boil in a medium saucepan. Once a boil is reached, add the quinoa and cook until liquid is absorbed (timing according to package instructions).
Meanwhile, saute the chopped bulb of the fennel in a medium saucepan in a tablespoon of olive oil. Continue to cook until edges of the fennel begin to brown. Reserve some fronds of the fennel for garnish.
Place pine nuts on a cooking sheet, spreading evenly and drizzling with olive oil. Place on the top rack of the oven still on 'broil' setting, and keep a CLOSE eye on them. Remove once they are golden brown.
Combine fennel, pine nuts, quinoa, paprika, cumin, salt, and pepper together in a medium bowl. Garnish with fennel fronds.
May be served hot or cold, depending on whether you would like this more as a salad or a hot side dish. Enjoy!