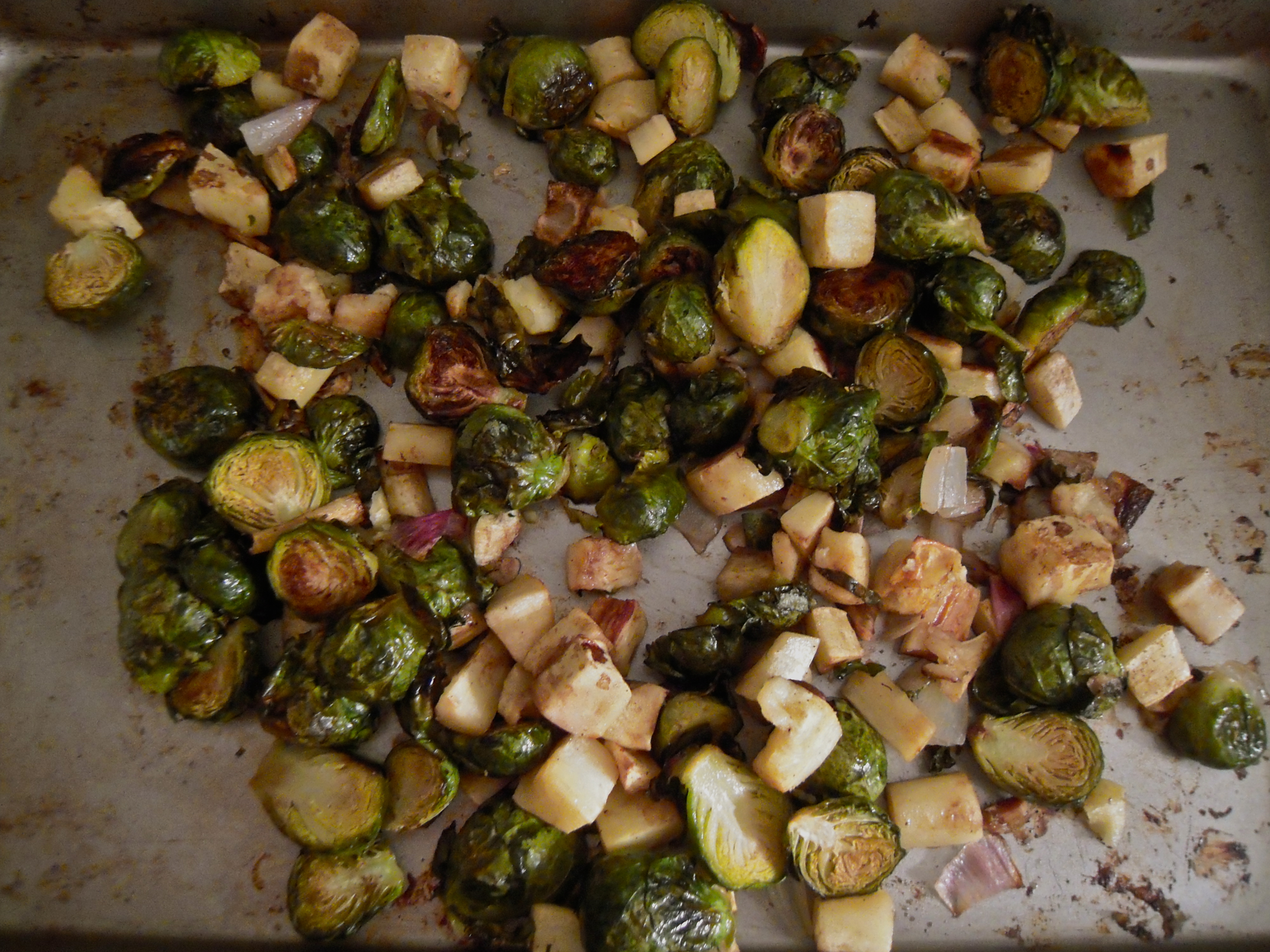 The holidays are over and it seems like everyone is trying to monitor what they eat. We've found that by lowering our white sugar and carb intake, our weight goes down, our mood goes up, and we end up replacing those foods with healthier choices. We're both carb-o-holics though, so it's been tough. When we start to crave white pasta or rice, we've tried to instead go for the "good for you" grains. Quinoa, a whole grain, is a complete source of protein (meaning it contains all nine essential amino acids), gluten-free, cholesterol-free, provides anti-oxidant support, and is good for cardiovascular health. Look for quinoa in the bulk section, or buy it prepackaged close to the rice. We hope you enjoy this easy weeknight healthy meal that will leave you full and satisfied that you're treating your body well.
Ingredients:
3 medium parsnips, peeled and cut into 1/2″ pieces
1 lb. brussels sprouts, halved lengthwise
1 medium shallot,  roughly chopped
2 garlic cloves, sliced
2 tablespoons olive oil
1/2 teaspoon Kosher salt
1/2 teaspoon freshly ground pepper
2 cups stock (beef, chicken, or vegetable)
1 cup quinoa
Preparation:
Preheat oven to 375°. Place the vegetables on a sheet pan, and top with olive oil, salt, and pepper. Toss to coat and spread evenly on the pan. Place in oven.  Roast for 25 minutes.  Remove from oven and briefly toss the vegetables to promote even cooking.  Drizzle balsamic vinegar over vegetables and return to the oven for an additional 10 minutes.
Combine chicken stock and quinoa in a saucepan. Bring to a boil, then lower heat and simmer while covered, 15-20 minutes. Cook quinoa until all stock is absorbed.
Transfer quinoa to a bowl and top with the roasted vegetables.