Disclosure: This post is sponsored by Lucky's Market. The Newlywed Chefs were paid for this post, however, as always, all opinions are 100% our own.
We are thrilled to continue our partnership with Lucky's and feature another section of their store in this post. Today we're highlighting the bulk section! Lucky's bulk section has many different flours, snack mixes, grains, candy, and more. We usually save money shopping in the bulk section, especially when a recipe calls for only a limited amount of an ingredient.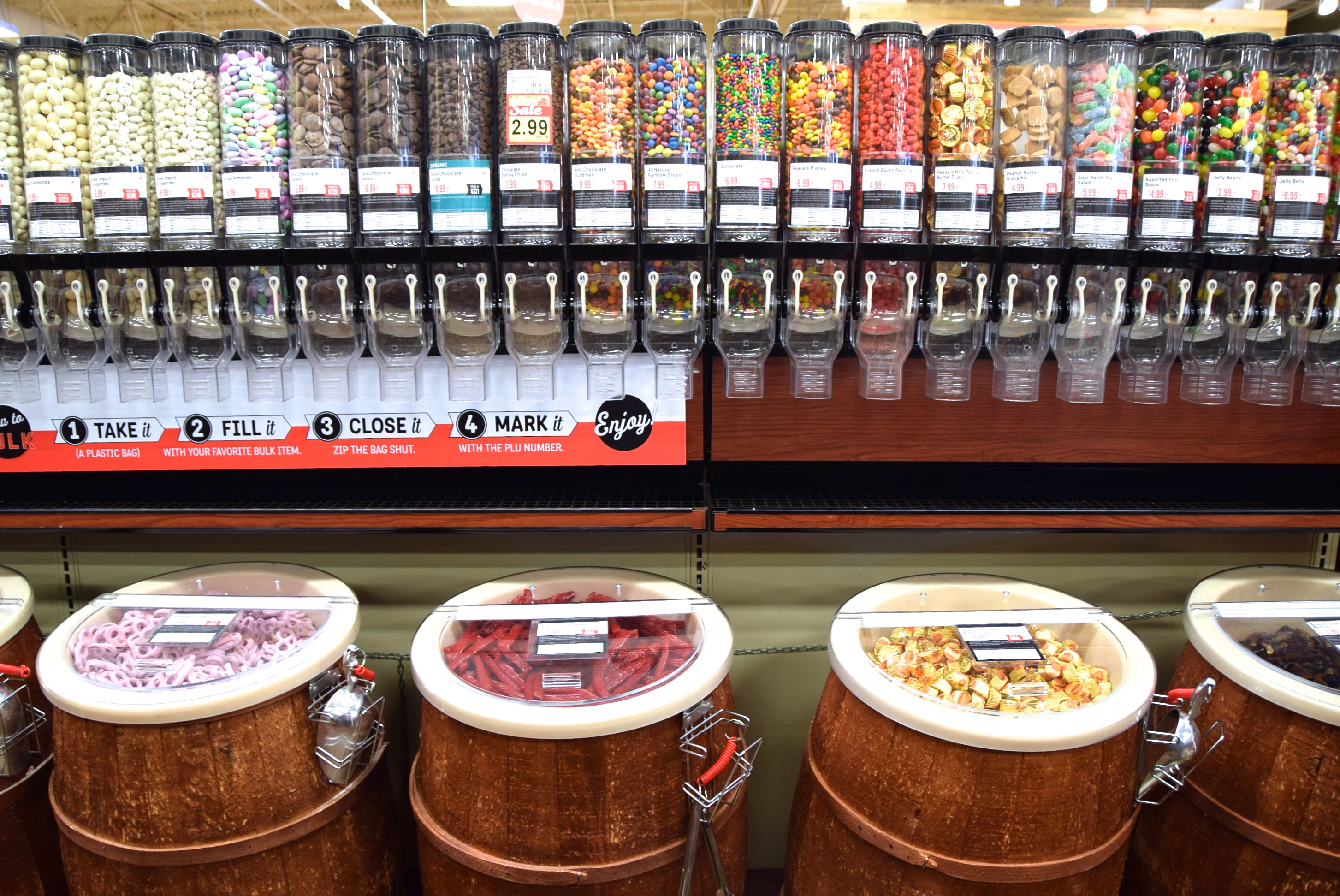 We also like to buy our coffee over in the bulk section and try different beans. In addition, Lucky's also has a nice selection of spices. Whole cinnamon sticks, pink Himalayan salt, and various spice blends are available in the bulk section.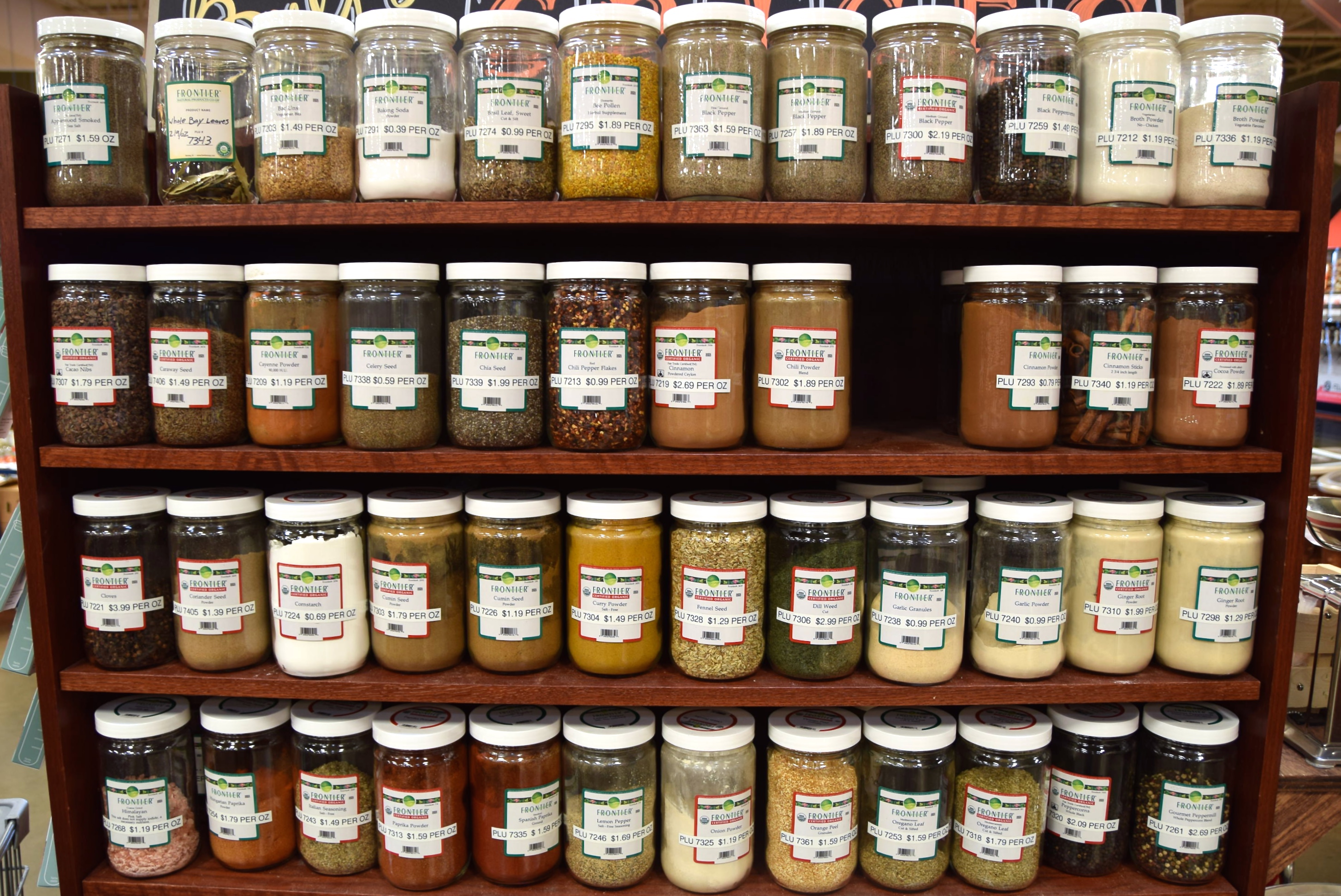 The bulk section at Lucky's is a great place to get ingredients for your holiday pies. They have all-purpose flour, cocoa powder, nuts, and other baking ingredients. The pie recipe we're sharing with you today is a real crowd pleaser. It's basically a giant brownie topped with salted caramel sauce, whipped cream, and toasted pecans. It's reminiscent of a big turtle brownie and super easy to make. Using a food processor, combine the dry ingredients for the crust.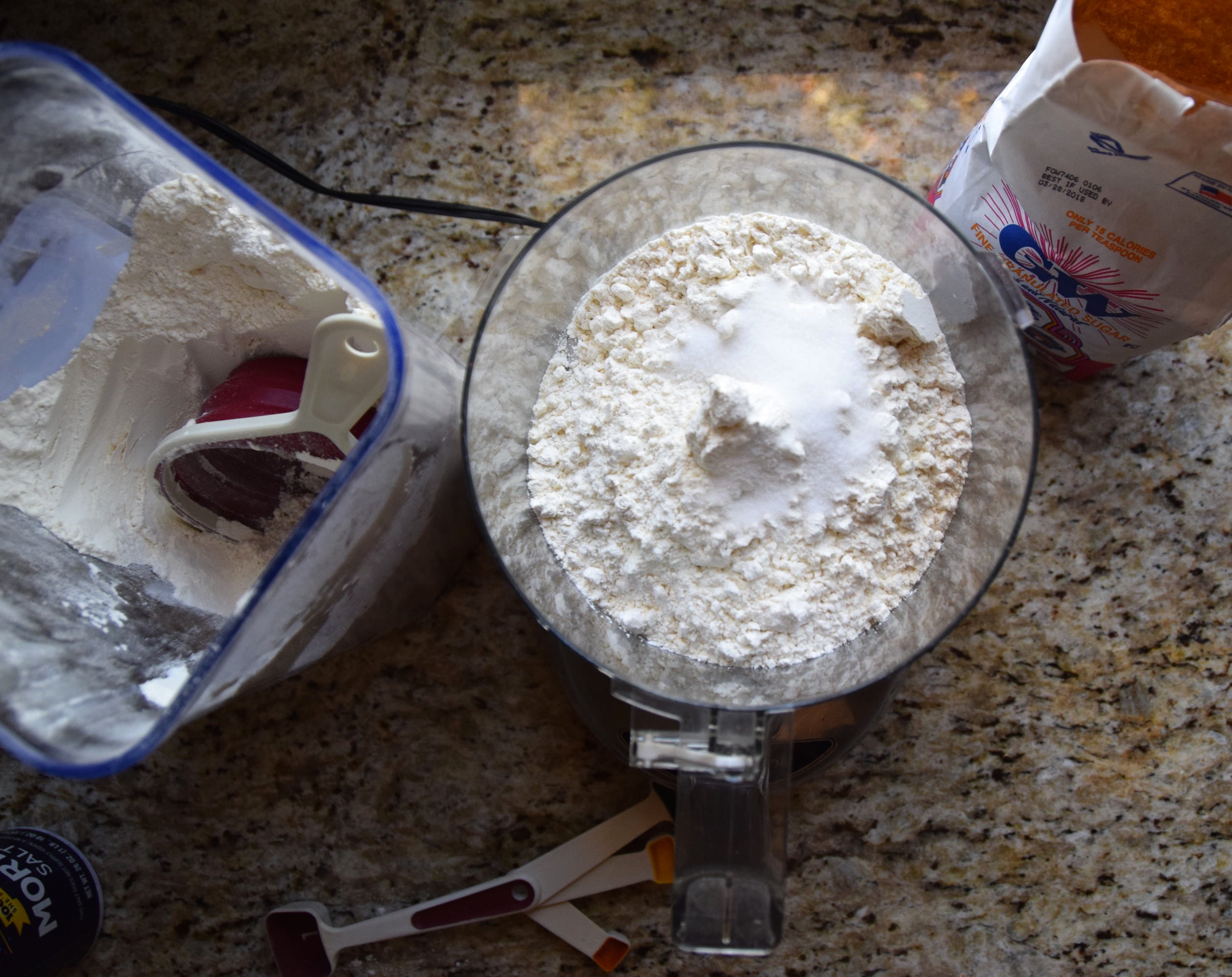 Add the butter and continue to pulse. Slowly drizzle in ice water until the dough just begins to come together.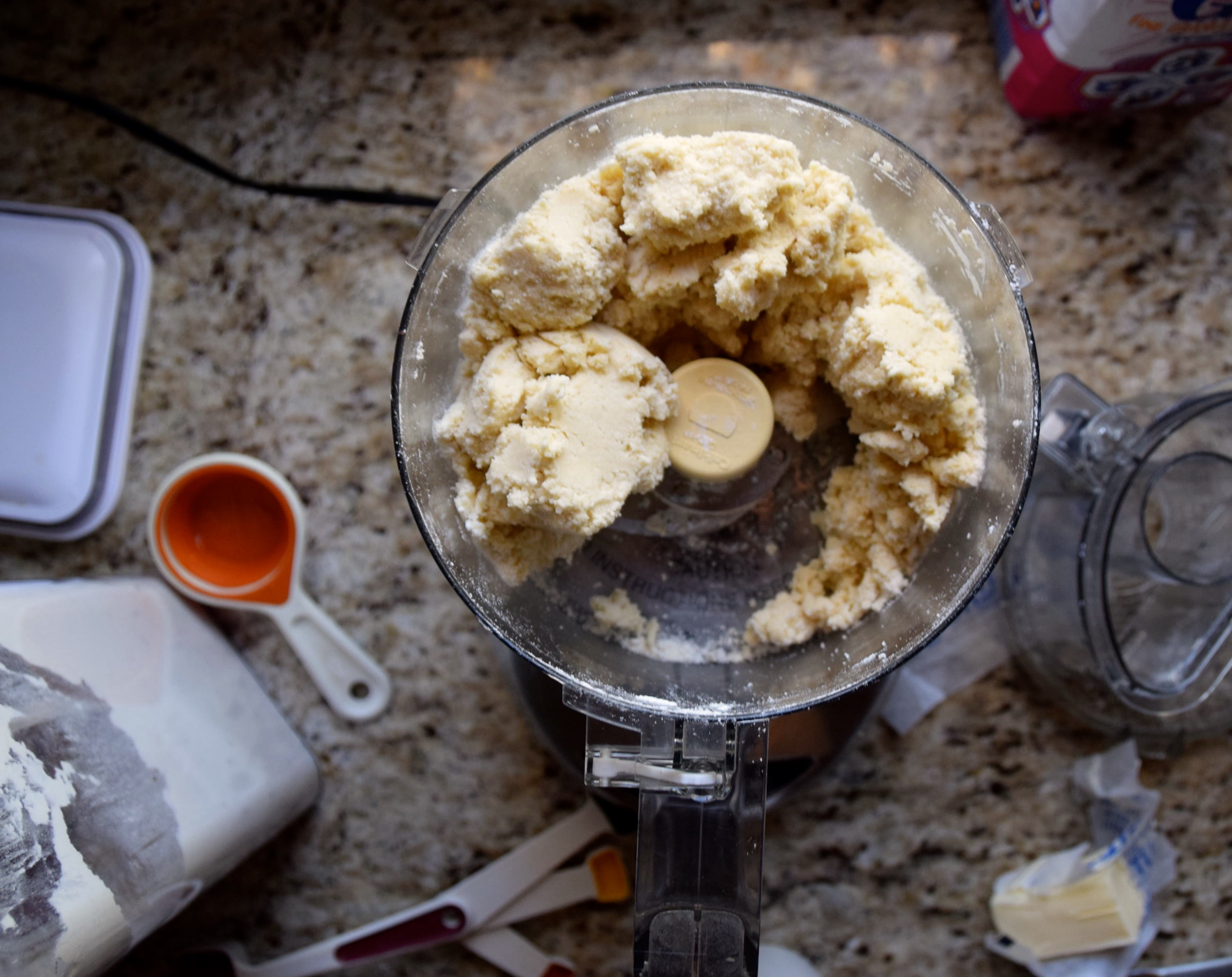 Form the dough into two discs and wrap in plastic wrap. Chill in the fridge for about an hour. Roll one of the discs out (you can save the other disc for another pie).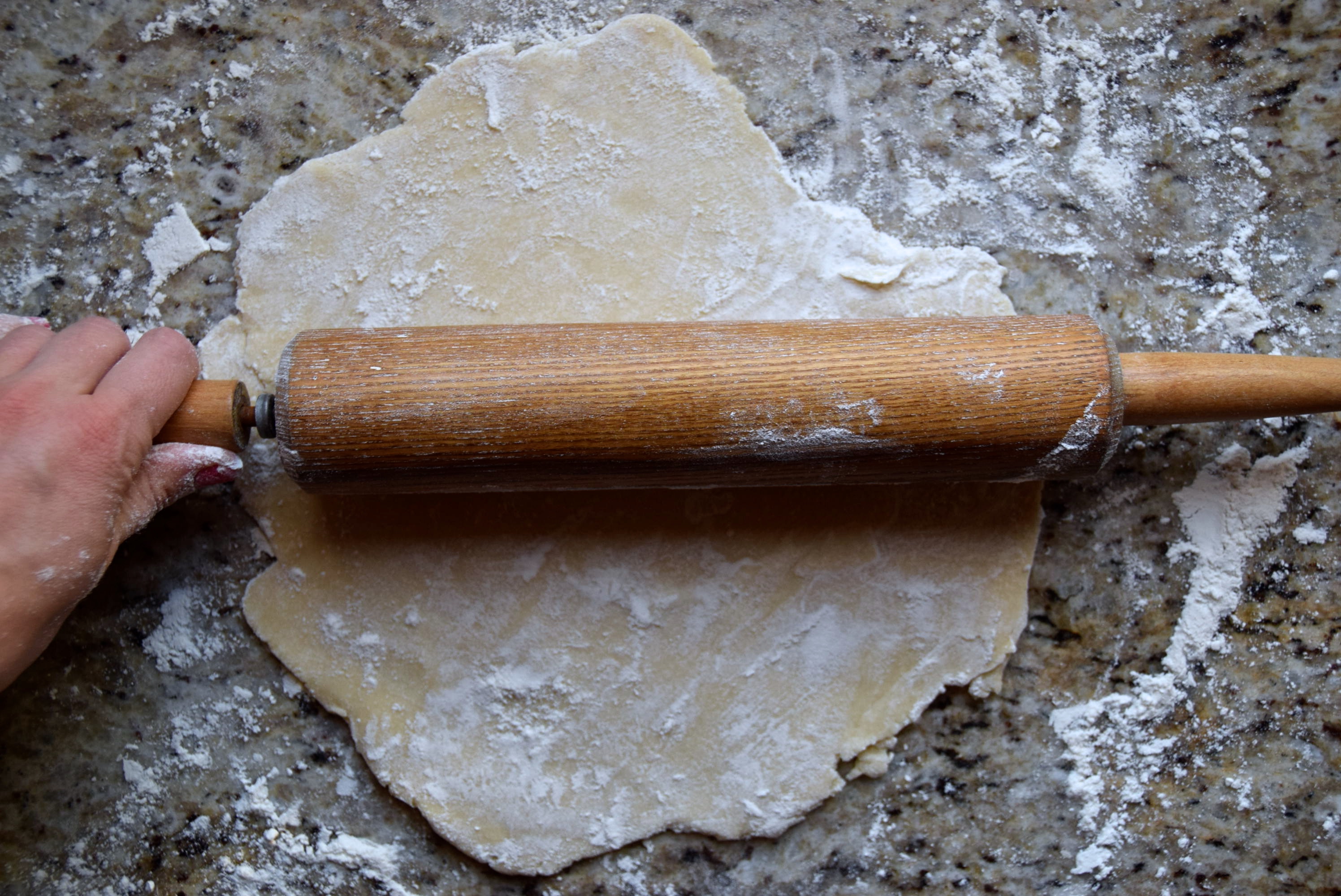 Prepare the brownie mix and pour it into the crust.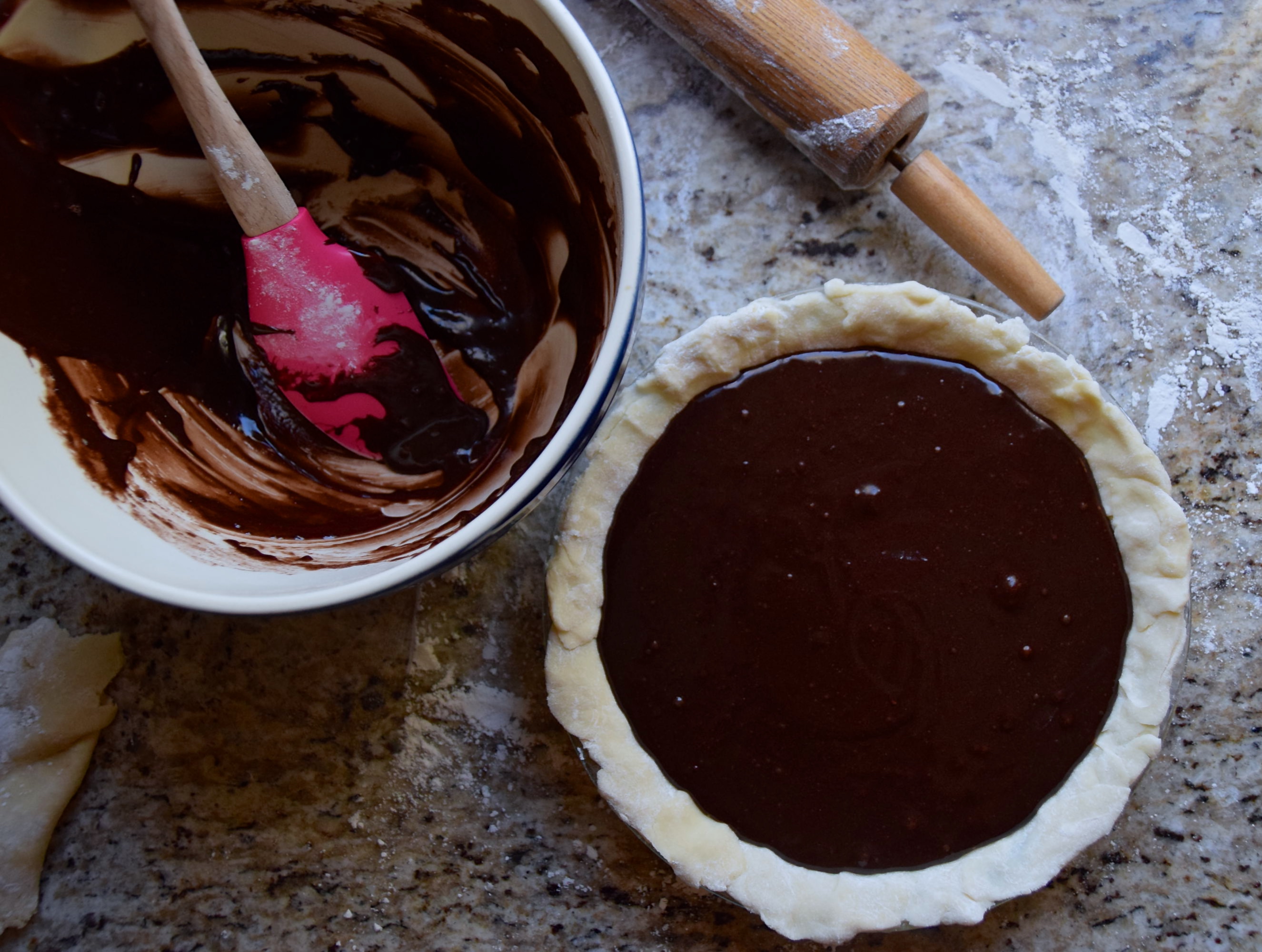 Bake the pie according to the desired doneness of your brownies. We love a good gooey brownie, so we cook ours a little under.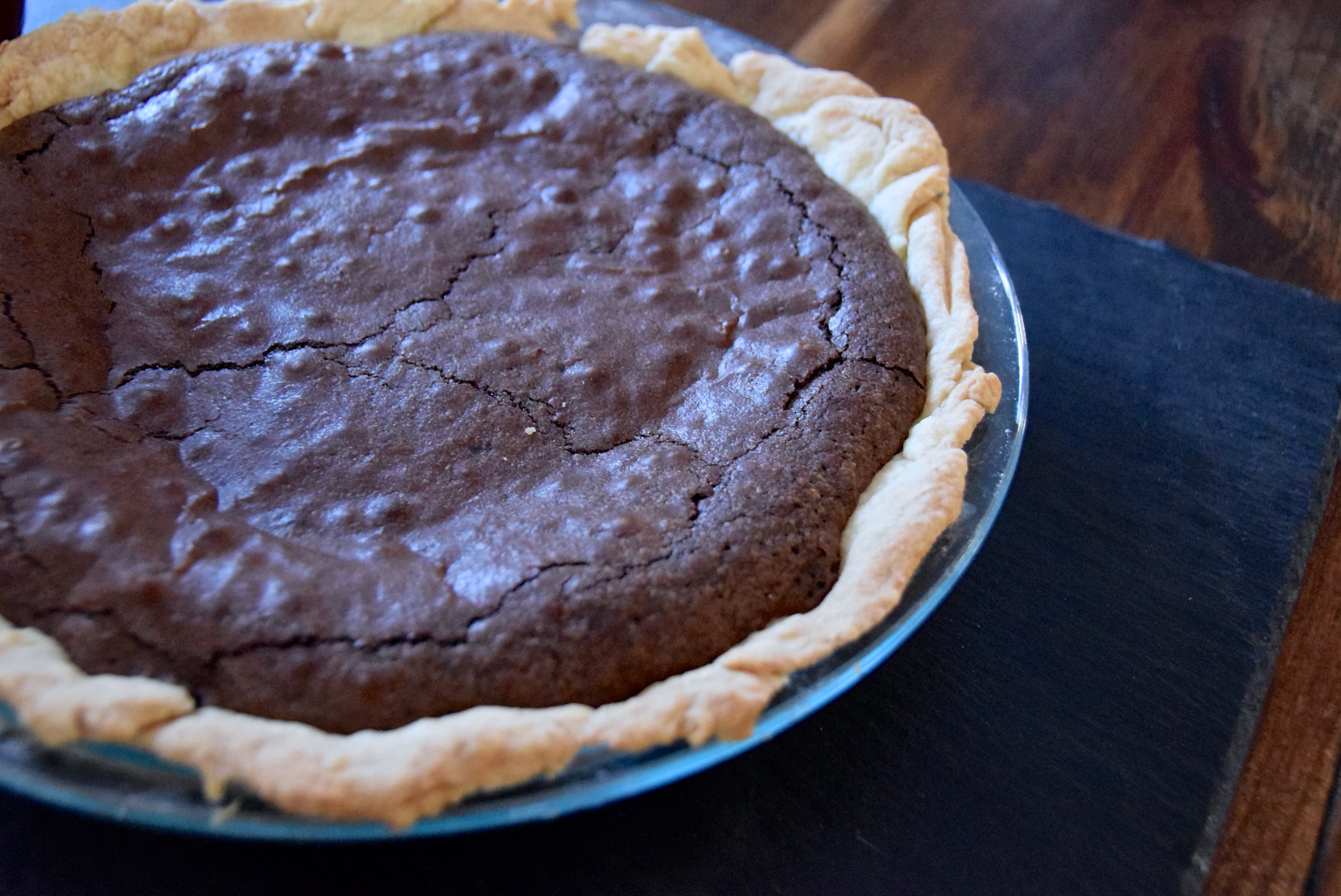 This recipe also works using a pre-made frozen pie crust. We tried the Wholly Wholesome brand from Lucky's, and it's delicious! No matter what kind of pie you make this holiday season, check out Lucky's bulk section for your ingredients (and good luck not also leaving with some chocolate covered pretzels…).
Salted Caramel Brownie Pie
Prep Time: 20 minutes Chill Time: 1 hour Cook Time: 1 hour
Ingredients:
For the Crust:
2 cups all-purpose flour
1 tablespoon sugar
1/2 teaspoon salt
10 tablespoons (1.5 sticks) butter, cold
1/4 – 1/2 cups ice water
For the Pie:
1 box of brownie mix + needed ingredients the box calls for (typically eggs and vegetable oil)
Whipped cream
Toasted pecans
For the Salted Caramel Sauce:
1 cup sugar
8 tablespoons (1 stick) butter, diced
1/2 cup heavy cream
1/2 teaspoon fleur de sel
Preparation:
First, prepare the crust. Using a food processor, pulse together the flour, salt, and sugar together until combined. Add the butter and pulse. Continue to pulse while drizzling in the ice water, one tablespoon at a time. Pulse just until dough starts to come together. Form two discs and wrap in plastic wrap. Chill for at least one hour.
Preheat oven to 350° and prepare brownie batter according to instructions on package. Roll out one disc of dough and place in a 9″ glass pie dish. Pour the brownie batter into the pie crust and bake for 45-60 minutes, depending on desired doneness.
While pie is baking, make the salted caramel sauce. Place sugar in a small pot and heat over medium. Stir occasionally so sugar doesn't stick to bottom of the pot. Once all sugar is melted, it will turn quickly to an amber color. Watch very closely so not to overcook and burn the sugar. Once sugar is an amber color, remove from heat and add the butter and stir. The mixture will steam and bubble, but continue to carefully stir. Add cream and continue to stir. Add the salt and continue to stir. As caramel cools, it will thicken.
Top brownie slices with salted caramel sauce, whipped cream, toasted pecans, and a sprinkle of fleur de sel.
Store salted caramel sauce in a mason jar and keep in refrigerator. When ready to use, microwave 20 seconds at a time and stir vigorously until desired consistency is reached.