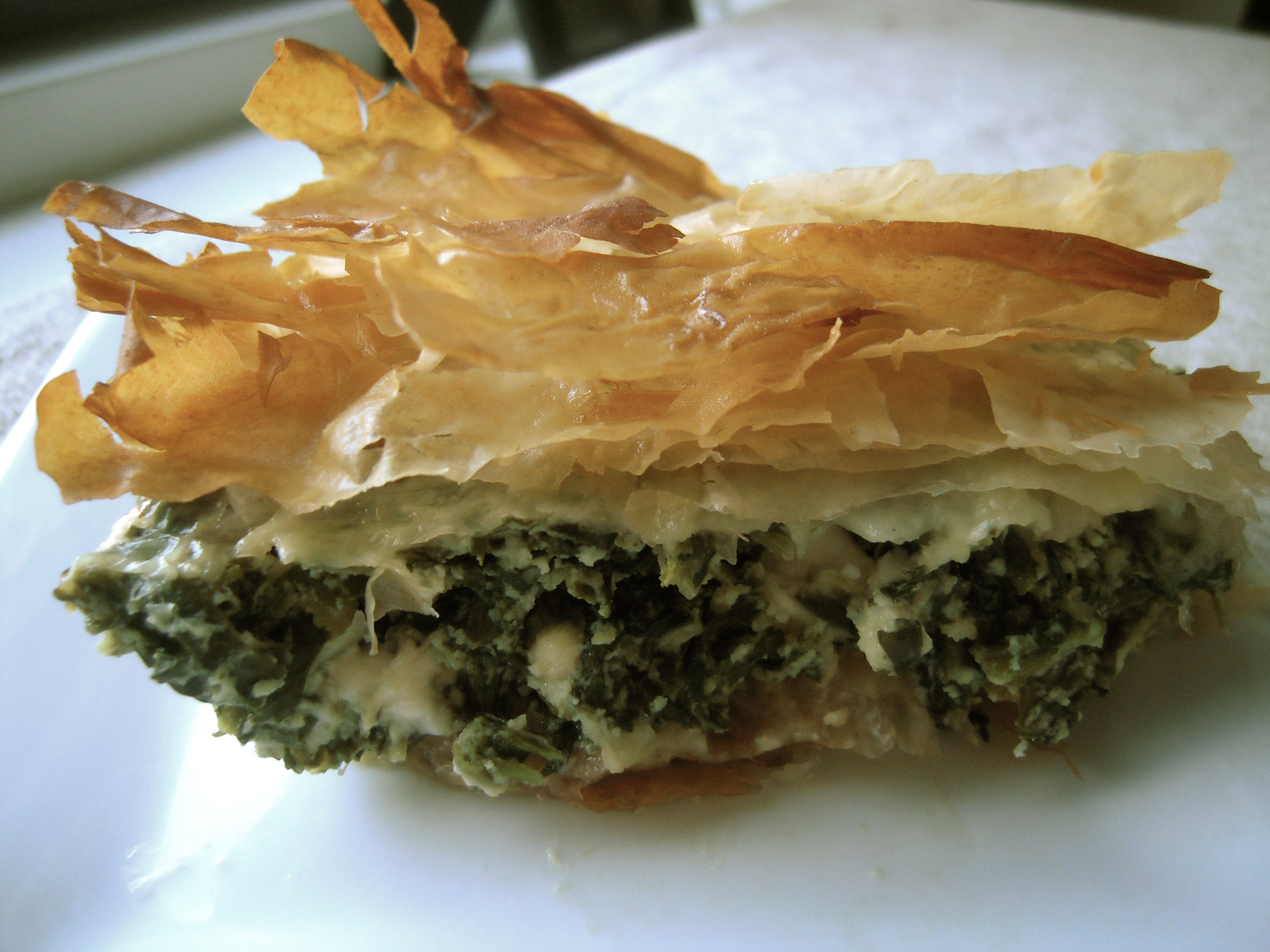 Spanakopita is a Greek spinach pie. Don't freak out, yes we said spinach pie, but it's amazing. The savory flavors of spinach, onion, and feta are topped with a crispy phyllo crust. Give it a whirl. You'll be glad you did.
Ingredients:
8 phyllo dough sheets
1/4 cup butter, melted
2 packages frozen spinach
1 large egg, beaten
1 cup non-fat ricotta cheese
1 cup feta cheese, crumbled
6 sundried tomatoes, chopped
1/2 yellow onion, chopped
2 cloves garlic, minced
Olive oil
Kosher salt
Black pepper
Preparation:
Preheat oven to 350°. Cook both packages of spinach according to instructions on the back, and drain of excess liquid. Meanwhile, sauté onion and tomatoes in about 3 tablespoons of olive oil in a medium pan until onion is translucent. Once onion is cooked, add garlic and a pinch of salt. Simmer for another minute.
Transfer onion mixture to a large bowl. Add cooked spinach, ricotta, feta, and egg to the bowl. Mix all ingredients, and season with salt and pepper to taste.
In a glass baking pan, lay one sheet of phyllo dough to cover the bottom. You may need to cut the dough, or add more to make one even layer. Brush melted butter over this entire layer. Then, add another layer of dough on top, and brush with butter. Repeat until four sheets of phyllo are in the pan, each with butter on top.
Add the spinach mixture, and spread evenly in the pan.
Repeat the dough layering process on top, with four more sheets of phyllo dough, buttering between the layers. Top the final layer with butter.
Place the dish in the oven for 30-45 minutes to bake. Spanakopita is ready when the top layer of phyllo is golden brown, and the middle of the spinach mixture is hot.
Serve warm.