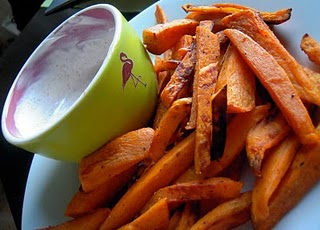 Great as an appetizer or a side, this healthy alternative to french fries is sure to please. Baking the sweet potato brings out the natural flavors without adding fat!
Ingredients:
3 sweet potatoes, skin on
2 tablespoons olive oil
Kosher Salt
1 cup lite sour cream
1 tablespoon paprika
1 teaspoon cumin
1 teaspoon black pepper
1 teaspoon kosher salt
Preparation:
Preheat oven for 375°. Leave the skin on the potatoes, and slice them lengthwise into long strips that resemble french fries. Transfer potatoes onto a large sheet pan and drizzle with olive oil. Sprinkle fries with kosher salt, and bake in 15 minute intervals. After each 15 minutes, take potatoes out of the oven and shake the pan to rotate potatoes to ensure even browning. Fries will be complete when they are lightly browned on the outside, but soft on the inside when pierced with a fork. As the fries are cooling, prepare the dip.
Combine sour cream, paprika, cumin, pepper and salt in a small bowl, adding more or less seasoning depending on flavor preferences.
Serve alongside the fries, and enjoy!