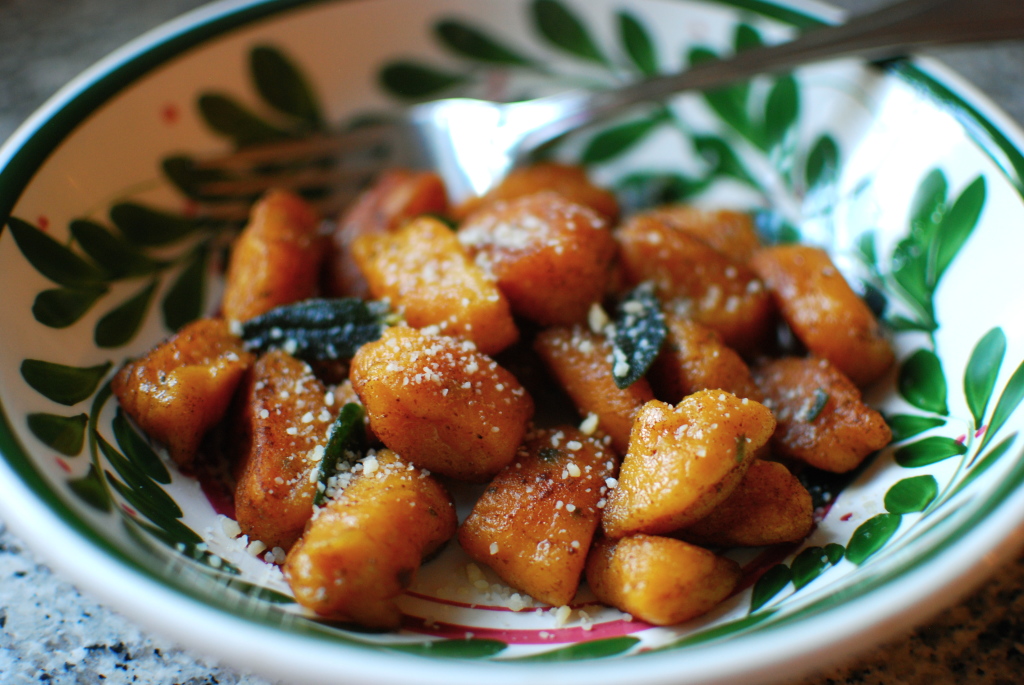 Cooking is an art, but it often goes unnoticed or not labeled as such. But let me tell you, when I'm cooking something like gnocchi, it feels like I'm truly creating a work of art. The time and effort put into making the dough and forming each gnocchi reminds me of how an artist perfects his own painting or pottery.
I have only attempted gnocchi a few times, mostly because it's time consuming, but  making it by hand really makes a difference in the quality and flavor compared to what I find at the grocery store.
I made these gnocchi not too long ago and they turned out surprisingly well. The thing I don't like about some gnocchi is how gummy they can be when too much gluten is added. I like these because they aren't so gummy and have tons of sweet potato flavor. However, they are dense, so if you like a lighter gnocchi, this isn't the recipe for you. It does take some time to roll the gnocchi, but this recipe makes a lot and they freeze well for later use.
So, I encourage you guys to be culinary artists in your own kitchen. Imagine, create, and enjoy the satisfying feeling that you are capable of making something simple and delicious. Bask in the beauty of your culinary creation… and then eat it!
Sweet Potato Gnocchi with Brown Butter and Sage
Prep Time: 45 min Cook Time: 1.5 hours (including baking the potatoes)
Ingredients:
2 lbs. sweet potatoes
3 1/2-4 cups flour
1 egg, lightly beaten
1 teaspoon kosher salt
1 teaspoon black pepper
4 tablespoons butter
10 whole sage leaves
10 sage leaves, finely chopped
1/4 cup parmesan cheese, grated
Preparation:
Preheat oven to 350°. Pierce each potato with a fork several times and place all potatoes on a cookie sheet. Bake for about an hour or until soft and cooked through. Once cool, slice each potato open and scoop out the flesh into a large bowl.
Add the egg, and the flour one cup at a time. Add the chopped sage leaves and parmesan cheese. Mix well until dough becomes a ball. It should be moist but not stick too much to your fingers. If it's too wet, add more flour.
Turn dough out on a floured surface and knead for at least five minutes. Cut dough into eight pieces and work each piece into a long 1″ snake. Cut the snake into 1″ pieces of dough and set aside on a cookie sheet. Continue this process until all dough is cut into small pieces.
Bring a large pot of water to boil. Working in batches, boil the gnocchi until they float (5-7 minutes).
Heat a skillet over medium high heat. Add the butter and stir until melted. Once butter begins to turn a light golden brown color (about 2 minutes), add the whole sage leaves and turn down the heat to low. Cook for another minute. Turn heat back up to medium high and add gnocchi. Toss to coat and cook for another 5-7 minutes until gnocchi is golden brown on at least one side.
Top with parmesan and serve hot.