There is something beautiful that happens in the time after guests arrive for dinner and before we actually sit down to the table that I love. After greeting friends at the door, we happily pour wine for everyone, catch up on the latest in their lives and simultaneously return to our paused cooking tasks. So many times the conflicting emotions of "They're here!" and "It's going to burn in 30 seconds!" hit me. At this point in the evening, it's a bit of a chaotic dance in our little kitchen, but I like it. I like the challenge of fully engaging in conversation with people and fully attending to the cooking task at hand. Yes, sitting down at the table and sharing a meal together is incredibly meaningful and I've written about that before, but the time before is to be cherished as well. Being able to chiffonade the basil without cutting my fingers while maintaining appropriate eye contact with the person I'm talking to is an art form I am slowly learning to master. (But I'm not there yet. Sorry if I tell you to "hold that thought!" … it's probably because I just remembered something is burning.)
One dish we like to make when guests come over are twice baked potatoes. They're easy, impressive, and one of those dishes that doesn't take too much thought so you can fully engage in your conversation with friends. We add a whole head of roasted garlic to our filling to pack some sweet garlicy goodness in our potatoes.
First, oil your potatoes and garlic head and salt everything generously. Wrap each potato and garlic head in foil and bake. Squeeze out the roasted garlic in a large bowl. Cut the potatoes in half and scoop out the middle into the bowl, leaving a thin layer of cooked potato in the skin.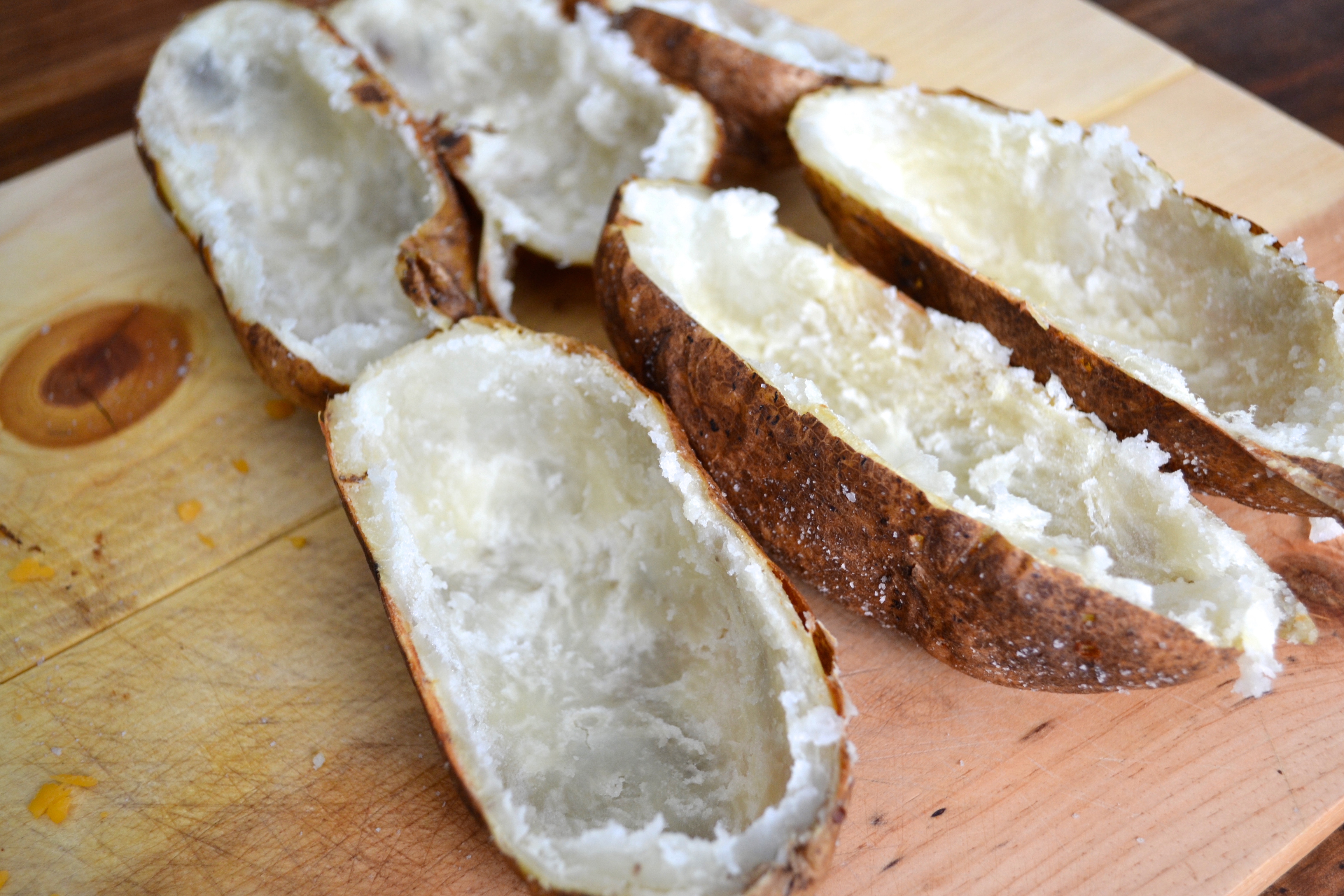 Add shredded cheese, butter, sour cream, salt and pepper, and whip it with a hand blender. I say whip it… whip it good.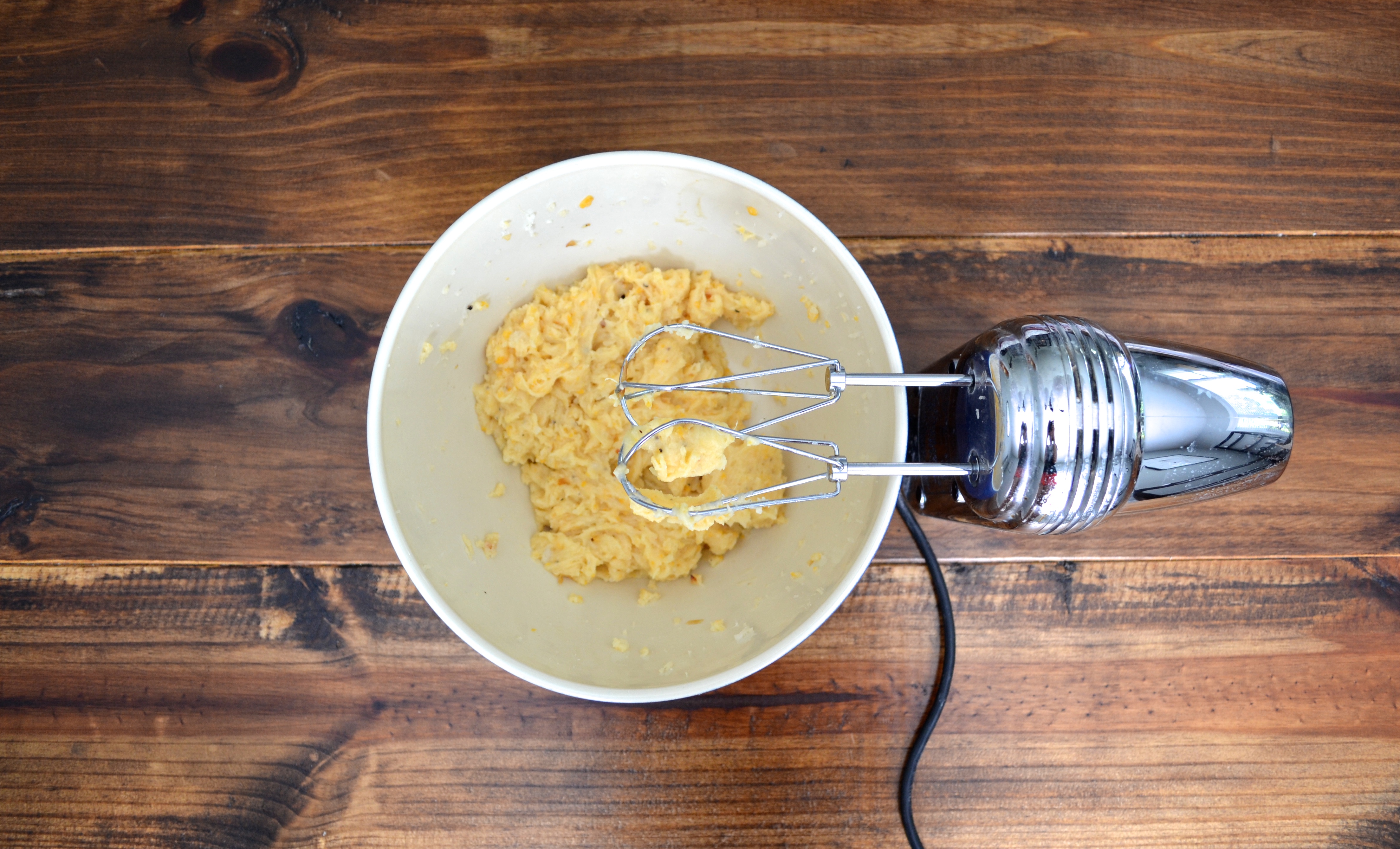 Fill each potato skin with the mixture and place them in a cast iron pan. Top each potato with additional shredded cheese. Really load it on there. (I still have "Whip It" in my head.)
Place cast iron on the grill or in the oven until cheese is melted.
We usually serve these alongside steak and salad, but they are super filling and could make a meal of their own the next day for lunch. Next time you are cooking for friends, cherish the bit of chaos that comes in the time before you sit down to your meal. It could be as memorable as the meal itself.
Twice Baked Potatoes
Prep Time: 1 hour (for the potato) + 20 min. Cook Time: 15 min.
Makes 6 twice baked potato halves
Ingredients:
3 russet potatoes
1 head of garlic
2 cups cheddar, shredded
1/2 cup sour cream
3 tablespoons butter, softened
1/2 teaspoon black pepper
1/2 teaspoon kosher salt
Olive oil
Preparation:
Preheat oven to 400°. Coat each potato and the head of garlic with a drizzle of olive oil and a generous sprinkle of salt. Wrap each potato and head of garlic in foil. Set timer for one hour and bake, removing the garlic after 45 minutes. Unwrap garlic foil and cut the top of the garlic head off. Squeeze roasted garlic cloves into a large bowl. Discard garlic skin.
Bake the potatoes the full hour, or until cooked through. A knife should easily pass through the center when tested. Unwrap foil and allow potatoes to cool before handling. You might need a mitt or a paper towel if they're too hot to handle. Cut each potato lengthwise and allow to cool even more. Scoop insides of the potato into the large bowl with the garlic, leaving a thin layer of potato in the skin.
Add the sour cream, 1 cup of cheese, butter, salt, and pepper to the bowl. Using an electric blender, whip all the filling ingredients until smooth. Evenly portion the filling into each potato and top with a generous layer of shredded cheese.
Grill or bake the cast iron pan with the potatoes until cheese is melted and potatoes are hot, about 15-20 minutes. Top with an additional sprinkle of salt and pepper and enjoy.