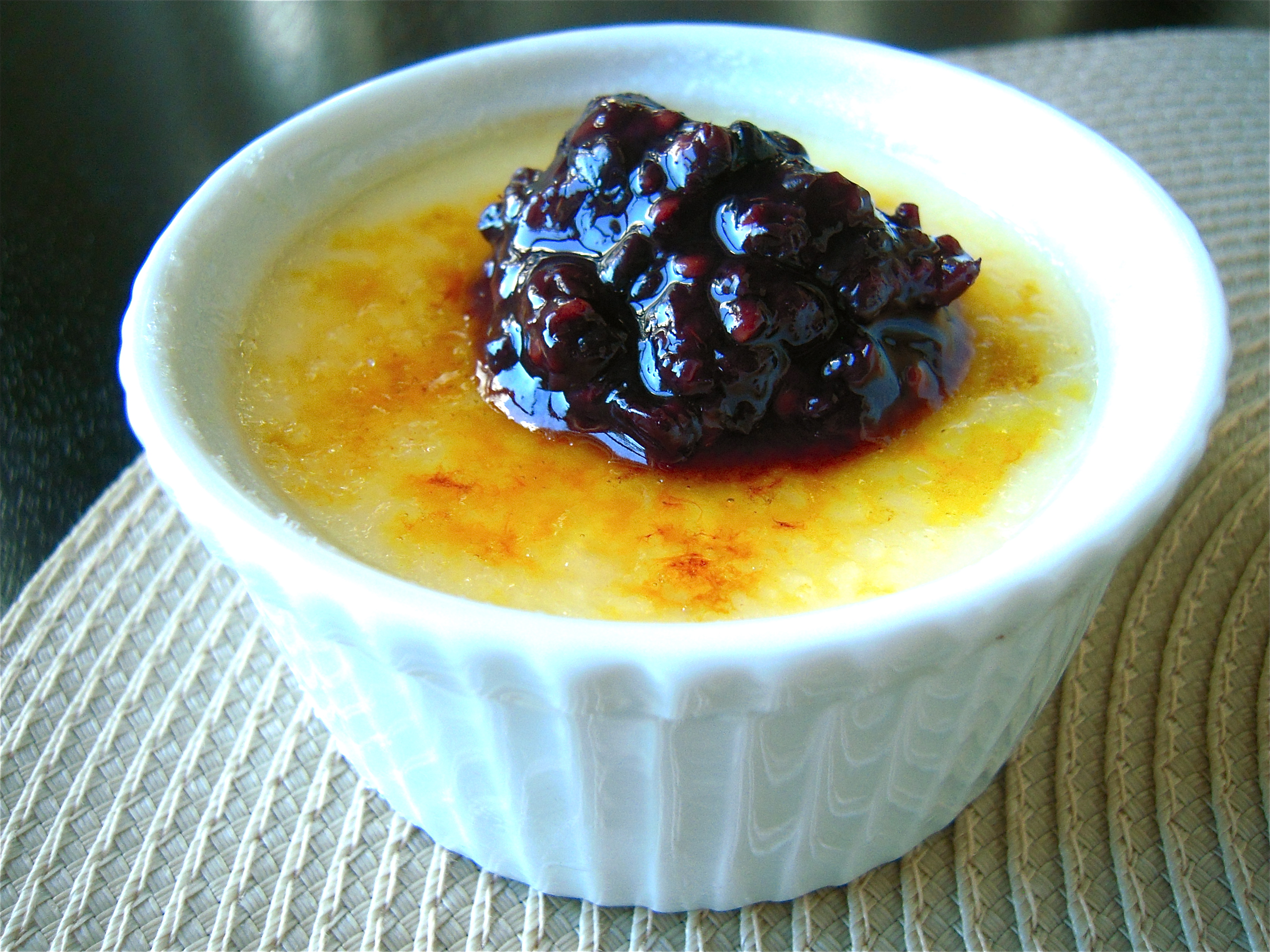 Yes, it has a fancy name, but please don't be scared. Crème Brûlée is super easy to make! You can do this. Our version combines a creamy sweet vanilla custard with a fruity blackberry compote that is sure to impress at any summer dinner party. Be sure to plan ahead as these are best chilled overnight. So go ahead and be fancy! You'll wow your guests and they'll never know how easy this really is…unless they read our blog…
Ingredients:
Crème Brûlée
2 cups heavy whipping cream
1 teaspoon vanilla extract
1/4 cup + 4 teaspoons granulated sugar
4 egg yolks
Blackberry Compote
6 ounces blackberries
1 tablespoon granulated sugar
Preparation:
Day One
Preheat oven to 300° and set 4 ramekins in a 2″ deep baking dish.
Combine cream, 1/4 cup sugar, and vanilla in a small saucepan and warm on low until sugar is dissolved. Once dissolved, remove from heat and cool.
While cream mixture is cooling, whisk egg yolks in a medium-sized bowl with a pouring spout (this spout will really come in handy later, but is not necessary if you don't have one) and set aside.
Once cream mixture is lukewarm, add a spoonful of the cream to the eggs and whisk (here we are going to "temper" the mixture in case the cream is still too warm; we don't want it to cook the egg yolk so we are adding a little bit at a time). Slowly add the rest of the cream mixture to the eggs and continue to whisk until combined.  Pour the mixture into the ramekins, dividing equally to four parts.
This next step is random but necessary: fill a tea kettle with water and bring to a boil. Once boiling, pour the water into the pan around the ramekins until it reaches halfway up the sides of the ramekins.
Cover with aluminum foil and bake for 25 minutes. Once the edges of the custard are set, remove from oven and allow custard to cool to room temperature.
Refrigerate overnight.
Day Two
About 30 minutes before you are ready to serve, prepare the blackberry compote. Combine blackberries and sugar in a medium-sized pan on stovetop over medium heat. Mash the blackberries with something you have around the kitchen (for example, we used a potato masher). Simmer on medium heat until sugar is dissolved, juices begin to reduce, and the compote becomes a thicker consistency.
Remove custard from refrigerator and dust each top evenly with about a teaspoon of sugar. Working in small circles, use a kitchen torch to caramelize the sugar to a light brown color. If you don't have a kitchen torch, rumor has it you can place the ramekins under the oven broiler for a few minutes to create the same effect.
Top with blackberry compote and serve. You know you've succeeded when the tops are warm but the depths of the custard are cool.
Makes 4 6-oz. desserts