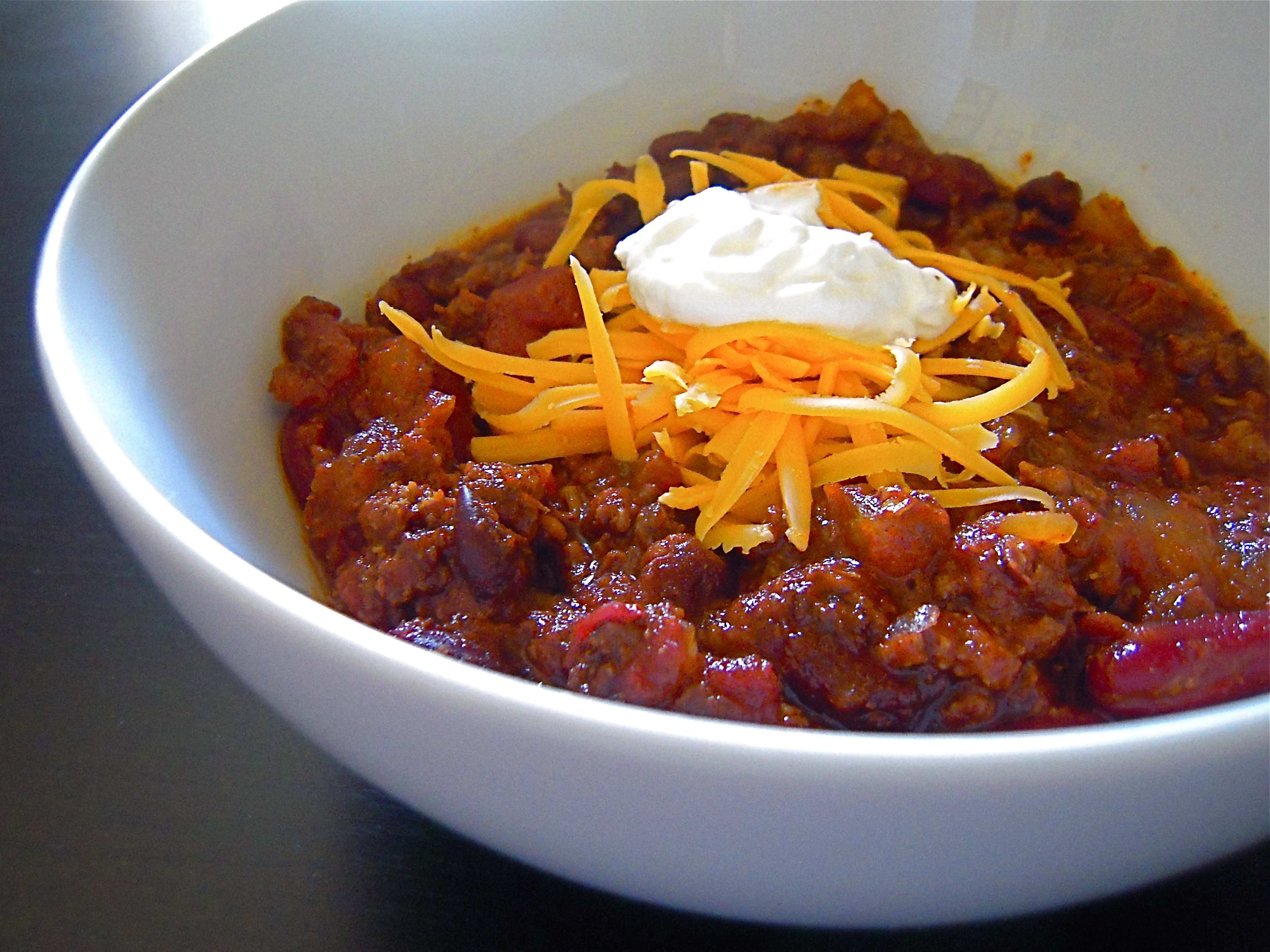 One of the oldest football rivalries (since 1898) west of the Mississippi river takes place at high noon on Thanksgiving Day. Located in neighboring towns, Kirkwood High School and Webster Groves High School battle each year in this community oriented event. The night before the big game, there are bon fires, pep rallies, and yes, the Chili Bowl Cook-Off. We've had many bowls of chili, and dad's is hands down the best we've ever had. Rich in flavor and tradition, this warm meal is sure to please (even if you're from Webster…).
Ingredients:
3 lbs. lean ground beef ("Chili grind" works well)
1 large white onion, chopped
1 large red onion, chopped
2 28-oz. cans whole tomatoes, chopped and drained
1 16-oz. can black beans, drained
1 16-oz. can red kidney beans, drained
1 12-oz. can tomato paste
2 beef bouillon cubes
4 tablespoons Worcestershire sauce
4 tablespoons chili powder
1 tablespoon roasted cumin seeds (secret ingredient; cumin powder also works)
1/2 cup ketchup
1/2 cup dark rum (optional, but nice)
Oregano, fresh ground pepper, and garlic powder can be added to taste.
Preparation:
Brown the beef in a skillet, then really, really drain off all the grease. Squeeze with paper towels.
Combine all ingredients and beef into a very large crock-pot or in large pot in the stove. Simmer on low 4-6 hours.
Finish with finely chopped onions, sour cream, guacamole and/or sharp cheddar cheese. Please, no oyster crackers.
Optionally can be served over a Nathan's, Sabrett's or Hebrew National hot dog.