Disclosure: This post is sponsored by Lagostina and 5WPR. The Newlywed Chefs received a Lagostina Risotto Pan as compensation for this post, however, as always, all opinions are 100% our own.
Update: This giveaway has ended.
Congrats to @meagansinnobrien who won via Instagram! 
It's an exciting day, bloggy friends! You may recall about a month ago we wrote about a new partnership we have with Lagostina. Well, today we're featuring their gorgeous risotto pan (linea patrimonio), and one of YOU will soon have one show up on your doorstep! Woot!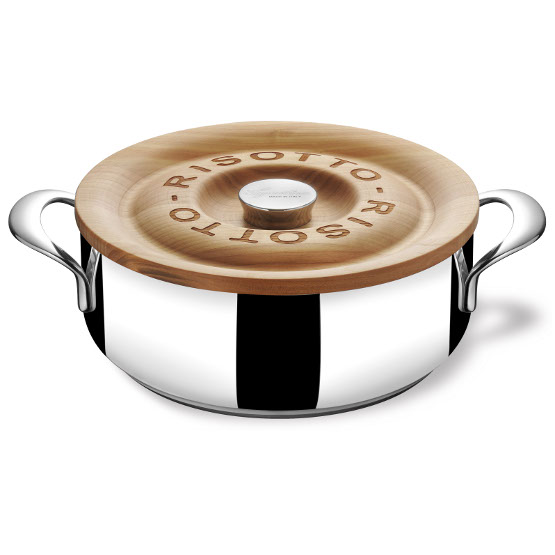 Photo Credit: Lagostina USA
We love working with brands and companies that we truly want to promote. If we didn't believe in them, we wouldn't write about them or encourage you to check them out. Lagostina makes elegant, smart, stunning additions to any kitchen and we are proud to be working with them.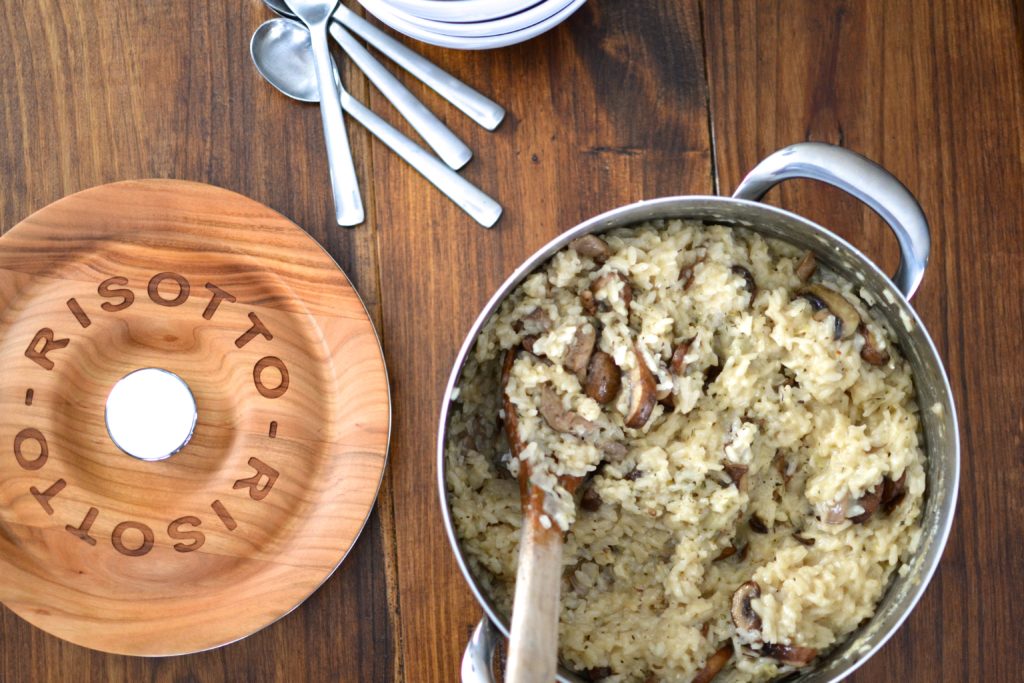 Here are some facts about this beauty:
4-qt. cap.
Tri-ply sides are polished 18/10 stainless steel with an aluminum core and nonreactive stainless-steel interior.
LAGOPLAN® base combines five alternating layers of aluminum and stainless steel for rapid, even heating.
Ergonomic cast stainless-steel handles provide a steady grip.
Tight-fitting lid locks in heat and moisture.
Cherry wood and stainless-steel lid features double-wall construction—and ingeniously inverts to create a serving trivet.
Ideal for use on any cooktop, including induction.
Made in Italy
Retail Price (Williams-Sonoma): $199.95
Another reason why we like this versatile pan so much is because we can use it for other things besides risotto. And, check it out: the lid flips and doubles as a trivet!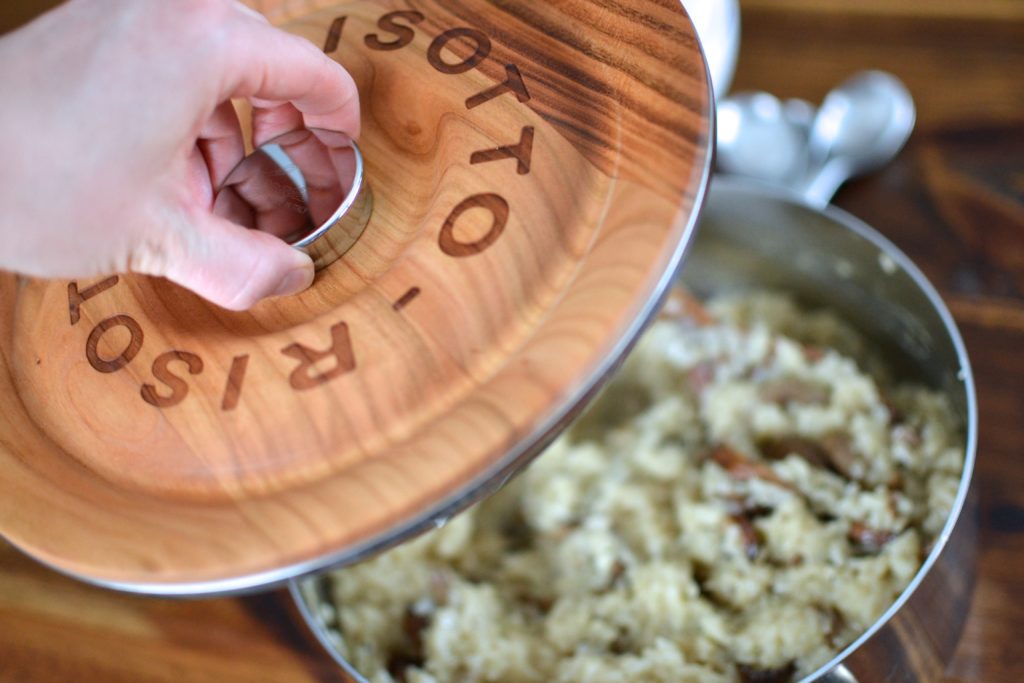 It's so pretty! And just in case your guests are wondering what's for dinner, you can give them a huge hint…(it's not mac and cheese).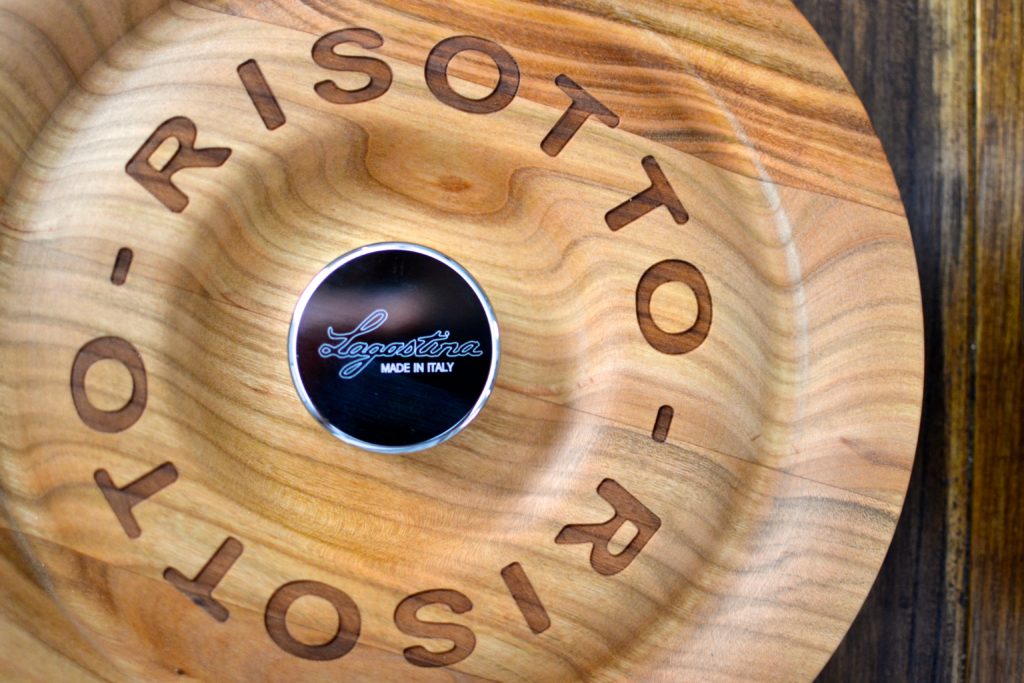 Although you could make other dishes in this pan, you really ought to try making risotto. I think risotto is misunderstood. Most of our friends haven't attempted making risotto because they think it's so
hard
. It requires
skill
. But here's the deal: yes, it might require a longer cook time than other dishes, but it's really quite simple to make. Since Neil is now a mushroom convert (I knew he'd come around), we decided to make a wild mushroom risotto. To make this crowd-pleasing dish, start out by cooking the mushrooms in the Lagostina risotto pan.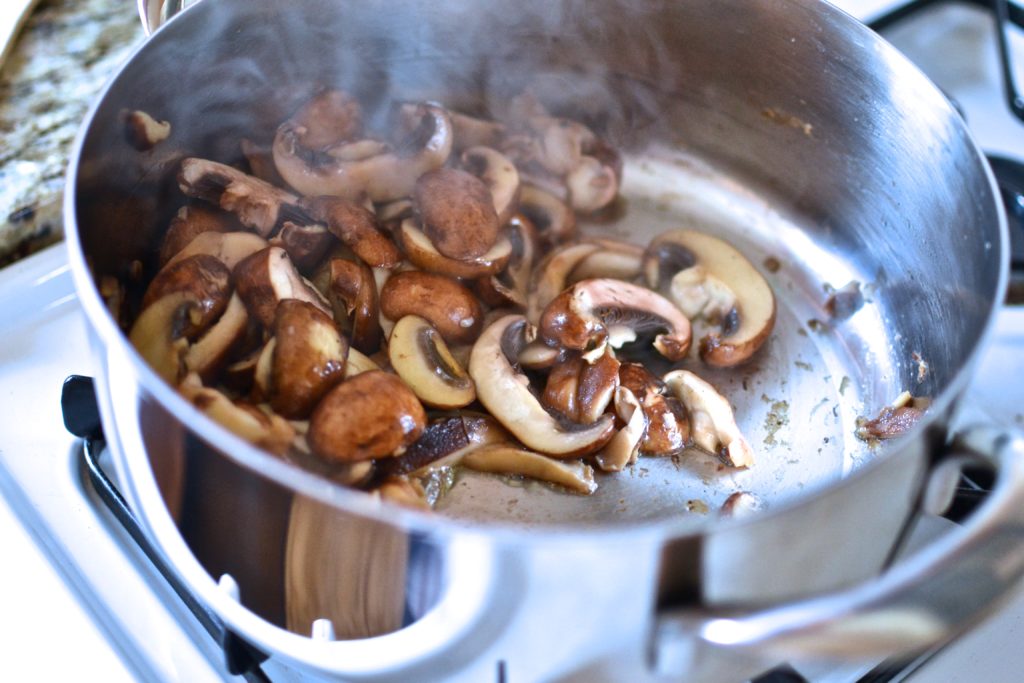 Then, after sautéing the shallot and garlic, add the risotto, wine, and some of the chicken stock. From here on out, you add just a ladle at a time, stirring consistently as the risotto absorbs the liquid. Each batch of risotto is a little different. You don't want it to cook so long that the texture becomes gloppy, or too short that the rice is still crunchy or the liquid is soupy. You really just have to make it, feel it out, and get to know what kind of texture you enjoy. Ours usually takes at least 6 cups of liquid and 40 minutes of cooking, if not more.
There is a debate in the food world whether you really need to continuously stir the risotto, or if every now and then will do. We like how ours turns out when we stir it, so we're going to recommend that. Actually, Neil's exact instructions as I was writing down this recipe is to "stir like an Italian grandma." So do that. And keep doing it.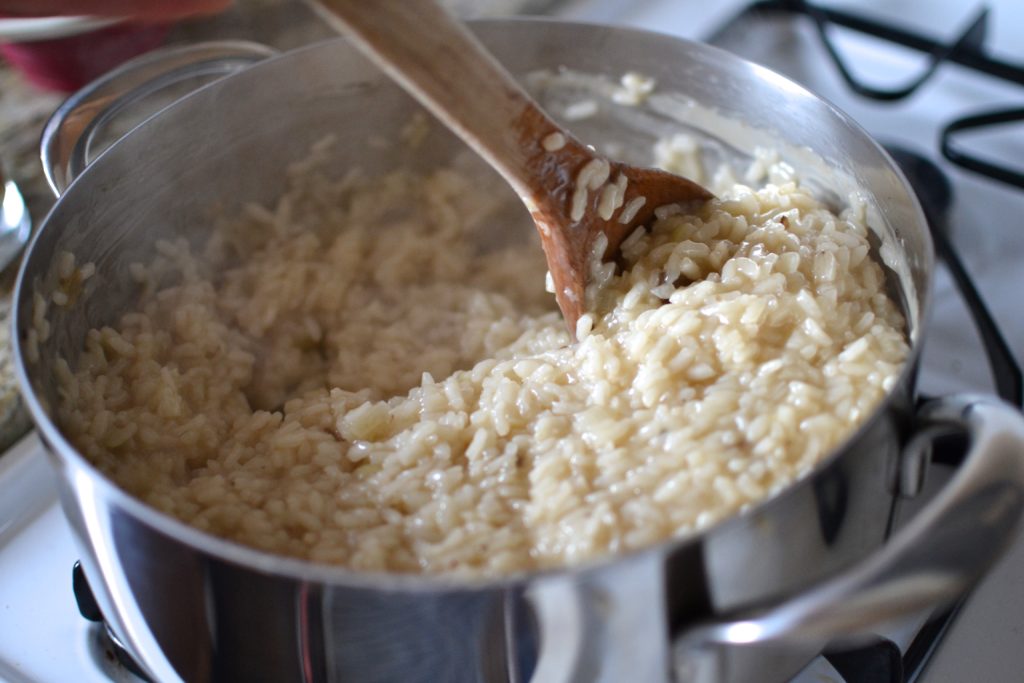 At the end of cooking process you'll add cheese, herbs, and the sautéed mushrooms. And that's it, folks! It makes a great side or as a meal on its own. This dish is creamy, rich, delicious, and makes great leftovers for arancini.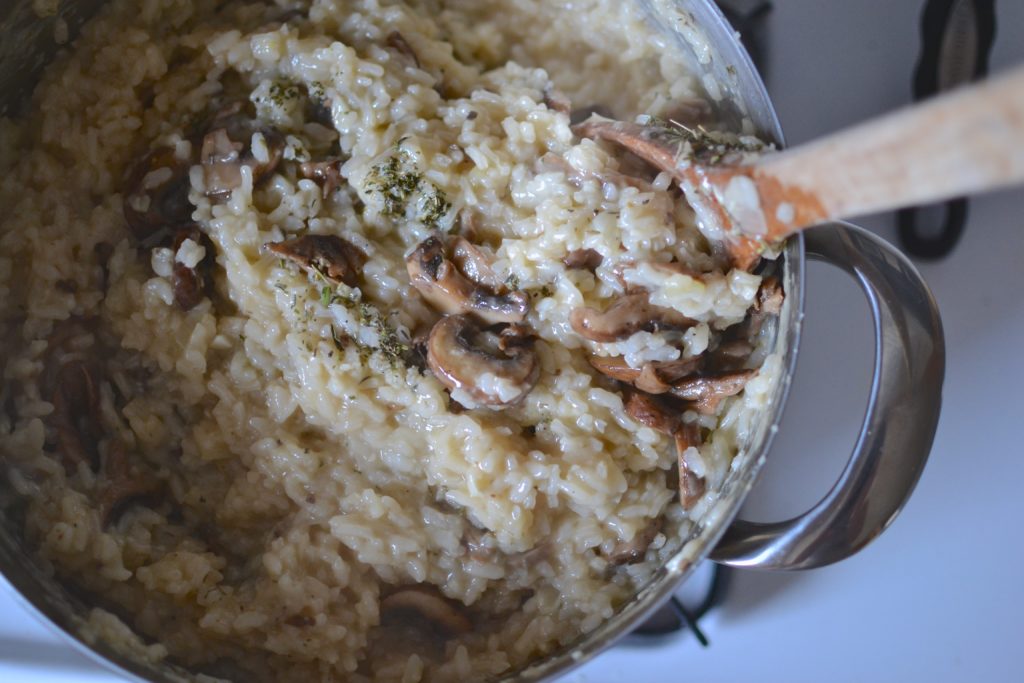 We are excited that one of our dedicated readers will get to win a Lagostina risotto pan. You can win by entering here on this blog post, and also by heading over to our 
Instagram account
 for a bonus entry. To enter:
Leave a comment on this post
For an additional entry, head over to our Instagram account (@newlywedchefs), follow us, and tag some friends that might also be interested in winning.
And yes, we check that you actually follow us and tag at least one person. We won't, however, check if you're friends. That's between y'all 😉
Winner must be 18 years of age or older and a resident of the USA. All entries must be received by March 3, 2017 at 11:59pm CST. Maximum entries per person: 2 (one blog comment and one Instagram comment). Winner will be selected at random and announced on this blog and also contacted via e-mail and/or Instagram.
Wild Mushroom Risotto
Prep Time: 15 min. Cook Time: 60 min.
Ingredients:
3 cups wild mushrooms (we used crimini and shiitake), sliced
8 cups chicken stock
6 tablespoons olive oil
1 shallot, diced
3 cloves garlic, minced
2 cups arborio rice
1 cup dry white wine
1/2 cup grated Romano cheese
1 teaspoon dried herbes de provence
2 tablespoons butter
Kosher salt
Black pepper
Preparation:
In a medium pot, bring chicken stock to a boil then reduce heat to low and allow to simmer as you prepare the mushrooms.
Remove the lid of the Lagostina risotto pan and set aside until needed for serving. Place the 4-quart body of the pan on a burner over medium high heat. Once hot, add 3 tablespoons of olive oil and mushrooms. Cook for 15 minutes over medium heat, stirring every few minutes. If the pan looks really dry, add a little more olive oil. After 15 minutes, add a pinch of salt and pepper, stir, and remove from heat. Set mushrooms aside for later use.
Place the risotto pan back over medium heat and add 3 more tablespoons of olive oil. Add the shallot and cook for 1 minute. Then, add the garlic and stir. Add 2 cups of arborio rice and stir for 1 minute.
Add the wine to deglaze, and scrape up the sides and bottom of the pan. Add 1 ladle (about a cup) of stock and stir continuously. Once the liquid is absorbed, add 1 more cup of stock and continue to stir. Repeat this process of adding 1 ladle at a time of liquid and stirring until the rice absorbs the liquid, the adding another and so on.
Every batch of risotto is different. Some rice is super thirsty, some is not. You'll need at least 8 cups of hot liquid throughout this process. When your rice is cooked to your liking (taste it, it shouldn't be crunchy), and is no longer absorbing liquid, turn the heat off. Add the butter, grated Romano cheese, herbes de provence and the sautéed mushrooms. Stir until all ingredients are well combined.
Use lid of the Lagostina risotto pan as a trivet and serve hot.