I've never thought of Winston-Salem as a culinary hot spot. But then again, I had never been to Fabian's. Tucked away amidst a few little shops in town is a humble, yet fabulous restaurant: Fabian's. Named after the original chef, Fabian's is run by chef Bill Smith and his spunky bar tending hostess with the mostest wife, Diane.
Reservations were a must for the one seating at 7:30. Doors opened at 7:00, and right as the car clock flipped to the hour, everyone pulled up to the tiny parking lot. We walked in, and were greeted by a friendly girl who was holding about 10 cards in her hands. She asked which name our reservation was under and pulled the appropriate card.
Two rooms. Brick walls. Art on the wall, chandeliers, candle light, dried flowers, and unique mismatched china all around. Bright red chargers on the tables. Only about five staff members who introduced themselves and made us feel like family.
While waiting for service to start at 7:30, Diane started us off with cocktails. She boasts that she does not use simple syrups or fillers in her drinks.
It was interesting being close enough to the other people to where I knew their stories and why they were there and what they ordered, but far enough away that we felt like it was a romantic and intimate dinner. Most everyone seated was celebrating something special this particular night. 13 year anniversary at the corner table, 40th birthday right behind us, 10th anniversary across the room, and Neil's birthday. Chef Bill came out from behind the curtain and rang a small bell to get everyone's attention. At this point, I felt like Belle in Beauty and the Beast. "Be Our Guest," might as well have been playing.
He welcomed us to Fabian's and verbally told us our menu. The first three courses are set, and he described in detail our four entree and four dessert options. The menu changes frequently, and is based on what local ingredients are in season. When I called to make the reservation, Bill asked if we had any allergies, dietary restrictions, or foods we simply didn't like. The menu for our night was as follows:
1st course:
Gnocchi with brown butter and sage. Served with parmesan cheese and arugula.
Fresh sourdough bread dipped in a rosemary infused olive oil
2nd course:
Creamy tomato soup with roquefort cheese
3rd course:
Organic greens with a balsamic vingrette and salted pecans
4th course options:
Sea scallops with bacon and red peppers in a garlic sauce
Flounder and shrimp
Crispy duck with port wine cherry vanilla cinnamon reduction
Filet au poivre
Berkshire pork chop with a ragout of fennel and tomato
–French pressed coffee service–
5th course options:
Strawberries and white chocolate
Chocolate purse- flourless chocolate cake wrapped in phyllo with a nutella sauce
Dark chocolate crème brûlée with sea salt
Toffee bread pudding with ice cream
Most pictures that I took with the iPhone turned out pretty dark since the atmosphere was romantic and dimly lit. My apologies!
The gnocchi. Light as a feather. We wanted to drink the brown butter. Small, pillowy, not gummy at all.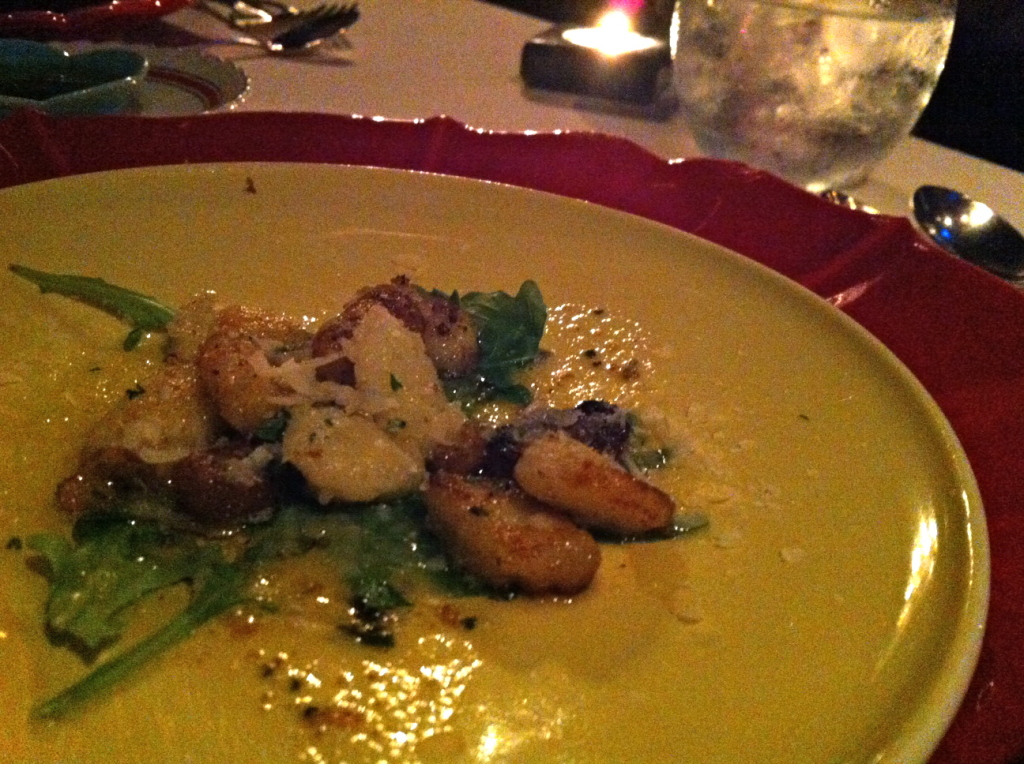 The soup. Creamy but also very light. Not too heavy on the tomato and a nice balance of flavors. The bread was STEAMING hot and really really good.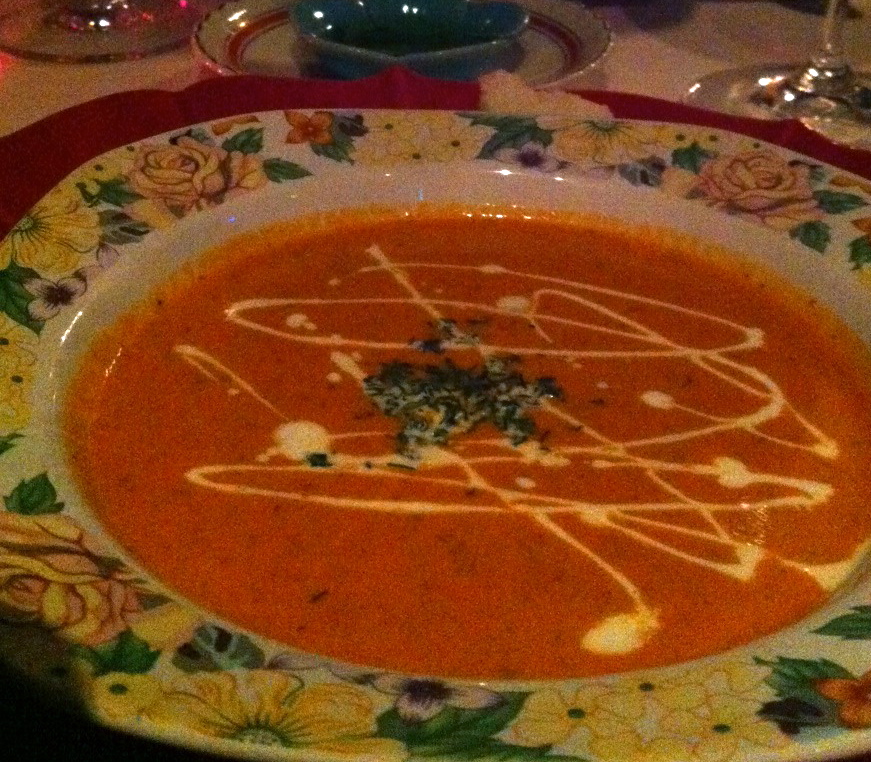 The salad. Dressed properly and the roasted salty pecans were very good. Added a nice crunch. Really good balsamic used.
Sea scallops. So. good. Wow. Not HUGE, but I got six or seven of them. Seared on one side, melted in my mouth like butter. Amazing garlic sauce that complimented the bacon and red peppers perfectly. My sides were perfectly cooked asparagus, yellow squash in sambuca, buttery carrots with a bit of sugar, red cabbage in a currant port dressing.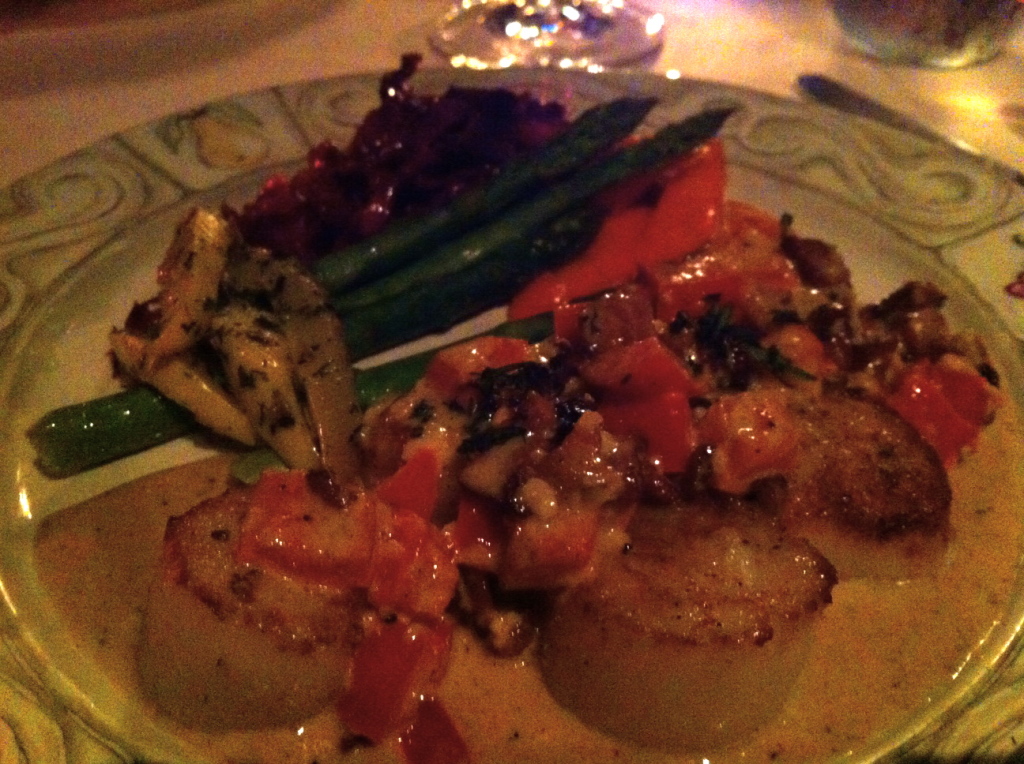 Crispy duck. Half a duck. Braised and then the skin was cooked to crisp perfection. Bill warned that some people thought it was well-done, but that is his intention with the dish. The skin was SO crispy and delicious. Full of flavor. Sides for this dish were the carrots, asparagus, golden beets, cannellini beans with red pepper, and the squash.
Coffee. Really beautiful brown sugar cubes served. French press poured at the table. Diane came around a few times to make sure ours were still hot. Served in unique tea cups.
The chocolate purse. At this point, I was pretty sure I had died and gone to culinary heaven. CRISPY light phyllo around a delicate flourless chocolate cake. Salty chocolatey hazelnutty nutella sauce. Amazing.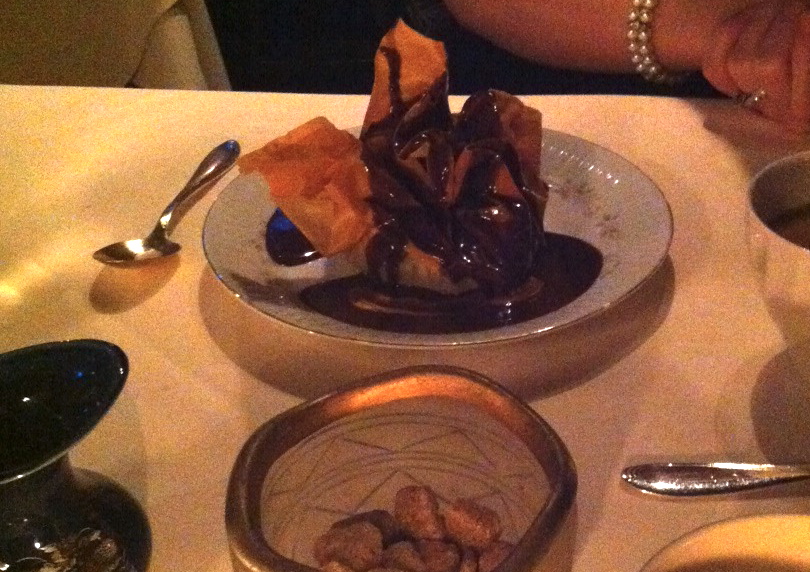 Dark chocolate crème brûlée with sea salt. A good combination of chocolate and salt, very dense, not overly burned top, but still a nice crust. Delicious.
After the meal, Bill visited our table to make sure we enjoyed ourselves. He has a sous chef back there helping him (Steven). He spent a little more time chatting at the other tables with those who were regulars. One guy even brought homebrew for him to try.
Diane stopped by our table at the end of the night and was blown away that we ate every single morsel. She said it was a rarity. Clearly she hadn't met us! She walked us to the door at the end of the night (around 10:30), got our coats, and thanked us very sincerely for coming. After thanking her for the wonderful evening, she said, "Thanks. We just LOVE what we do."
And it shows.
Next time you are in Winston-Salem, NC, head straight for Fabian's.