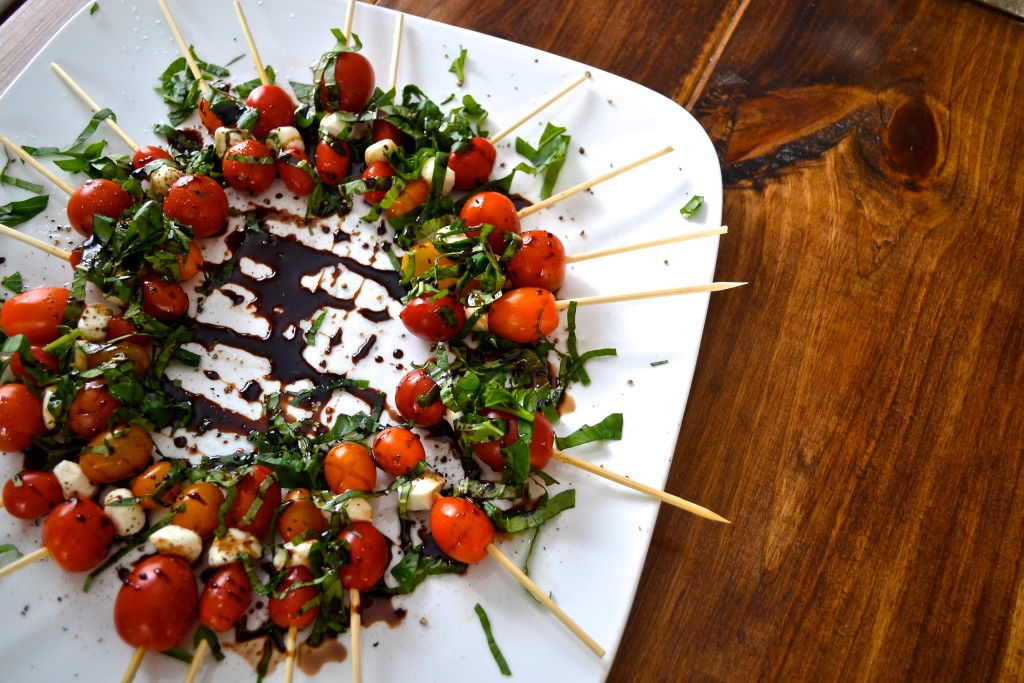 I love that moment in the summer when I go out to water the herbs and tomatoes in the back and say to myself, "Hey! They're growing!" (like I'm surprised every year). I always grow extra basil because honestly, it's one of my favorites. Pestos, tomatoes with basil, basil in pastas, basil infused oils, and basically basil everything gets my approval. I love having herbs on hand in the summer to add quick, fresh flavor to my dishes. Speaking of quick, sometimes when guests are on the way I'm in need of an appetizer that I can throw together in a flash. You've been there, right?
You're running errands. You're making dinner. You're rushing home from work. You're at the zoo with the kids. Then, you get the call that (surprise!) people are on the way over to your house earlier than expected. Don't freak out- we got your back. This impressive wreath will hold over the crowd until your main dish is ready. It's delicious, fresh, and easy to prepare.
The classic flavors of a caprese salad come together on individual skewers to make this impressive dish. Simply skewer mozzarella pearls between two cherry tomatoes, top with basil and drizzle with balsamic reduction. Boom. You're done, and your guests are happy. So, whether you're rushing to feed a crowd, or just want to use some of your fresh herbs, serve this fun caprese wreath and savor the flavors of summer.
Caprese Wreath
Prep Time: 15 min. Cook Time: 10 min.
Ingredients:
20 mozzarella cheese pearls
40 cherry tomatoes
1 handful basil leaves, chiffonade cut
1/2 cup balsamic vinegar
Black pepper
Preparation:
Using small skewers, stack one tomato, one mozzarella pearl, and another tomato up to the end of the skewer. Arrange the skewers in a circle to form a wreath.
Place balsamic vinegar in a small saucepan and bring to a boil. Reduce heat and simmer until vinegar has reduced by half. (NOTE: Watch this closely as it's easy to burn. Depending on the size of your saucepan, you may need to reduce cooking time)
Sprinkle basil and balsamic reduction on the tomato and mozzarella wreath. Finish with freshly cracked black pepper.
Makes 20 skewers