My favorite Valentine's Day growing up has to be the one from the year 2000. I was a freshman in high school. Growing up, my parents gave us kids chocolates and one small gift just to remind us that we're loved and make the day extra special. My gift that year was a wooden figurine of a girl with brown hair holding a puppy. I thought it was way cute and placed it on my shelf upstairs next to my Precious Moments and snow globe collections. Little did I know it was foreshadowing the events to unfold later in the day.
After school that day, I had musical practice (Camelot!) and had to stay a few hours later than normal. As I walked through the door, my heart skipped a beat as I was greeted by a small golden retriever puppy anxiously waiting my arrival. Love. Overwhelming, bubbling, love at first sight. Simple, effortless love.
Feeling loved in our society, I think, has become something people expect to receive but don't consciously give. We yearn to feel loved and yet struggle to love those who may need it the most. The shy woman at church who sits alone, a co-worker you'd rather avoid than talk to, your elderly neighbor, the guy who cuts the line in front of you at Walgreens. Sometimes, it's a lot easier and comfortable to not show love.
1 John 4:7 Dear friends, let us love one another, for love comes from God. Everyone who loves has been born of God and knows God.
There is action associated with love. It might not be as warm and fuzzy as the love from new puppy. It might not be as romantic as date night with your spouse. Love comes in different forms, and that agape love, the unconditional love Christ gives doesn't come as easy to show others at times.
Who will greet you behind that door this Valentine's Day? A friend? A spouse? A classroom of eager children? A grandmother? A local butcher? No matter who is it might be, I hope you feel loved. And not only that, but I hope even more than you make a conscious effort to give love. Even when it's not easy. Even when it's not deserved. Agape love. Big, unconditional love.
It's not hard for me to love these whoopie pies. The fluffy chocolate cakes are paired with a luxurious berry buttercream frosting and they taste quite similar to decadent cupcakes.
I had no idea how to create heart-shaped cakes but thankfully I wasn't the first to ever attempt this. A nice lady on YouTube explained that I could just put the cake batter in a pastry bag and simply create a V shape, about 2 inches long to make perfect heart-shaped cakes.
After baking for about 6 minutes, these delights are perfectly done and ready to meet their counterpart.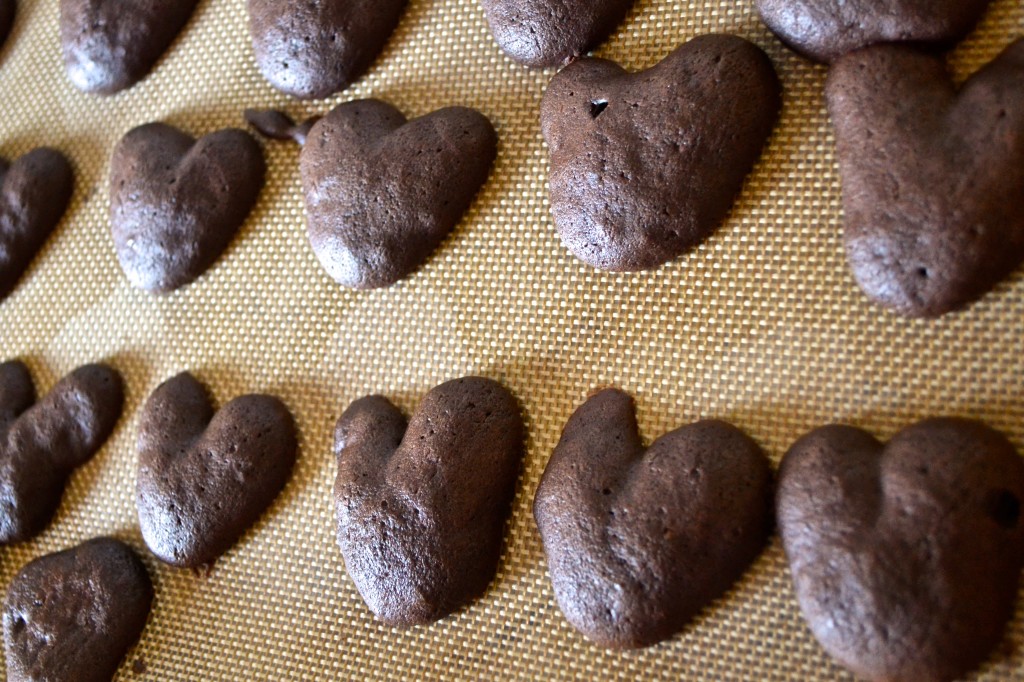 You don't need to cover the whole heart with frosting. Pipe a thick layer around the perimeter, place another cake on top, and you're in business.
I struggled eating just one… okay, I struggled eating just three. Sending love from our home to yours! Happy Valentine's Day!
Chocolate Raspberry Whoopie Pies
Prep Time: 30 min. Cook Time: 6 min.
Ingredients:
For the Cake:
1/2 cup butter, softened
1 cup brown sugar
1 teaspoon baking powder
1 teaspoon baking soda
1/2 teaspoon salt
1 teaspoon vanilla extract
1 large egg
2/3 cup Dutch-process cocoa
2 cups cake flour
1 cup almond milk
For the Filling:
3 cups powdered sugar
1/2 cup butter, softened
4 tablespoons berry jam
1 teaspoon vanilla extract
Preparation:
Preheat oven to 350°. In a large bowl, mix together the baking powder, baking soda, salt, cocoa, and flour. Set aside.
In the bowl of an electric mixer, cream together the butter and sugar. Add the egg and continue to blend. Add 1/2 of the flour mixture and blend. Then, add the almond milk and continue to blend. Finally, add the remaining dry mixture.
Place batter in a pipping bag. Pipe 2 inch long Vs on a silpat. Bake for 6 minutes or until just cooked through. Cool for 2 minutes on the pan, then transfer to a wire rack to cool completely. While cooling, prepare the frosting.
Using another electric mixer (or hand held), combine all frosting ingredients until smooth and creamy. Place frosting into a piping bag.
To assemble the whoopee pies, pipe frosting along the edge of the flat side of a cookie, then top with another cookie. Serve at room temperature and enjoy!