I think I'm in love.
No, I know I'm in love.
Perhaps the feeling is mutual?
You'll have a crush on these brownies once you try them, too. Back when Neil and I lived in North Carolina, one of our favorite spots was a French bakery named Amelie's. They have a salted caramel brownie there that is to-die-for, and I tried to recreate it here. This brownie recipe has low flour content, and tastes similar to a flourless chocolate torte.
Lucky little sister that I am, my big sister brought me high quality cocoa powder and fleur de sel from Paris to use in my most special baked goods. I used some of the cooca powder making a chocolate cheesecake for Neil's birthday, and I was super excited to use the fleur de sel in this Valentine's recipe. This flaky, light, potent salt is the perfect finishing salt and adds a perfect salty balance to the sweetness of the caramel. You can find fleur de sel at most speciality food stores, and certainly online.
As hokey as it might be, I like Valentine's Day. It's nice to set aside a day just to honor your sweetie, the love you share, and remember what brought you two together in the first place. Yes, I believe you should do this more often than every February 14, but still, it's nice that there is a holiday just for that. Make these for your boo this Friday and you'll fall in love all over again.
OH! And we have a TARGET GIFT CARD GIVEAWAY going on right now. Head on over and enter by the end of the day on Valentine's Day to win!
Fleur de Sel Caramel Brownies
Prep Time: 30 min. Cook Time: 20 min.
Ingredients:
For the Brownies:
2 sticks unsalted butter
2 cups milk chocolate chips
4 oz. semi-sweet baking chocolate, chopped
3 large eggs
1 tablespoon vanilla extract
1 cup granulated sugar
1/2 cup all-purpose flour
1 1/2 teaspoons baking powder
1/2 teaspoon salt
Fleur de Sel Caramel Topping:
1/2 cup heavy cream
2 cups granulated sugar
1/2  cup water
1/2  cup unsalted butter, cubed
2 teaspoons fleur de sel
1 teaspoon fleur de sel to sprinkle
Preparation:
Preheat oven to 350°. Place parchment paper in a 13×9″ glass baking pan and set aside.
In a medium sized saucepan over medium heat, melt the two sticks of butter. Once butter is completely melted, remove from heat and add the chocolate chips and baking chocolate. Stir until all chocolate is melted. Cool to room temperature, stirring occasionally.
In a large bowl, whisk together the eggs, sugar, and vanilla. Add a little bit of the cooled chocolate to the egg mixture, and stir. Continue adding the entire chocolate mixture, whisking gently as you pour. Set aside.
Using a separate small bowl, combine flour, baking powder, and salt. Slowly add this mix to the other chocolatey bowl, and stir with a wooden spoon. Once mixture is thoroughly combined, pour into the baking pan, and evenly spread with the spoon.
Bake for 20-25 minutes, until a toothpick inserted in the center of the brownies comes out clean. Cool completely. They will look wrinkly, and that's okay.
In a separate tall saucepan, combine sugar and water. Place over medium-high heat. Boil sugar, occasionally swirling the pot and scraping down sides with a wet pastry brush. Do not stir though, as sugar boils and reaches a dark amber color, about 12 minutes.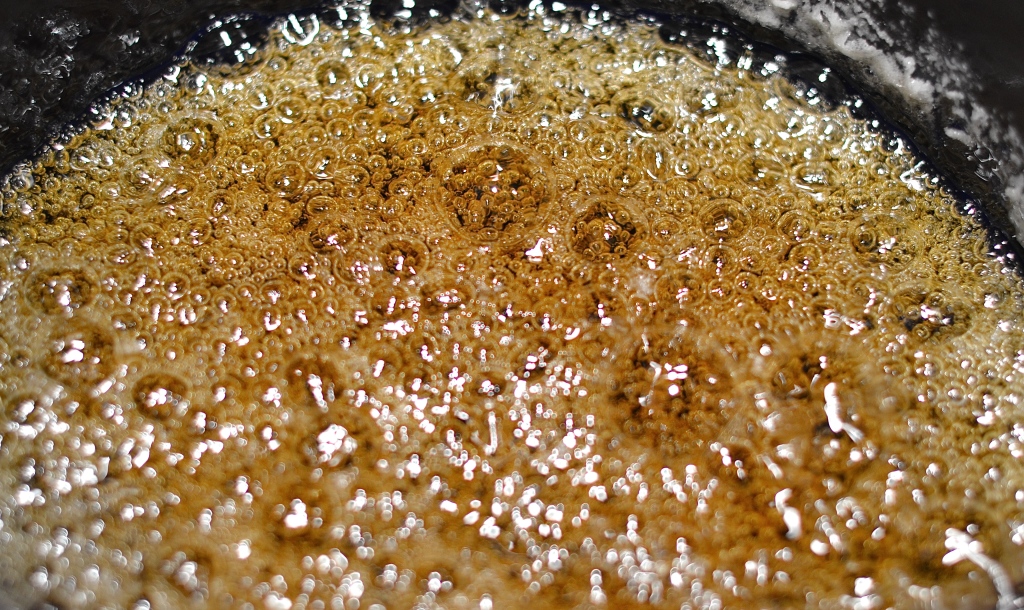 Don't walk away from this. The next part needs to happen quickly. Remove from heat and immediately whisk in cream, butter, and salt until smooth. Pour over cooled brownies and sprinkle with additional fleur de sel. Allow brownies to set for an hour, or as long as you can wait.
Once cool, transfer brownies to a cutting board and peel back the parchment. Cut into shapes and serve.
Fleur de Sel Caramel Topping Recipe Adapted From: Amelie's French Bakery