Testing, testing, one two…. one two… one two… this thing still on? Oh good. Glad you haven't gone anywhere. We didn't think you would. Thanks for continuing to follow us on social media as life got a little too busy to find time to sit down and write a whole post. BUT WE'RE BACK. Summer is quickly approaching, and we will soon have more time to cook, explore, photograph, and write.
This past weekend, we went to Kansas City. Neil is in a band called Smokey James and the Avalanche and they played at the Middle of the Map Festival. It was great to be back there and see how the city has changed since we lived there. For you dedicated readers, you might remember that The Newlywed Chefs started in Kansas City. I remember when we used to post pictures of dishes we would make back when we called our blog, "Table for Two." (I'm sure that's still out there somewhere. Happy Googling.) Some of you wanted us to start writing down the recipes for things we were making, so we did. I remember sitting on the couch in our downtown loft as my trembling index finger clicked "publish" to create thenewlywedchefs.com. This weekend, as we drove by our old place, I thought of that moment.
Kansas City has a LOT going on. The downtown streetcar is pretty darn cool. It's free, clean, and gets you from the River Market to Crowne Plaza. In River Market, you'll find Quay Coffee, which is one of our new favorite spots in town. The coffee pictured below was the best iced coffee I've ever had. At Quay you'll find excellent coffee, friendly people, a rustic hip vibe, and delicious pastries. I enjoyed sitting outside and sipping on my iced coffee as I watched the world go by.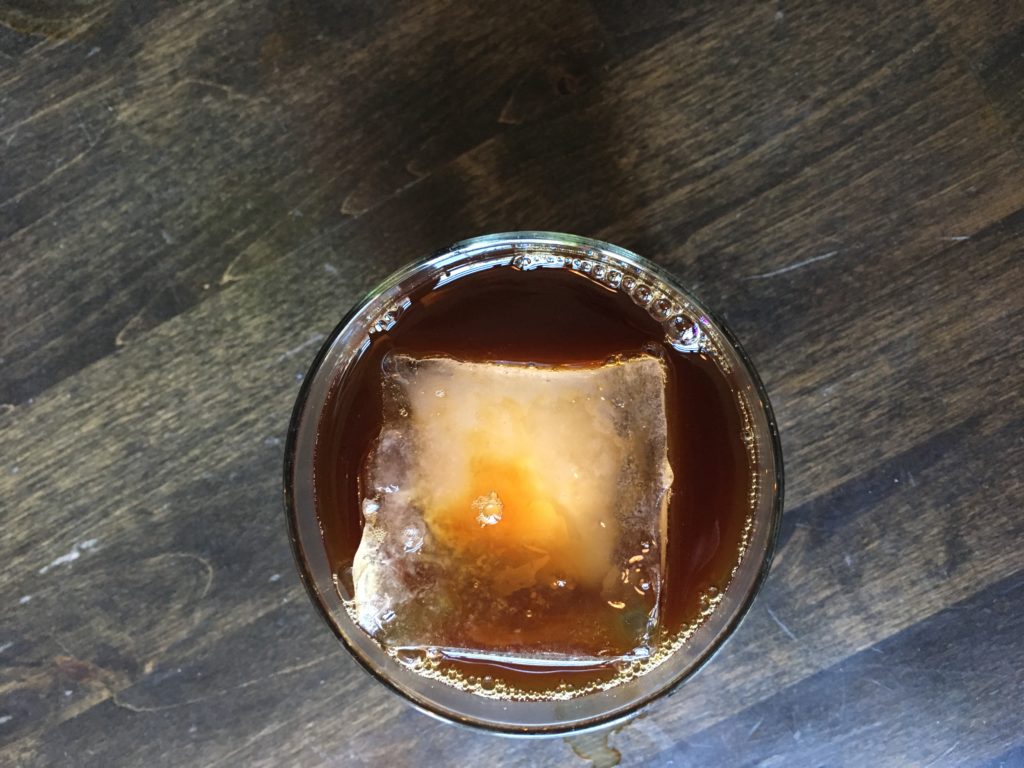 The Westside Local
has always been one of our favorites. It features farm-to-table food and is located in a really hip corner of the city. Their happy hour is great, as are their burgers. Pardon the Instagram story pic, I didn't take the big camera with me on this trip.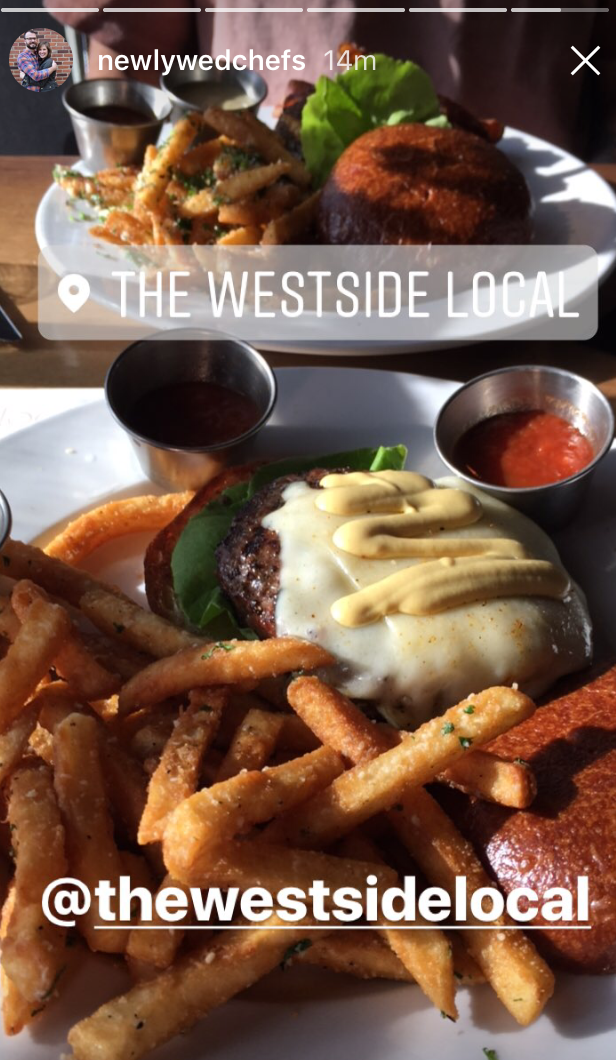 Close to that is
Blue Bird Bistro
, which we haven't been to in years, but used to be another one of our favorites. Last summer, we went to the
The Rieger
for our anniversary and we were really impressed. The Rieger is also new since we lived there. It's in a renovated building downtown and has a speakeasy called Manifesto in the basement.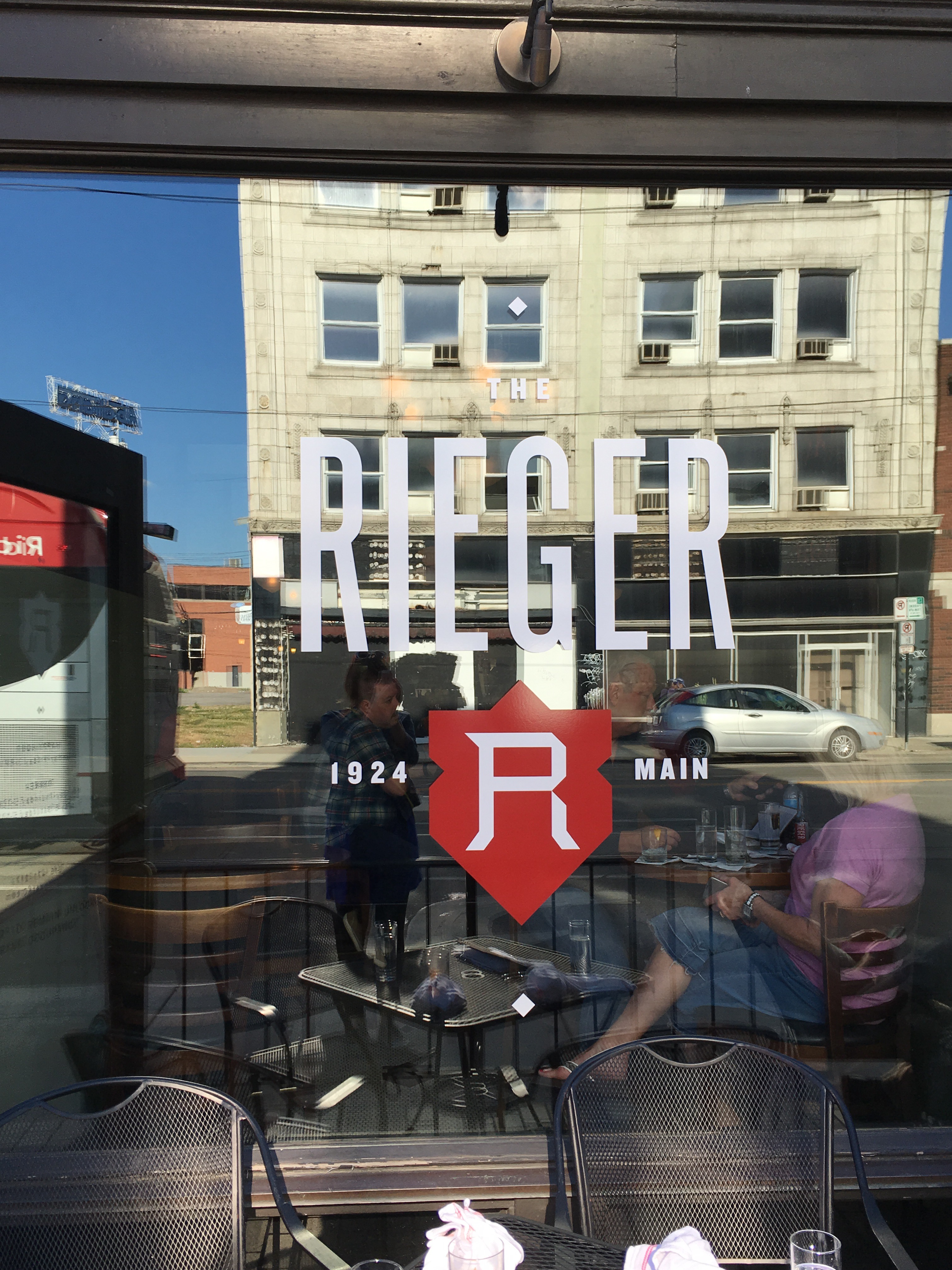 While Neil was in rehearsal with his band, I wandered into another new spot: 
Anton's
. It's located just down the street from the Rieger, and I was super impressed with this popular restaurant and taproom. The smoked brisket b
á
nh m
ì 
was great, but the fries and homemade ketchup were unforgettable. The beer list is extensive and the food is high quality. It's a great place to grab a seat at the bar if you're going stag. Or need a stag. (Ha!! Oh, I kill me. Moving on.)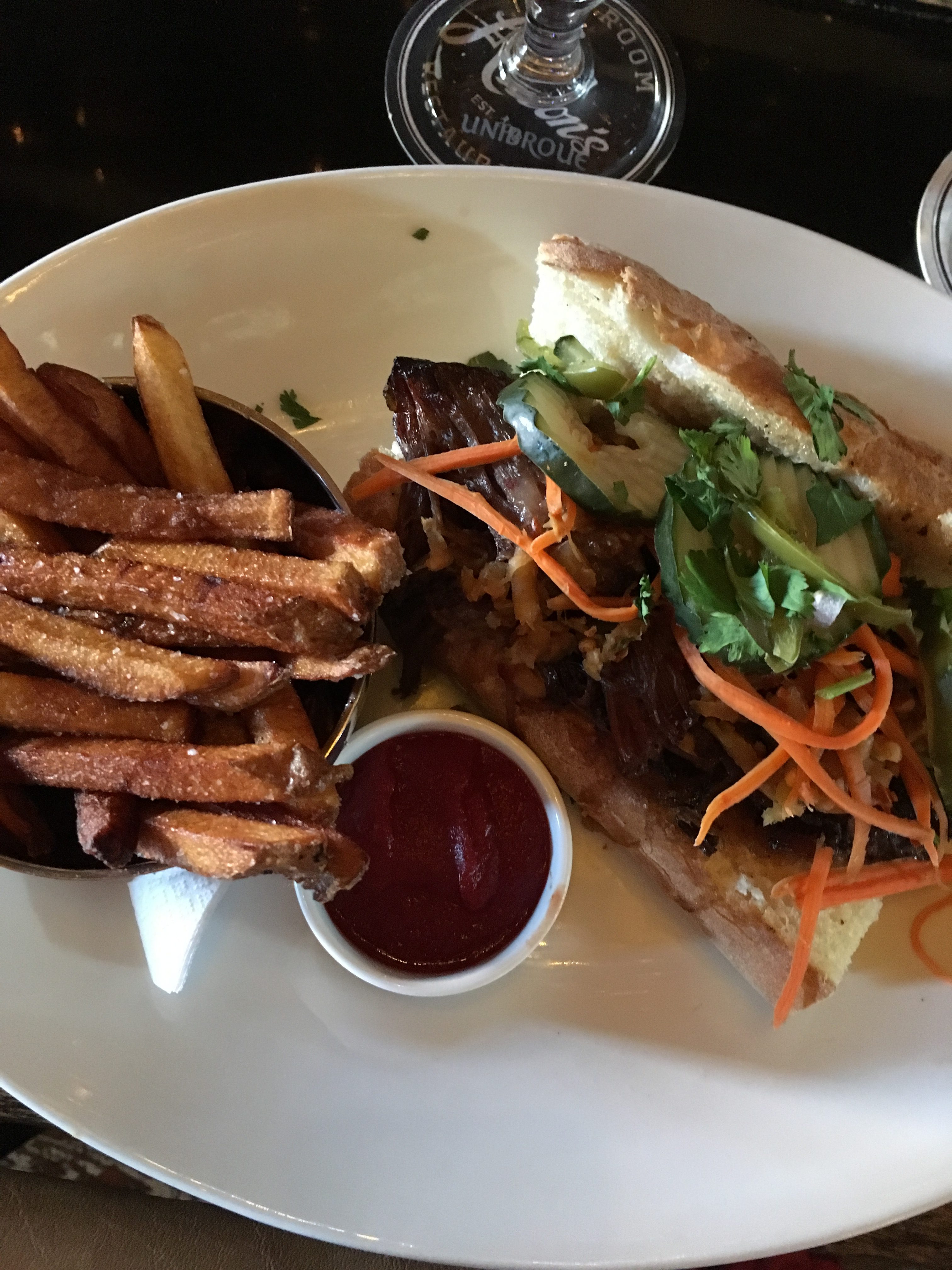 One of our favorites that used to be in Westport, then on the Plaza, then back to Westport, and now in Leawood is
Blanc
. I think we compare every burger we eat to their au poivre burger. Don't forget the truffle fries and salted caramel shake. Oh, holy moly why isn't that in Kansas City anymore? These Mizzou tigers cringe a little when having to cross into Kansas…
Our favorite bar/late night hang out when I was in graduate school was the Foundry. It's the bar that's attached to McCoy's. The buffalo tots were enough to keep us coming back, not to mention the innovative pizza menu.
For breakfast on this trip, we explored the Westside Bottoms, an area that again, wasn't developed when we lived there. The Genessee Royale Bistro was really, really good. It's a perfect spot for brunch, and we sat on the breezy patio. I had maybe the best waffles I've ever had. They were light and fluffy, and served with toasted pecan butter and sweet maple syrup. Succotash was also good, located downtown, but had more of a funky diner vibe. Check out this "Burrito of Love," from Succotash featuring eggs, cheese, and bacon, rolled in a huge buttermilk pancake. They have a great juice menu there, too.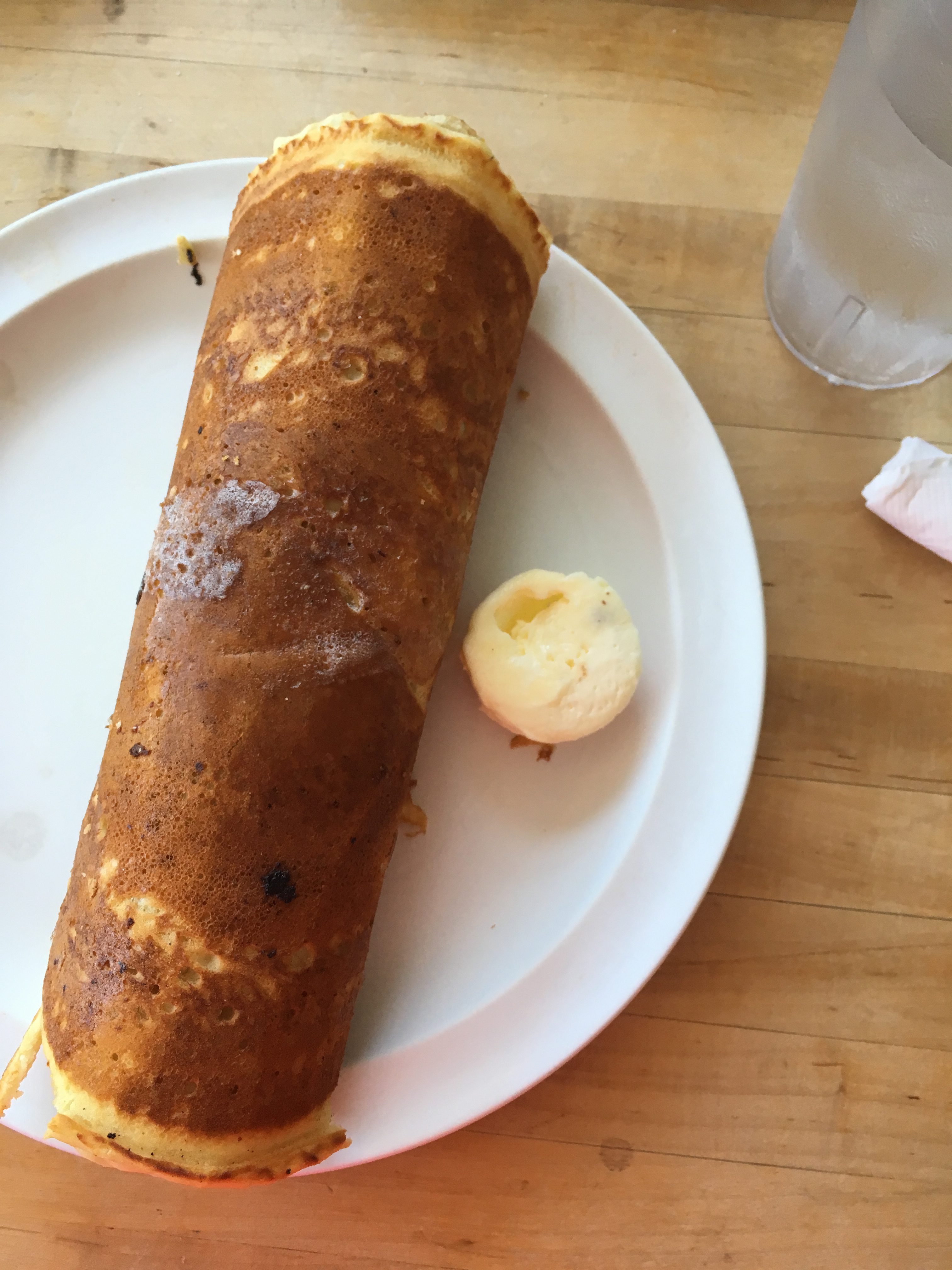 There are a lot of other places we love in Kansas City:
Beer Kitchen
,
Grinders
,
Julian
,
Christopher Elbow
,
Bluestem
,
Pierpont's
,
Boulevard
,
Filling Station Coffee
, but we'll have to save those for another post.
If you're full from feasting upon the city's finest culinary spots and need some sights to see, might we suggest: National World War I Museum, Crossroads Arts District (especially on a First Friday in the summer), River Market, Kemper Museum of Contemporary Art, Westport, The Nelson-Atkins Museum of Art, Country Club Plaza, American Jazz Museum, or go hear live music in one of the many great venues. If you're looking for a church, check out Church of the Resurrection- Downtown. They're doing incredible things in the heart of the city. Tell 'em we sent ya.
Kansas City will always hold a special place in our hearts. It was our first home as a married couple. Although we can agree to disagree on who has the superior major league baseball team, we have many friends and fond memories there and I know we'll be back again soon.