Disclosure: This post is sponsored by Lucky's Market. The Newlywed Chefs were paid for this post, however, as always, all opinions are 100% our own.
Today we're highlighting one of our favorite places to shop for groceries in St. Louis: Lucky's Market. Lucky's is a grocery chain that brings fresh, natural, and organic food to shoppers for a reasonable price. Here in St. Louis there are two locations: Ellisville and Rock Hill. Why do we like Lucky's so much? We're glad you asked. In no particular order, here are some of the reasons why we love Lucky's: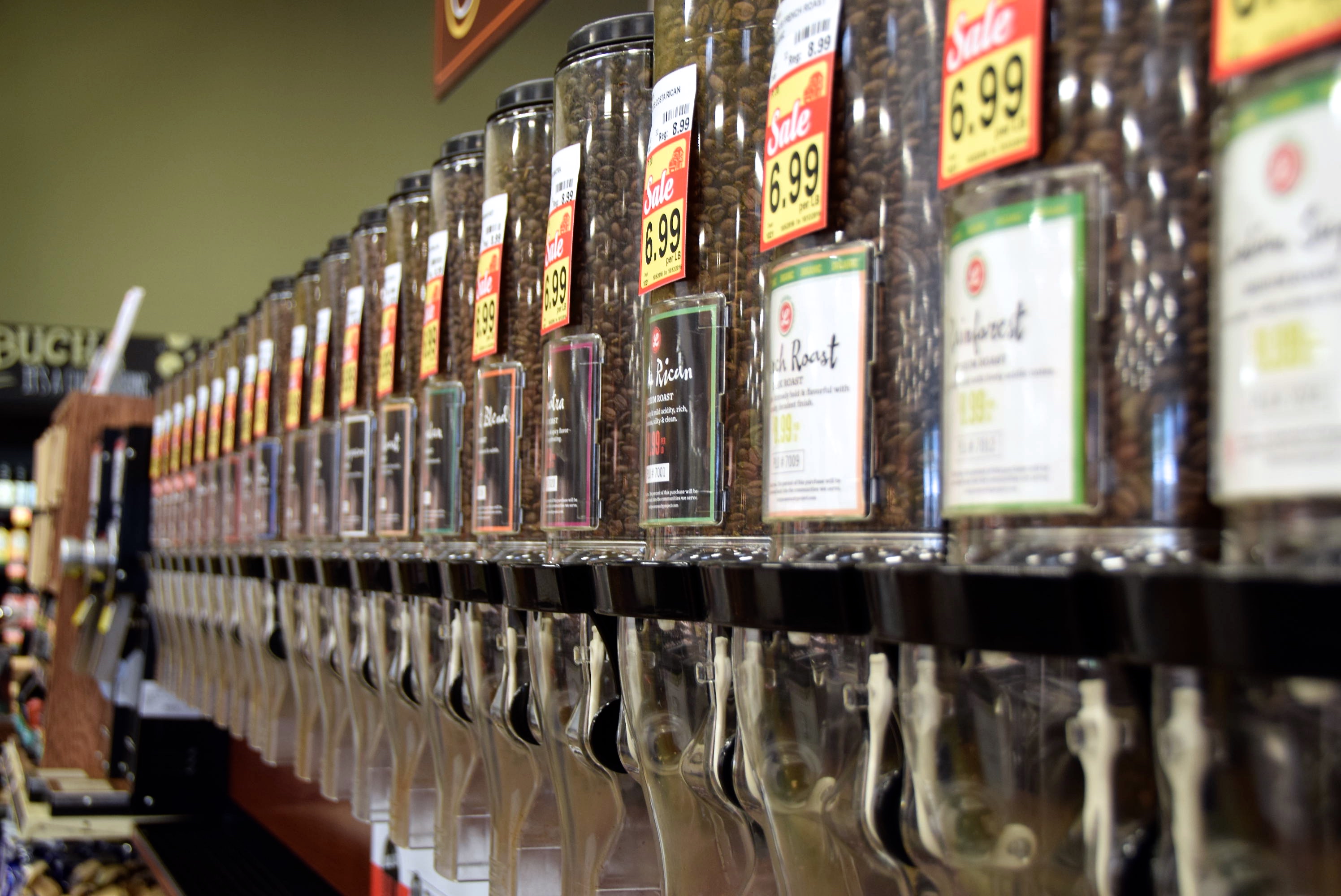 Coffee: As daily coffee drinkers, we appreciate good beans. Lucky's has a wide variety of whole bean coffee for a good price. It's over near the bulk section, and we fill our brown paper bag with as much or as little as we'd like to try. They also have ground beans and pods, so no matter how you like to brew, Lucky's has you covered.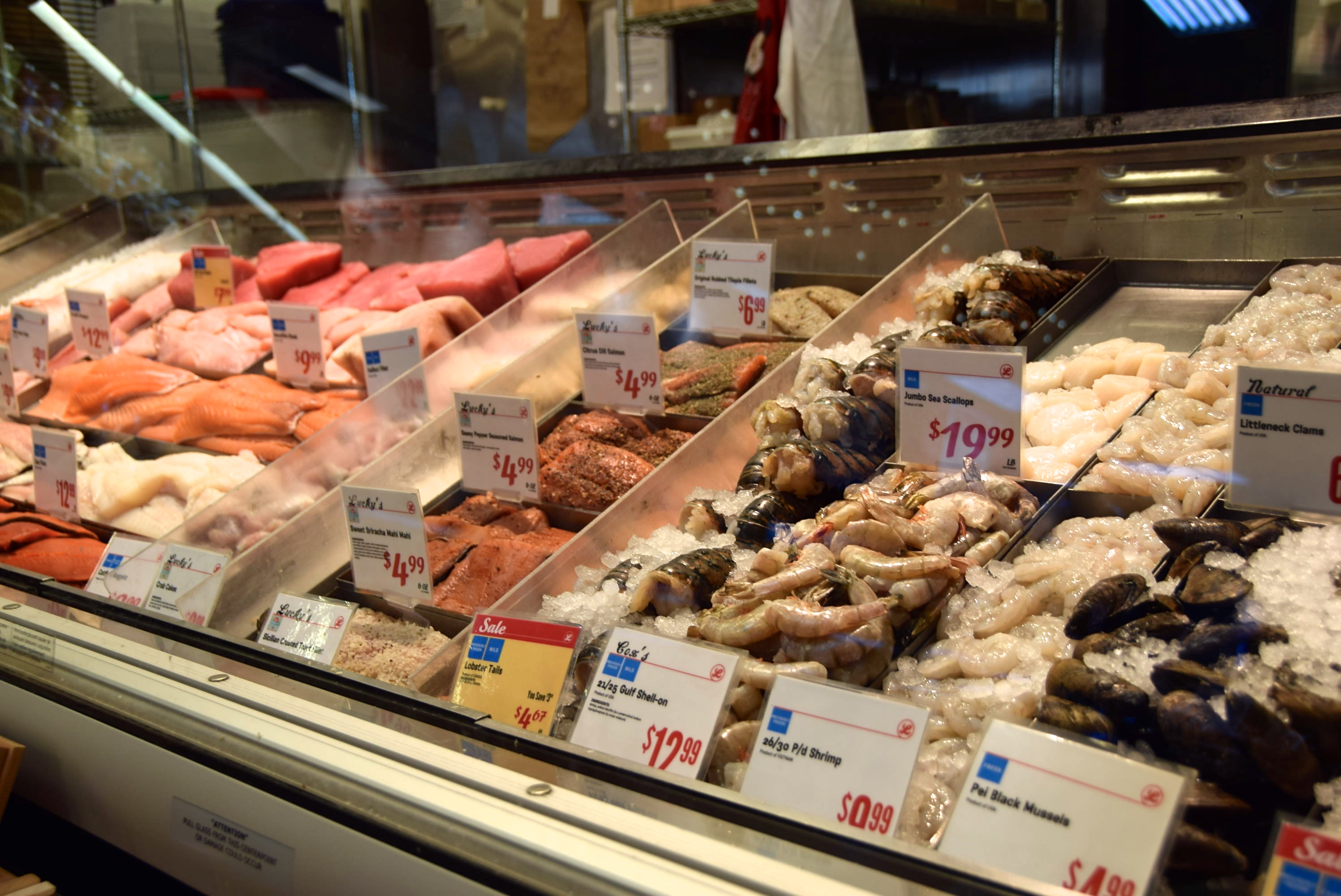 Fresh Seafood and Meat: Lucky's has meat and seafood with prices that won't break the bank. All-natural, grass-fed, premium, smart, are all labels that you might find on their meat. We feel good buying high quality, less processed meat.  If you're in a hurry, they have a good selection of seafood that is already seasoned and will reduce your prep time at home.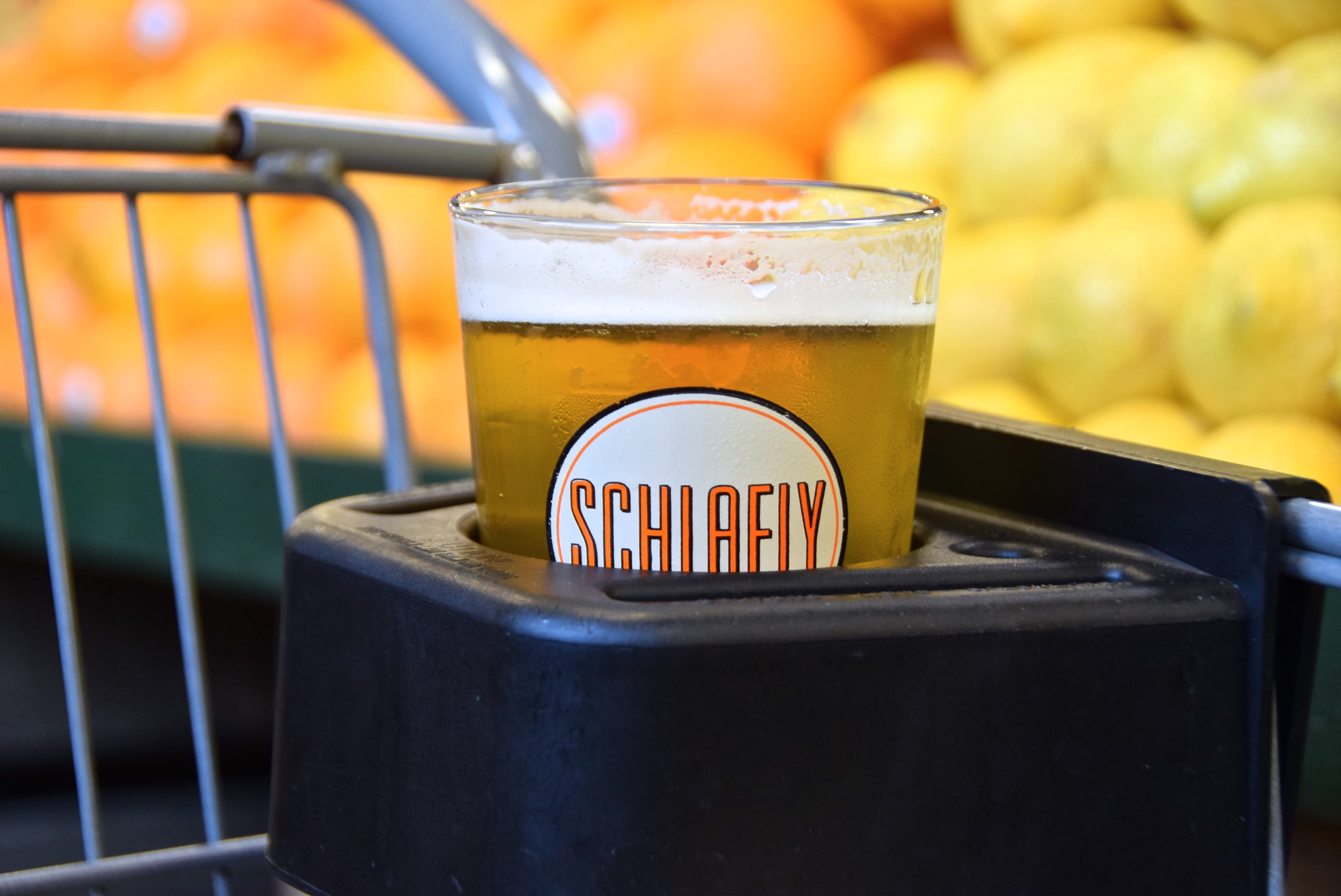 Sip + Stroll: For $2.00, Lucky's customers can sip on a selection of local beverages while they shop. They even have cup holders for your cart. When we shop at Lucky's, we usually go over to the bar first and get a local draft beer from Schlafly, 4 Hands, or Urban Chestnut, then proceed to do our grocery shopping. They also have Fitz's root beer on draft. Even if you don't need to shop for groceries, you can grab a beer and sit at their bar, or cozy up in a leather chair over in the lounge area.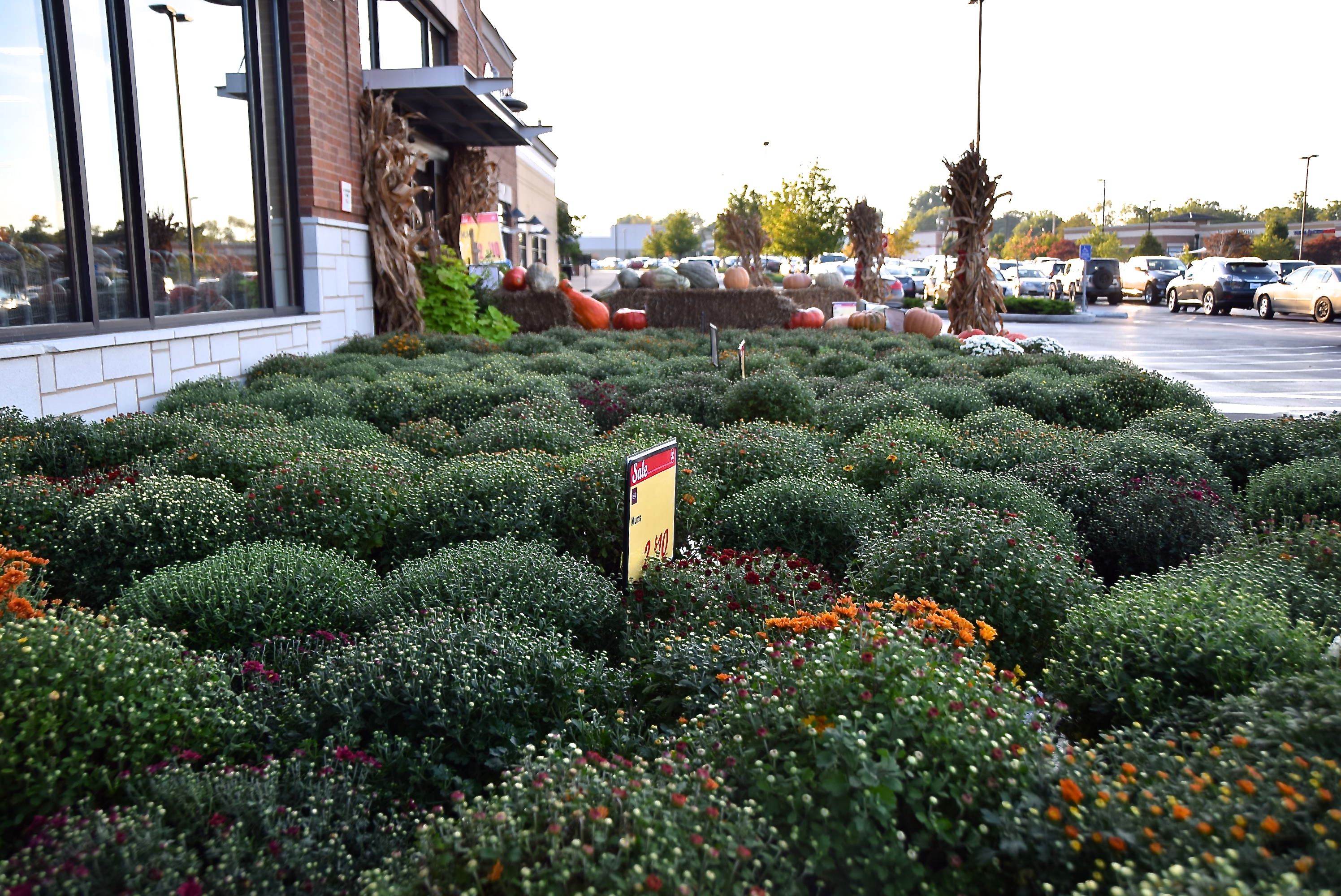 Garden: Seasonal flowers, plants, herbs, and other outdoor essentials greet customers as they enter Lucky's. The deal on these beautiful mums right now is 2/$10! I haven't seen a better price around St. Louis for mums this year. We'll have some on our porch by the time this post is up!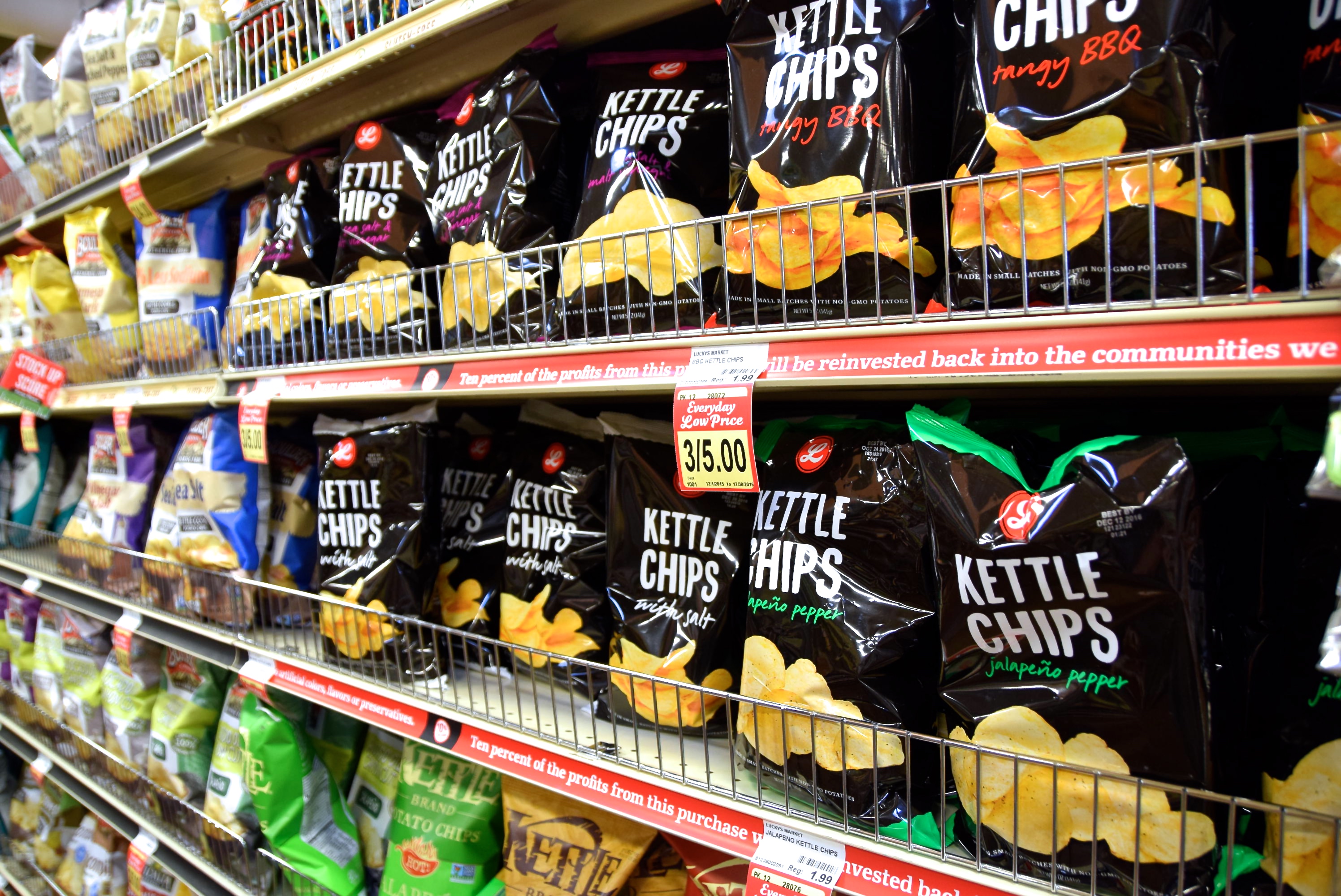 Lucky's Brand Groceries: Lucky's carries their own line of grocery items, from fresh cheese to chips to chicken stock to hummus. Since these products are unique to Lucky's, they aren't sold anywhere else. In addition to Lucky's brand groceries, they have brands that you know and love, so you can shop for your favorites and also try something new.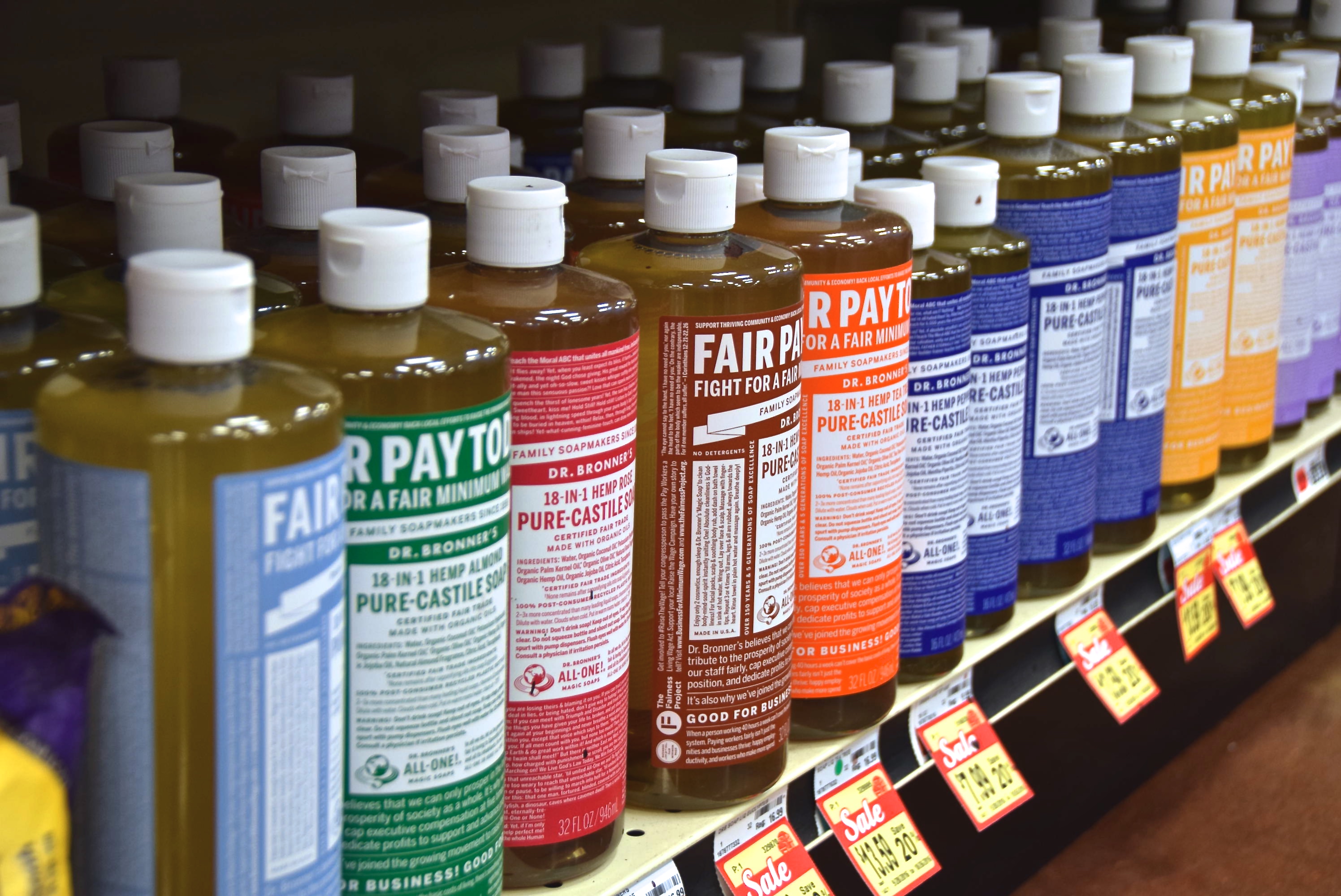 Natural Living: Lucky's has a whole department devoted to body and beauty products. In this section, you'll find protein powder, deodorant, soaps, essential oils, vitamins and more. We love shopping for Mrs. Meyer's Clean Day and Dr. Bronner's soaps at Lucky's, because they carry a wider selection of scents than any other store we've found.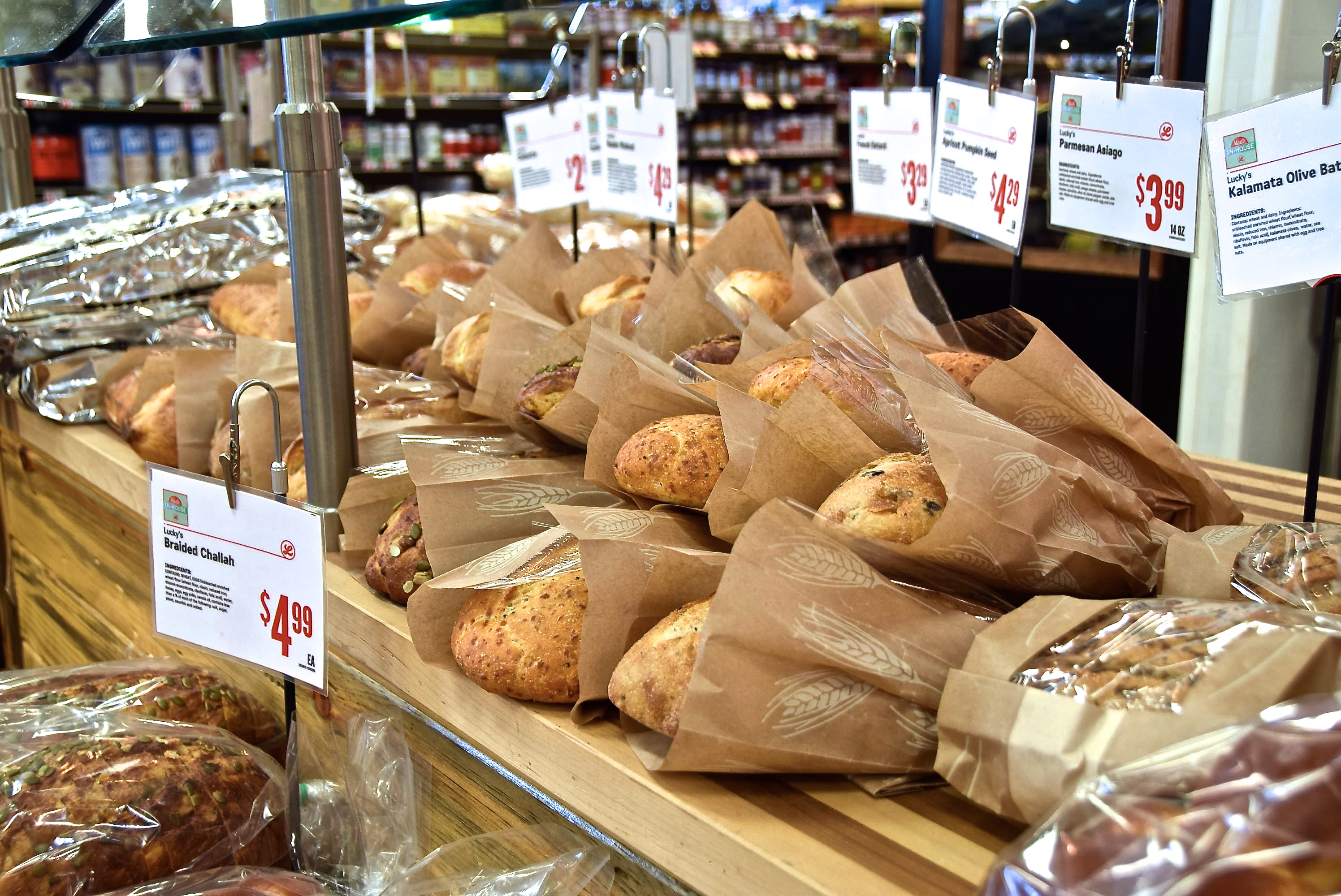 Bakery: The bakers at Lucky's make fresh bread, cookies, donuts, and more on a daily basis. They'll slice any of their loaves for free, and also sell bread from other local bakeries (Fazio's, etc.).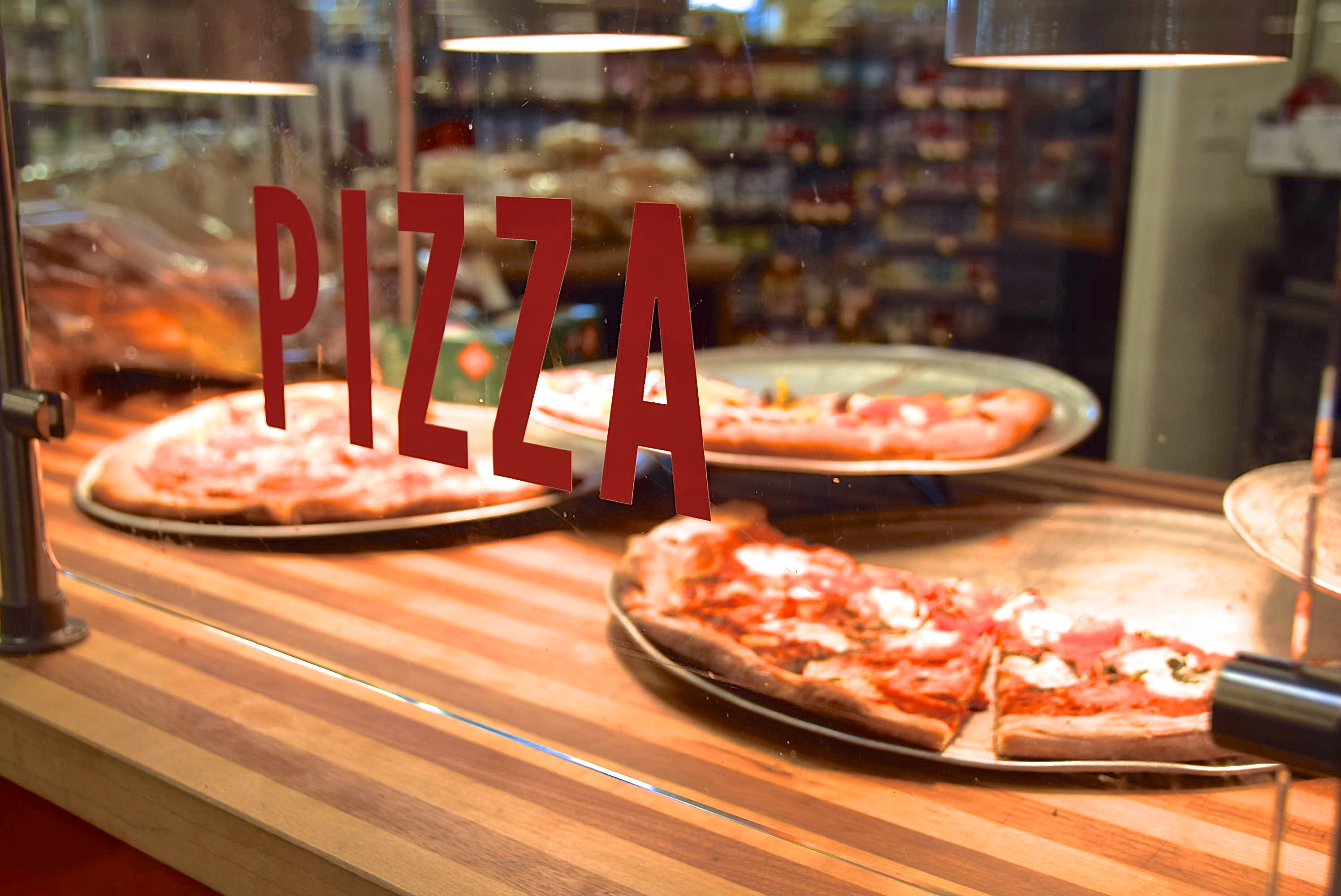 Pizza: Next to the bakery, you'll find the mouth-watering pizza selection. You can build your own 16″ pizza or order one of their signature pizzas for only $10. On Fridays, they're only $8. The best deal in the store (our personal opinion) is two slices of pizza and a pint of beer for $5.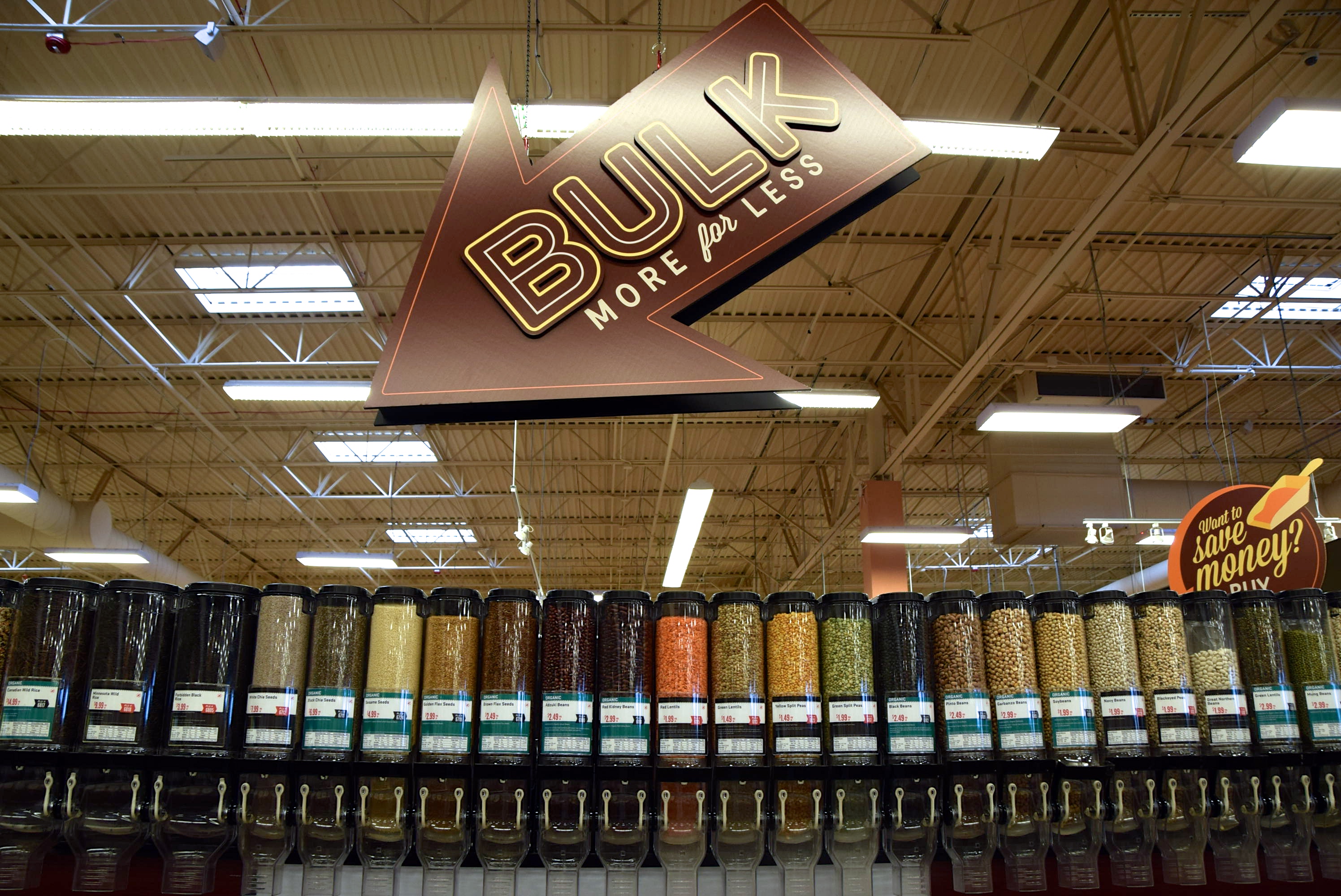 Bulk: The bulk section at Lucky's can't be beat. Flour, grain, oats, snack mixes, and more. The unique treats we find in this aisle keep us coming back for something new to add to our brown bag lunches or sneak as a late night snack. I'm currently munching on their cinnamon yogurt covered pretzels from the bulk section as I type. So good!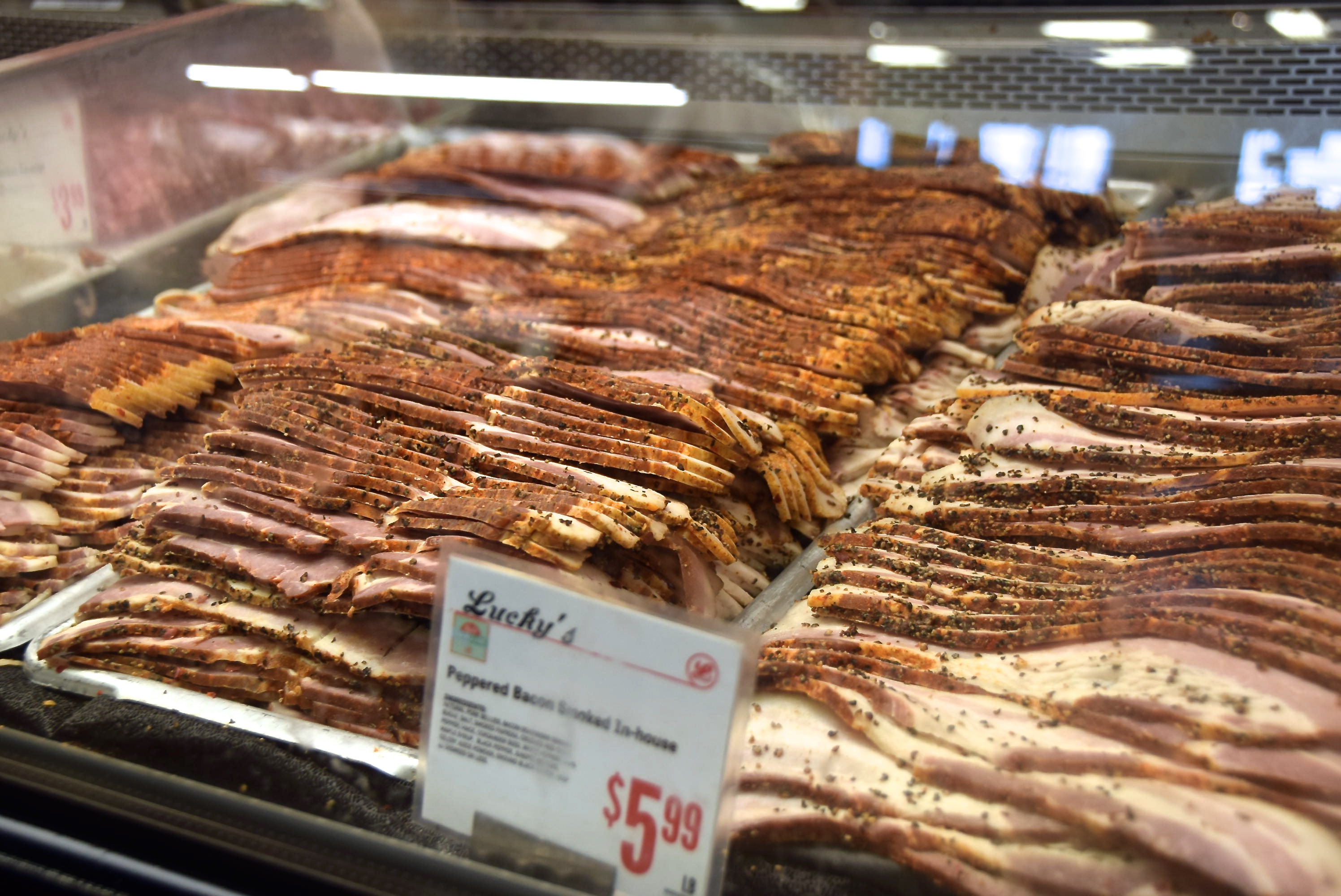 BACON: Who can say no to house cured and smoked bacon? Lucky's bacon is GOOD. They carry an assortment of flavors. Hot cooked bacon is also usually available to sample, although the samples go fast because it fills the whole store with that irresistible smell.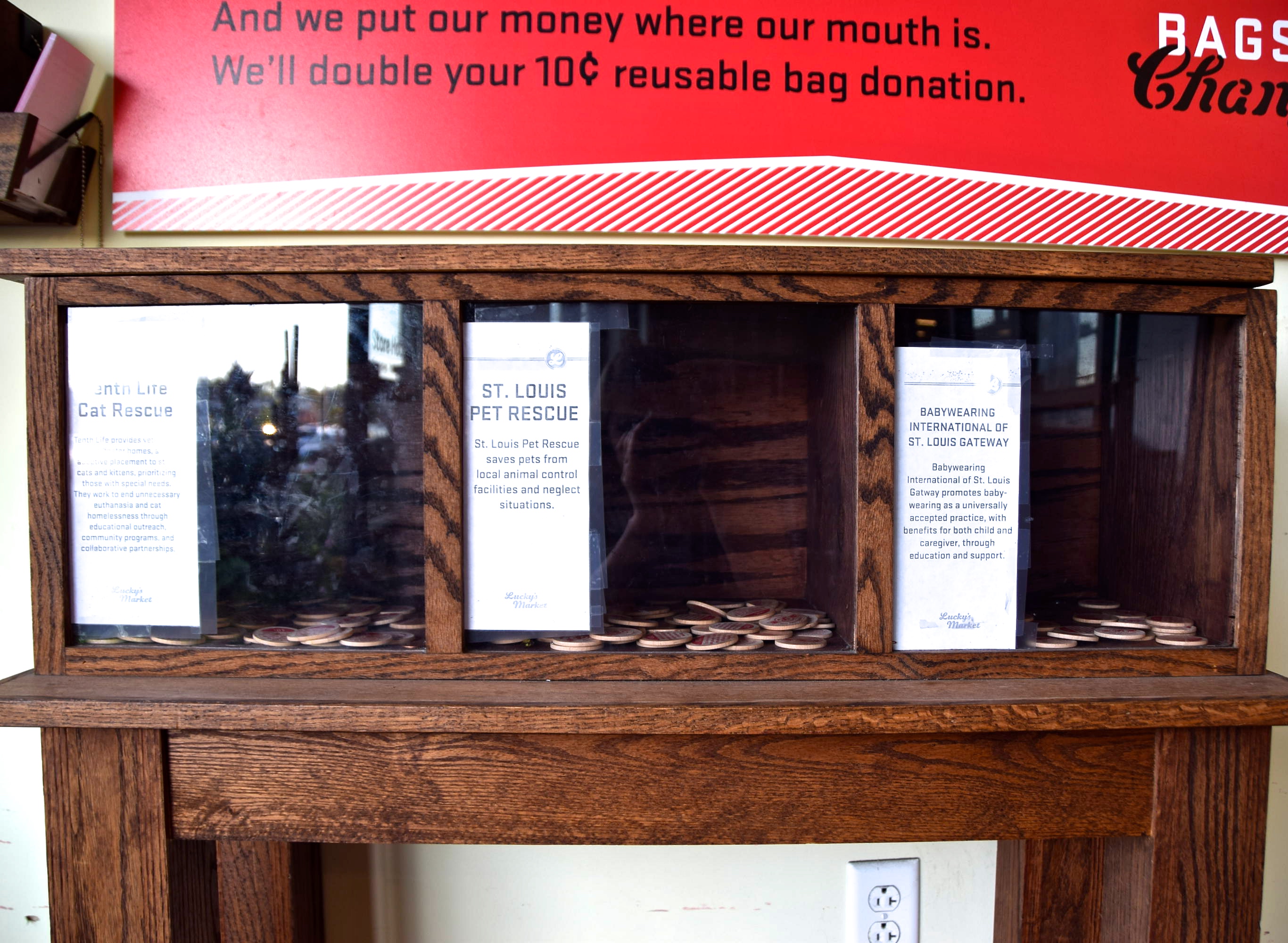 Community Involvement: If you bring your own grocery bags, Lucky's will give you a chip. On the way out, you can place the chip in a box detailing one of the local charities Lucky's currently supports and they'll donate money toward that charity.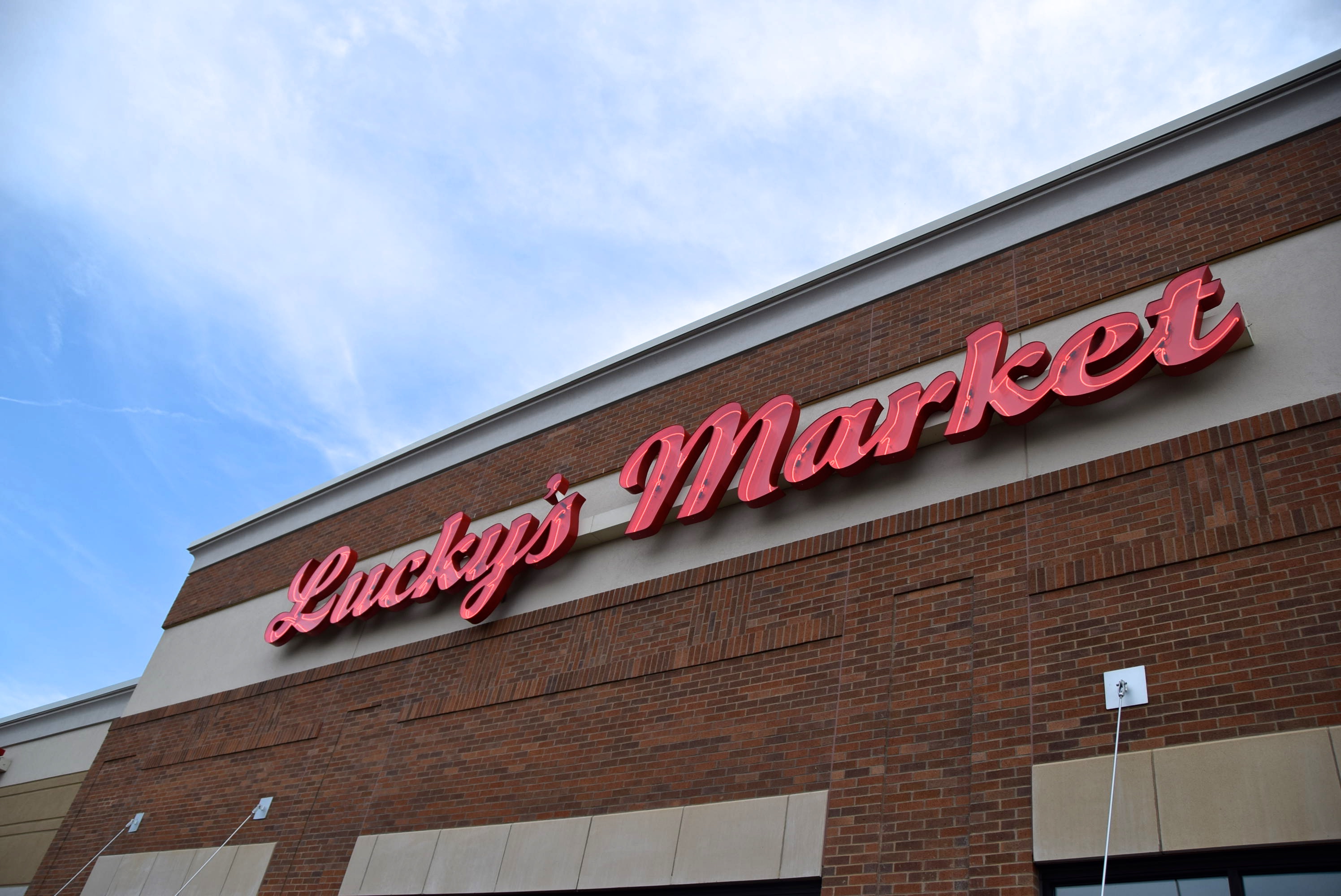 Shopping at Lucky's is always a fun experience. Feeling good about the ingredients we buy is important, and we love how much Lucky's supports other local St. Louis companies. There are often local vendors giving out samples of their products and new St. Louis items featured in the store. Lucky's reminds us that grocery shopping can be enjoyable and even meaningful. We're LUCKY (HA!) to have two locations in St. Louis.