This summer Neil and I traveled to New Orleans. I had been a few times, but Neil had never been. Since we both enjoy good food and music (and with Neil's jazz background), we decided it was time to journey down south and as they say, let the good times roll. We stayed in an Air B&B just off Magazine Street, away from the touristy French Quarter, and close to public transportation so we could take the bus or streetcar wherever we'd like. It was the perfect location. For six days, we explored the city, eating and drinking our way around the unique historic town. At the end of each day, we wrote down every place we visited that day. Below you'll find that list, along with our thoughts on the place and a few pictures.
Cavan: We walked here right after we first arrived in NOLA, and ordered a sazerac right away! When in Rome, right? This place is still pretty new, located in a renovated mansion. We also got the pimento dip, which was delicious.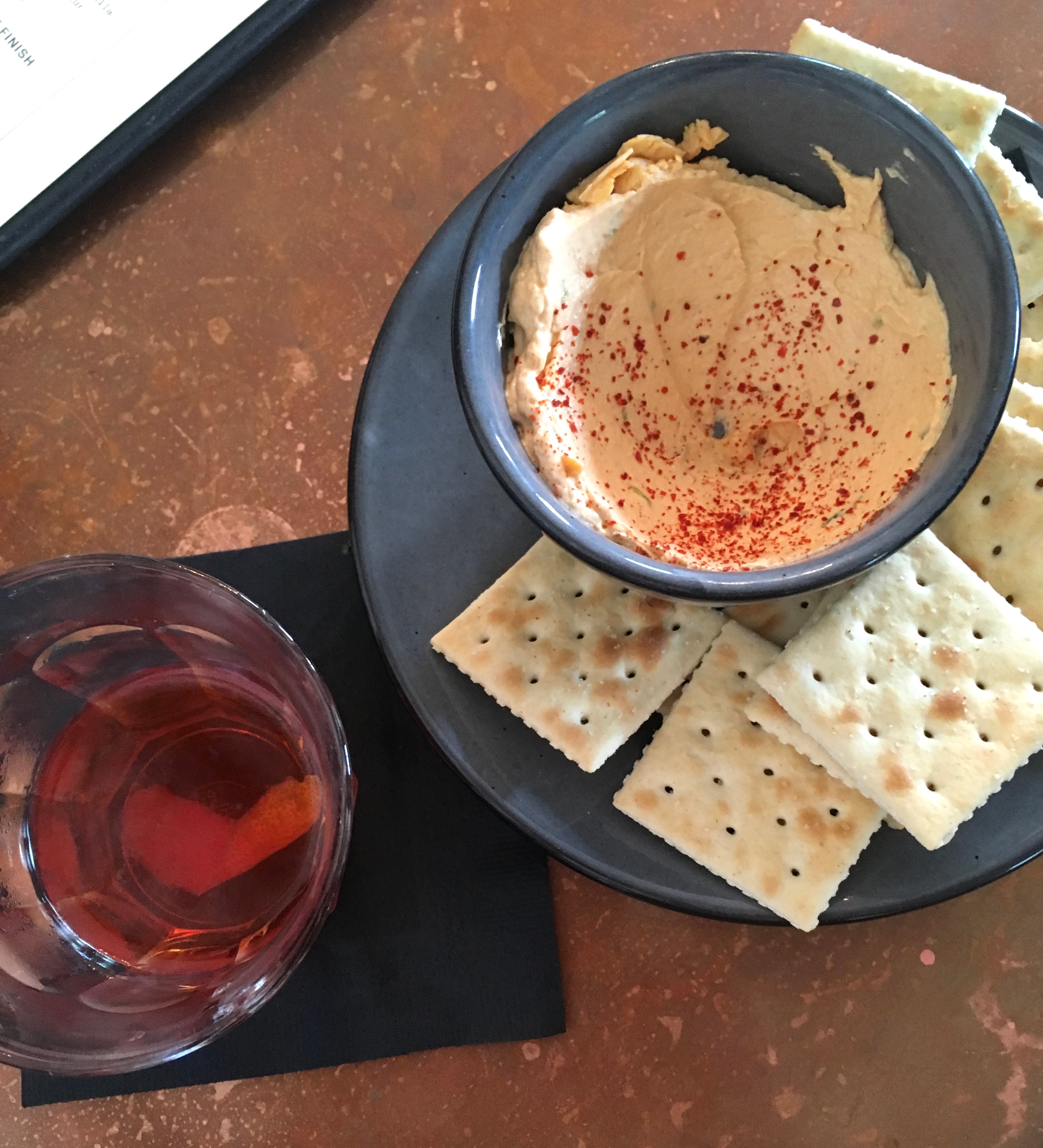 Rum House: Also located along Magazine Street, this busy spot had great cocktails, a popular happy hour, and a delicious looking menu.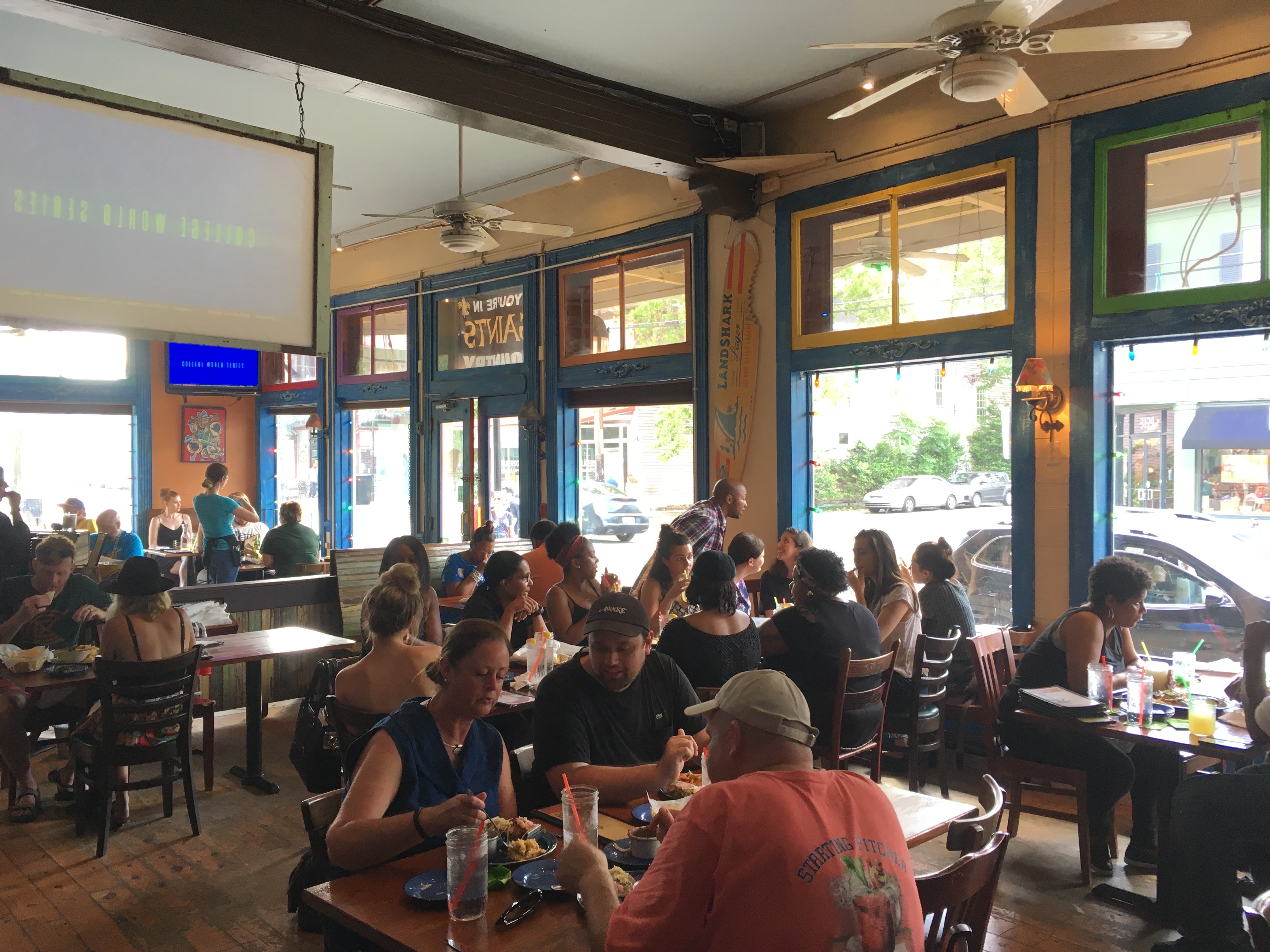 Peche: One of the most popular restaurant groups in New Orleans is owned by John Besh. He's got it going on. Our first night, we went to Peche, a seafood focused restaurant with a fresh raw bar and innovative dishes. Everything we got was delicious, but the shrimp roll was most memorable. We apologize for the poor quality of this photo, but just look at those shrimp piled high!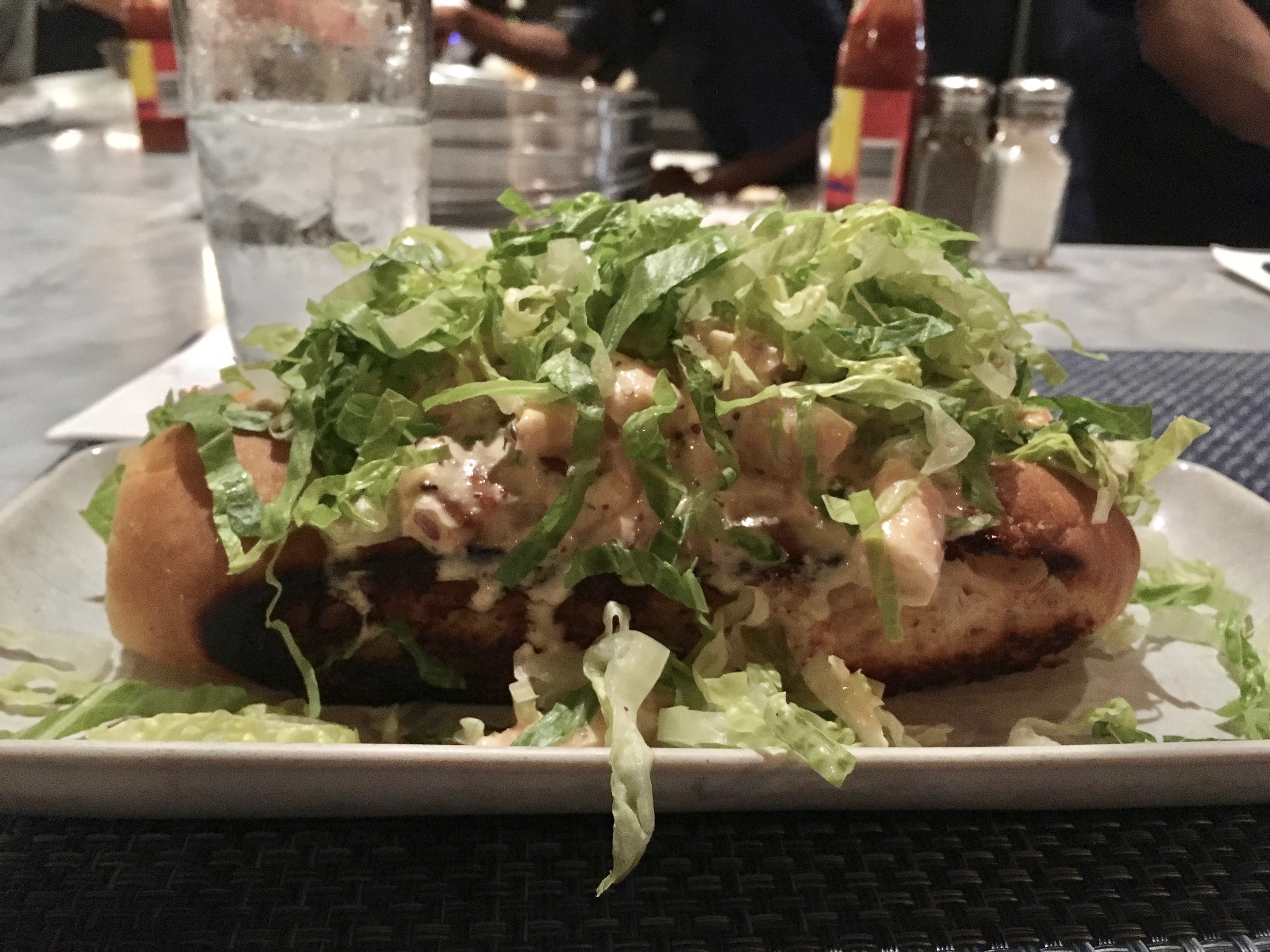 La Boulangerie: This was one of our favorite spots, and we only later learned that it was also owned by the John Besh restaurant group. Fresh pastries, bagels, sandwiches, ice cream, and more, in a very European atmosphere. We actually went here more than once during our trip. It's a great place to start the day. Get the chocolate almond croissant.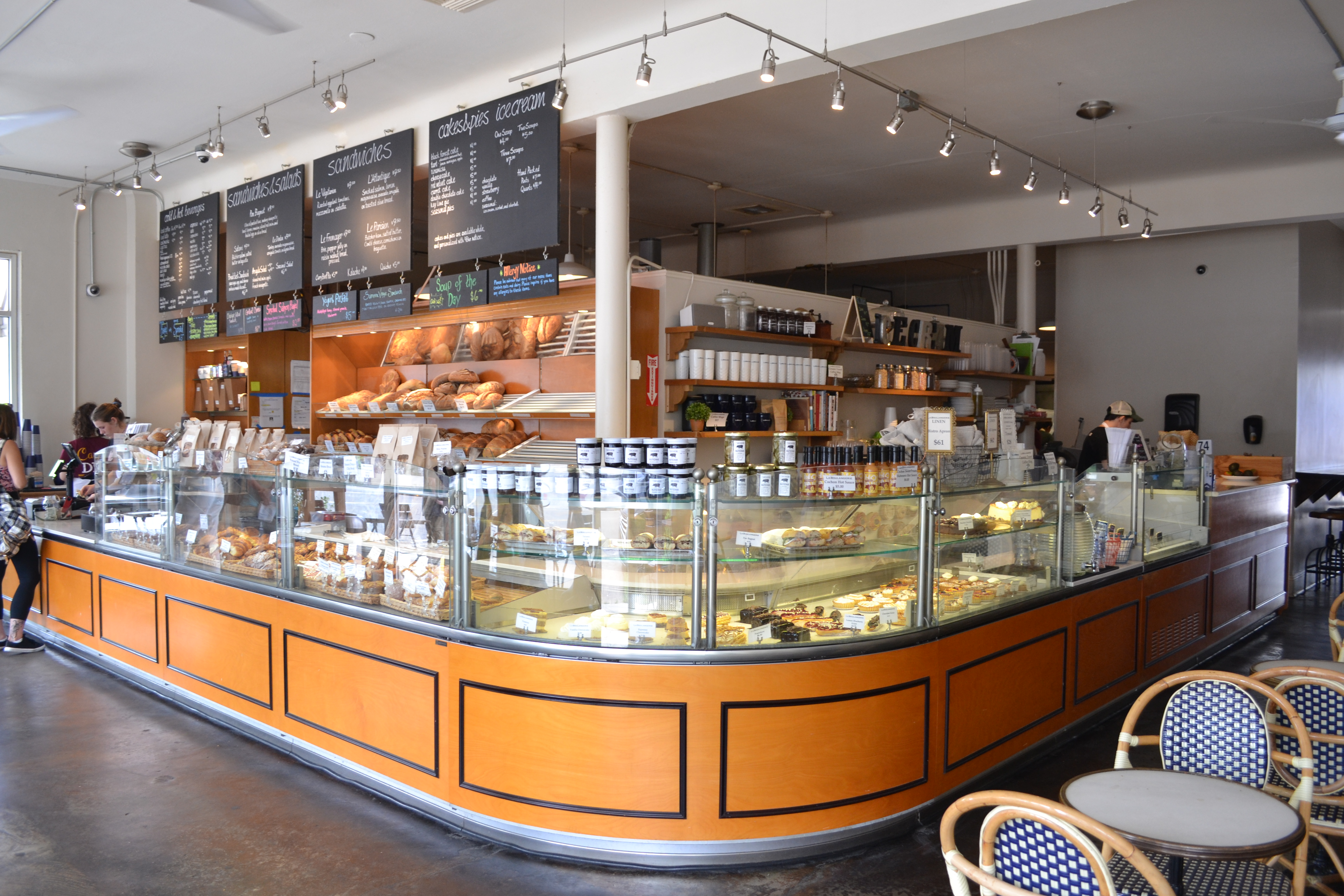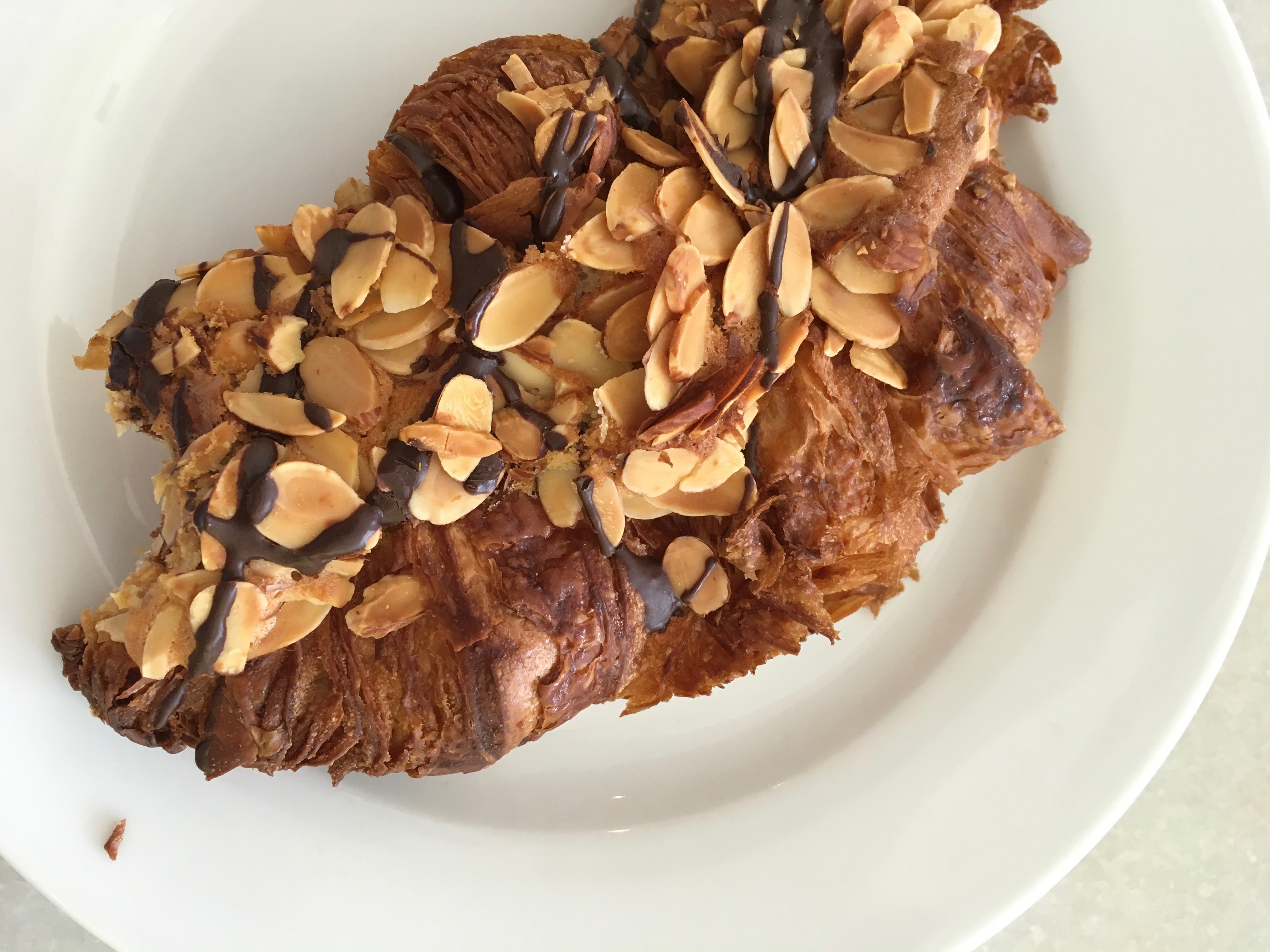 Drink & Learn: We only signed up for ONE tour our whole time in New Orleans: Drink & Learn. On this tour, cocktail historian Elizabeth Pearce tells a captivating history of the city through the the development of various New Orleans cocktails. Included in the price of the tour are four cocktails that you sip on as you wander with Elizabeth through the streets of the French Quarter, learning about the city and culture that gave birth to the rise of each cocktail. Worth every penny.
Cane and Table: Next, we were off to Cane and Table for a late-night dinner. It's a great place to buy a bunch of small plates and split with the table. We recommend the mofongo and avocado frites. Those avocado frites haunted my dreams for weeks to come.
Antoine's: We splurged on brunch and went to Antoine's, one of the oldest restaurants in the city. This. Place. Was. Amazing. It's a huge property with many rooms (some of them more hidden than others), and seems more like a museum in some parts. There are entire rooms dedicated to the Rex (King) of Mardi Gras and also the Queens! The wine cellar alone took up an entire block. We had some of the best food here. On Sundays they have a jazz brunch, with live musicians in the main dining room. We got the escargot, benedict, and veal with jumbo lump crab. All of our dishes were excellent. This place deserves a post in itself to fully convey its grandeur.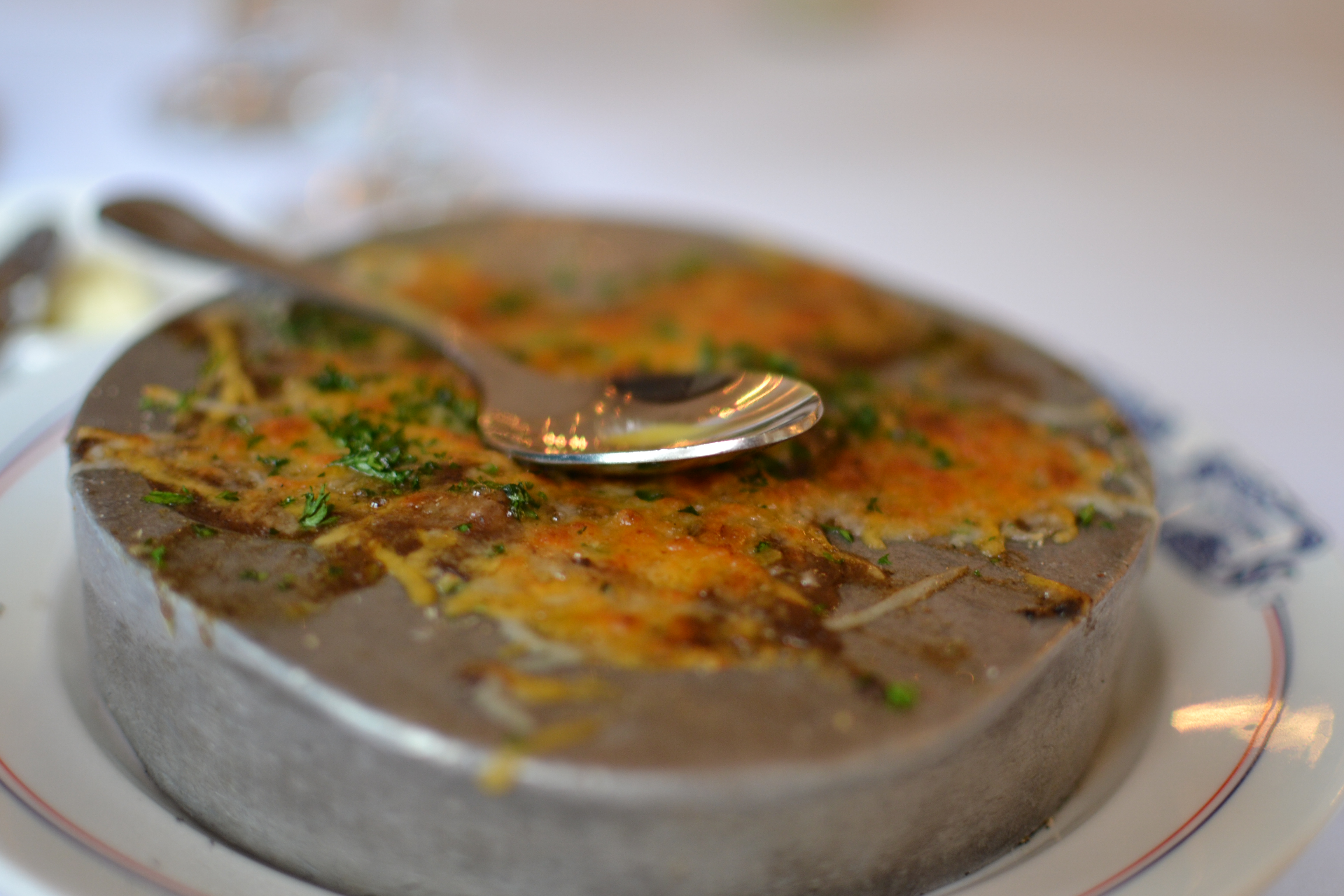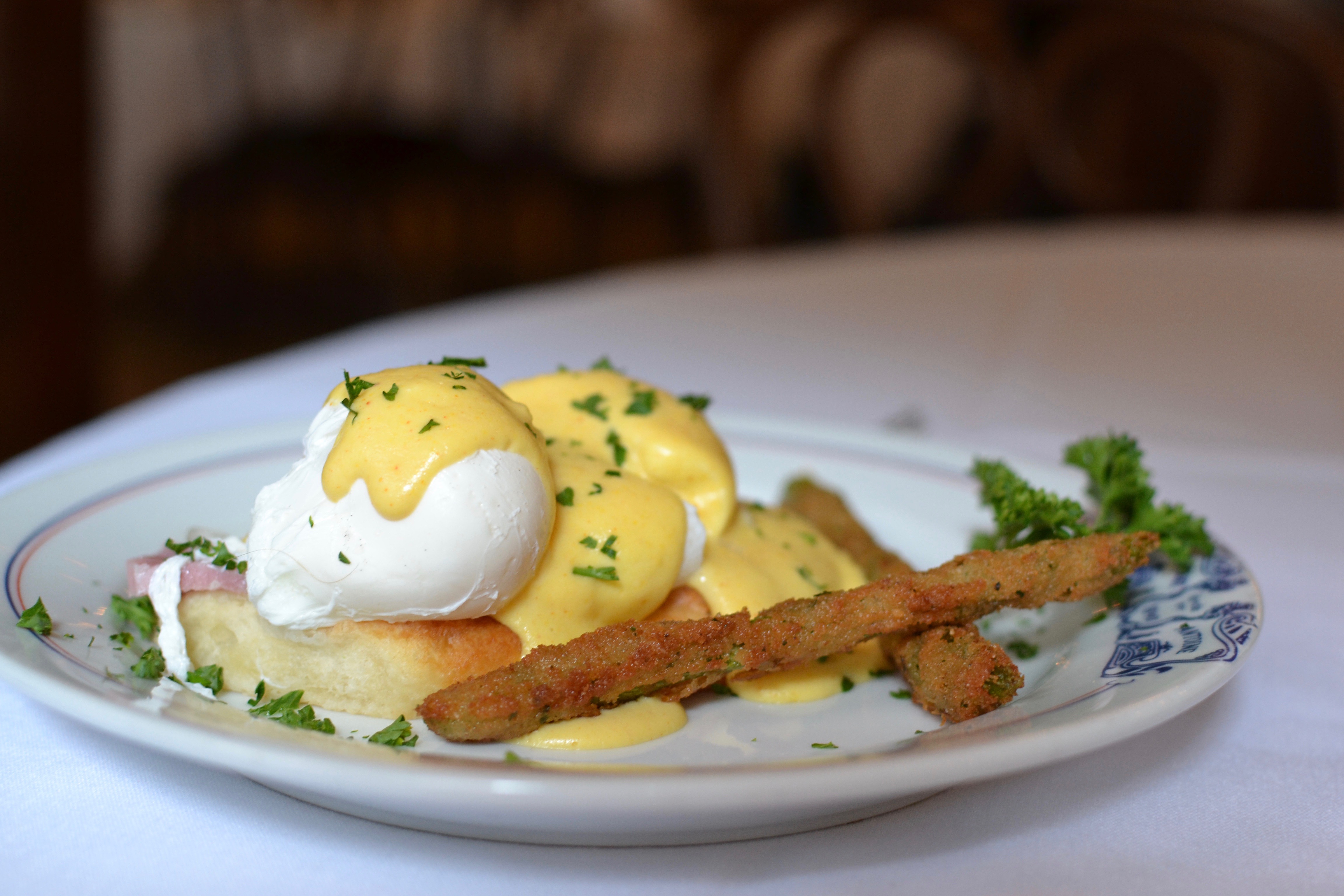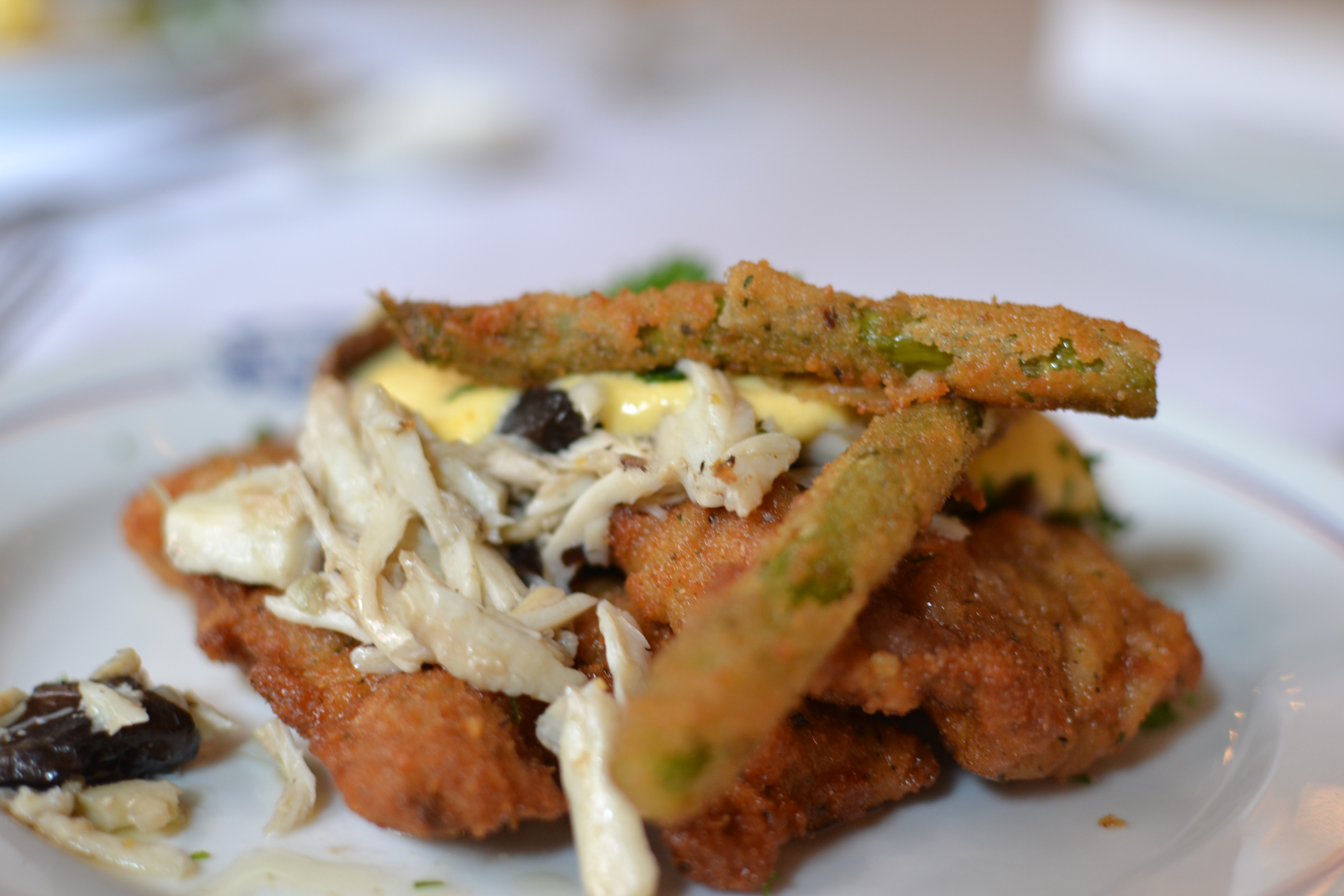 Lüke: Yes, you guessed it, also owned by John Besh. This place has a great happy hour with one of the best oyster deals in the city. 
Cure: We took the bus to this hip spot (which was quite off the beaten path) because it of their James Beard Award nominated bar program. It was worth the trip. The place itself has a cool vibe and the cocktails were great. Again, when in NOLA, you get a sazerac, so we did.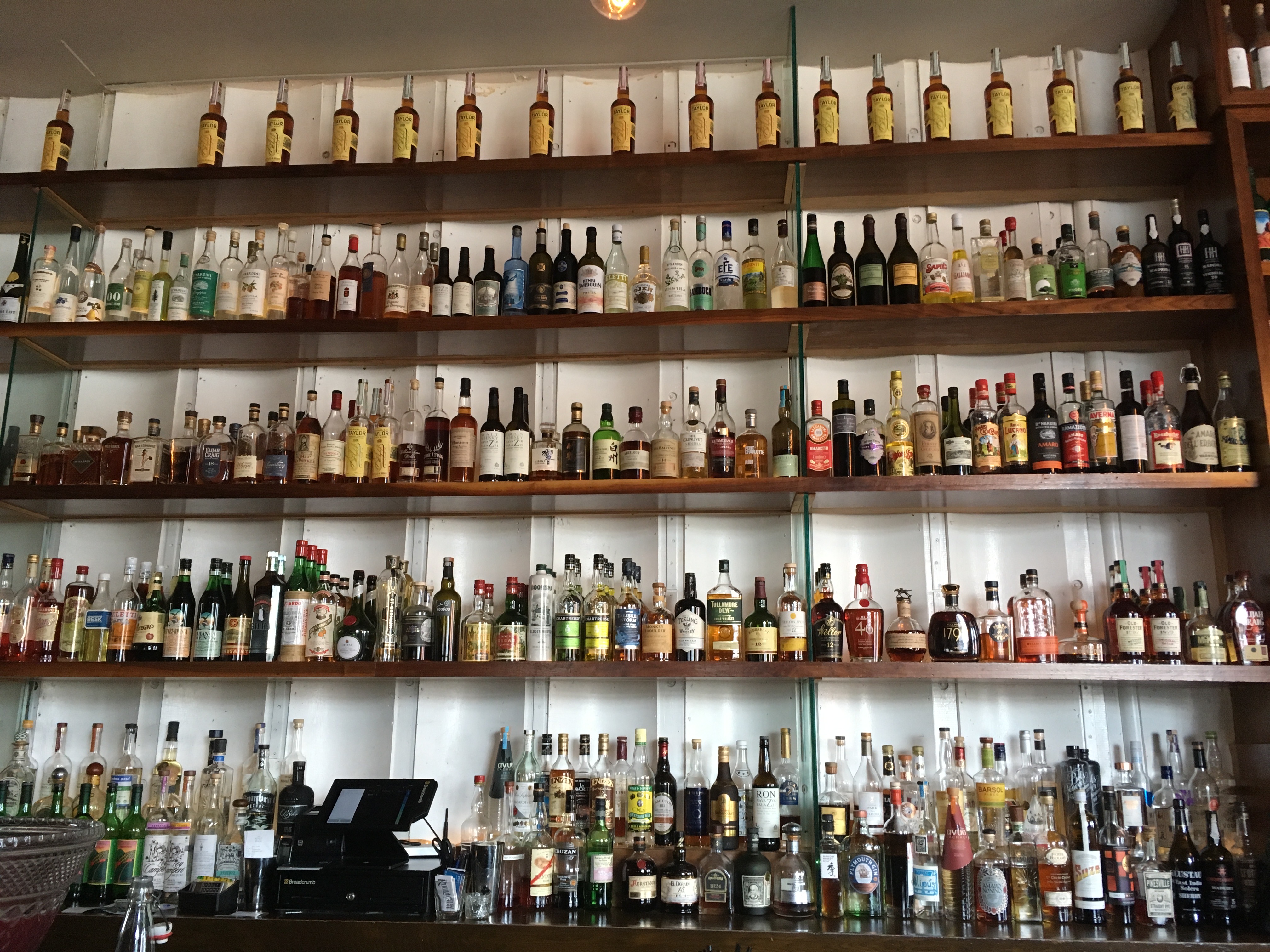 Bulldog: This neighborhood watering hole featured an impressive beer list and a great patio. It's located on our beloved Magazine Street, and was the place to go to find local beers.
Dat Dog: This small casual restaurant boasts hot dogs unlike any you've probably had in the past. Mine was actually a long juicy piece of buffalo fried chicken with slaw and "chick sauce." They also have alligator, crawfish, and duck sausage. This place is out-of-control delicious, super cheap, and one we keep talking about. My pictures didn't turn out well from this location, but go over to their website and check out the menu! 
Borgne: My cousin recommended this place, and we were not disappointed. Yes, yes, John Besh again. During the week, they have $10 lunch plates that are incredible. We were there on a Monday, so the special was red beans & rice… and just for kicks they pile it atop an entire fried pork chop. Wowza. 
Carousel Bar: Located in Hotel Montelone, this bar actually rotates as you sit on one of the 25 seats and sip on your cocktail. They've been rotating for 65 years and have no plan on stopping! We recommend their signature cocktail, the Vieux Carre.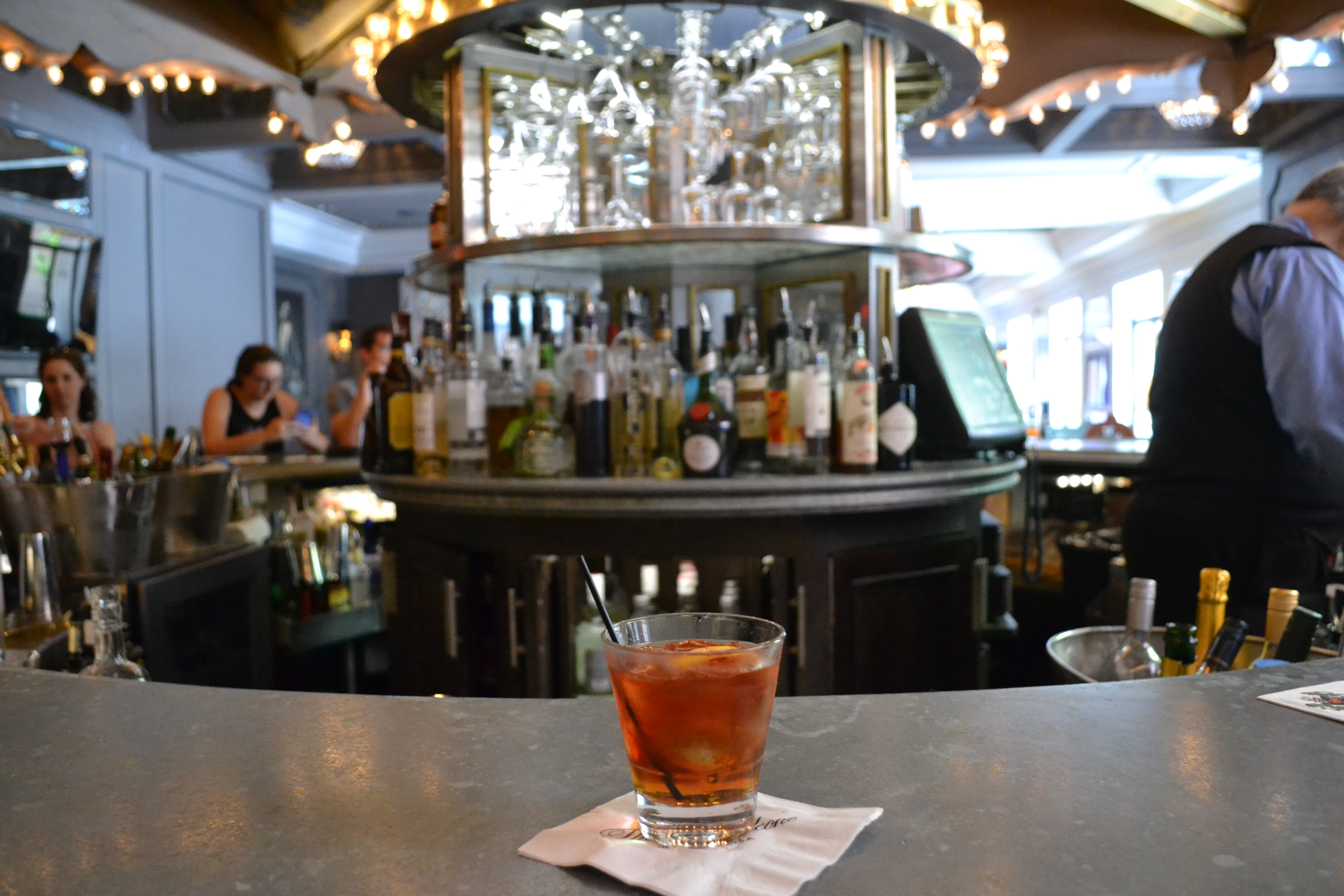 Lafitte's Blacksmith Shop Bar: This historic place is rumored to be haunted, built between 1722 and 1732, and is claimed to be the oldest bar in the country. You're supposed to get the purple drink (a frozen concoction that (in our opinion) tastes like grape medicine) and sit by the fireplace, where Lafitte's ghost is said to linger. There are plenty of ghost tours you can sign up for, and this bar is often a stop along the way.
Beachbum Barry's Latitude 29: Elizabeth from the previously mentioned Drink & Learn recommended this place, since New Orleans has traditionally been known for their rum imports. This was the tiki bar to rule all tiki bars. All of the drinks are incredible, the menu is fun, and the bar staff was overflowing with zen. 
Stumptown Coffee: A hip coffee shop in the modern Ace hotel, this is the perfect place to grab a cold brew on a hot day. It's fun to explore all the Ace hotel has to offer as well!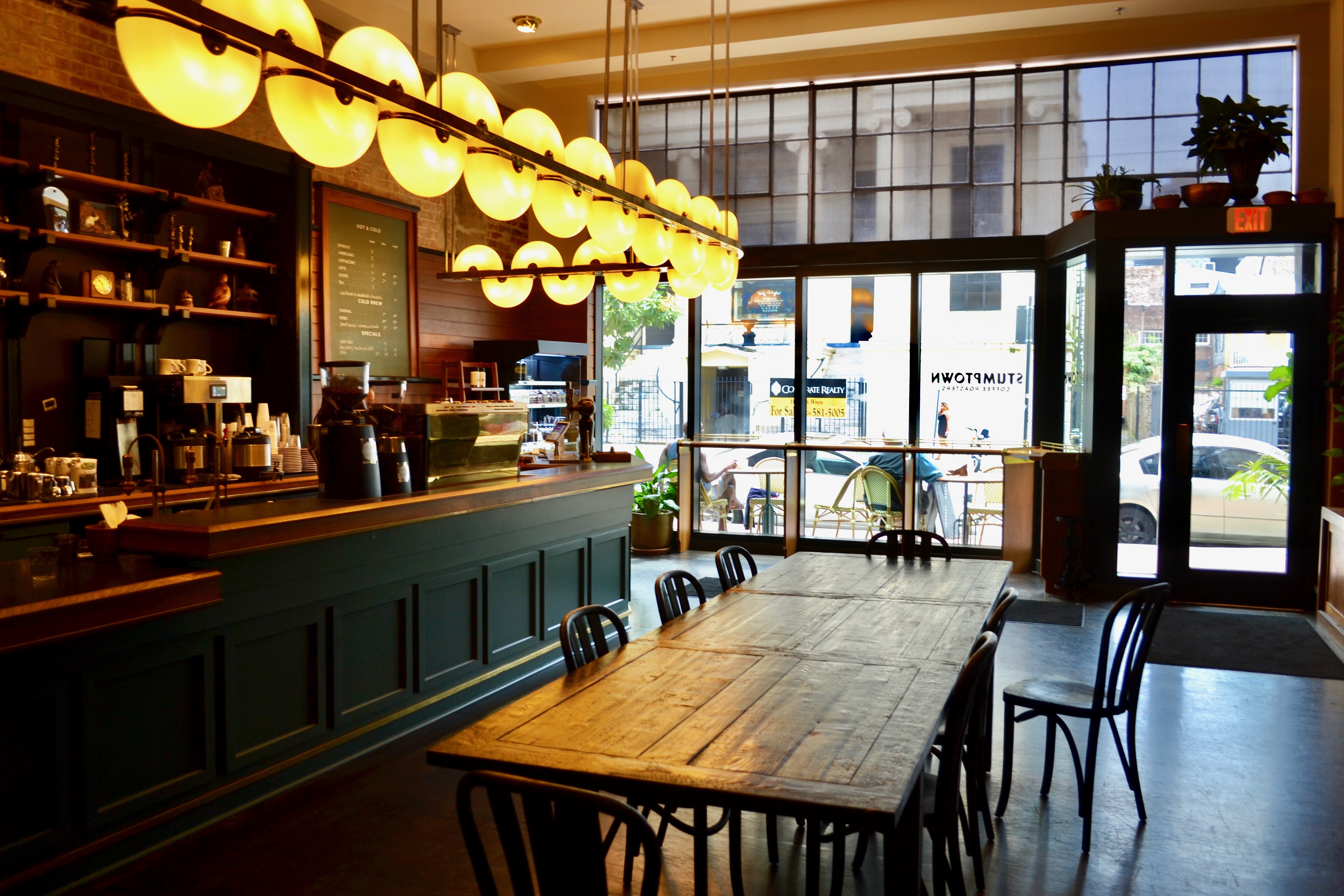 Araña: We stopped in here for happy hour since it was close to our Air B&B and were pleasantly surprised by the delicious margaritas. 
Atchafalaya: This is one spot that I've been to a few times, and wanted to bring Neil to. It's actually owned by a St. Louis native, who recognized my 314 area code and struck up a conversation about (of course) where I went to high school. This restaurant is located off Magazine Street and features local specialties.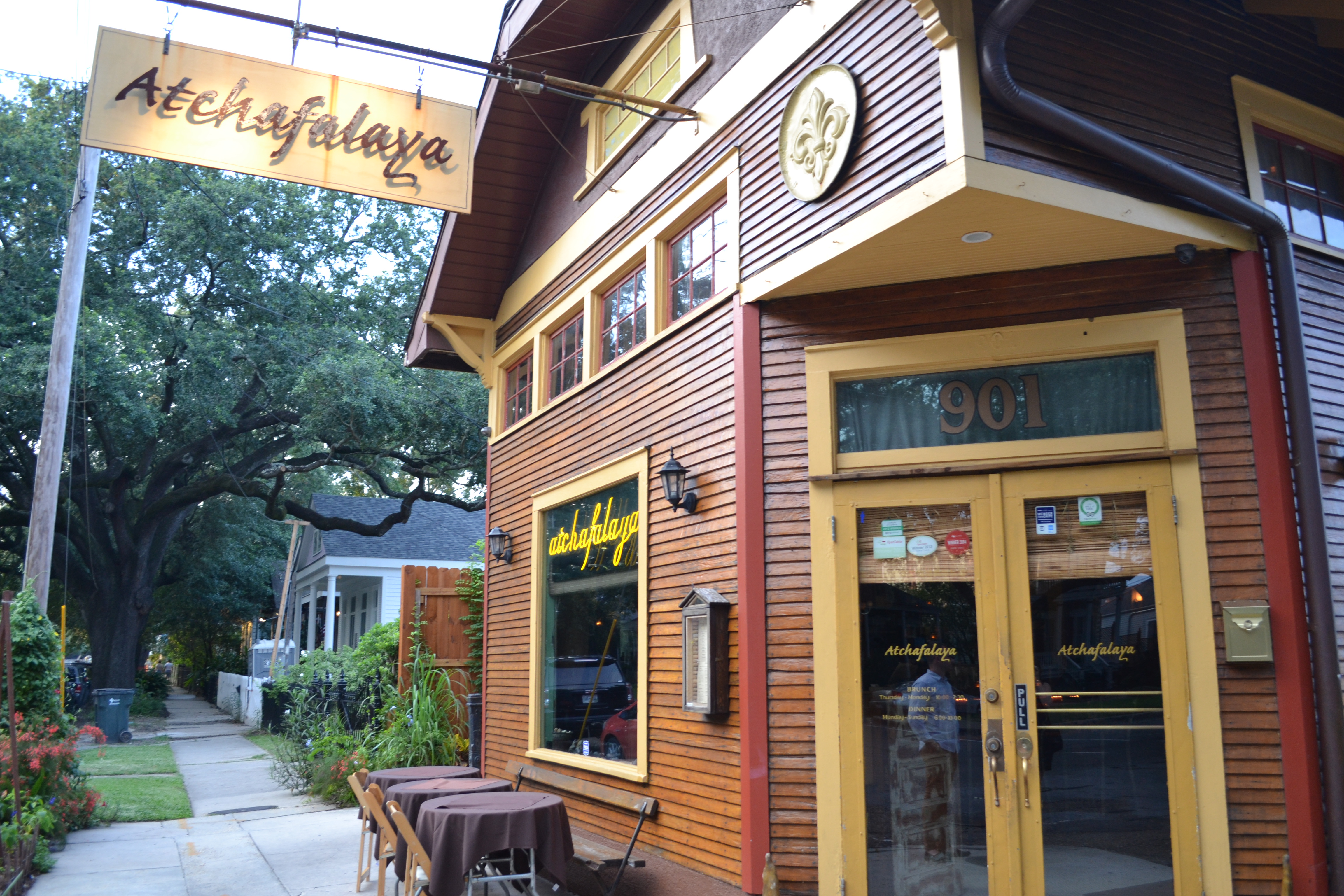 Ignatcius Coffee: A friendly local coffee stop along Magazine Street, it's another good spot to grab an iced coffee and cool off from the summer humidity. 
Ruby Slipper Café: This place has multiple locations across the New Orleans region, all featuring the same delicious menu. Best bloody mary I've ever had (complete with bacon-infused vodka), accompanied by their special benedict of the day, a buffalo chicken benedict topped with blue cheese sauce. Neil got the croque madame.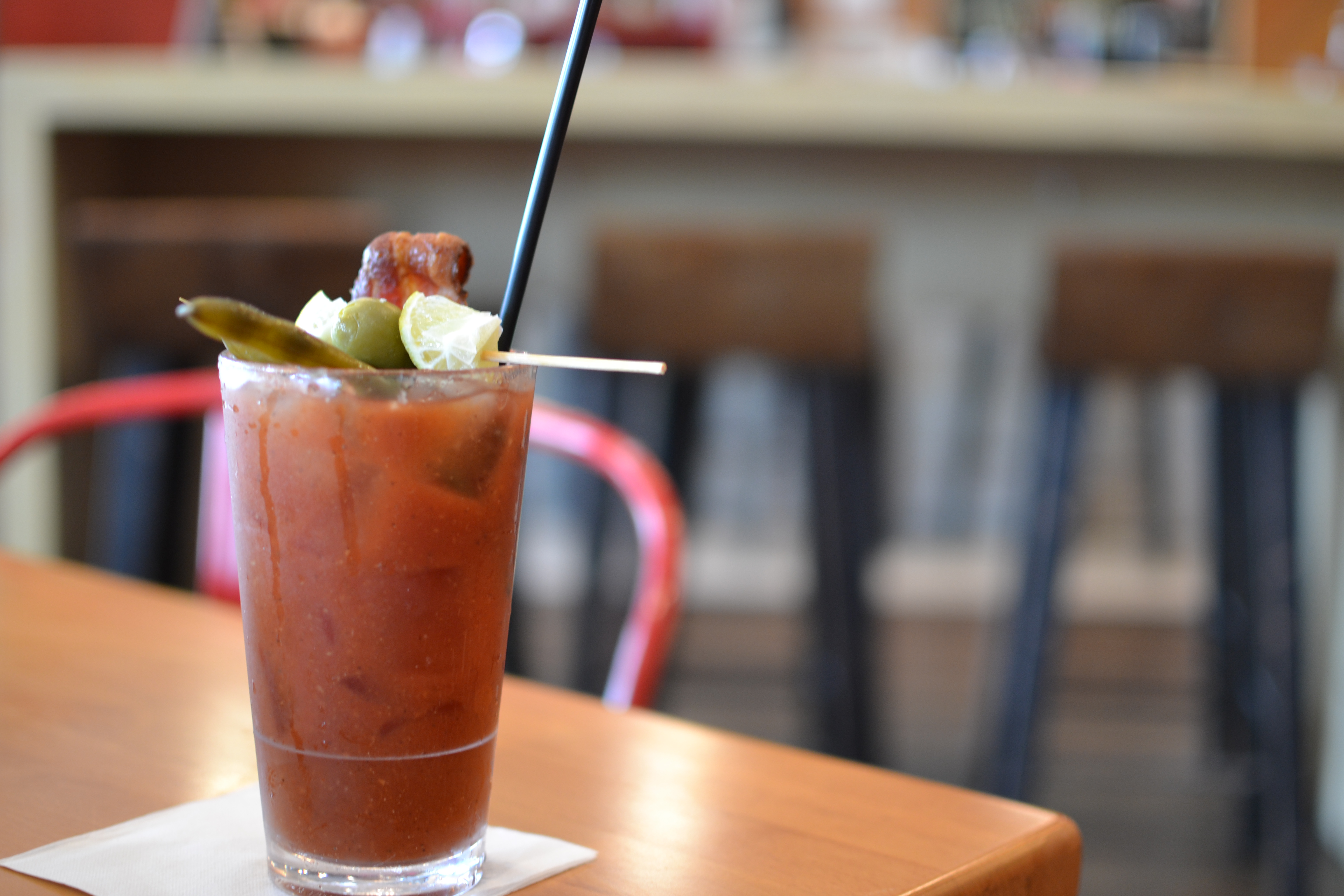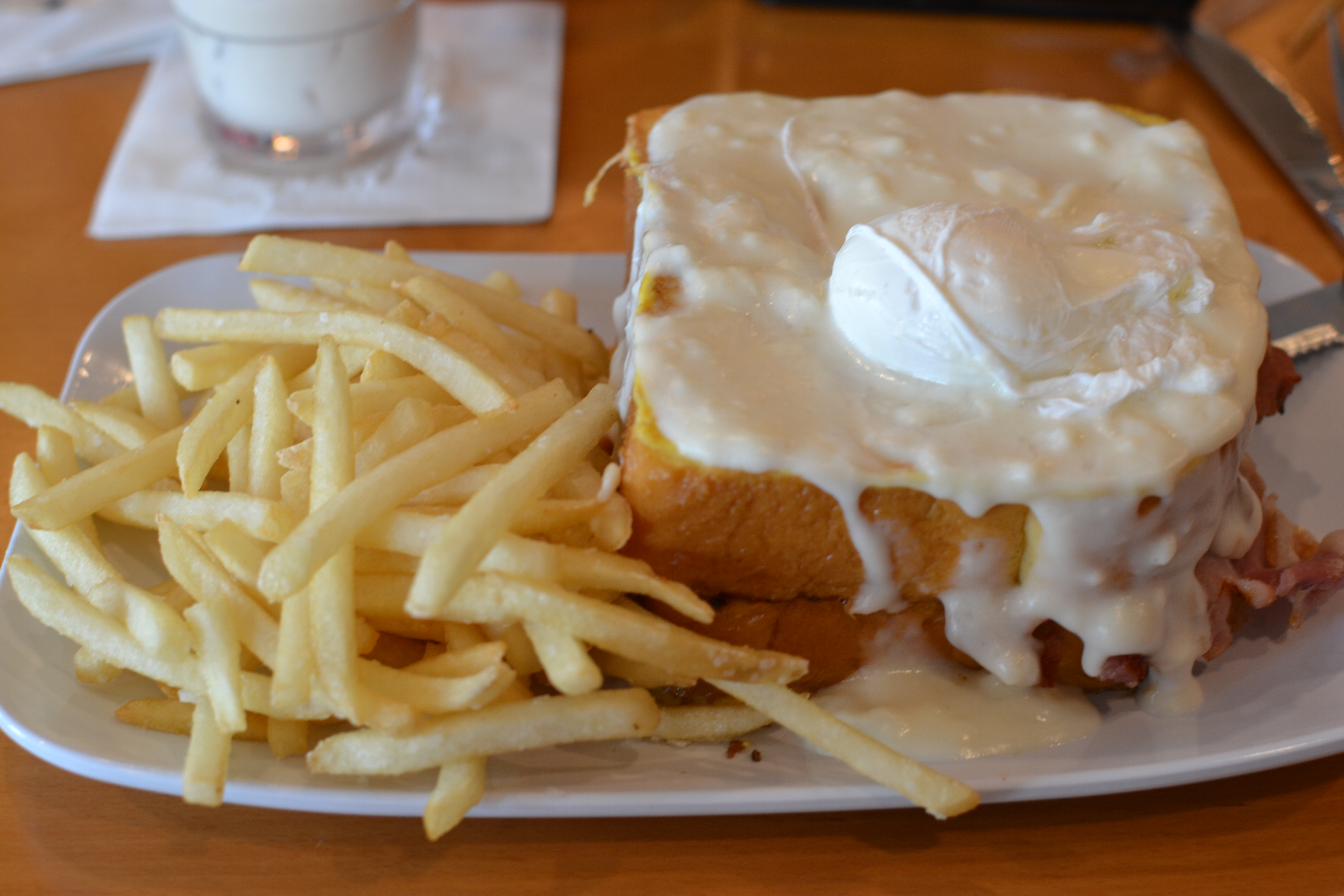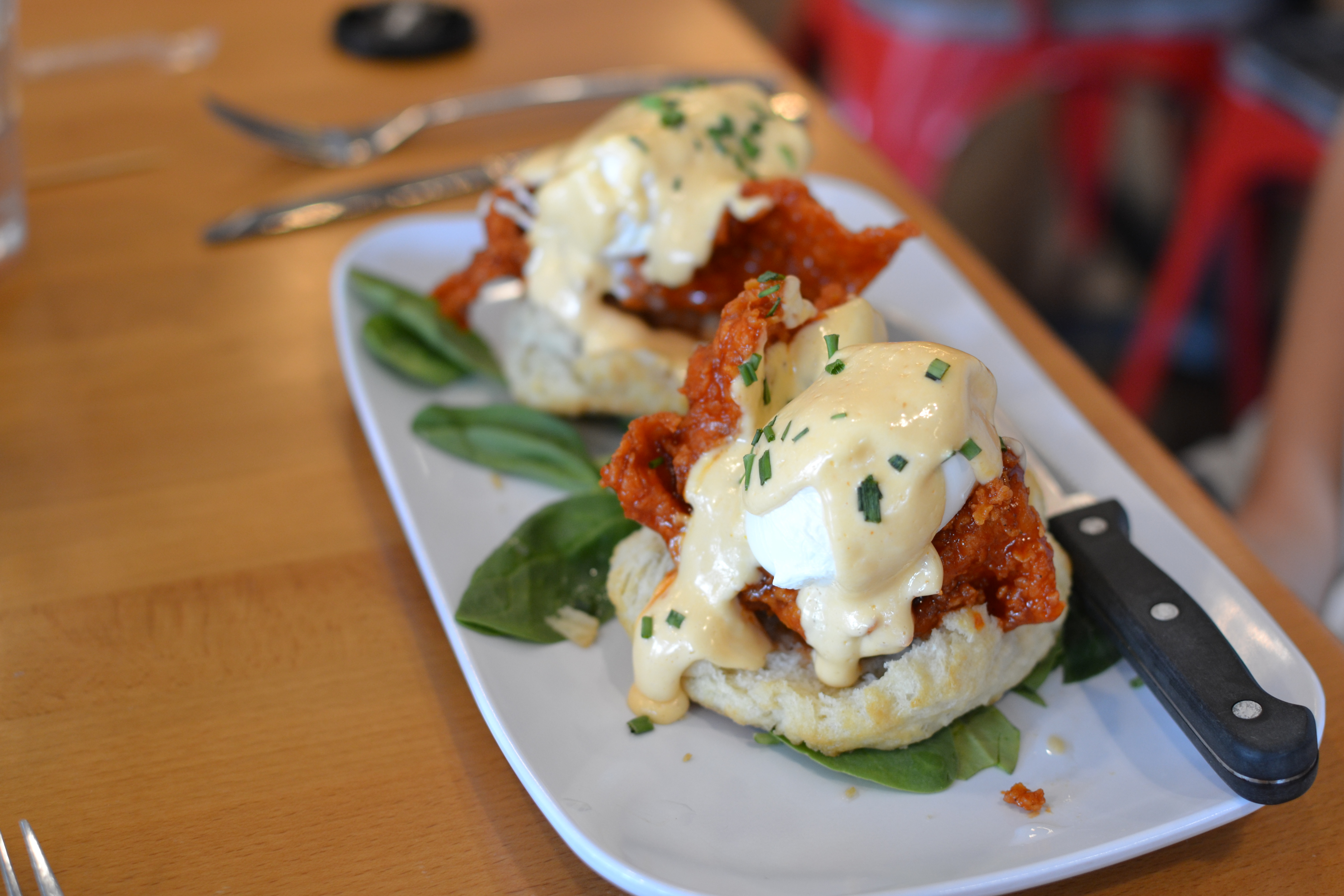 Bar Tonique: Located at the edge of the French Quarter, this is a neighborhood bar with more of a grungy vibe. My moscow mule was made with a house-made ginger syrup that was crazy good. 
Cafe du Monde: Most people (even if you haven't been to New Orleans) are familiar with the iconic Cafe du Monde beignets. Big, pillowy pastries (similar to donuts) with mountains of powdered sugar, served alongside chicory coffee 24 hours a day. If you go to New Orleans, you simply have to go. It's best to go super early in the morning or at a time in the afternoon close to dinner to avoid the long lines. Cash only!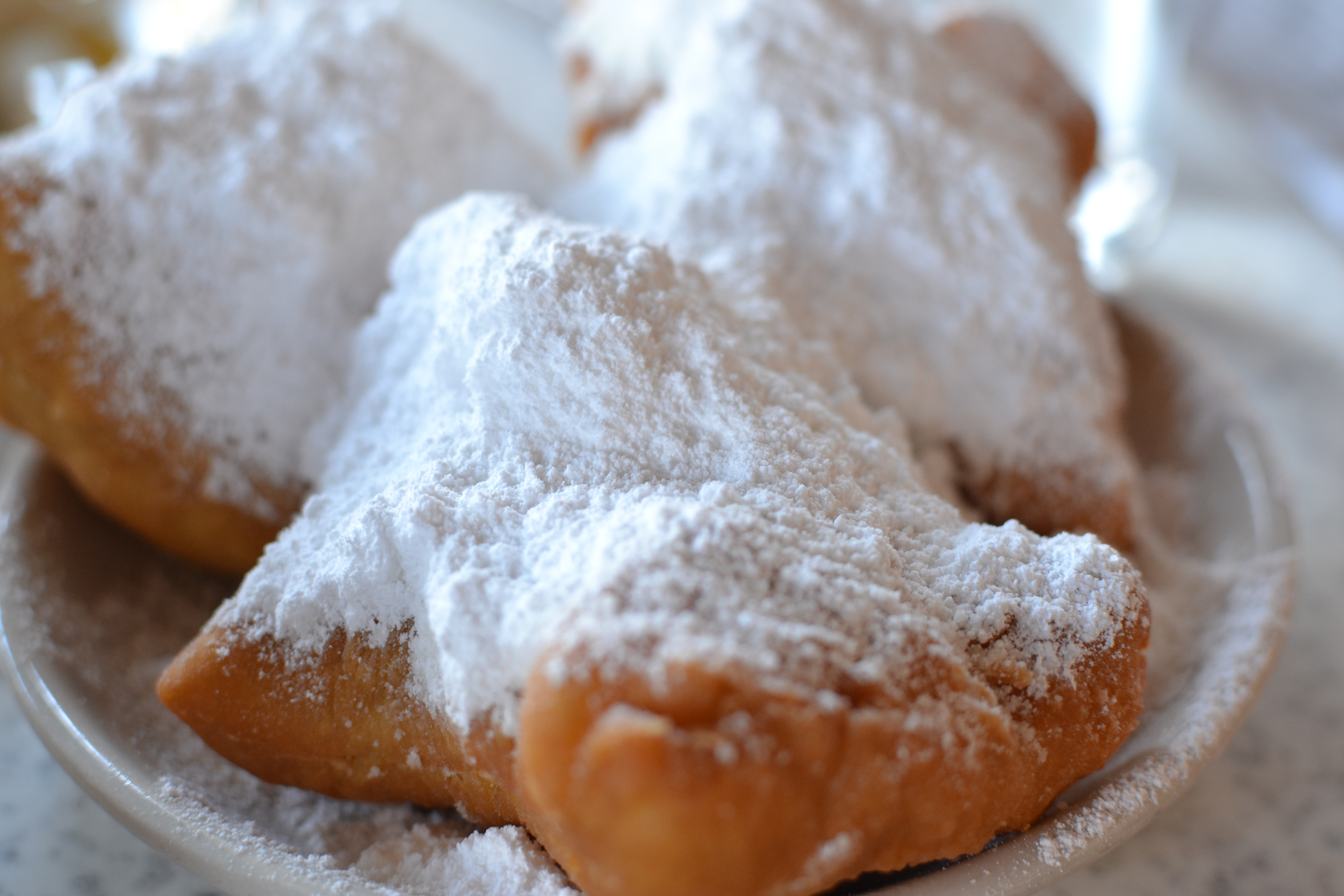 Morning Call: Cafe du Monde isn't the only place serving up beignets 24 hours a day. For a little less touristy spot, we hopped on the bus and went to City Park, where we found the Morning Call. You can powder your own beignets to your liking, and they are much lighter and fluffy than their heavier counterparts at Cafe du Monde. City Park is also a gorgeous park with old mossy trees and a few museums.
Arnaud's French 75: Arnaud's is another one of those classy restaurants that's been around forever that we just had to pop in. We stopped in for a drink in the swanky French 75 bar and had (can you guess?) a French 75. Pro tip: Upstairs there is a free Mardi Gras museum complete with mannequins, costumes, hats, and more. Worth wandering up there!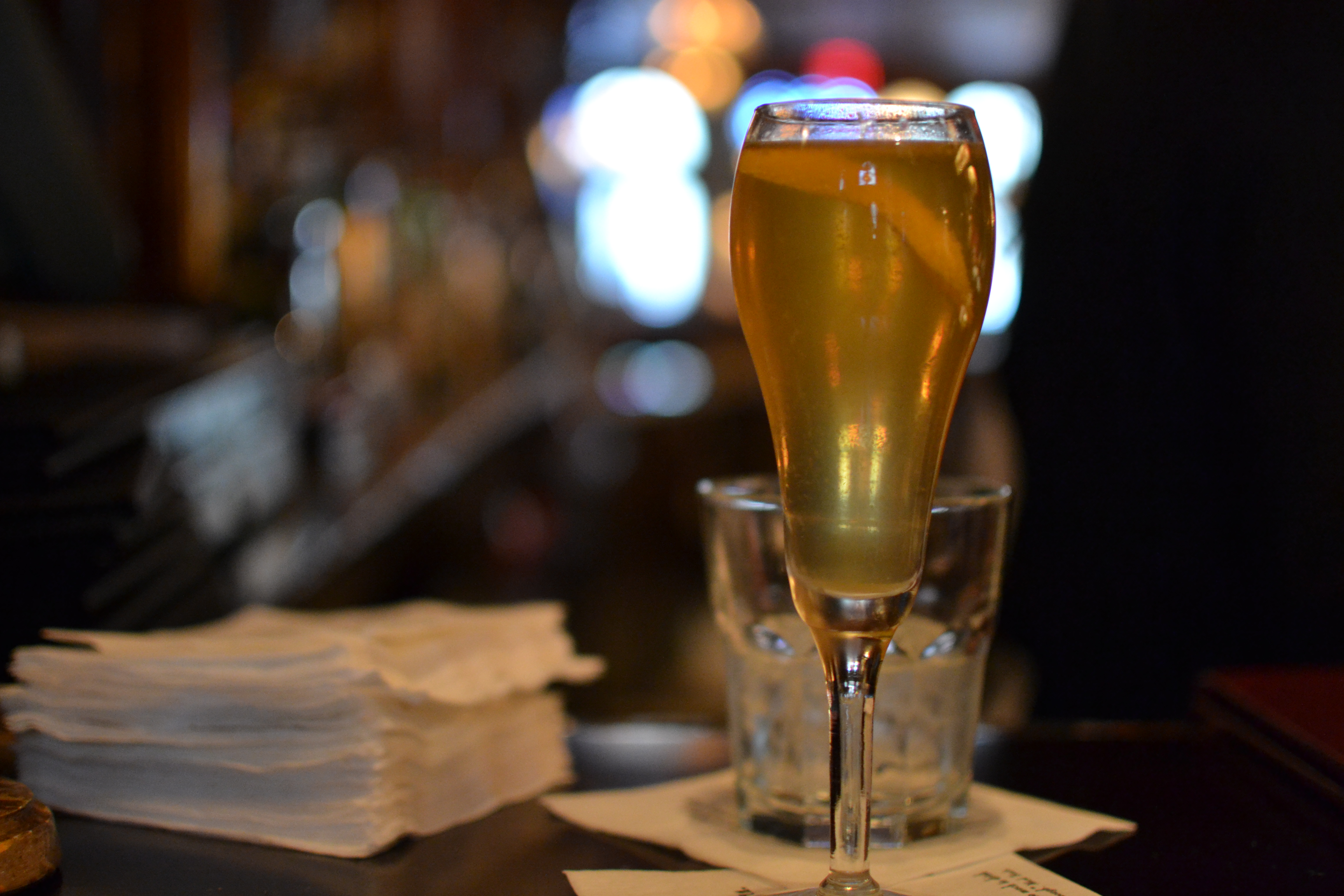 Regenelli's: Sometimes on vacation, you just need pizza. Doesn't matter what town you're in. I believe a local pizza place can tell you more about a town than any blog post. We walked to Regenelli's from our Air B&B and it did not disappoint. Handmade dough, fresh flavors, and local beers.
Willa Jean: This new hip spot in the Central Business District is (also) owned by John Besh. They serve all sorts of delicious food throughout the day, and we highly recommend the "cookies + milk," pictured below. It's perhaps the best chocolate chip cookie we've ever had: warm and gooey with huge chunks of chocolate, topped with a little salt and vanilla-infused milk, and served with a batter of cookie dough. Yep, this one is what dreams are made of.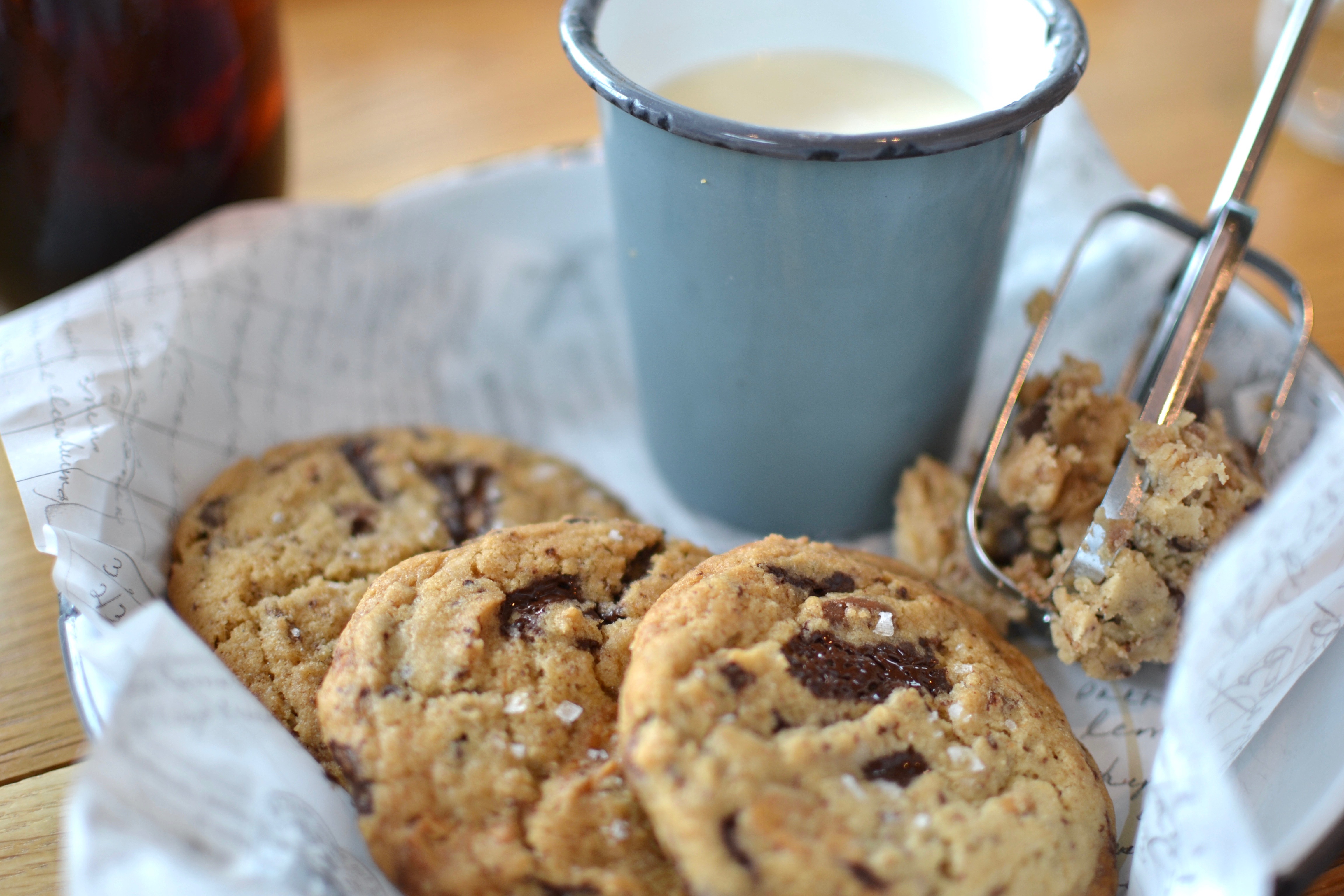 Molly's at the Market: Another haunted bar, this spot right in the heart of the French Quarter has been featured on national travel shows. This had more of a dive bar vibe than others, and I think that's how they like it. The ashes of the previous owner are kept in an urn above the cash register, because apparently he wanted to watch over his money! Get the famous frozen Irish coffee.
Tujague's: This historic bar is worth checking out when you're in the French Quarter. The restaurant was established in 1856.
Sazerac Bar: One of our favorite spots happened to be the most swanky in town: the Sazerac Bar. This place is located in The Roosevelt hotel, which is fun to explore and see the impressive mosaics that line the halls and restaurants. The gin fizz (pictured below) was just incredible.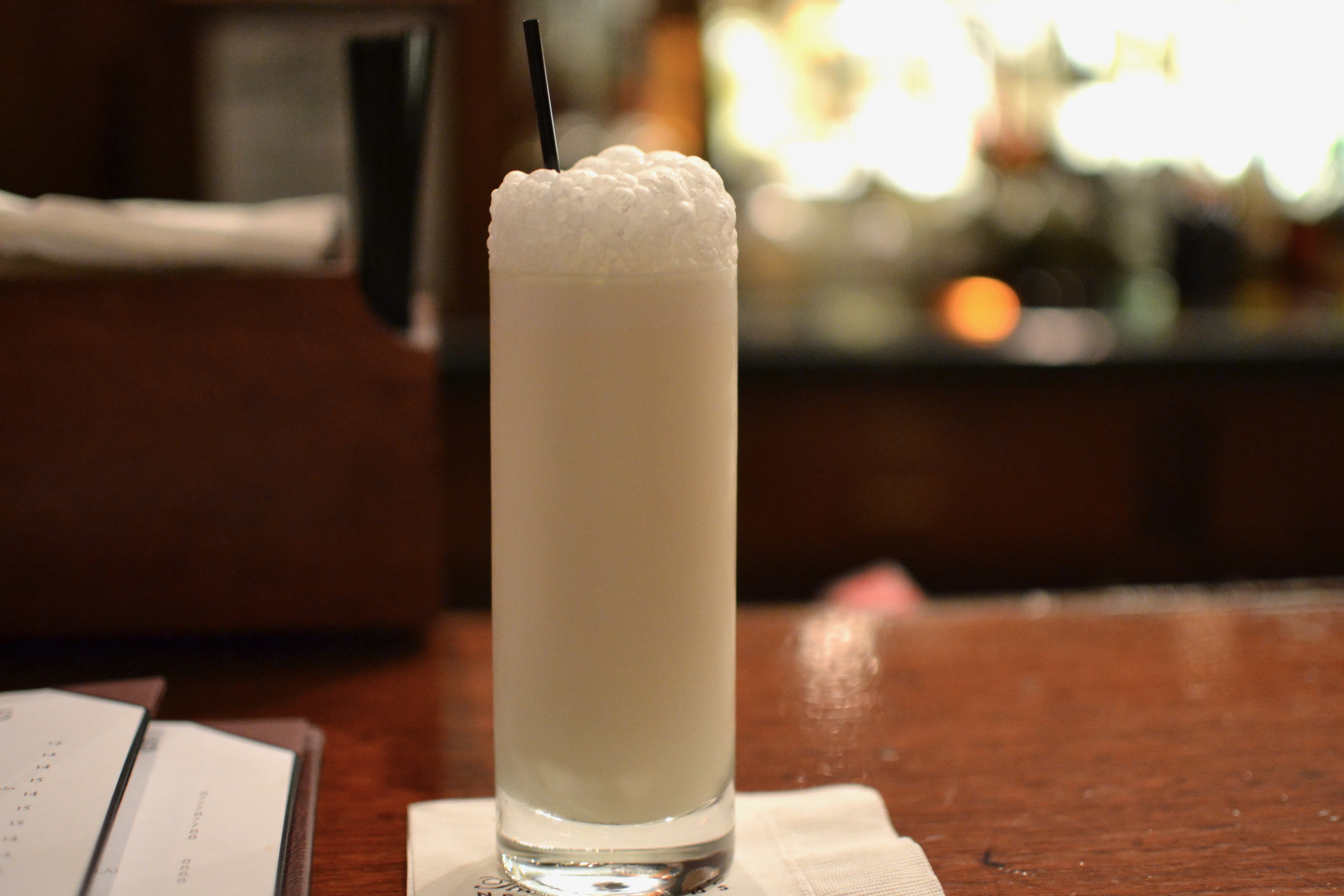 Commander's Palace: Finally, we saved our grand finale meal for the last night. Commander's Palace is located in the Garden District, just a few blocks from where we were staying. Dining here is quite the experience. Waiters are dressed in dark suits, matching napkins to your outfit, and I was just waiting for them all to break out in the waiters gallop from Hello, Dolly. We had the turtle soup, filet, soft shell crab, and souflé for dessert. We were both taken aback by the size of the restaurant- it's quite the operation!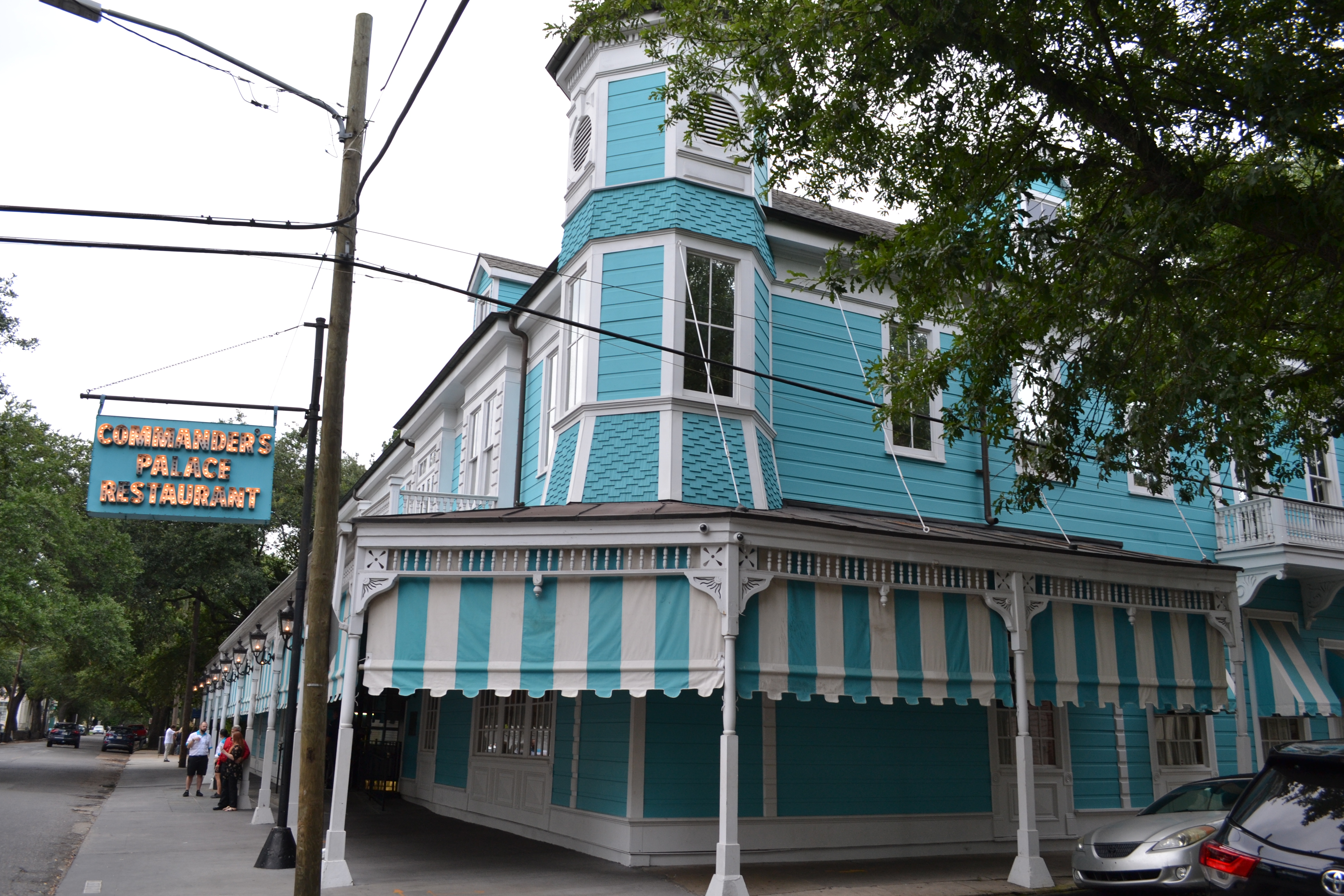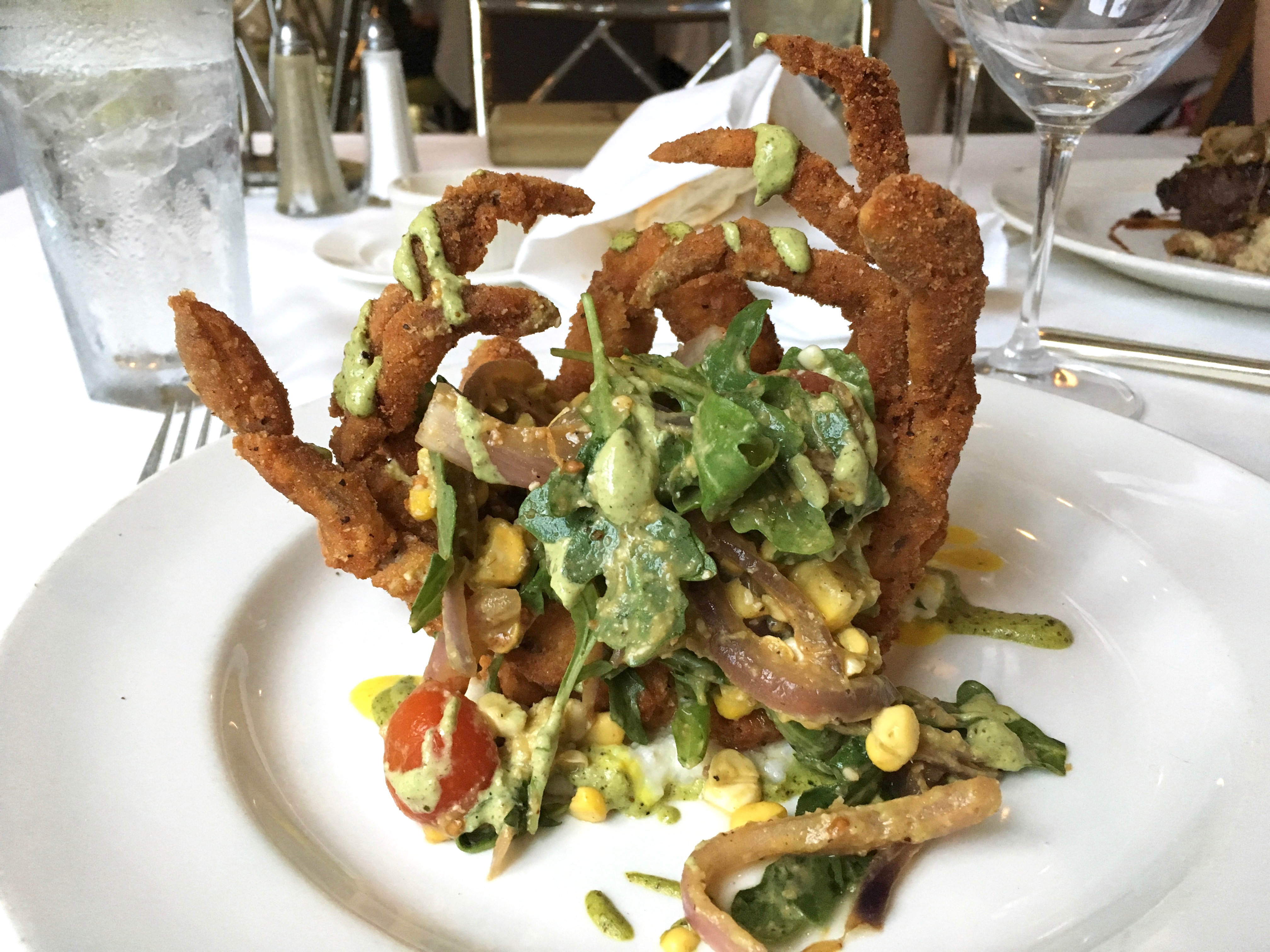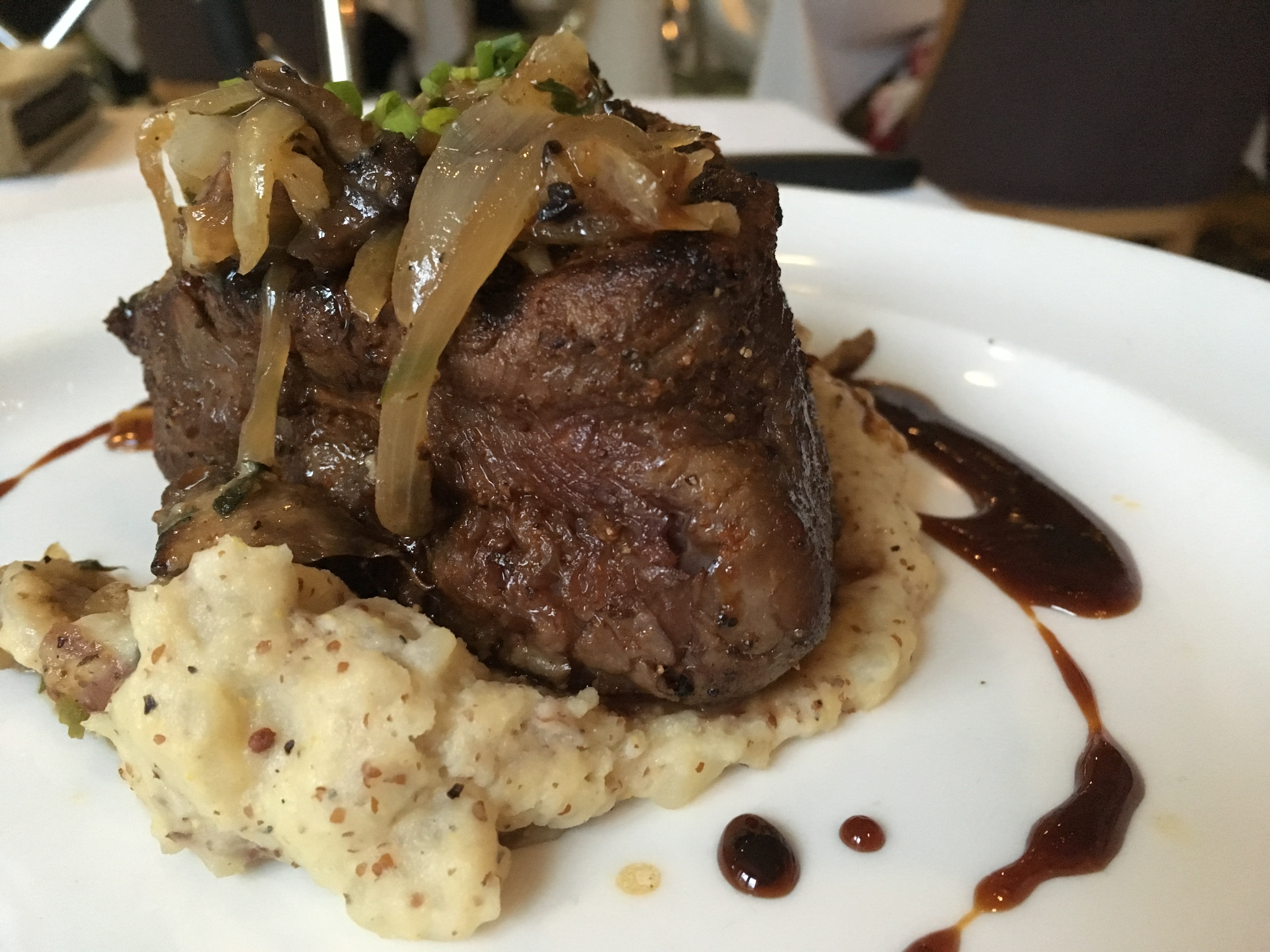 Overall, we had a wonderful vacation. Lots of good food, beautiful architecture, and unique people. We have a ton of other recommendations regarding where to stay, what to see, where to go, but whew, this food post was long enough. Until next time, NOLA!