By now, if you live in St. Louis, you've heard of Olive + Oak. You might have even tried getting a reservation, surprised that the next opening for a table for two on a Saturday at 6:00pm is eight weeks away. You might have driven down Lockwood on any night of the week and thought of how you've been meaning to pop in and get a seat at the bar, but it looked too crowded, so you kept on going. You might have even been to Olive + Oak, snagged a reservation long ago, or got there early to grab a seat at the bar, feasting upon some of the finest dishes the city has to offer. But you still might not know the story behind Olive + Oak.
We approached one of the owners, Mark Hinkle, about writing a blog post not only to highlight their ever-changing delicious menu and new summer cocktails, but also to tell their story.
Long before Olive + Oak came the restaurant's namesakes: Ollie Hinkle and Oakes Ortyl. Both sweet boys were born with congenital heart defects and passed away at an early age. Ollie's parents, Jennifer and Mark Hinkle and Oakes' parents Greg and Becky Ortyl met through the shared tragedy of losing their sons. Both families started foundations to raise awareness and support continuing research in honor of their sons: The Ollie Hinkle Heart Foundation and The Mighty Oakes Heart Foundation. And in the darkest time, a new partnership was coming forth.
Hinkle (most recently on the managerial staff at Annie Gunn's) and Ortyl teamed up to venture into starting a restaurant in Webster Groves, where both of their families are from. Olive + Oak is appropriately located in the heart of Webster Groves, and brings with it more than just good food.
There is no huge sign for Olive + Oak outside. Its humble storefront and patio seating blends in as a natural part of the Webster community. This makes sense, of course, since the Hinkles, Ortyls, and Chef Jesse Mendica are all from Webster. They understand the importance of the small town, community feel that Webster is known for, and it seamlessly translates into the decor at Olive + Oak.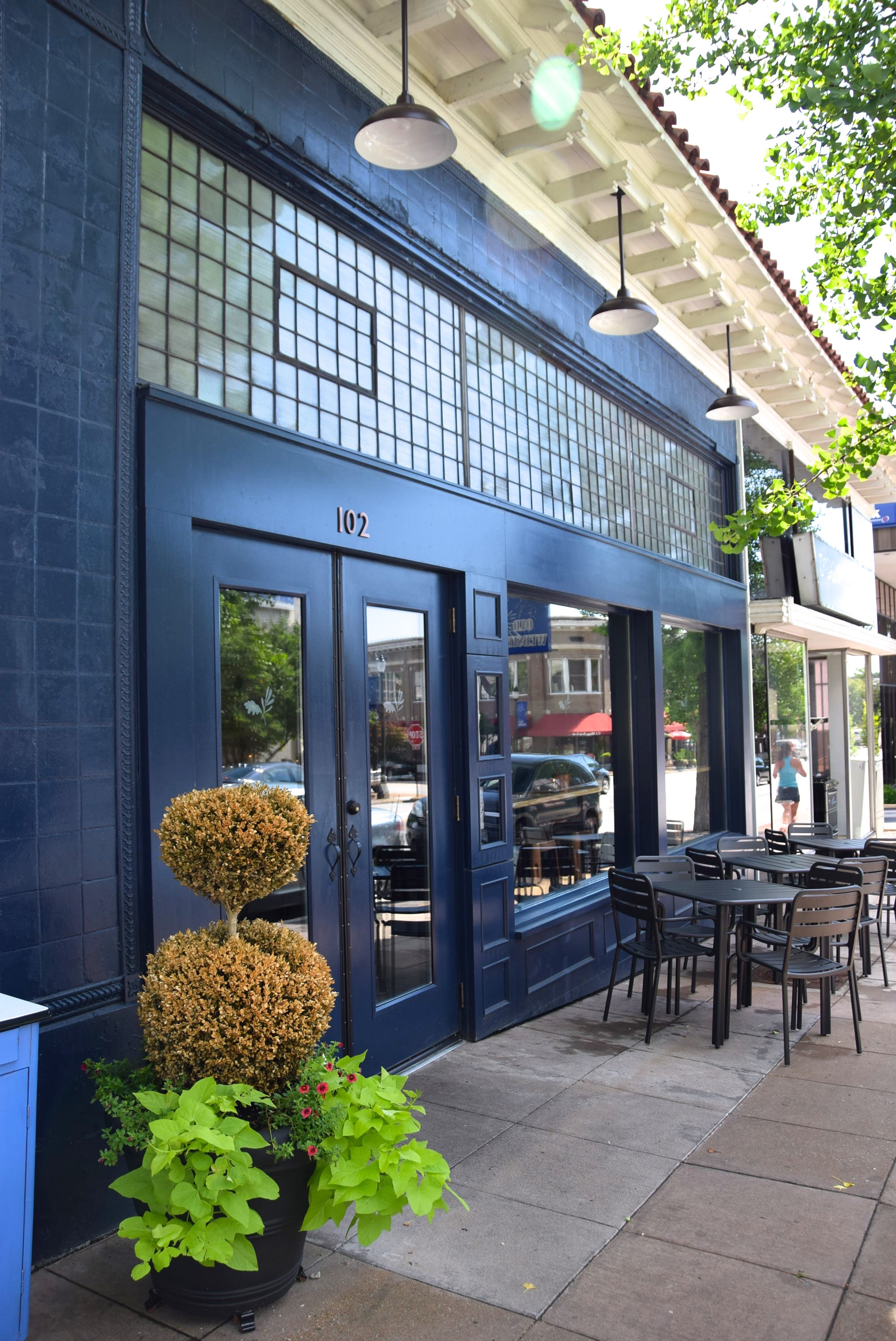 At some point during your visit, you will probably meet Mark. He walks around the restaurant graciously welcoming everyone (even folks like us from the neighboring rival town Kirkwood) with a warm smile as they dine, and making sure they're enjoying their experience, embodying his dedication to excellent service and hospitality.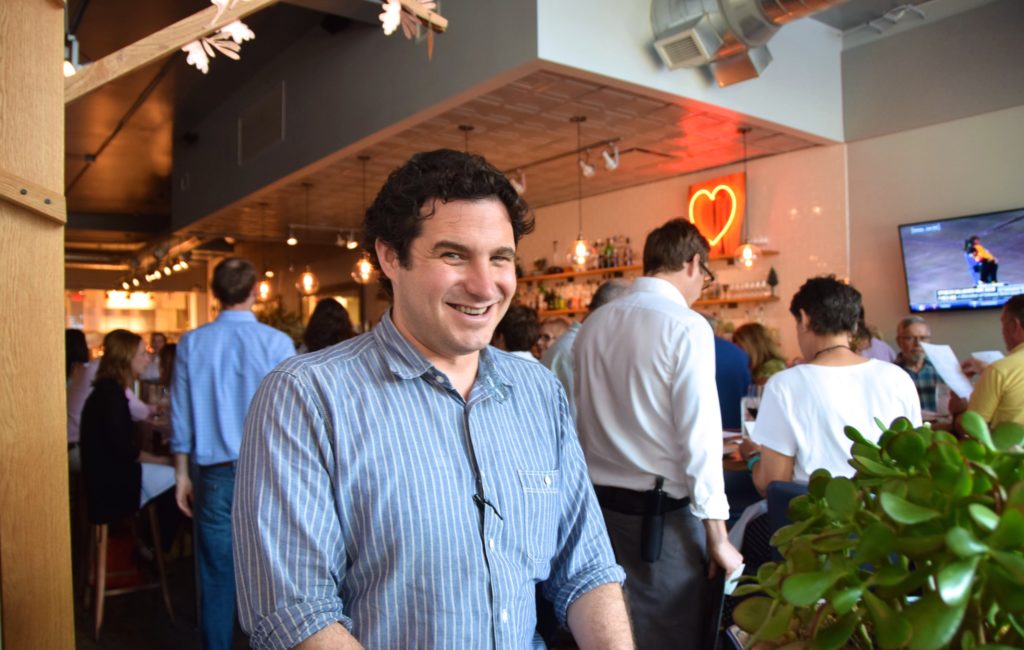 You'll notice right away the neon heart glowing above the bar, a symbol prominent throughout the restaurant to remind the staff and patrons alike of Ollie and Oakes, and to bring awareness of congenital heart defects to the forefront. The more we visit, the more hearts we find hidden throughout the restaurant. They're hanging amongst the olive and oak leaves of the large welcoming tree by the hostess stand, each of the servers have felt hearts pinned to their lapels, a large wooden heart hangs on the wall in the front, and guests can even purchase and take home hearts to support the Mighty Oakes Heart Foundation.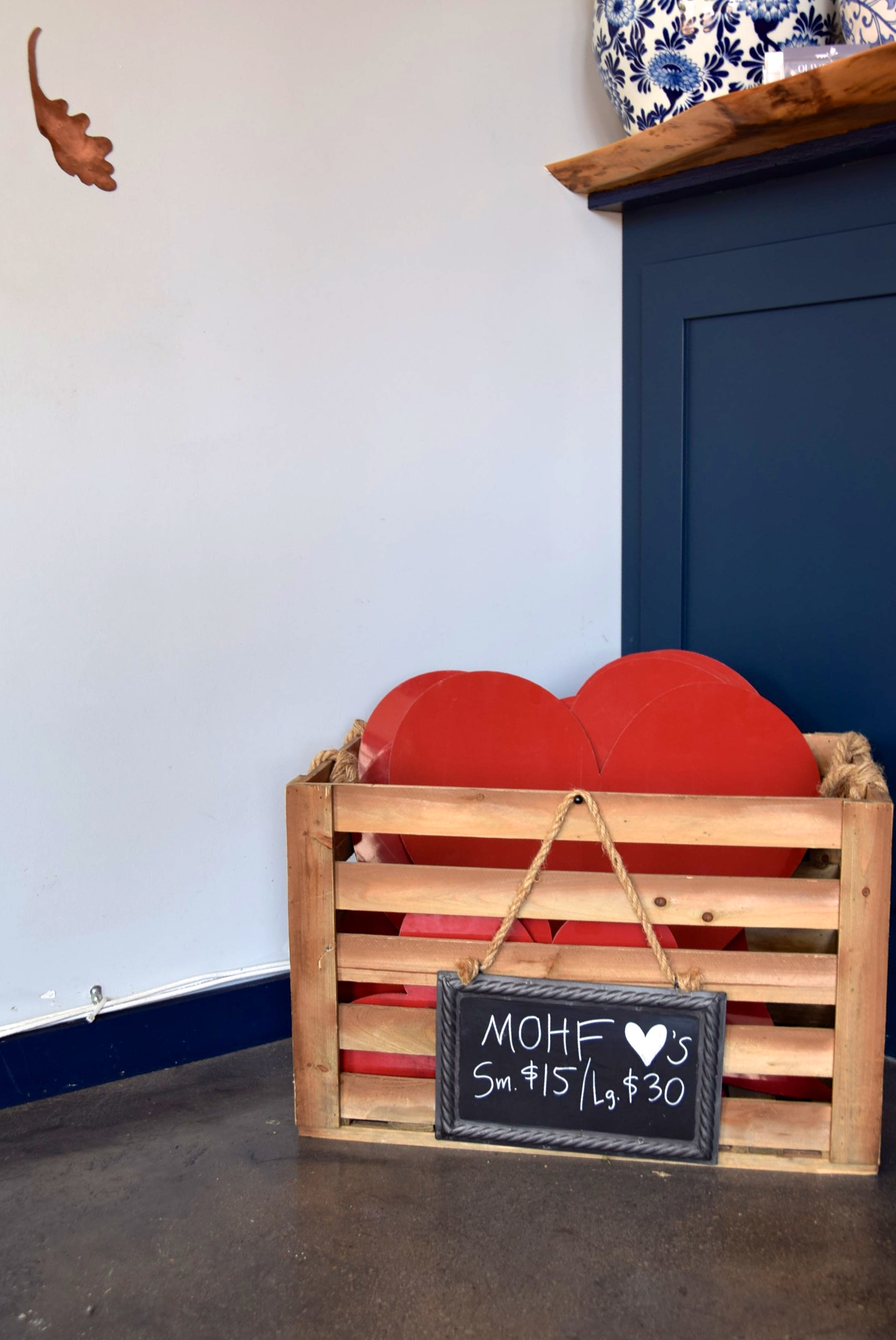 Donned in her apron with the red felt heart proudly displayed, bartender Chelsea Little chatted with us about her new cocktail menu. Little hails from Wisconsin, and is a rising star in the St. Louis bar scene. Little makes you feel at home at the bar of Olive + Oak, and takes the time to really make sure the guests are cared for. The detail she crafts in each of her cocktails doesn't go unnoticed. She hand picks her barware, experiments with new flavors, and tells you to, "here, try THIS," because she just knows you'll like it.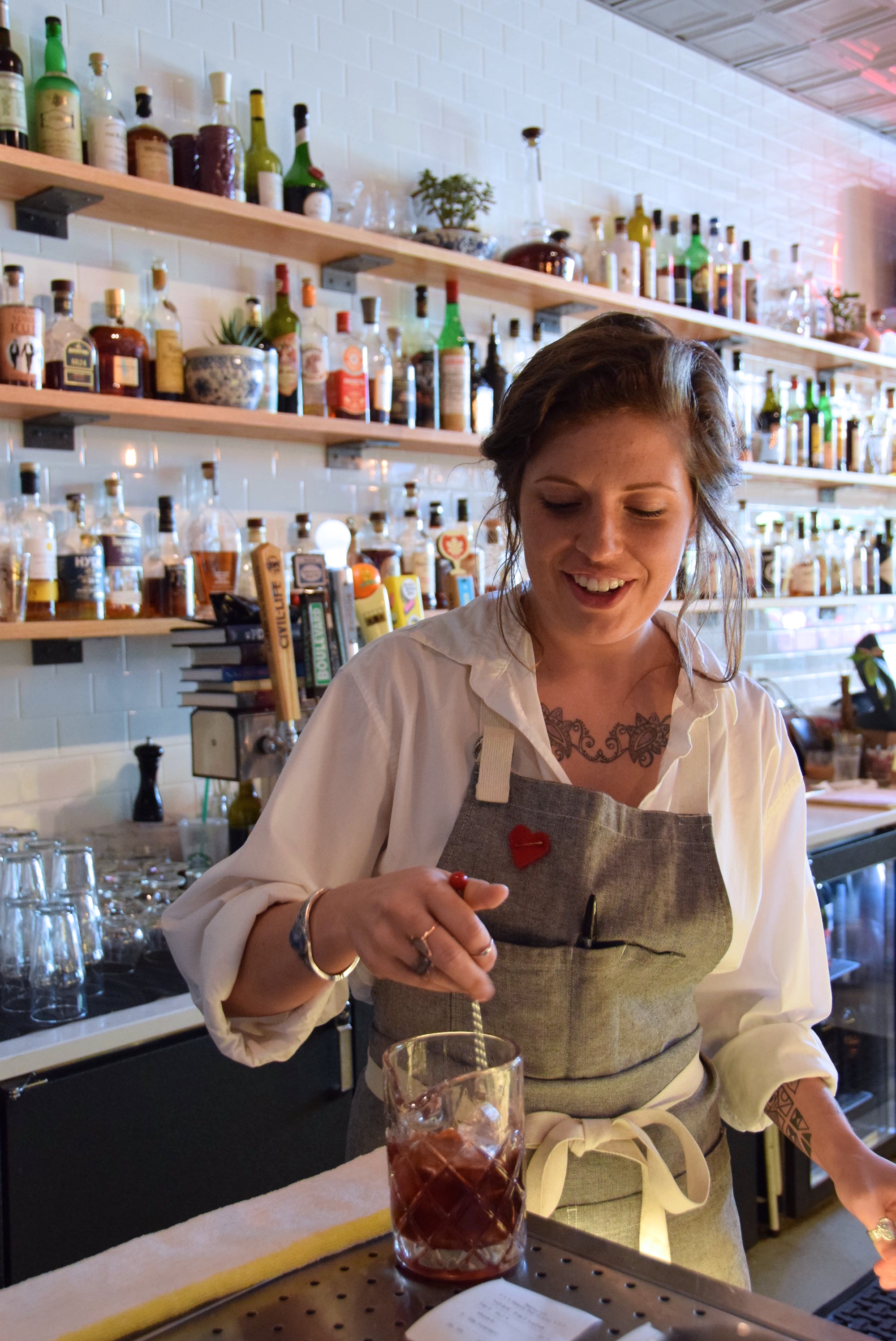 Little released a new summer cocktail menu last week with a Gilligan's Island theme, something she says she's always wanted to do. One of our favorites on the list is The Skipper: ancho chili-coconut-campari, bonal + rye. It is the perfect amount of heat and sweet. Pictured here are the Ginger: tequila, big o, lemon bitters + cantaloupe-carrot ice pop and The Professor: plum rum, lemon, absinthe + amaretto.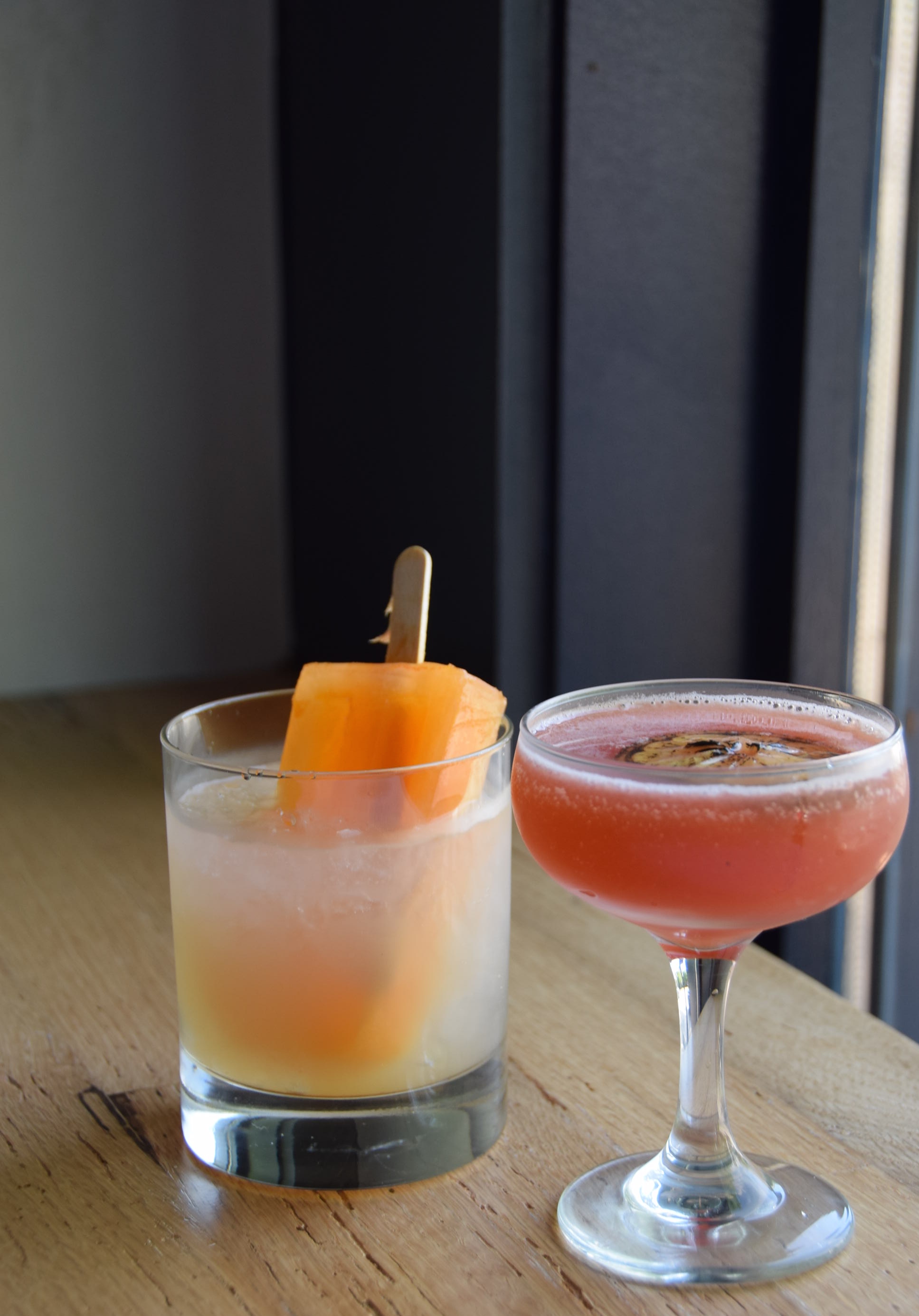 Chef Jesse Mendica also came from Annie Gunn's, and champions an impressive ever-changing menu. If you're looking at the menu online, don't get too attached, because when you come in for dinner it might have changed based on what's fresh that day. For example, we heard someone brought in a bunch of peaches as a gift, and sure enough the next day there was a peach dessert on the menu with those exact peaches. We've had a lot of the appetizers and haven't had one we didn't like, so we'll touch on a few of our favorites. The blue crab gratin is outstanding. The warm, gooey, cheesy, dip with delicate crab served alongside toasted pretzel bread makes it really hard to NOT order this each time we visit.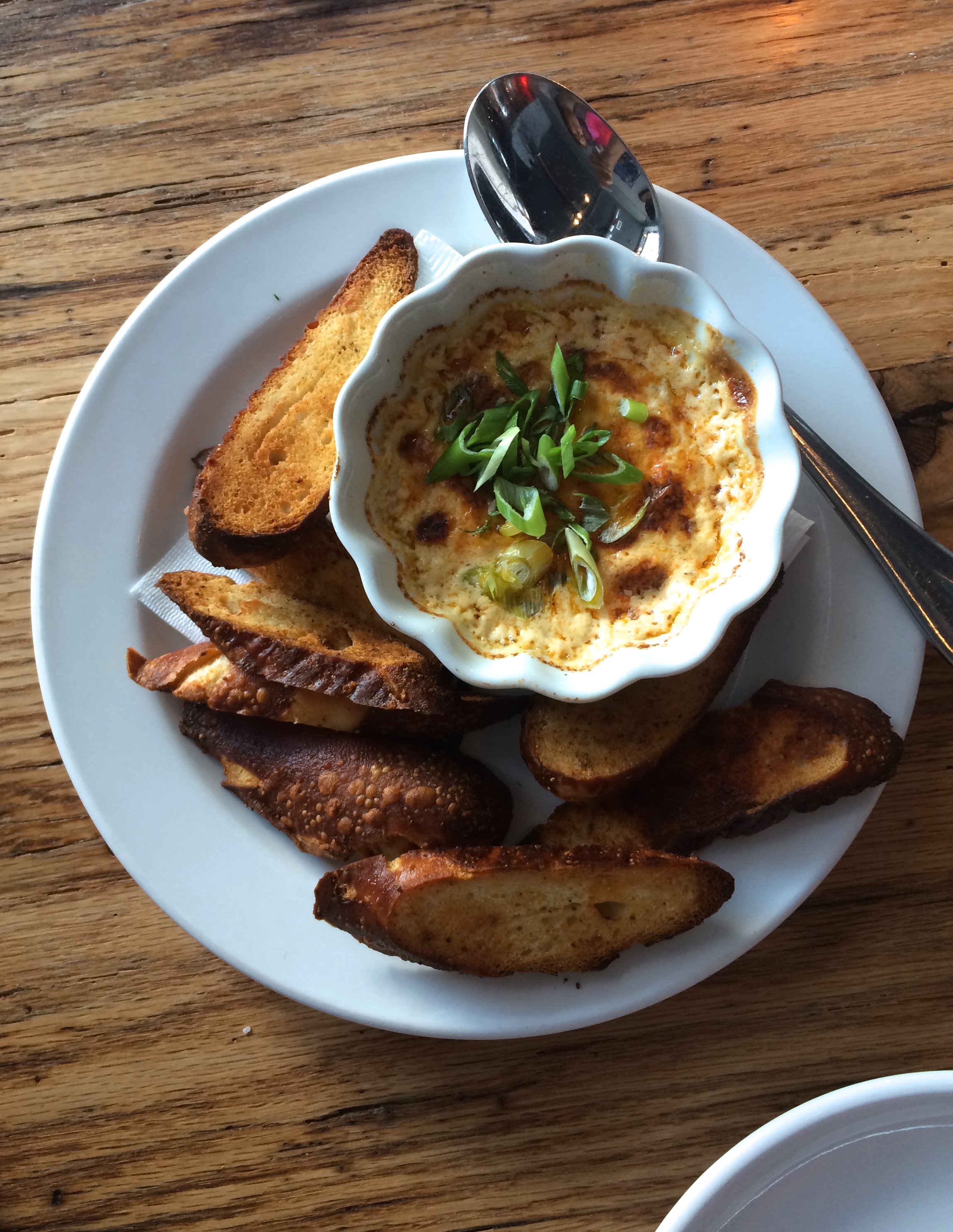 The cheese curds are some of the best we've ever had. Light, tempura-like batter crisps through to reveal delicious white cheese on the inside as you take a bite of these monstrous curds. They're served with a charred scallion aioli and we crave these things on a regular basis.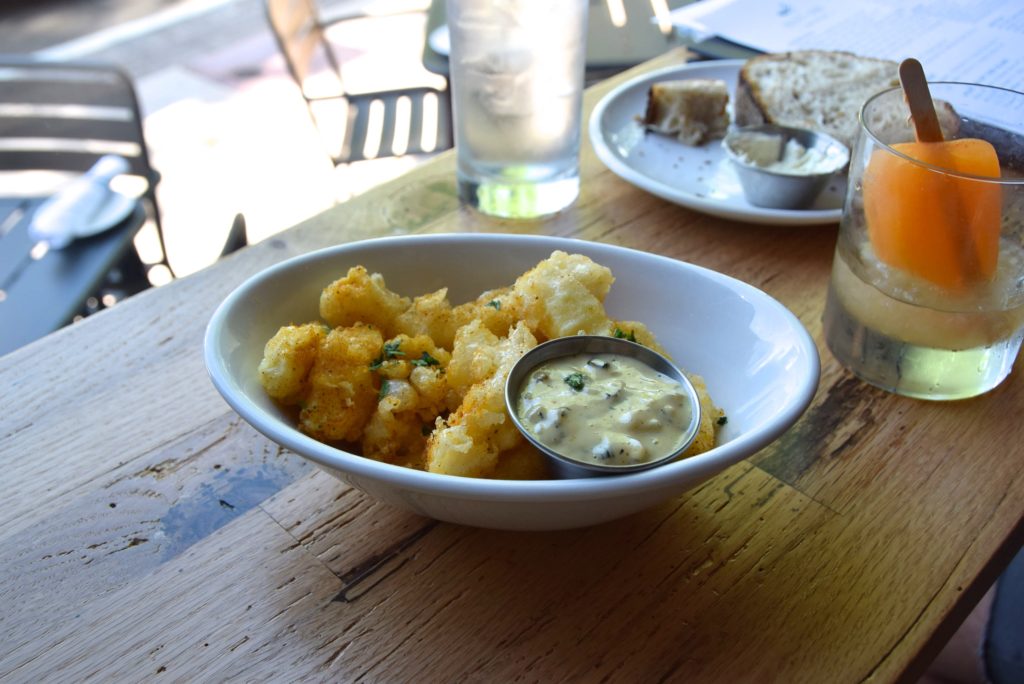 Not being the biggest clam fans, we breezed over that option the first few times we were in, but when owner Mark Hinkle said it was a must-try, we weren't going to argue. He was right, they are the best clams we've ever had. These beautiful clams are finished with casino butter, lardo, and topped with melted cheese and lemon. Show stoppers.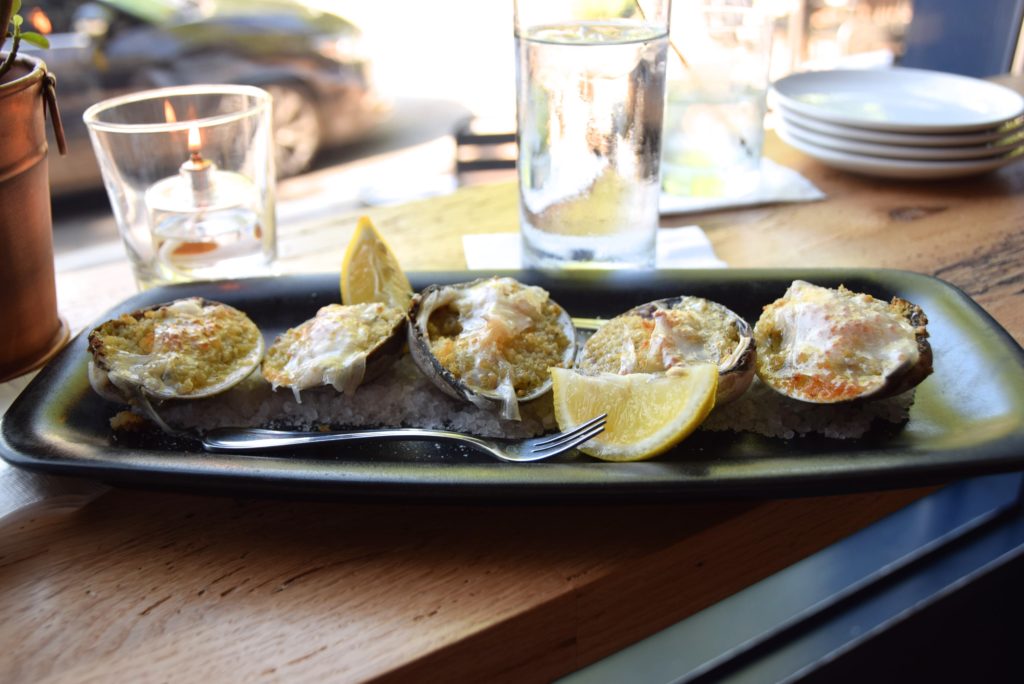 But the show must always go on. Chef Mendica continues to impress us with her entrée offerings. The light-as-a-feather gnocchi knocked (gnocced?) our socks off back in February, and we were excited to see it back on the menu served as a side to steamed halibut. Chanterelles, lemon, dill, and parsley added to this refreshing summer entrée.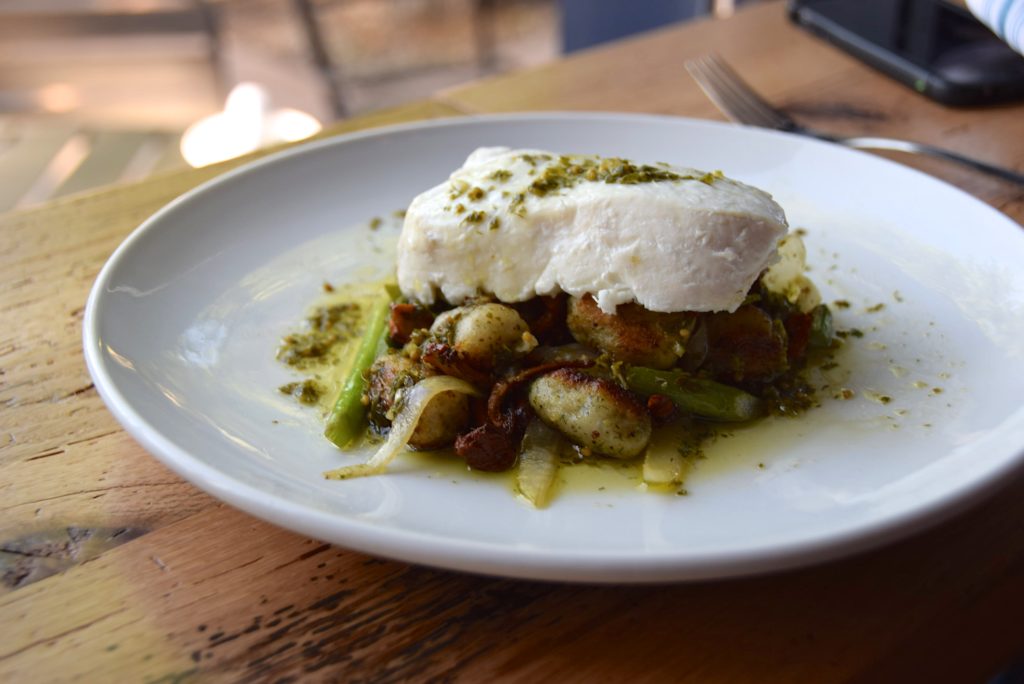 The hanger steak was beautifully presented with a stuffed tomato and grilled zuchinni-roasted onion bread. The bread was so interesting dense and flavorful, and the perfect accompaniment to help sop up the juicy steak and tomato.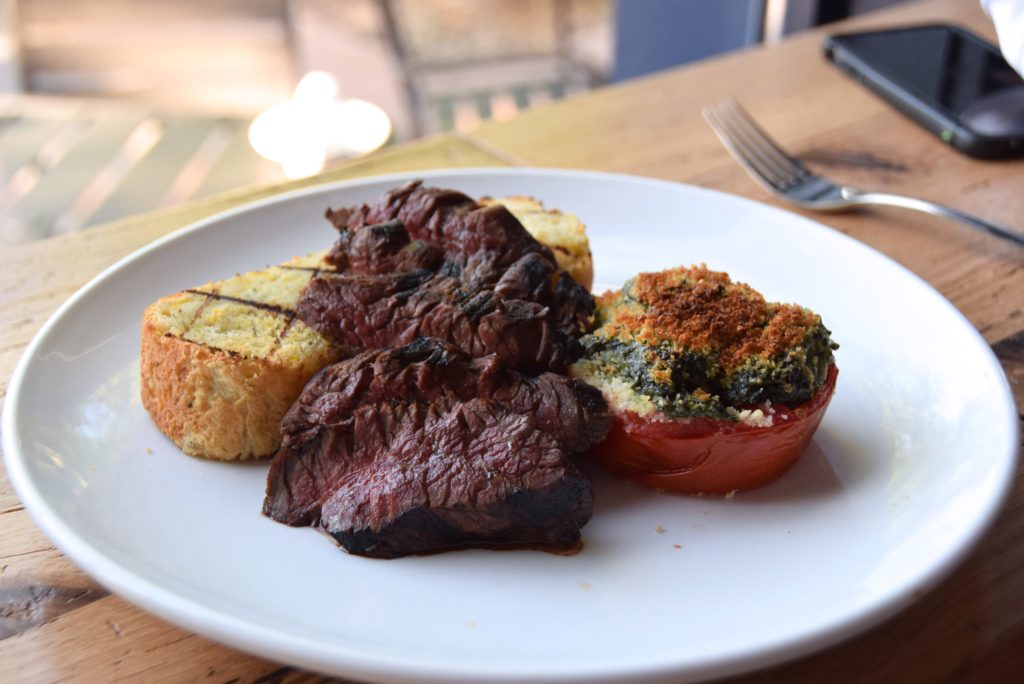 You can't go wrong with their grilled prime strip. A chef from Annie Gunn's knows how to do steak, after all. This evening it was served with a sweet corn purée, marmalade, and blue cheese potato salad.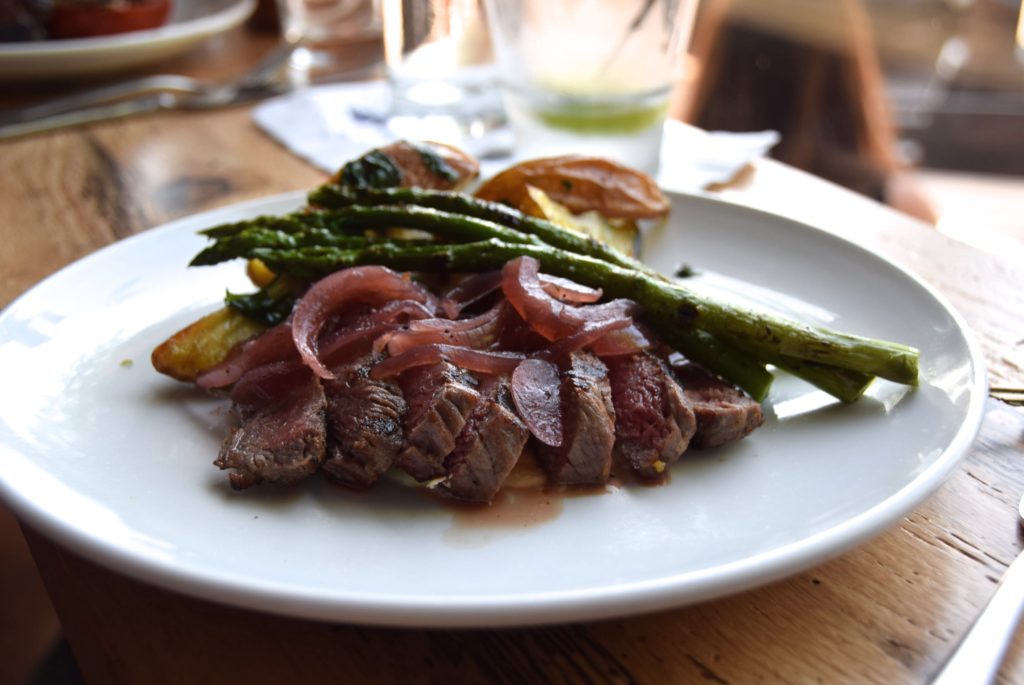 One thing we really like about Olive + Oak is that you don't have to drop a ton of money to have a delicious meal. Their sandwiches are over-the-top good. Their burger is certainly a winner. The lamb dip sandwich is one of the best french dips I've ever had. (Wow, starting to sound like a broken record with all these "one of the best I've had" descriptions). Roasted lamb is cut impeccably thin and piled high on the sandwich along with drunken goat cheese and lamb jus. The fries are addicting. As for sides, you can't go wrong with the beets, broiled tomatoes, or green beans.
But then, dessert. The butterscotch pot de crème is our go-to, and it seems to be everyone elses go-to as well, because it hasn't left the menu since they opened. Served with salted caramel and oatmeal crumb, the creamy sweet goodness of this dessert makes it hard to order one of the other rotating dishes.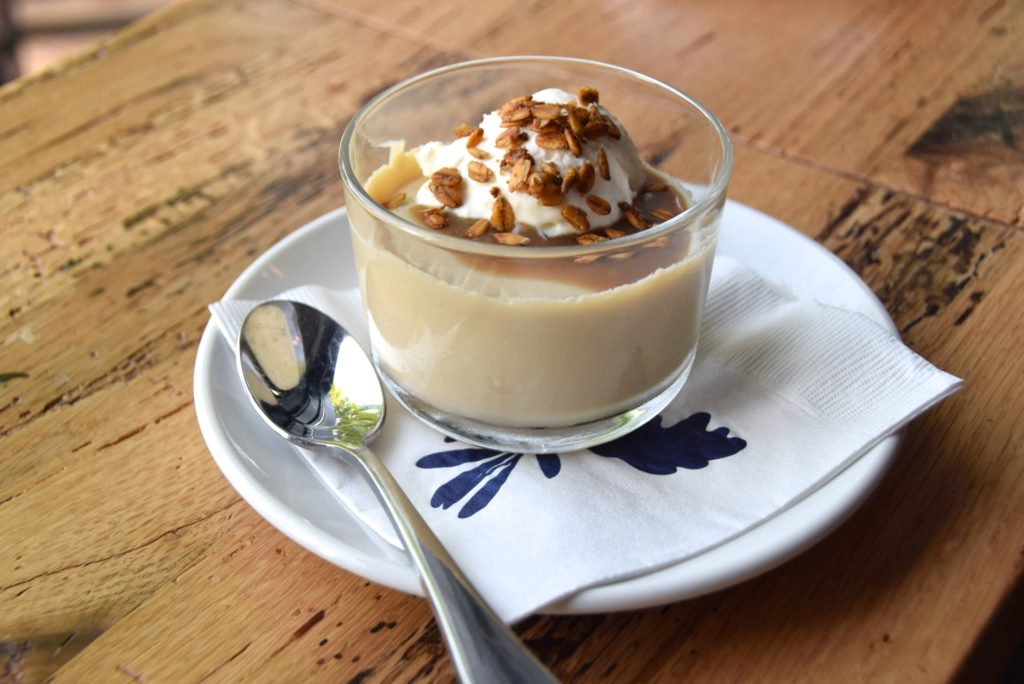 The ginger macerated peaches scream of summer and are paired with basil-ginger cookies and vanilla bean ice cream.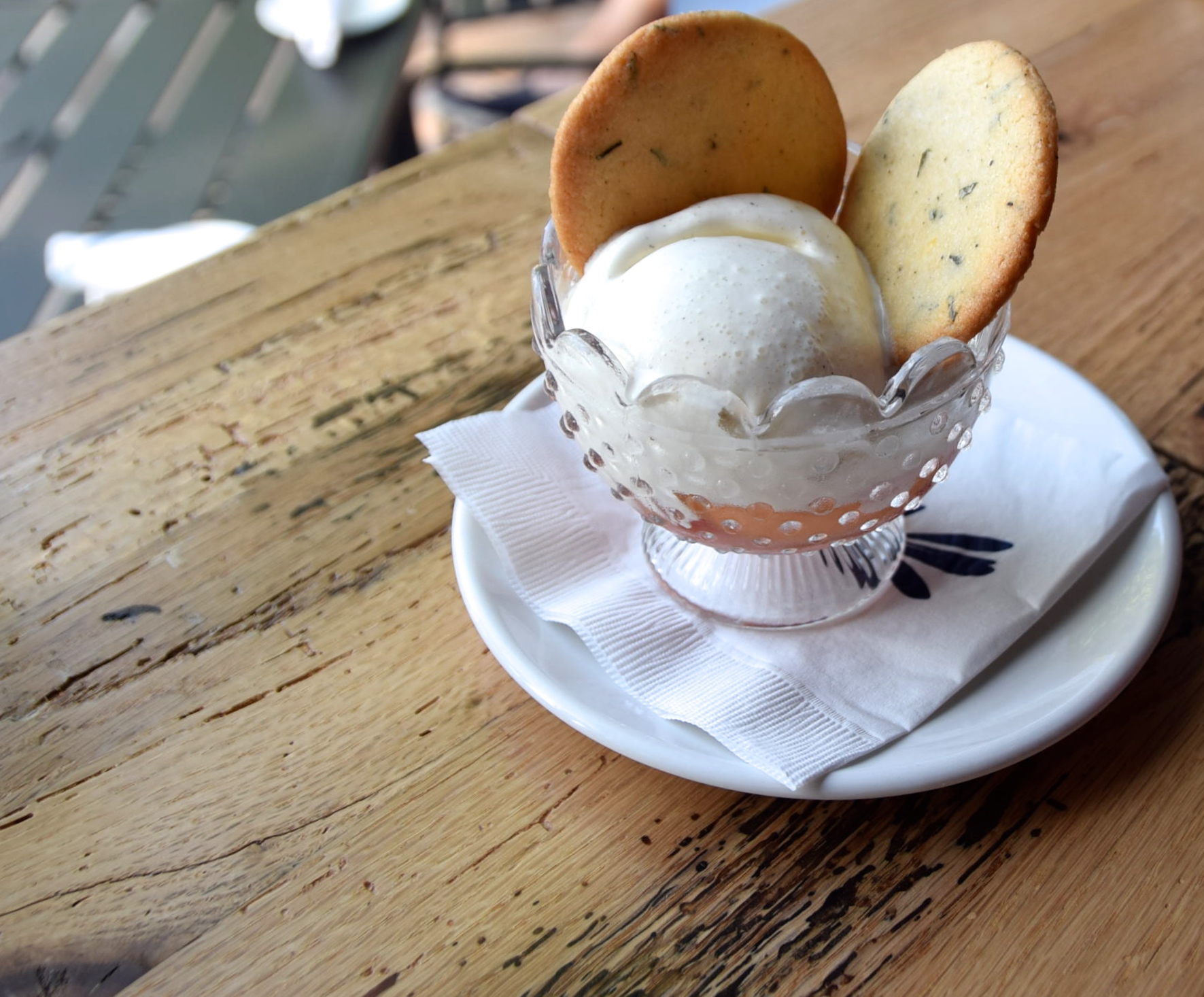 If you've been following this blog for a while, you know about Neil's love for key lime pie. He was excited to see frozen key lime pie on the menu. Decadent, sweet, and tart at the same time, topped with toasted coconut and accompanied by a blackberry coulis, this one didn't disappoint.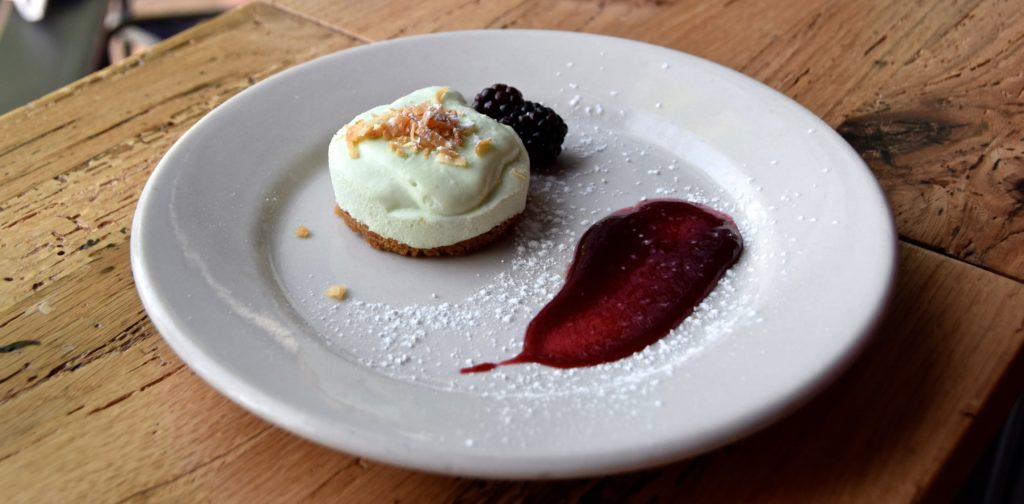 To say that we love Olive + Oak would be an understatement. To say that Olive + Oak loves their guests and their community would be an equal understatement. Out of the darkness of losing Ollie and Oakes came the light this restaurant is pouring out to others. Our hope is that people go to Olive + Oak not only for a good meal, but because what they're doing at 102 West Lockwood goes way beyond the food they serve.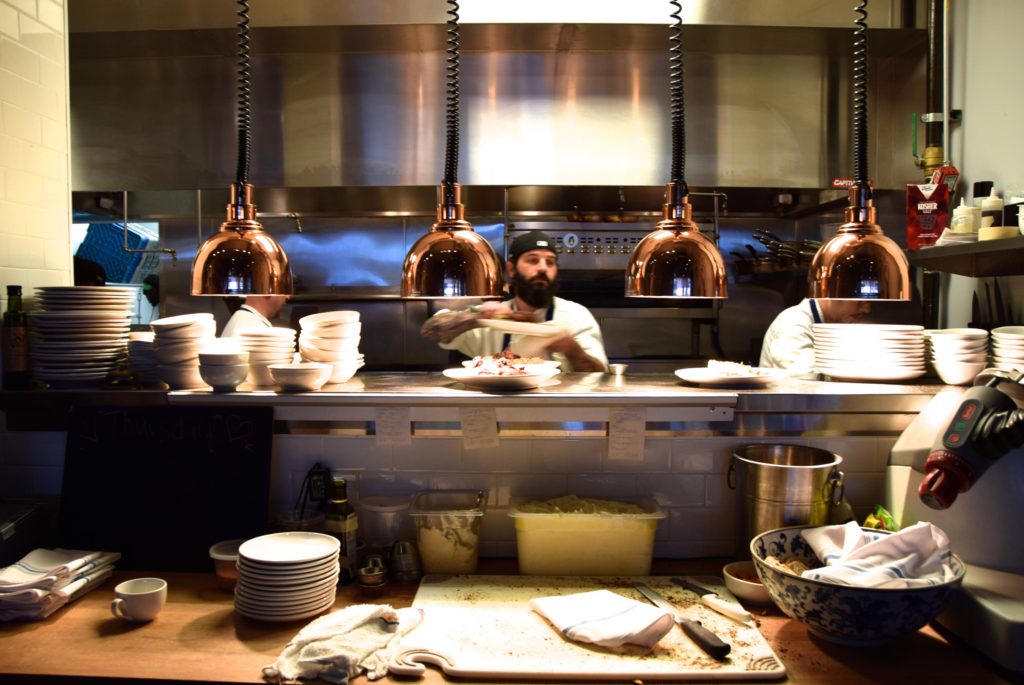 Tickets are on sale
for the 4th Annual Ollie Hinkle I Heart Food & Wine Festival, November 6th at the Ritz-Carlton in St. Louis, Missouri. We hope to see you all there!