This time of year, I always look out on our back deck to the pots of herbs I planted and think "Woah. We need to use these herbs." Our rosemary, basil, and lavender plants all tripled in size while we were in Florida. Oh, I didn't tell you we went to Florida? That's because I had no clue we were going! For my 30th birthday, Neil whisked me away on a surprise trip to our favorite place: Seaside. My family has been vacationing there since I was about 4, Neil and I had our honeymoon there, and we just love everything about it. White sandy beaches, crystal clear water, oysters galore, and no need to drive while we're there. If you've seen "The Truman Show," they filmed in Seaside.
Anyhow, my lovely mother watered our flowers and herbs while we were gone and we came home to herbs that were ready to be used! I love the flavor combination of rosemary and lemon, but honestly if overused I think rosemary can come across a little too strong, especially in desserts. I like the amount we went with for this recipe. These cookies are chewy, buttery, and the lemon frosting (side note: do you call it "frosting" or "icing"? please comment below…) adds a nice punch of sweet, tangy flavor. These cookies are perfect to serve alongside an icy beverage while you sit on the back deck and reminisce about vacation (update: they're also delicious with a cup of coffee in the morning).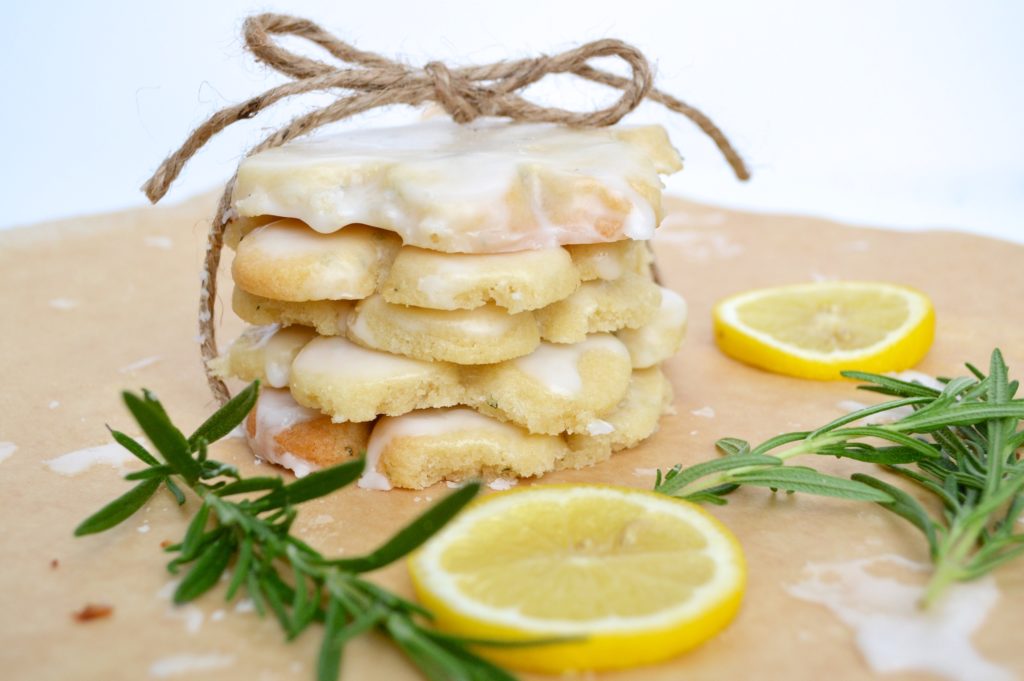 Rosemary Lemon Cookies

Prep Time: 15 minutes Chill Time: 1 hour Cook Time: 15 min.
Makes 24 cookies
Recipe adapted from Martha Stewart
Ingredients:
For the Cookies:
2 sticks butter, softened
2 cups sugar
1 egg
1 tablespoon vanilla
2.5 cups all-purpose flour
2 tablespoons fresh rosemary leaves, chopped
1/2 teaspoon fine kosher salt
For the Icing:
2 cups powdered sugar
2 lemons, juiced
2 tablespoons water
Preparation:
In a large bowl, cream butter and sugar together until fluffy. Add the egg and vanilla and continue to mix. Add flour, rosemary, and salt. Mix until all ingredients are well combined.
Halve the dough and form two large discs. Cover each disc in plastic wrap and refrigerate for an hour.
Preheat oven to 375°. Remove one disc from the refrigerator and place on a floured surface. Lightly flour a rolling pin and roll dough to 1/2″-3/4″ thick. Cut cookies with a 3-4″ round cookie cutter. Work quickly, while dough is still chilled. Place cookies on a sheet pan lined with parchment paper. Bake for 13-15 minutes, until the edges are just about to turn golden. Remove from the oven and place on a wire rack to cool. Repeat with remaining dough.
As cookies are cooling, make the icing. Whisk together the powdered sugar and lemon juice. If desired consistency is not achieved, add water 1 tablespoon at a time. Ours was perfect with the juice plus 2 tablespoons of water. While cookies are still warm, dunk the top of each cookie in the icing and shake to let some of the icing drip back down into the bowl. Place on a plate and serve.
Store cookies in an airtight container for up to one week.