After every beautiful, lazy Sunday comes that dreaded feeling as the sun goes down. We love our jobs, and even so, that "it's coming to an end" feeling invades our thoughts as we try to savor every sweet minute of the weekend. We do everything in your power to push that feeling away, until finally plopping in bed on Sunday night, recalling the joyous moments of the weekend, and surrendering to the week ahead.
It's true, Mondays are inevitable.
But guess what? We've found a way to make them enjoyable. Prepping a Monday meal on a Sunday afternoon has made our Mondays easy. After the long day, we can celebrate that we don't have to spend time being hangry and planning a tasty meal. Instead, this aromatic chili is  waiting for us when we walk in the door. Chili is a go-to during cold weather months, and this one is particularly easy and super tasty.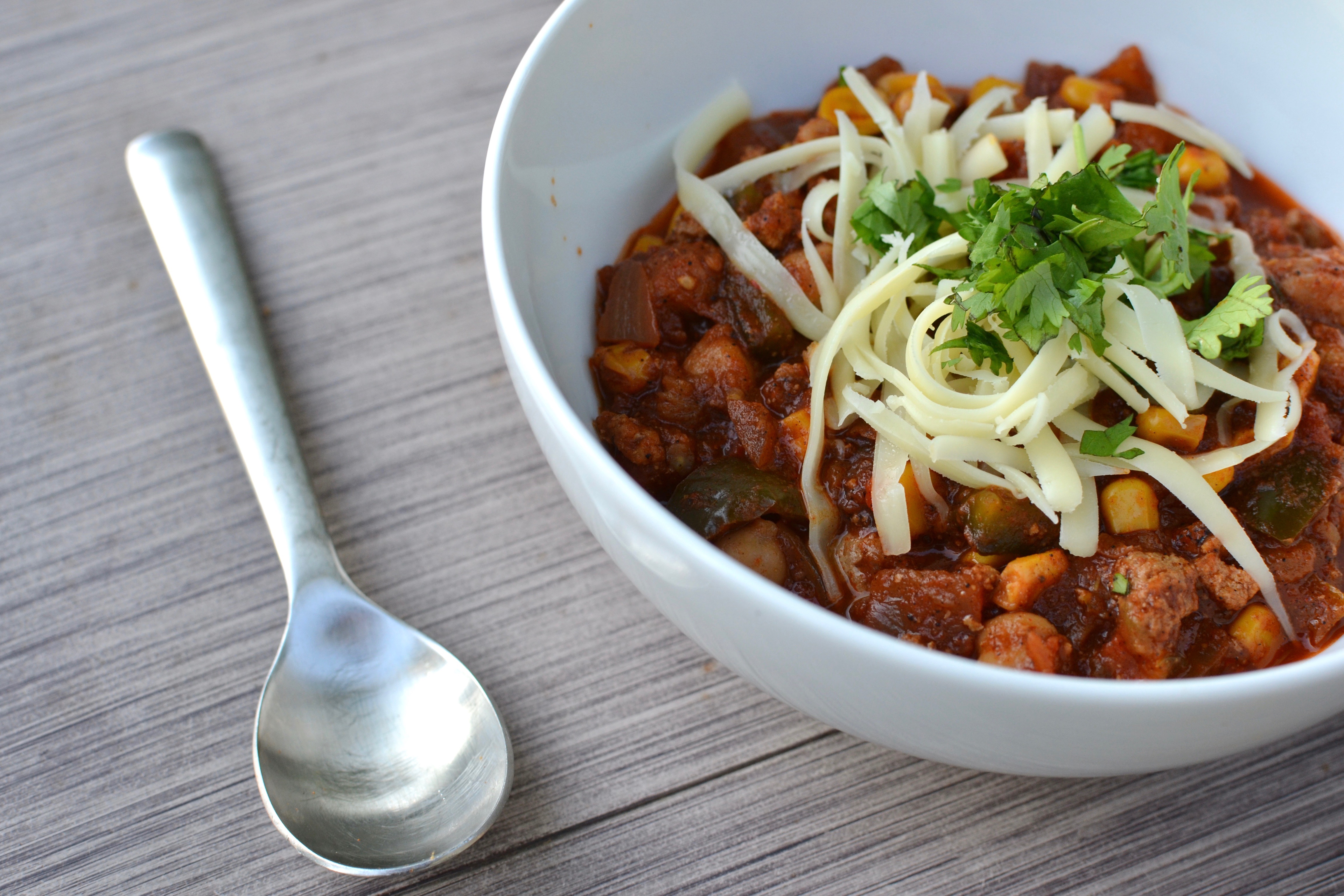 To save time on Monday morning, prep the veggies ahead of time on Sunday night and put them in a large ziplock container in the fridge. Then, in the morning all you have to do is brown and drain the meat, dump all the other ingredients in, and be on your merry way. Turkey chili is a great alternative to its standard beef counterpart, with the same hearty texture, yet a whole new flavor profile, thanks to the green chiles, corn, and chick peas. This dish has been a regular in our fall meal planning, and we hope you enjoy it as much as we do. It's bound to add a little happiness to your Monday knowing you get to reward yourself at the end of the day with a big warm bowl of this chili. Oh, and not to mention, it makes great lunch leftovers for Tuesday!
Turkey Chili:
Prep Time: 20 min. Slow Cook Time: 6-8 hours
Ingredients:
1 lb. ground turkey
1 onion, diced
1 can fire roasted corn, drained
1 can chick peas, drained
1 poblano pepper, seeds removed and diced
2 4-oz. cans fire roasted green chiles
1 28-oz. can san marzano tomaotes with their juices
1/4 cup chili powder
1 tablespoon paprika
1 tablespoon kosher salt
1 tablespoon black pepper
1 tablespoon ground cumin
4 bay leaves
Cilantro, white cheddar, hot sauce to top
Preparation:
In a non-stick sauté pan, brown ground turkey, then drain liquid. Add turkey to slow cooker. Add all other ingredients, and use a wooden spoon to crush the tomatoes and combine. Set slow cooker to low and cook for 6-8 hours. Top with fresh cilantro, cheddar cheese, and hot sauce.
6 servings