Neil and I have gone on road trips together since we started dating. We'd travel to visit friends, family, or just to go explore a city for the day. It had been a little while since we road tripped, and thought we were quite due to a weekend getaway. Since I had an upcoming music therapy conference in Omaha, we decided to make it our weekend road trip destination. Neil visited Omaha when he was little, and I don't remember ever spending time there, so we were excited to explore. This post will feature some of the culinary, cultural, and otherwise fun things we loved about Omaha.
Stay
This hotel was everything we could ask for and then some. The entire staff is friendly, the rooms are clean, modern and stylish, and it brags being the greenest hotel in Omaha. We chose the studio style room, with oversized windows and a working kitchen, stocked with plates, bowls, a full fridge, microwave, and dishwasher. We could have easily made dinner for our whole family there. The bathroom was spacious and even had a rainfall shower head. Every morning there is a hot breakfast (the works!) and every evening there is a complimentary happy hour (free beer and cake? Sign us up.). It was in a district called "Midtown Crossing," which is where our culinary journey began.
Eat
As part of the Omaha craft brewery tour, we stopped in at Farnam House Brewing. We literally walked through a snowstorm to get there….
…but it was worth it. They have nitro beers and a great selection for any beer lover.
Then, we went to dinner, which ended up being our favorite place in Omaha: The Grey Plume. Farm to table, local ingredients, innovative menu and small touches made our experience there an A. Our meal started with a complimentary offering from the chef. Tastes of carrot, ginger, and other flavors to awaken our palate.
Next, we split a charcuterie board with wild mushroom gelée, chicken liver, and mousse with black truffle. The flavors of this dish were so intense. Each aspect of the board was beautiful on its own, and came together in perfect harmony with the other elements.
For an entrée, Neil had the pork tasting, featuring five different preparations of the pig. Served with pickled vegetables and sun choke puree.
I ordered the trout, served with spätzle and vegetables. I finished an entire trout, folks. And it was amazing.
After dinner we walked over to Grane, a whiskey bar with small pour dispensers and an impressive bar. The manager was amazing and rambled off the whole gamut of drinks to choose from.
M's Pub: PACKED for lunch. But so good.
Their menu overwhelmed me with options, but I think it's a good thing because they've literally got something for everyone. I had a turkey and avocado sandwich on a fresh croissant, and Neil had the turkey reuben. All around a great place to meet up with folks and co-workers, or just grab lunch between your sight seeing.
Howlin Hounds Coffee: Neil wandered over here while I was in my conference. He liked the bar and the artwork, but most of all he loved the coffee and the people. Such a nice owner who was friendly and helpful, and recommended we check out Wilson & Washburn.
Wilson & Washburn: If we lived in Omaha, I think we'd be regulars here.
The beer list, the atmosphere, and the friendly wait staff were all impressive. It's a good place to people watch and try a local beer. I tried Infusion Brewing's Vanilla Bean Blonde and was blown away! New favorite beer for the summer.
Just a walk up from Old Market, in more of the downtown section is a local favorite called Block16.
Rumor has it Alton Brown has named this one of his top 5 burgers. By 6:00, the line was out the door. Of course, we tried the burgers.
They were huge! And not to mention, cheap. We also had the poutine- the gravy was killer!
The Omaha Craft Brewery Tour: There are SO many good local breweries in this town. While we were there, we got to try Farnam House, Brickway, and also had beers from Infusion Brewery, Lucky Bucket, and Nebraska Brewing Company. If you participate in the Brewery Tour, you get a free beer at eight different breweries. Once you visit all eight in the program, you get a free pint glass. Pretty sweet!
Play
Omaha's Union Station is gorgeous. The whole building has a 1940s feel, and when you step inside you are immediately transported back in time.
There is even an old fashioned soda shop inside. Downstairs, the building is host to the Durham Museum.
Our favorite exhibit currently on display is the wardrobes of stage and screen of Katharine Hepburn. Reading about each of the shows she was in and what her character was while wearing the gowns was fascinating. Sadly, no photography was allowed in that exhibit. You'll just have to go see it yourself!
Another museum we loved was the Joslyn Art Museum.
Being huge Chihuly fans, we loved that some of his pieces were scattered about.
They had one of my favorite statues "Little Dancer of Fourteen Years" by Degas. Their current exhibit was wonderful: American Moderns, 1910-1960: From O'Keeffe to Rockwell. Neil often uses modern American art when teaching jazz music to college students, so it was neat to see the pieces in real life.
Old Market: Funky shops and boutiques along a red brick street. There were lots of outdoor dining spots and it was full of white twinkle lights. We enjoyed strolling around this area.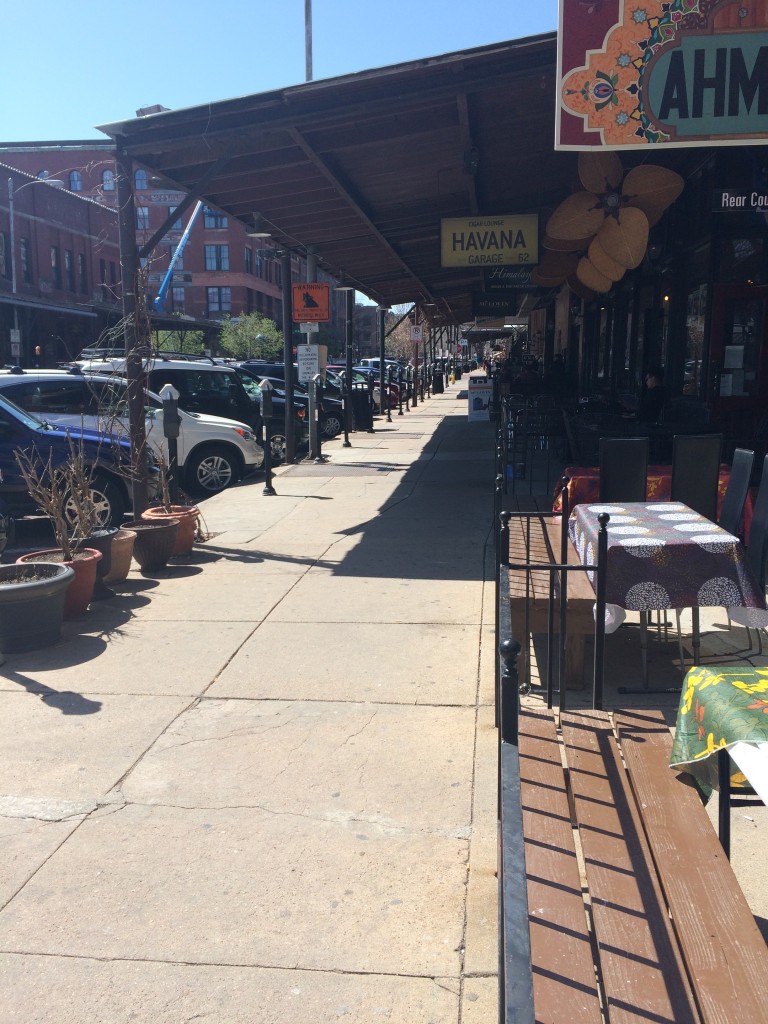 Midtown Crossing: This is where our hotel was located, along with the aforementioned The Grey Plume, Grane, and other cool restaurants. It's a nice walkable area with shopping, dining, and night life.
Omaha's Henry Doorly Zoo: Now, being from St. Louis I am bias in thinking that we have the best zoo in the world. BUT. The Omaha Zoo gives ours a run for its money.
The desert dome was pretty awesome! It was just like stepping into the warm desolate desert and walking through spotting wildlife along the way. We really loved the indoor rainforest, where animals cohabituate and you walk under waterfalls, etc. I stood in front of these jellyfish for like ten minutes.
Another thing I enjoyed about the Omaha zoo was how close you get to the animals.
When in r(Omaha), you MUST go to the zoo.
Overall, Omaha is a wonderful city. I never knew how vibrant, cultural, and culinary focused the city is. We loved our weekend and will return again soon. If you live in the St. Louis, Columbia, or Kansas City region, it's an easy drive. You won't regret choosing Omaha as your weekend destination!
Visit Omaha sponsored our trip to Omaha, but all opinions are 100% our own.