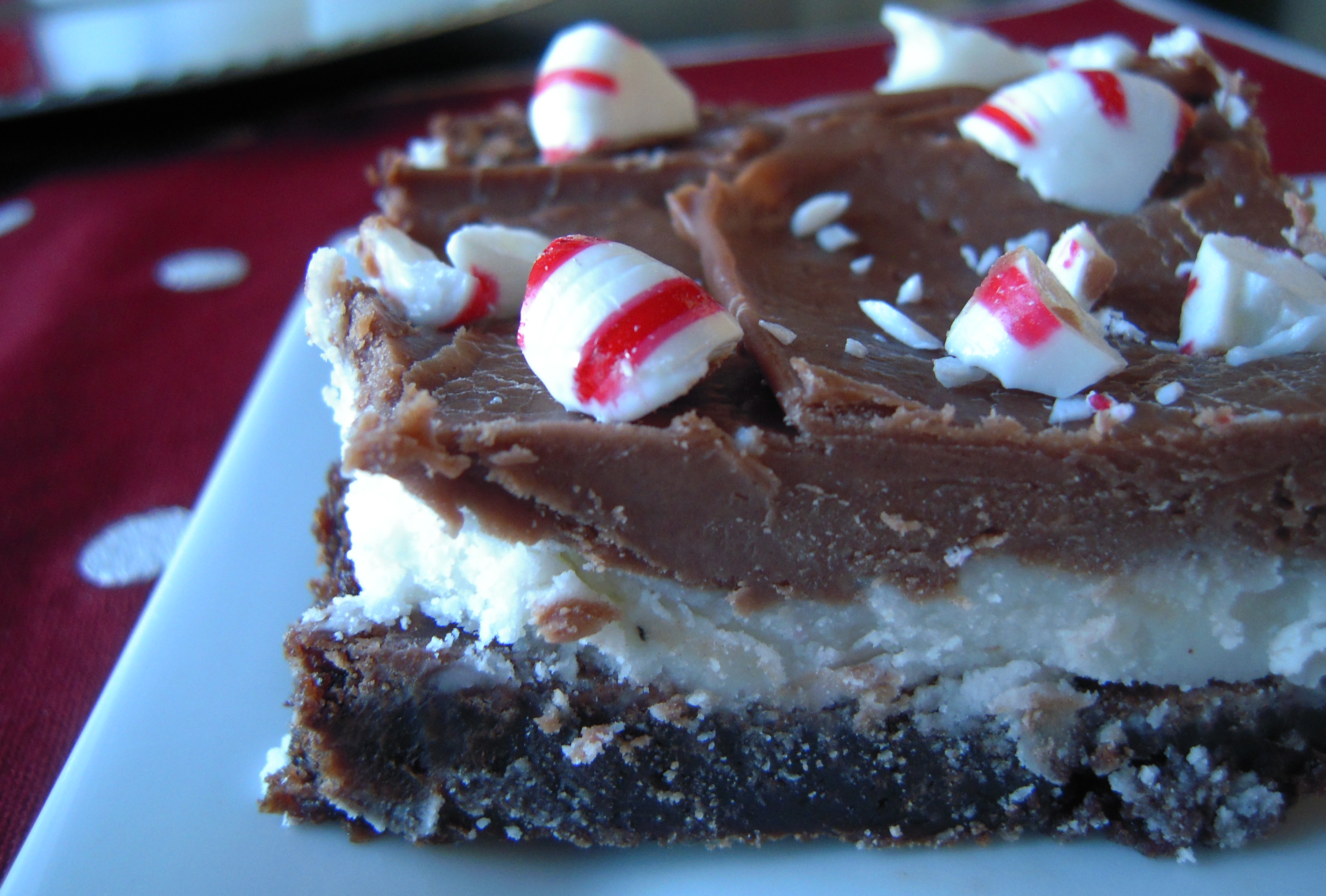 A perfect holiday treat, this combination of chocolate and peppermint will send you straight to the North Pole. If you don't have time to make the brownies from scratch, you can always use your favorite mix and just follow the recipe for the icing (although, we strongly recommend you make them from scratch). Bring these to your next winter holiday party, and they will be a hit.
Ingredients:
Brownies:
2 sticks unsalted butter
2 cups milk chocolate chips
4 oz. semi-sweet baking chocolate, chopped
3 large eggs
1 tablespoon vanilla extract
1 cup granulated sugar
1/2 cup all-purpose flour
1 1/2 teaspoons baking powder
1/2 teaspoon salt
Peppermint Frosting:
1 stick unsalted butter
4 cups powdered sugar
1 tablespoon peppermint extract, to taste
1/4 cup milk
20 peppermint candies
Chocolate Frosting:
1 stick unsalted butter
4 cups powdered sugar
1/4 cup milk
1 tablespoon vanilla extract
1 cup milk chocolate chips
Preparation:
Preheat oven to 350°. Butter and flour a 13×9″ baking pan and set aside.
First, prepare the brownies. If you're using a mix, please prepare the brownies according to the directions, then skip down to the * and continue to follow the recipe.
In a medium sized saucepan over medium heat, melt the two sticks of butter. Once butter is completely melted, remove from heat and add the chocolate chips and baking chocolate. Stir until all chocolate is melted. Cool to room temperature, stirring occasionally.
In a large bowl, whisk together the eggs, sugar, and vanilla. Add a little bit of the cooled chocolate to the egg mixture, and stir. Continue adding the entire chocolate mixture, whisking gently as you pour. Set aside.
Using a separate small bowl, combine flour, baking powder, and salt. Slowly add this mix to the other chocolatey bowl, and stir with a wooden spoon. Once mixture is thoroughly combined, pour into the baking pan, and evenly spread with the spoon.
Bake for 20-25 minutes, until a toothpick inserted in the center of the brownies comes out clean. While baking, prepare your frosting.
*Begin with the peppermint frosting. In a microwave safe bowl, melt butter. With an electric hand mixer, beat powdered sugar into the butter. Then, add peppermint extract and milk until creamy. Set aside.
Unwrap all the peppermint candies and place them in a gallon sized plastic bag. Place the bag on a hard surface and smash the bag with a hammer, crushing the candies finely. Place a sieve or small holed colander over a paper towel. Empty crushed candies into the sieve or colander, allowing finely crushed pieces and dust to fall onto the paper towel. Transfer the contents of the paper towel to the white frosting and stir. Reserve larger pieces for decoration. At this point, taste your frosting. Depending on how minty you would like it to be, you may need to add more peppermint extract. Set aside.
Next, prepare the chocolate frosting. In a microwave safe bowl, melt butter. Add chocolate chips, and continue melting in the microwave in 30 second increments, stirring between each increment. Next, add the powdered sugar into the butter and chocolate, and blend with an electric hand mixer. Add the vanilla extract and milk, and beat until creamy and smooth. Set aside.
Once brownies are out of the oven, allow them to completely cool before frosting. There should be four items ready for assembly: cooled brownies, peppermint frosting, chocolate frosting, and reserved larger peppermint candies. Using a spatula, spread an even layer of the peppermint frosting on the brownies. Then, top that layer with the chocolate icing, and spread with another spatula until even and smooth. Top brownies with larger peppermint candies, and refrigerate for an hour to set.
Remove brownies from refrigerator, allow them to come to room temperature, and serve.